These crispy, tender honey mustard chicken bites are coated with crushed pretzels for great sweet-salty flavor! They make a delicious and healthy meal (or party appetizer) for kids and adults alike!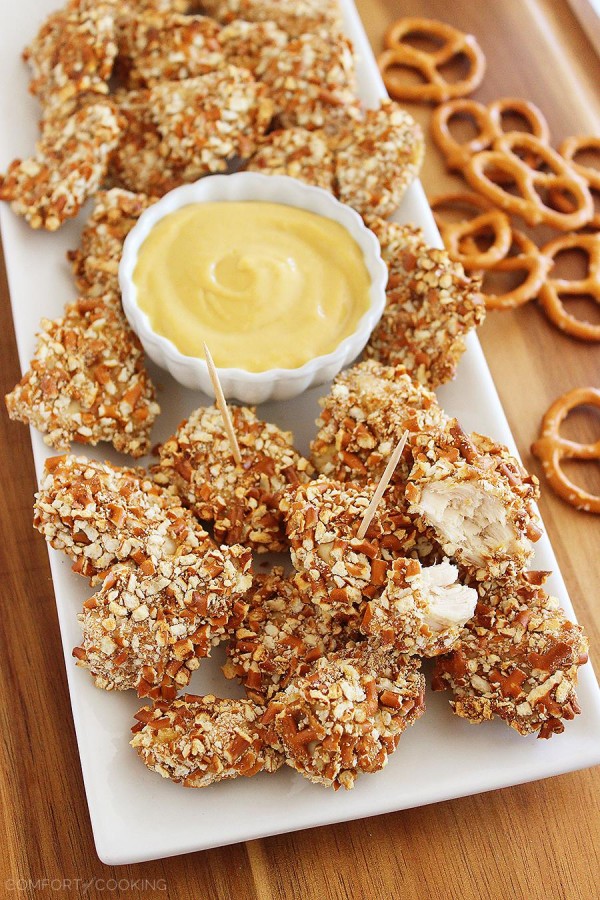 As a child, I always looked forward to the nights when my mom cooked foods I didn't like. That's right, didn't like. Why? It meant my dinner was basically a free-for-all. I could eat whatever I wanted – cereal, peanut butter and jelly, pizza – while my folks dined on white fish (which I love now) or stinky sautéed liver (sorry, mom). The fridge was my oyster. But, usually, my meal of choice was chicken nuggets. A kid favorite, for sure!
Instead of shaken from a frozen box, my favorite chicken nuggets these days are panko-crusted and baked 'til crispy. Served with a spicy ketchup or homemade honey mustard, they're heaven on Earth. But, now I think I've found the second best secret to scrumptious chicken bites… pretzels!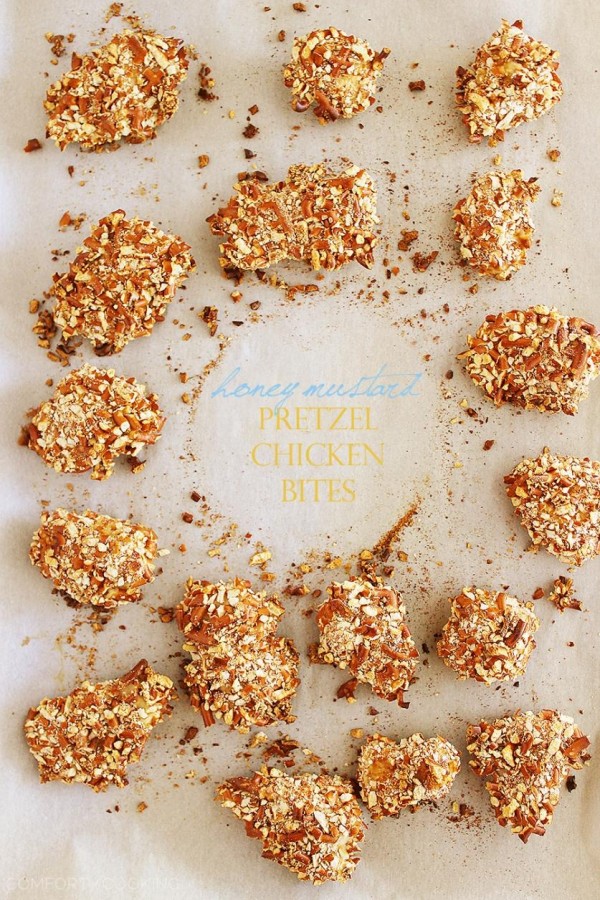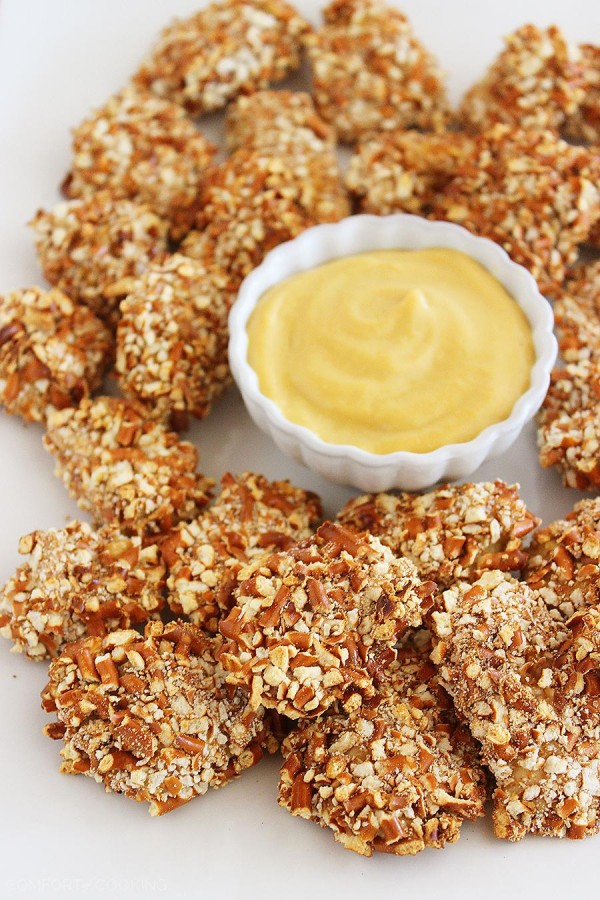 I love that these crunchy, pretzel-coated chicken bites are so kid and adult-friendly! They're super easy and fun to make, too. Just coat your chicken in flour, then in a honey mustard-egg mixture. Roll 'em up in your crushed pretzels, and onto your baking sheet they go. Just 15 minutes in your oven, and you have a delicious weeknight meal that everyone will love.
These bites are even better served with honey mustard… and I like mine spiced up with a little hot sauce! For a fun party appetizer, stick the bites with toothpicks and serve with a small bowl of honey mustard (or a variety of sauces) for dipping.
You're just gonna love these!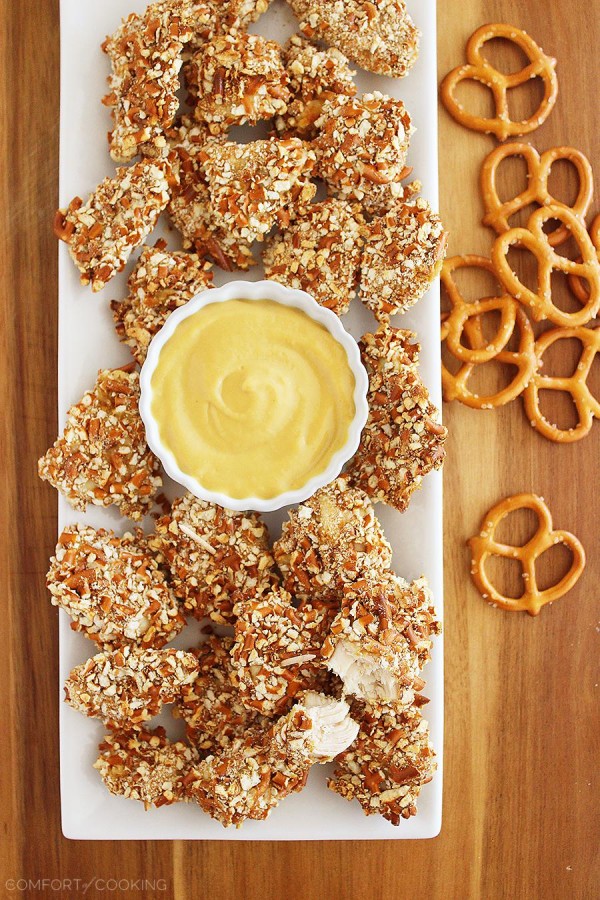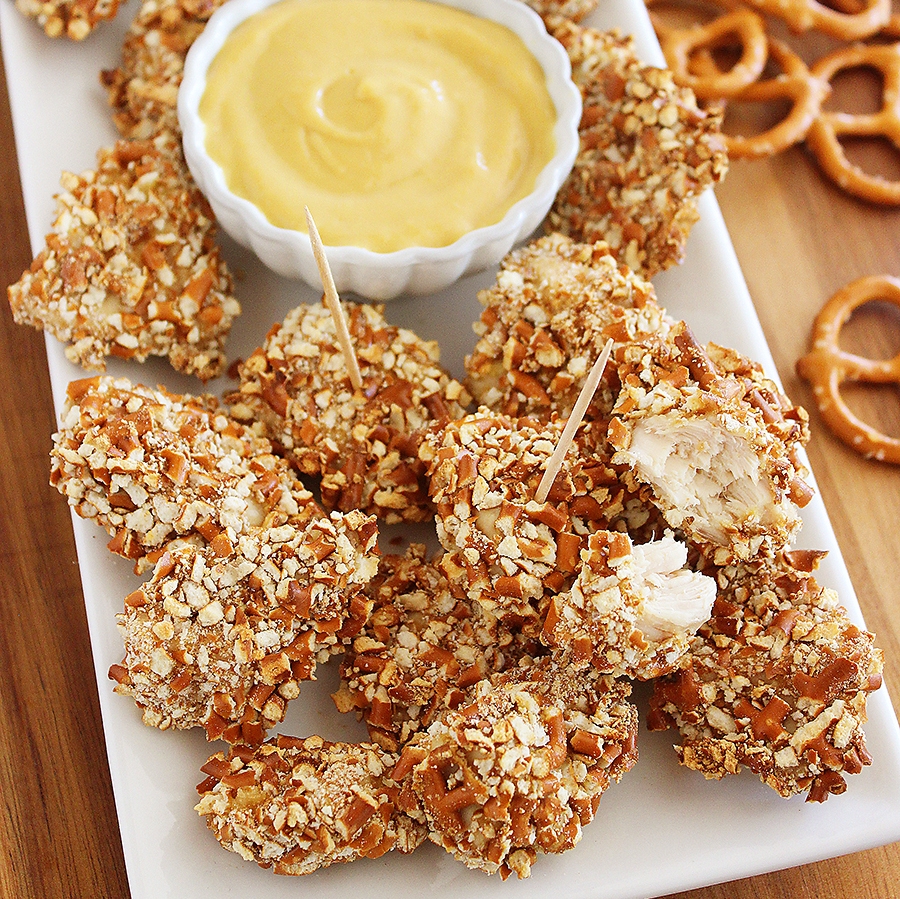 Honey Mustard Pretzel Chicken Bites
Ingredients
1 lb. boneless skinless chicken breasts, cut into 1-inch pieces
1/2 cup all-purpose flour
1/2 teaspoon kosher salt
1/4 teaspoon black pepper
2 large eggs
1/4 cup honey mustard, plus more for dipping
1 1/2 cups finely crushed pretzels
Instructions
Preheat oven to 375 degrees F. Line 2 large baking sheets with parchment paper or spray with nonstick cooking spray.
In a shallow dish, combine flour, salt and pepper. In a separate dish, whisk eggs and honey mustard. In a third dish, pour in crushed pretzels. Coat chicken pieces in flour, dip in egg, then coat with crushed pretzels. Place chicken bites on prepared baking sheets.
Bake for 15 minutes, flipping bites halfway through baking, until chicken is cooked through.
Serve with additional honey mustard for dipping, if desired.
Enjoy!