I don't have any sentimental stories about watching my grandmother stir a simmering tomato sauce over a wood stove, or helping her tear herbs from the garden and plopping them into the pot. Instead, maybe I'll be that little old grandmother one day, with a recipe like this one to pass down for generations.
Maybe my grandkids could then start a food blog of their own and refer to their grandmother with the bomb-diggity tomato sauce.
Yes, you heard me. It will be bomb-diggity, because naturally, I'll have made it a thousand times by then. Just you wait.
Before making this sauce, I had always poured pretty much everything from a can. Nothing wrong with that. That's the way most grandmothers do it, I'm sure. But, the taste of a tomato sauce made with fresh tomatoes… Oh, my. You have GOT to experience it, at least once.
First things first, though. In order to get your tomatoes ready for mashing into a marvelous tomato sauce, you need to peel and seed them. Don't worry, it's very easy and quick to do.
The steps are described in addition to the recipe below, so give it a click and set aside some time to learn something new and fill your home with the sweet smell of homemade marinara sauce!
How To: Peel & Seed Fresh Tomatoes
1. Remove the small green stalk from each tomato, if there is one. Cut a cross in the top of each tomato. With a paring knife, remove the hard, green core of the tomatoes.
2. Boil a large pot of water and fill a large bowl with cold water and ice. When water is boiling, put 2-3 tomatoes in the pan. Leave them in for 20 seconds. The skin will split, starting from the top incision.
3. Remove them with tongs and plunge immediately into cold water. Continue with all tomatoes.
4. Remove tomatoes from cold water and gently peel off the skin.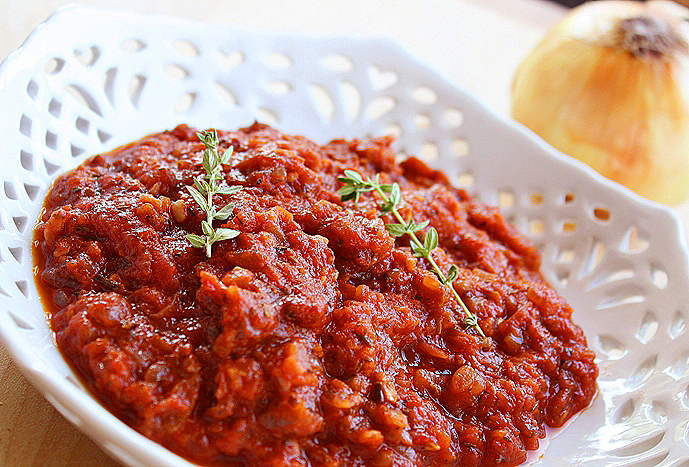 Basic Marinara Sauce
Ingredients
1 large yellow onion, diced
1 Tbsp olive oil
4 cloves of garlic, minced
1 Tbsp dried herbs, basil, oregano, rosemary, thyme, etc*
1/4 cup red wine
6 cups fresh ripe tomatoes, peeled and seeded
Salt and pepper, to taste
Instructions
In a large soup pot, heat the olive oil. Add the onions and cook slowly on medium heat, until they start to caramelize. They should be evenly brown and soft. Cooking them this way brings out the natural sweetness in the onions.
Add the garlic and dried herbs and cook for 5 minutes. Deglaze the pan with the 1/4 cup of red wine and cook for 2 minutes more.
Add the tomatoes and their juice and stir to combine. Bring to a simmer and cook on low, stirring occasionally for about 2 hours. Add salt and pepper to taste.
Enjoy!
Notes
Dried herbs hold their flavor much longer than fresh herbs when slow-cooking. If you want to use fresh herbs, add them at the end of the cooking process, just before serving.