Let's just say I was not entirely sold on baked kale chips at first. When I reach for a crisp, salty snack it's usually popcorn that satisfies my craving. Not a vegetable that is chock full o' skin-healthy vitamin C, bone-strengthening calcium and immunity-enhancing beta carotene. No thanks.
But, being the curious food lover I am, I picked up a bunch of fresh kale for 99 cents and thought, What the heck. I'll give it a shot.
A matter of minutes after these came out of the oven, let's just say I was glad I did! This surprisingly crisp and flavorful snack blew me away, as did the fabulous health benefits of this superfood. Kale's omega-3 provides many benefits for your hair, skin and nails, but it also contains chemicals with powerful anti-carcinogen properties and metabolism-boosting iron.
Hot tip: Look for small-leafed kale – the bigger the leaves the more bitter the taste.
Why buy pricey bags of these flavorful kale chips at Whole Foods when you can make them with an inexpensive bunch of ingredients at home?
If you're not keen on red pepper flakes, try garlic powder or a dash of cayenne. Sprinkle over some fresh lemon juice or toss in a little feta. Bake it, fry it, steam it. Add it to a soup, omelet or pizza. You'll never know what your body is missing 'til you try a dish with tasty kale!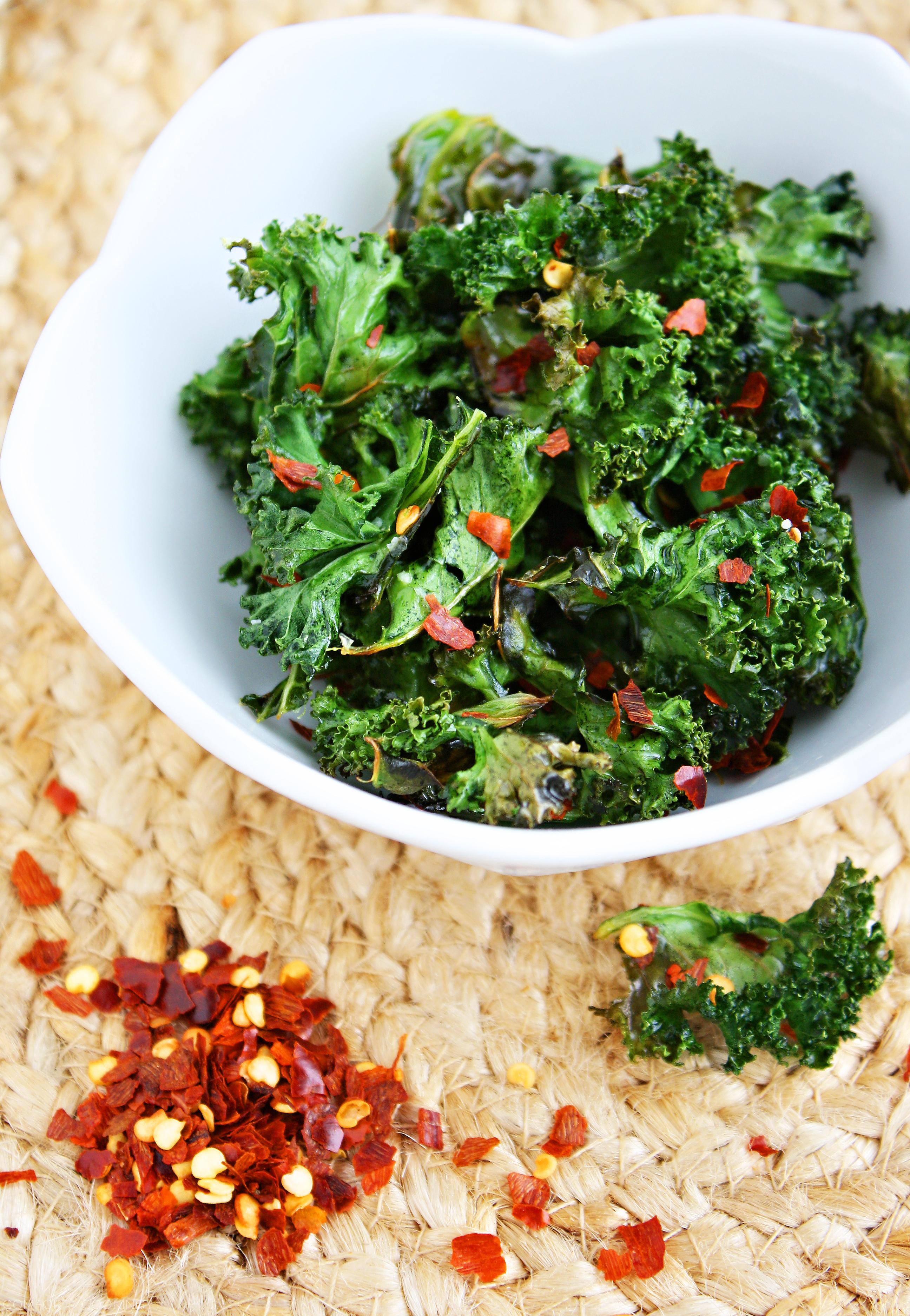 Spicy Baked Kale Chips
Ingredients
1 bunch small-leafed kale, rinsed and pat dry
1 Tbsp. olive oil
Kosher salt and freshly ground pepper, to taste
1/4 tsp. crushed red pepper flakes
Instructions
Preheat your oven to 350 degrees F.
Cut kale into 1-inch pieces. Toss the kale in a large bowl with the olive oil and spread evenly on two baking sheets, making sure the pieces are in one layer. (Do not salt. Salt will draw out moisture and cause the kale to not crisp.)
Bake them for about 8-10 minutes, or until crispy, making sure to flip them around half way though. Season with salt, pepper and crushed red pepper flakes.
Enjoy!