I consider myself a pretty good cook, but when it comes to something as simple as a salad, I confess that my creative brain is a little lost. About twice a week, I force down forkfuls of a plain baby spinach and tomato salad, and while it's good for me, it's just not good-tasting.
Still, my ears – or, I guess, eyes – perk up when I see a salad recipe and wonder if it will replace my boring go-to salad. Well, in this case, the recipe was for a salad, but unfortunately, it wouldn't be stepping in for spinach and tomato any time soon. That being said, it certainly made for an unbelievably delicious dinner – and side dish – all in one.

Doesn't that look so summery and festive? I tell ya, like a party on a plate.
This was just sooo good, and once you make it I'm sure you'll agree that this dish is one of the tastiest excuses to fire up your grill this spring and summer. The chicken, having marinated for a few hours in olive oil and spices, was moist and tender, and the tomatoes, snap peas, and fresh basil and lemon in the couscous made even a warm meal taste so light and refreshing.
Now, seeing as we all – myself included – have swimsuits and trunks to fit into this season, I'll get to work on dreaming up a tasty, leafy salad to share with you! I'll try to leave out the bacon and copious amounts of cheese … but, hey, no promises.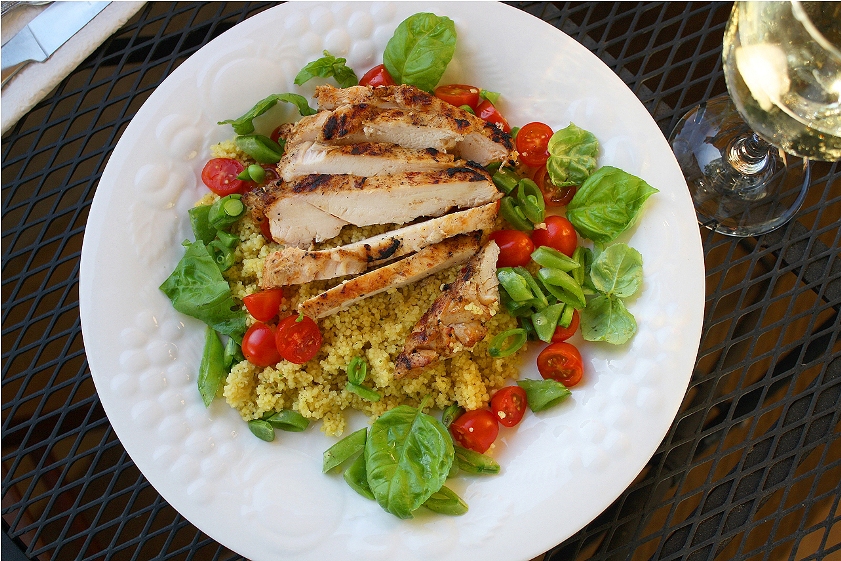 Spiced Chicken with Couscous Salad
Ingredients
2 tbsp. olive oil
1 tsp. paprika
1 tsp. chili powder
1 tsp. ground cumin
1/2 tsp. each salt and freshly ground pepper
2 boneless skinless chicken breasts
1/2 cup couscous
1/2 tsp. grated lemon zest
2 tbsp. fresh lemon juice
1 half pint cherry or grape tomatoes, halved
1 cup snap peas, thinly sliced crosswise
1/2 cup fresh basil, torn
Instructions
In a medium-sized bowl, combine oil, paprika, chili powder, cumin, salt and pepper. Add chicken and turn to coat evenly. Marinade in refrigerator for at least 30 minutes, or up to 1 day.
Preheat grill to medium-high heat and cook chicken, 6 to 7 minutes per side. Once cooked, transfer to a cutting board and slice.
Meanwhile, cook couscous according to package instructions (usually, bring to a boil in 1 cup water, remove from heat, cover, and let sit for 5 minutes; fluff with a fork). Add lemon zest and juice to couscous, and serve. Top with tomatoes, snap peas, basil, a pinch of salt and pepper, and sliced chicken.
Enjoy!