"It looks like a strawberry pizza," were the first words out of my charming husband's mouth after seeing this scrumptious, gorgeous strawberry galette.
If making it had required more work, I would have had his head. But truth is, this little beauty is a lot of gain for not a lot of strain. All it takes is four ingredients (no, you didn't read that wrong), plus an egg to brush on top.
I don't know about you, but I think it's just the bee's knees.
Yea, this one won't last you very long.
The best part is, this rustic French tart is both nice to look at and SO easy to make. You don't even need to click below for the recipe, because you know what? I'll tell you what you need to do right here. You need to make a pie crust, or buy one. Roll it out.
Cut up a carton of strawberries lengthwise, add them to a bowl, sprinkle them with 2 tbsp. cornstarch and 3 tbsp. sugar. Overlap the strawberries in the middle of the crust, fold it inward, and bake at 350 for 35-40 minutes. Done! Oh, and don't forget to serve that bad boy with homemade whipped cream.
I think I'll cut myself off right here, because it's morning, I haven't had breakfast yet, and a lovely piece of strawberry bliss is sitting all alone under the cake dome on my kitchen table. Someone needs to tend to it, and you know what? I'm just the gal for the job.
I really do hope you give this sinfully good galette a try. It's completely fool-proof and utterly divine, for dessert or breakfast.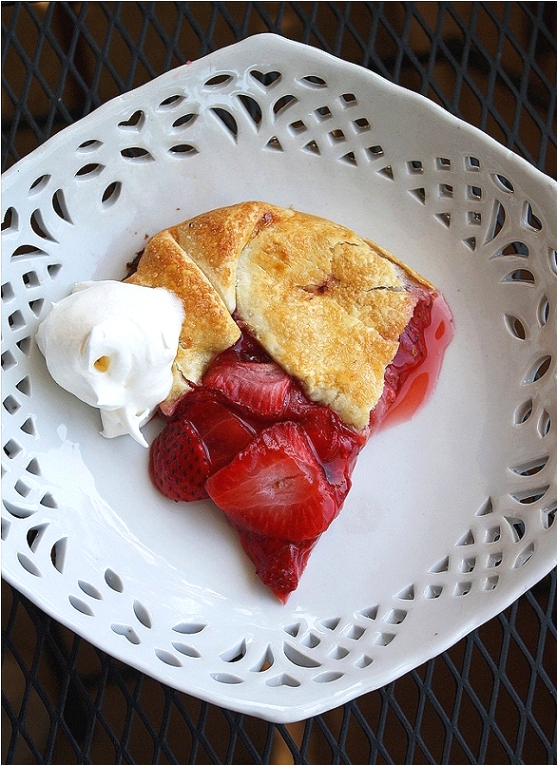 Strawberry Galette
Ingredients
1 pie crust, store-bought or homemade
10-15 strawberries, stems removed and sliced
3 tbsp. white sugar
2 tsp. corn starch
1 egg, beaten
Instructions
Preheat the oven to 350 degrees. Line a baking sheet with parchment paper.
Clean the strawberries, remove the stems and slice them lengthwise. Place the sliced strawberries into a bowl and sprinkle the sugar and cornstarch on top. Gently stir the strawberries until the sugar and cornstarch evenly cover the berries.
Roll out pie crust. Layer the berries overlapping each other inside the pie crust starting one inch from the edge. Fold the edge of the dough over the strawberries. Brush the dough with the beaten egg. Sprinkle all over with 1 tsp. sugar. Bake for 35-40 minutes.
Remove from the oven and let it cool for 5-10 minutes before slicing. Serve with homemade whipped cream.
Enjoy!