It's safe to say that with all the traveling my husband and I are doing this year, we don't have any huge plans for our first wedding anniversary, which is today. I'm so happy that a year has passed, but we've been together for seven years and have had plenty of fun and flashy anniversary celebrations. Today is just quieter, and instead of trotting around town, we've spent the time talking about our favorite memories from the wonderful day when we were married.
If you're not familiar with this dish, don't worry. Strata is easy, incredibly flavorful, and a lot like a marriage between a quiche and French toast. Chunks of bread (I used a day-old baguette) absorb a mixture of egg, sugar, ricotta, milk, orange juice, butter and honey, and it's all tossed with mixed berries. After several hours of soaking, pop that baby in the oven and try your best to wait 40 minutes while it bakes. The aroma is incredible!
There are many sweet and savory variations of strata, but I think you will absolutely love this one. The texture is soft with a little crunch, and the taste is slightly sweet and citrusy. Eating it feels like getting a big hug, and celebration or not, everyone deserves a hug from this delicious breakfast or brunch comfort food!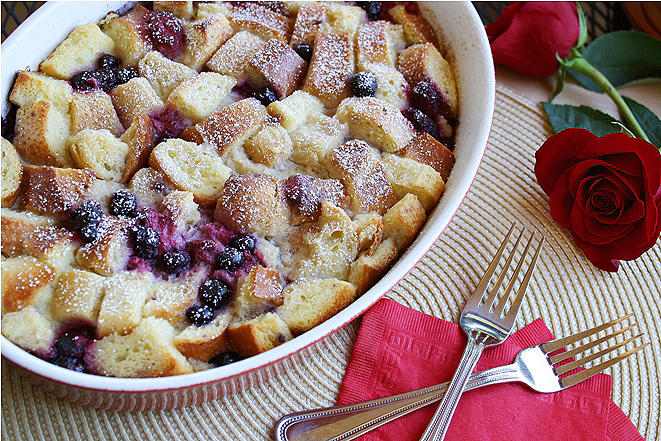 Berry Strata
Ingredients
2 tablespoons butter
3 tablespoons honey
4 large eggs
1/2 cup ricotta
3 tablespoons sugar
1 cup milk
1/4 cup orange juice
4 slices of bread, torn into 1-inch pieces (about 4 cups)
1 10-ounce bag frozen mixed berries, thawed and drained
Instructions
Add butter to a small bowl and microwave until melted, watching carefully. Add the honey, and stir to combine.
Meanwhile, in a large bowl combine the eggs, ricotta, and sugar. Mix to combine and beat the eggs. Add the milk, orange juice, butter and honey mixture, and bread. Stir to combine. Gently fold in the berries.
Place the ingredients in a 10-inch round (2-quart) baking dish. Cover with plastic wrap and place in the refrigerator for at least 2 hours and up to 12 hours.
Preheat the oven to 350 degrees F. Bake the strata until golden on top and baked through, about 40 minutes. Let stand for 5 minutes before serving. Spoon into dishes and serve.
Enjoy!