Though I may not be able to take care of a basil plant from my top-floor city apartment, I sure do love to chop up those gorgeous green leaves for a salad, pasta dish or pesto. Just look at that color! That isn't Photoshop, folks.
Okay, maybe it's a little Photoshop.
Basil pesto, if you're unfamiliar, is just a ground up mixture of fresh basil, pine nuts, garlic cloves and olive oil. It tastes very fresh, smooth and a little nutty, and it is deeee-lish on a slice of Italian bread, mixed into pasta, spread on a pizza, sandwiches, potatoes and grilled meat and vegetables, or as a marinade or stuffing for meat, chicken and fish. There are limitless things you can do with a little glob of this green spread!
Best of all, pesto is SO simple to make. Here, I'll show you how:
… Just pack some freshly rinsed basil, pine nuts and whole garlic cloves into your food processor that is inevitably larger, shinier and overall nicer than mine (This sucker's on its last legs)…
… Whiz them all together, then pause that awesome mixing action and drizzle in a little olive oil. Once you're ready to use the pesto, grate in some fresh Parmesan or Pecorino cheese, and there you have it!
Presto, it's pesto!
The whole reason I made basil pesto in the first place was because I'm hightailin' it to Texas tonight and had truckloads of basil and pine nuts that I didn't want to waste. So, if you also don't plan on using the pesto right away, you can freeze it in an airtight container for up to three months. But, let's be honest, is it really going to take you three months to gobble up this basil pesto in all its delicious green gorgeousness?
I'll answer that for you: No.
Like I said above, you can get creative and add pesto to all kinds of different dishes. You can also add a little lemon zest to it for a brighter, citrusy flavor, toast the pine nuts for a deeper, nuttier flavor, or swap them out for almonds. Just have fun with it!
Enjoy this pesto and enjoy your upcoming weekend, everybody! If I'm not overstuffed with Texas BBQ, sunburned to a crisp and jetlagged, I'll be back on Monday with another recipe for you.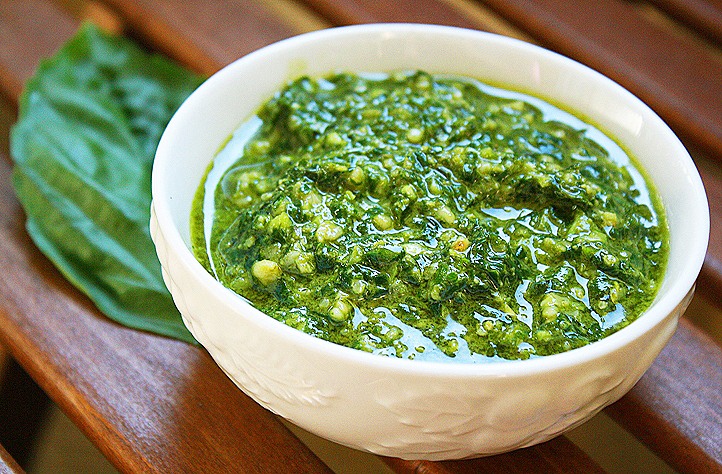 Easy Basil Pesto
Ingredients
2 cups packed fresh basil leaves
2 cloves garlic
1/4 cup pine nuts
2/3 cup extra-virgin olive oil, divided
Kosher salt and freshly ground black pepper, to taste
1/2 cup freshly grated Parmesan cheese
Instructions
Combine the basil, garlic, and pine nuts in a food processor and pulse until coarsely chopped. Add 1/2 cup of the oil and process until fully incorporated and smooth. Season with salt and pepper.
If using immediately, add all the remaining oil and pulse until smooth. Transfer the pesto to a large serving bowl and mix in the cheese.
If freezing, transfer to an airtight container and drizzle remaining oil over the top. Freeze for up to 3 months. Thaw and stir in cheese.
Enjoy!