Around here, we're all about comfort food, and if you aren't aware that macaroni and cheese is synonymous with comfort food… well, let me educate you.
Macaroni and cheese equals all that is good in this world. It's a hug in a bowl, a bit of solace after a long day, and always easy and quick to prepare for even the most inexperienced cook. But there's no better way to dress it up – or sneak in a good serving of veggies – than by topping it with a colorful, delicious medley of roasted broccoli and plump tomatoes!
These are so ridiculously easy, you won't even believe it. And the quicker you can have this out of the oven and into your mouth, the better. Am I right?
Just boil some pasta – use whatever you like, but I'm an elbows devotee – then toss it with some Cheddar cheese, salt and pepper. No need to make a sauce. Press the mixture into your muffin pan molds, top with cut-up broccoli and tomatoes, and a little sprinkle of breadcrumbs, and voila! A quick snack for yourself or kids, an elegant party appetizer, or a simple yet stunning side dish.
You can also use small-diced asparagus, zucchini, carrots, peas, bell peppers, squash or any vegetable you like. Also, make these ahead of time for a party and refrigerate up to two days. Pop them in the oven again for 10 minutes, and they'll be toasty warm and ready for serving!
I know you'll enjoy making these and gobbling them up just as much as I did, so give them a try for yourself. Your comfort food craving tummy will thank you!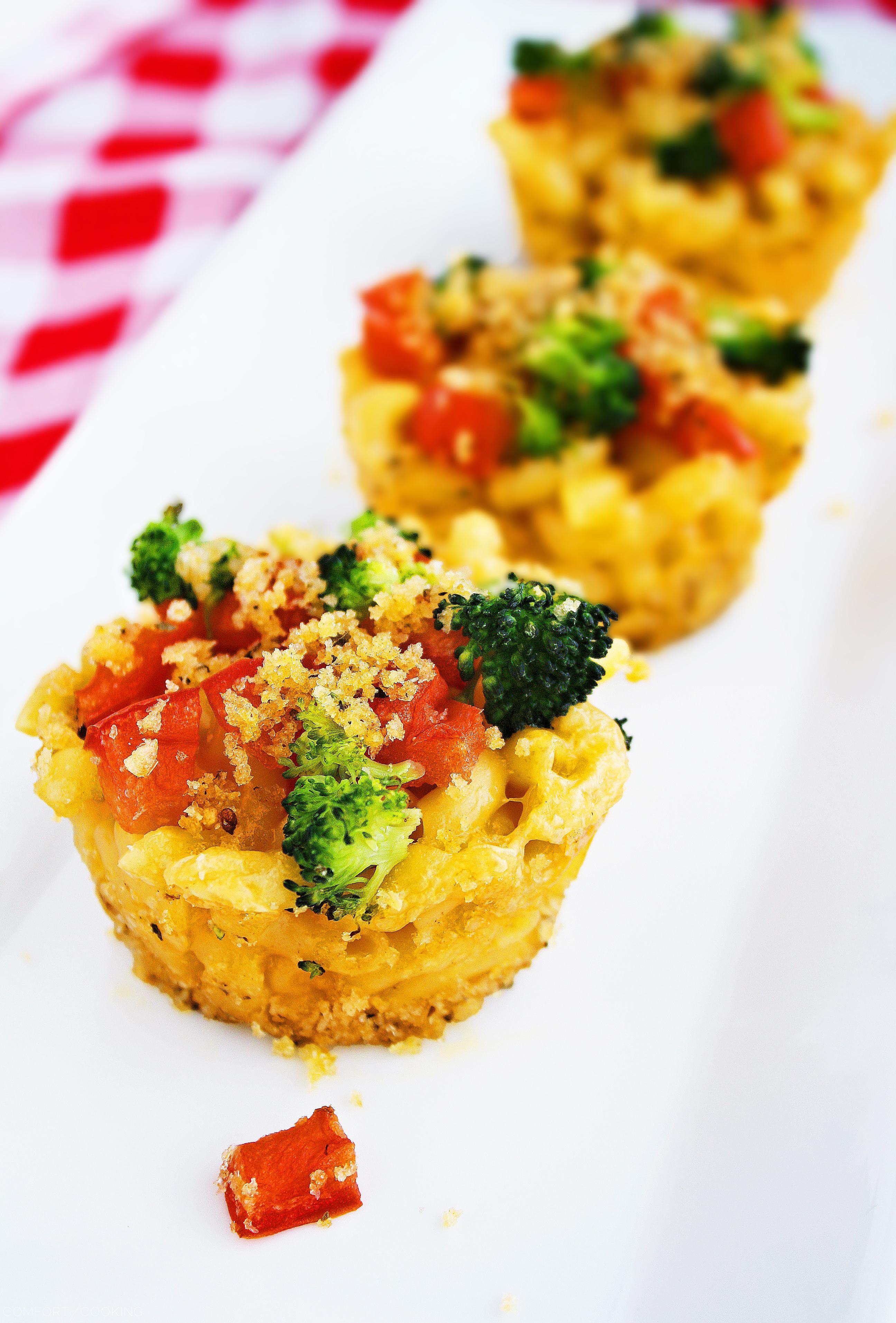 Roasted Vegetable Macaroni & Cheese Cups
Ingredients
Nonstick cooking spray
1/2 cup dried bread crumbs, I used panko
6 ounces small pasta, such as shells or elbows
1 cup grated Cheddar cheese
1/4 teaspoon kosher salt
1/8 teaspoon freshly ground black pepper
1/2 cup quartered cherry tomatoes or small diced plum/Roma tomatoes
1/2 cup chopped broccoli, blanched*
Instructions
Preheat the oven to 375 degrees F.
Spray 6 cups of a 12-cup muffin pan with cooking spray. Coat inside of each muffin cup with bread crumbs, reserving any excess.
Bring a medium pot of salted water to a boil over high heat. Add the pasta and cook until al dente, stirring, 8- 10 minutes. Drain pasta, add back to pot, and stir in Cheddar cheese. Season with salt and pepper, to taste. Spoon pasta mixture into muffin cups, filling almost to the top and pressing gently to set. Top each cup with tomato and broccoli. Sprinkle a pinch of remaining bread crumbs on each.
Bake until golden brown, about 15 minutes. Let cool for at least 5 minutes and carefully unmold with a butter knife.
Enjoy!
Notes
Tip: To blanch vegetables, bring a saucepan of salted water to a boil over high heat. Add the vegetables and cook for 1-2 minutes. Using a small strainer, remove the vegetables and immediately plunge into a bowl of iced water. Drain and use.