These soft, buttery crescent cinnamon roll twists are perfect for Christmas morning breakfast! All you need are 4 ingredients, 10 minutes and a love of cinnamon rolls. Step-by-step photos keep it simple, and the aroma as they bake will make your home smell super cozy!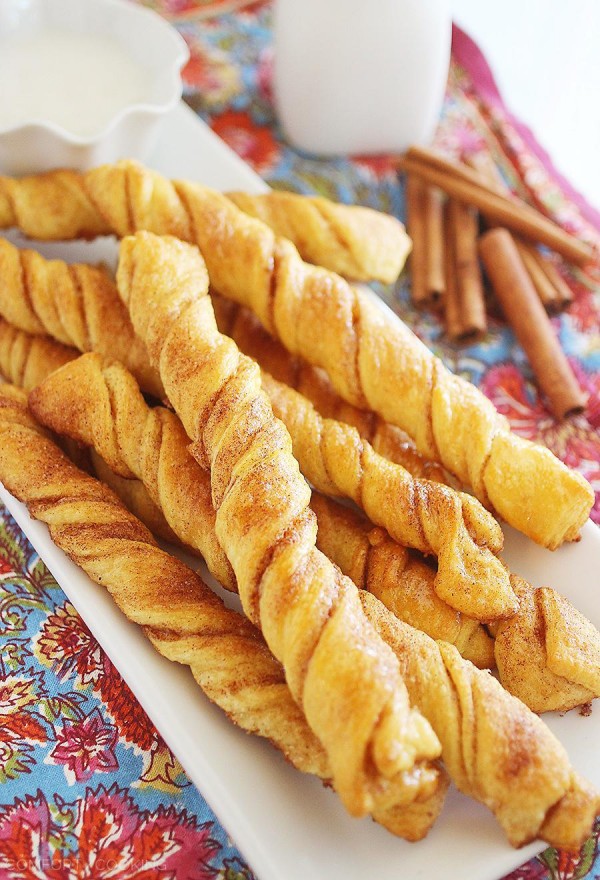 Merry eve of Christmas Eve! What a wonderful week it is to celebrate good family, friends and all the little fortunes in our lives. I hope you have happiness in your heart and good food in your belly, wherever you are in the world and with whomever you're enjoying the holidays. I'm busy with getting ready for our first-ever flight with baby today, and tying up some last minute to-do's at home before our trip. However, I couldn't resist sharing these irresistible cinnamon twists with you. I imagine you baking them for breakfast on Christmas morning, or sharing them as a snack with little loved ones, filling your home with the warm cinnamon scent. The spicy, sweet cinnamon aroma alone helps take off the chill!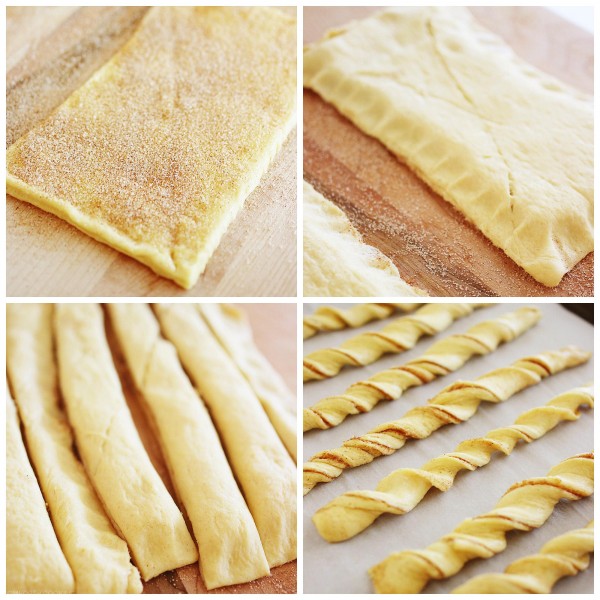 These soft, buttery cinnamon roll twists are made easily with crescent roll dough. No rising, no rolling, and no time at all until they're in your belly! Simply separate your dough into rectangles, brush on melted butter and sprinkle cinnamon-sugar on top. Press a rectangle, buttered side down, on top of another, and press the edges to seal. Slice the dough into strips, twist them up and lay them on your baking sheet. Brush a bit more butter and cinnamon-sugar on top. Then, all that's left to do is wait patiently! These twists bake up beautifully golden, puffy and sweet. Each one tastes like a gooey cinnamon roll, or a churro… without all the work! With a quick 2-ingredient glaze for dipping, these soft cinnamon twists are heavenly. One dunk and you'll realize how incredibly delicious they are! Perfect for breakfasts and brunches, party appetizers, and dessert platters, and so easy. What's not to love? Wishing you and yours a very merry Christmas. Bake these twists for breakfast, and I guarantee your holiday will be all the more happy!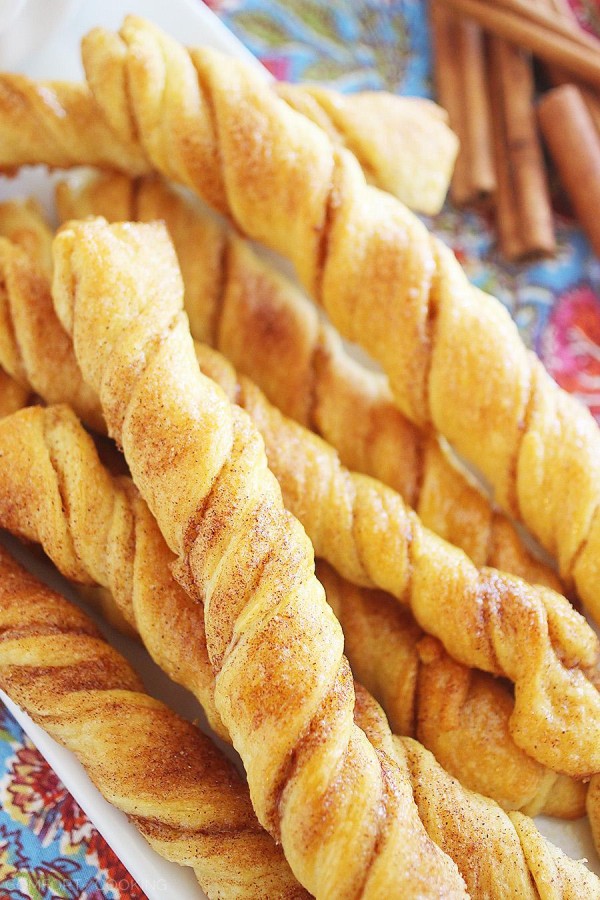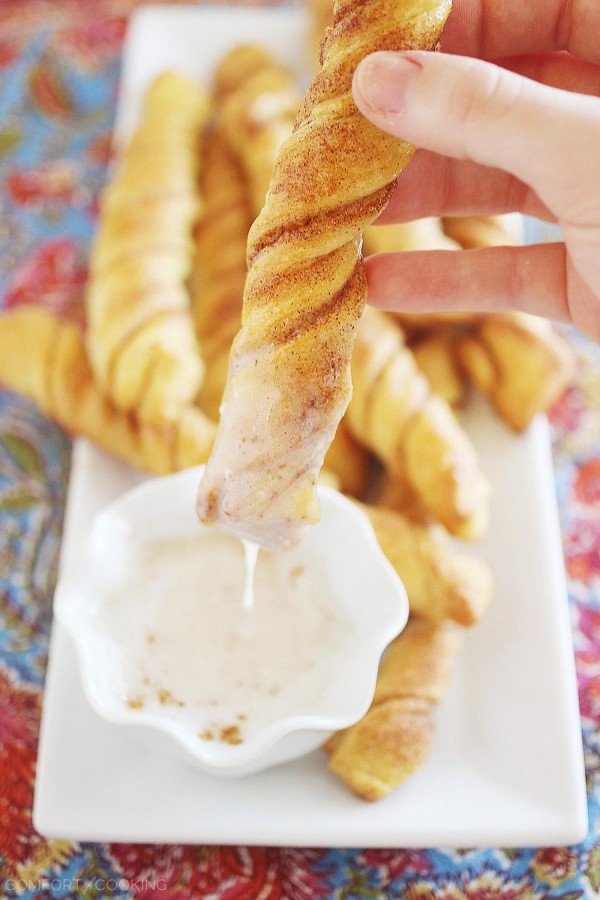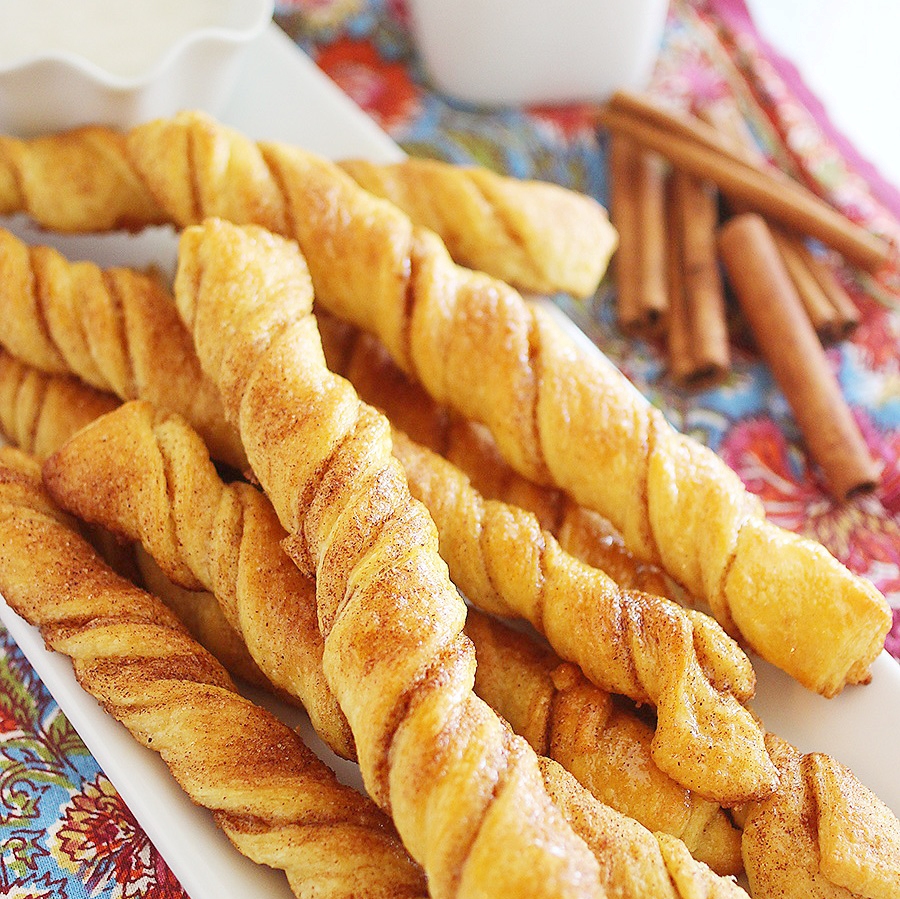 4-Ingredient Cinnamon Roll Twists
Ingredients
For the Cinnamon Roll Twists:
1 (8 oz.) can refrigerated crescent rolls
2 Tablespoons granulated sugar
1 teaspoon ground cinnamon
2 Tablespoons + 1 Tablespoon melted butter, divided
For the Glaze Dip:
1/2 cup powdered sugar
2 Tablespoons milk
Instructions
For the Cinnamon Roll Twists: Preheat oven to 375 degrees F. Line a large baking sheet with parchment paper. Lightly grease with nonstick cooking spray.
Unroll crescent dough and separate into 4 rectangles.
In a small bowl, combine sugar and cinnamon.
Brush 2 Tbsp. melted butter onto tops of crescents and sprinkle with half cinnamon-sugar mixture.
Place one crescent rectangle, buttered side down, on top of another and press edges together. Cut each rectangle into 5 strips. Brush with remaining melted butter. Twist each strip a few times and place on prepared baking sheet. Sprinkle with remaining cinnamon-sugar.
Bake for 8-10 minutes. Serve with Glaze Dip, if desired.
For the Glaze Dip: Combine powdered sugar and milk in a small bowl. Whisk until smooth. Serve with cinnamon twists.