Buttery soft, old-fashioned vanilla oatmeal cookies that melt in your mouth! Our readers LOVE these! Just like grandma used to make… but better.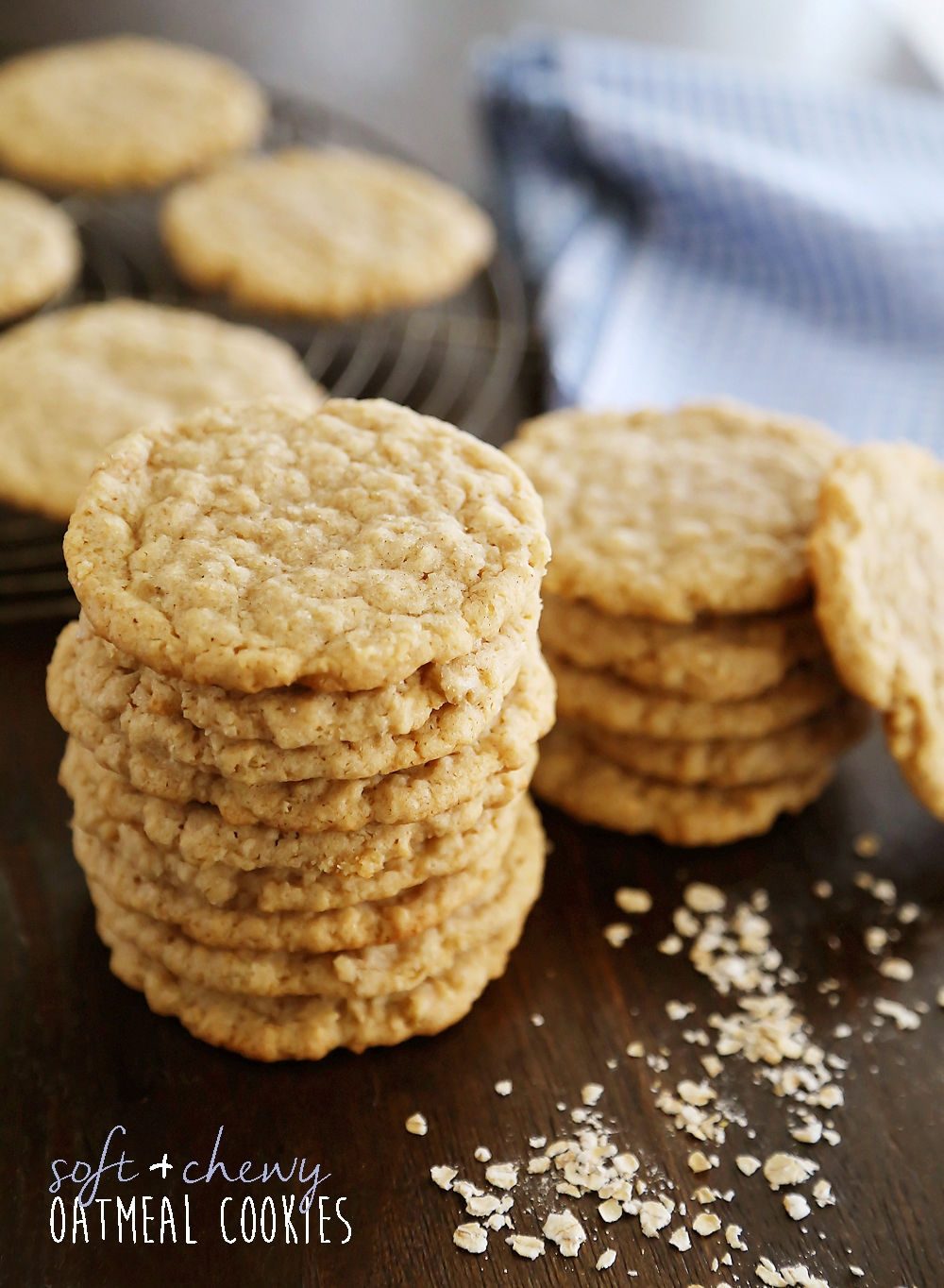 Sometimes, the simplest recipe can be the hardest to find. That's why, today I decided to help you solve your longtime search for the ultimate old-fashioned oatmeal cookie. You know the one, flat and buttery, with crisp edges and a soft, chewy texture. And that vanilla aroma as they bake! Oh, the right oatmeal cookie is just so good.
I've baked dozens of batches of oatmeal cookies, but no more than I have in the past few weeks. I had a couple close successes, a few failures, and then I pulled these out of the oven, and the clouds parted. I wasted no time grabbing a glass of milk and plucking one hot off the pan. And then another one.
Even my meh-about-oatmeal hubby couldn't resist a short stack of these scrumptious cookies!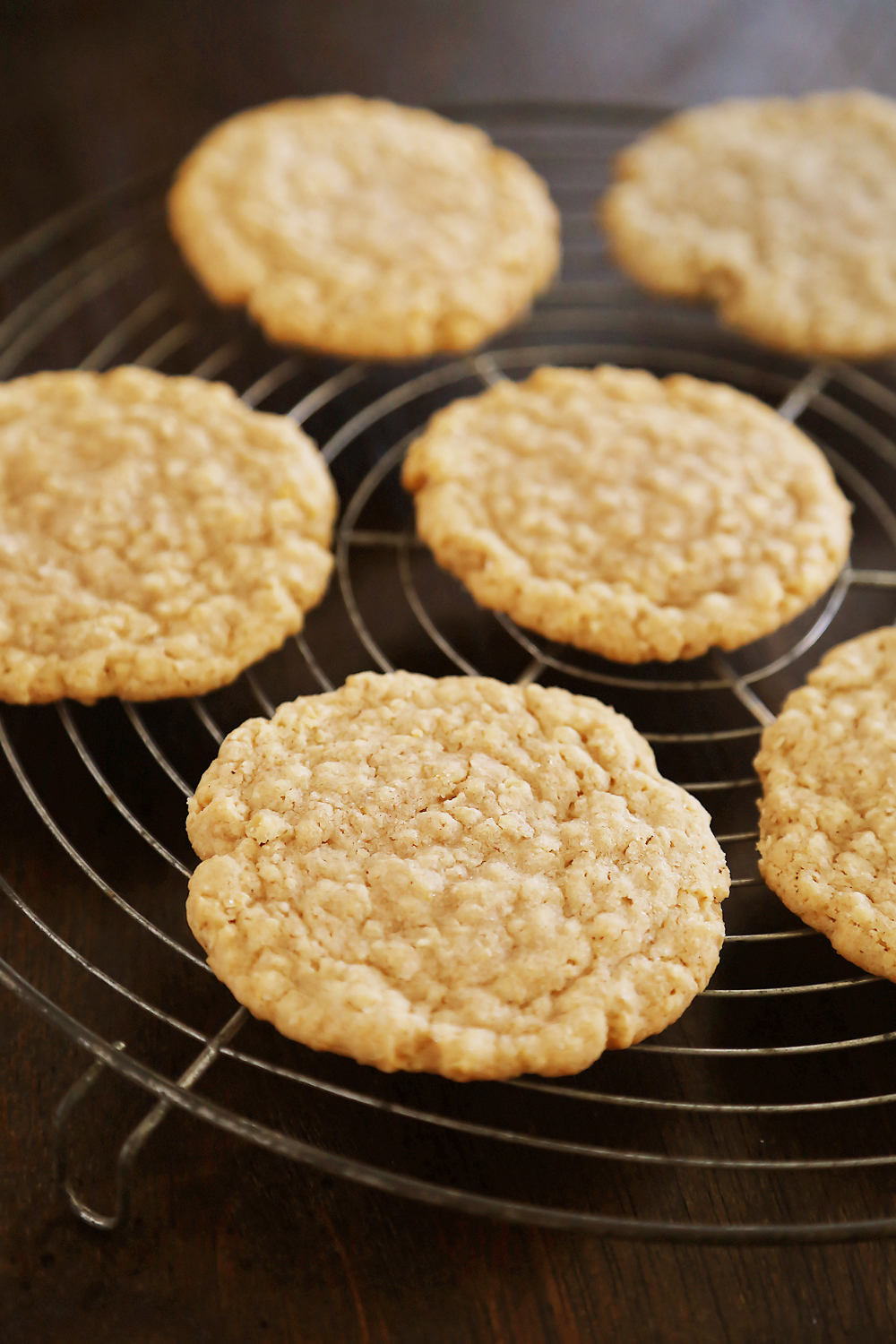 Oatmeal cookies combine all the classic goodness of every good cookie in the world – the buttery indulgence of a chocolate chip and the spiciness of a snickerdoodle. Those are the best cookies in the world according to my household, at least! There is just nothing not to love about an warm, home-baked oatmeal cookie. The perfect throwback treat when you need a comforting sweet!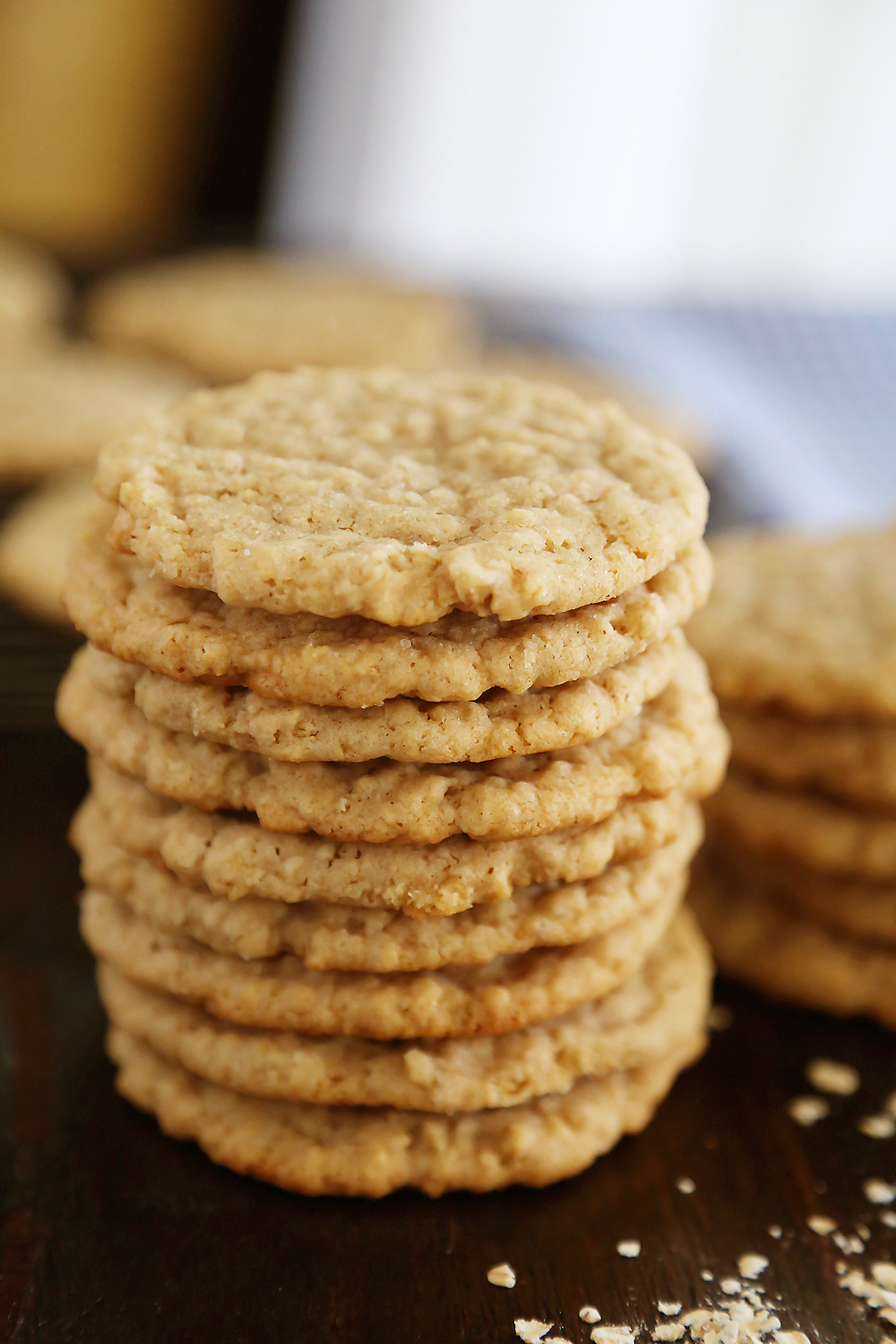 These are the best oatmeal cookies you will EVER bake. They're so irresistible and delicious.
Bake a batch and I promise these will be one of your go-to cookie recipes for all time!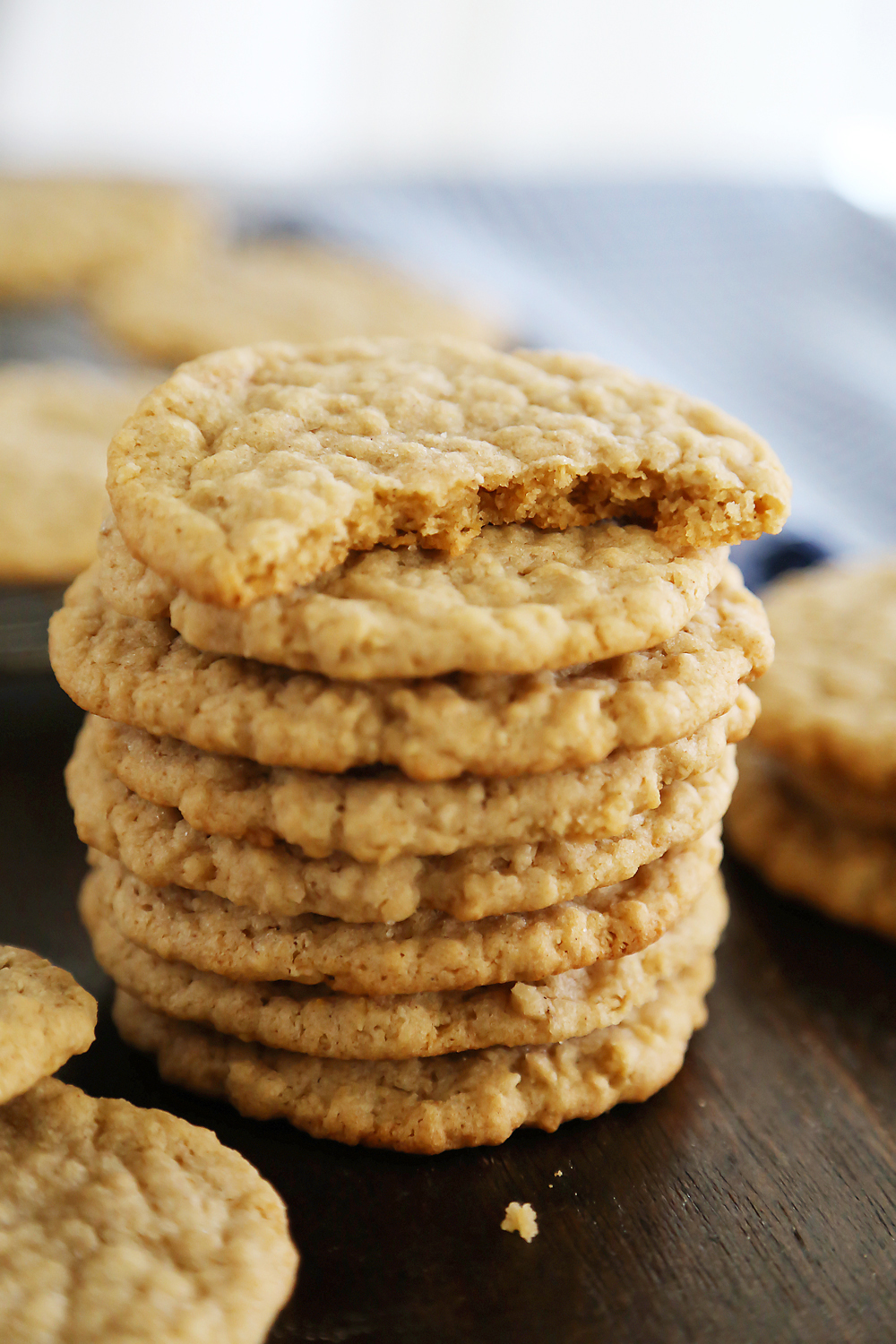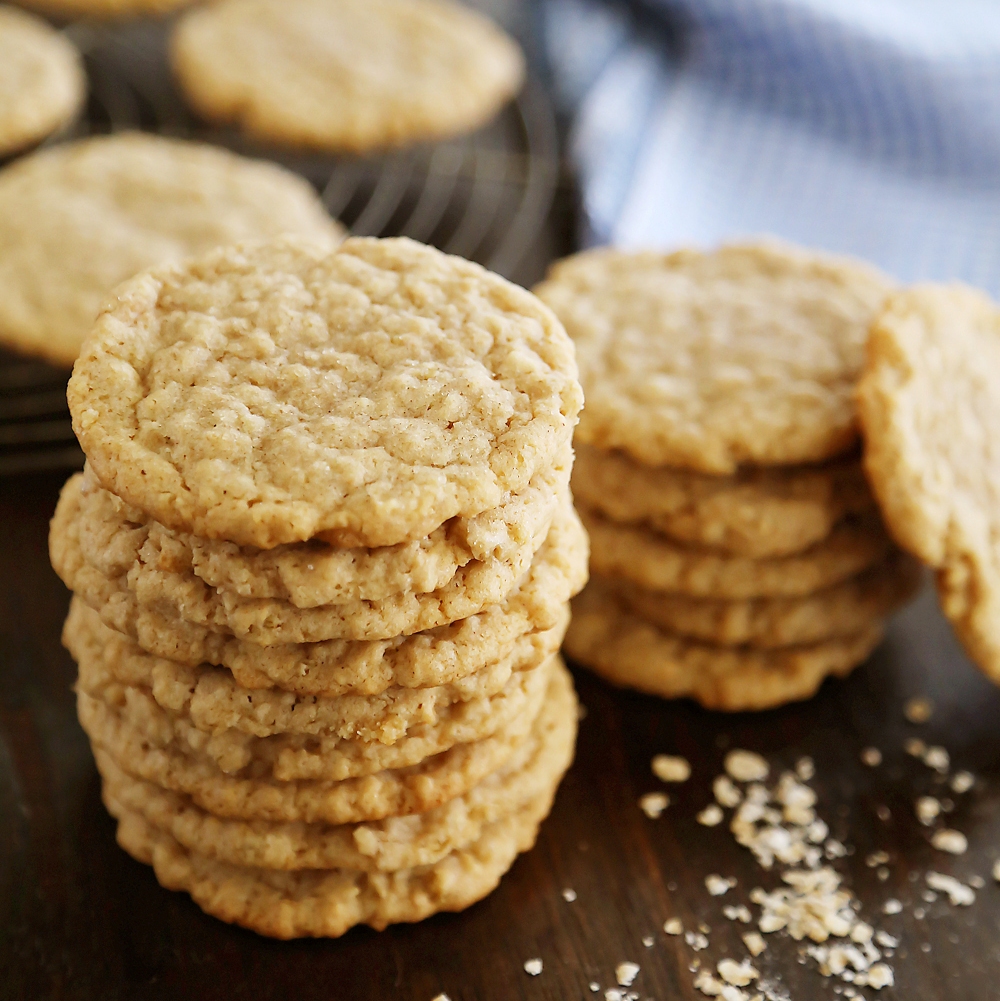 Old Fashioned Chewy Oatmeal Cookies
Ingredients
1 cup (2 sticks) unsalted butter, softened
1 cup granulated sugar
1/2 cup packed brown sugar
1 large egg
2 teaspoons vanilla extract
1-2/3 cups all-purpose flour
1 teaspoon ground cinnamon
3/4 teaspoon baking soda
1/4 teaspoon salt
1/8 teaspoon baking powder
1/8 teaspoon ground nutmeg
1-1/2 cups quick cooking oats
Instructions
Preheat oven to 350 degrees F. Line 2 large baking sheets with parchment paper; set aside.
In a large bowl with an electric mixer, beat butter and both sugars until fluffy. Mix in egg and vanilla until well blended. Combine flour, cinnamon, baking soda, salt, baking powder and nutmeg in a bowl. Stir into butter mixture. Gently stir in oats until well blended.
Shape dough into rounded golfball-sized balls (about 2 Tbsp. each). Place on prepared baking sheet (I fit 9 per sheet). Flatten with the bottom of a measuring cup dipped in sugar.
Bake for 8-10 minutes. Let cool on baking sheet 5 minutes before removing to a wire rack to cool completely.
Enjoy!