This past weekend, my husband and I took a trip to Florida to visit my family. We laid by the pool and the beach plenty, and I got to wear the heck out of my summer dresses and sunscreen. However, crazy as it may seem, I probably spent most of my time heating up the kitchen and cooking with my mom.
After a full night of flying, we arrived in the morning, and mom and I got right to work making chocolate mousse for my aunt's dinner party that night. I was determined to make it perfect and decadent, but, how do I put this…. On barely an hour of sleep, delicate desserts like chocolate mousse are not possible. Not at all.
So, with just an hour to spare, we brainstormed a "plan B" of cherry crisp, a family favorite and incredibly simple sweet that would save our tails.
Why my mom keeps cherry pie filling, plain oats and whole almonds at-the-ready, I'll never know, but God bless that woman. We had this thing in the oven in 10 minutes, and after 30 minutes of baking and filling the house with the aroma of sweet cherries and warm cinnamon, it was ready for packing up to take to the party.
By the time we got to dessert, everyone had a glass of wine in hand and their feet dunked in the pool on that hot, sticky Florida night. In under a minute, the clang of spoons hit empty dessert dishes and moans ensued.
A crunchy topping of chopped nuts, warm oats, brown sugar, cinnamon and nutmeg gave way to bubbling, soft and gooey cherries. Topped with a dollop of homemade whipped cream, it just about sent us all to heaven and back.
Whether this delicious cherry crisp is in your plans or ends up being "plan B", I guarantee you'll love it and make it again soon. Though the dinner party was Saturday, I haven't even been home for 48 hours and I couldn't resist making it again.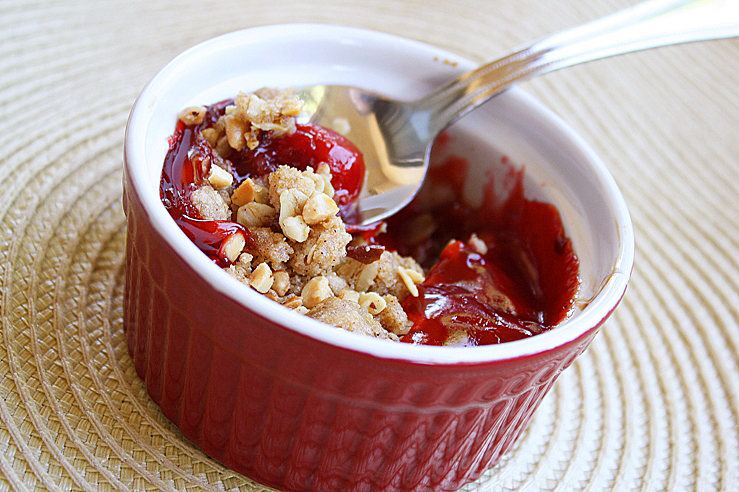 Cherry Crisp
Ingredients
1 (21 ounce) can cherry pie filling
1/2 cup all-purpose flour
1/2 cup rolled oats
2/3 cup brown sugar
3/4 teaspoon ground cinnamon
3/4 teaspoon ground nutmeg
1/4 cup chopped nuts
1/3 cup melted butter
Instructions
Preheat oven to 350 degrees.
Lightly grease a 2-quart baking dish or six 3.5-oz ramekins. Pour pie filling into the dish or ramekins, and spread evenly.
In a medium bowl, mix together flour, oats, sugar, cinnamon, and nutmeg. Mix in melted butter. Spread over pie filling, and sprinkle with chopped nuts of your choice.
If using ramekins, place them on a baking sheet.
Bake in the preheated oven for 30 minutes, or until topping is golden brown. Allow to cool 15 minutes before serving.
Enjoy!