If there's one thing I will miss about California when my husband and I move, it's the avocados. But, since we moved here from Boston three years ago, there has been one thing I have been missing terribly: the fish. Shellfish, freshwater, saltwater, you name it. What you get out of the cases in the California supermarkets isn't quite the same, but it is plenty more pricey.
We've been making do with what we've been given, though, and have found some great deals on large bags of great-quality frozen shrimp and white fish such as flounder and cod at our local grocery store.
This is one of my favorite dinners to make with the shrimp and fish we happen find on sale. It's fresh, fast and so delicious for such a simple meal. It even makes for incredible leftovers the day after!
All you do is this: Fold up a few pieces of aluminum foil, pile on some thinly-sliced red potatoes, a fillet of white fish (I used flounder for this one), raw shrimp, salt, pepper, fresh lemon juice, and a few dollops of butter mixed with fresh dill and garlic. Top it with a lemon slice, fold up each packet and grill for about 12 minutes. Meanwhile, your corn is boiling and rolls are keeping warm in the oven.
When they're all done, slice open the packets, grab your corn, rolls and an icy-cold beverage, and dinner is on the table!
This dish has become a summertime go-to for my husband and I. It's just so delicious, and I know we'll keep making it wherever we are! However, at least while we're living in California, we still like to bring a few New England tastes onto our dinner table, and you should, too!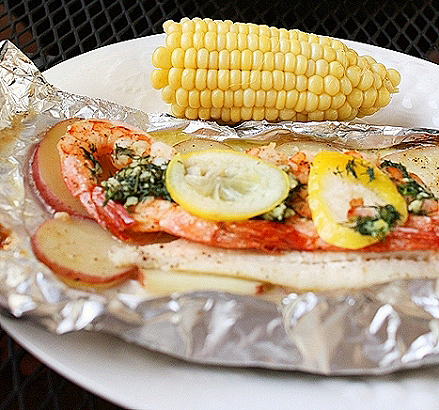 Grilled New England Seafood Bake
Ingredients
¼ cup butter, room temperature
2 ½ tablespoons finely chopped fresh dill, plus more for garnish
2 garlic cloves, minced
Coarse salt and ground pepper
4 red potatoes, scrubbed and thinly sliced
1 pound skinless white fish, such as cod, halibut or flounder, cut into four equal pieces
20-25 raw shrimp, thawed, peeled and deveined
2 lemons, juiced
2 ears corn, rinsed and halved
Instructions
Heat grill to medium. In a small bowl, combine butter, dill, and garlic; season with salt and pepper. Set aside.
Fold four 14-inch squares of heavy-duty aluminum foil in half, forming 4 rectangles. To assemble packets: On one half of each piece of foil, dividing ingredients evenly, arrange potatoes in a single layer; top with fish, then shrimp. Drizzle each with fresh lemon juice and cut the squeezed lemons into thin slices. Season packets generously with salt and pepper.
Add three small dollops of the butter mixture and two lemon slices to each packet. Fold foil over ingredients, and crimp edges tightly to seal.
Set a medium-sized pot of water to boil. Add halved corn and boil for 10-12 minutes.
Place packets on grill, with potato layer on the bottom. Cook, rotating (but not flipping) packets occasionally, until fish is just cooked through and potatoes are tender, 12 to 14 minutes.
Remove from grill. Slit packets open, and transfer contents to serving bowls or serve from foil.
Serve with corn, bread rolls and butter.
Enjoy!