Easy, crispy-crunchy fish sticks with a homemade tartar sauce will hit the spot for little (and big) kids! These barely made it off the pan before we demolished them for lunch… so delicious!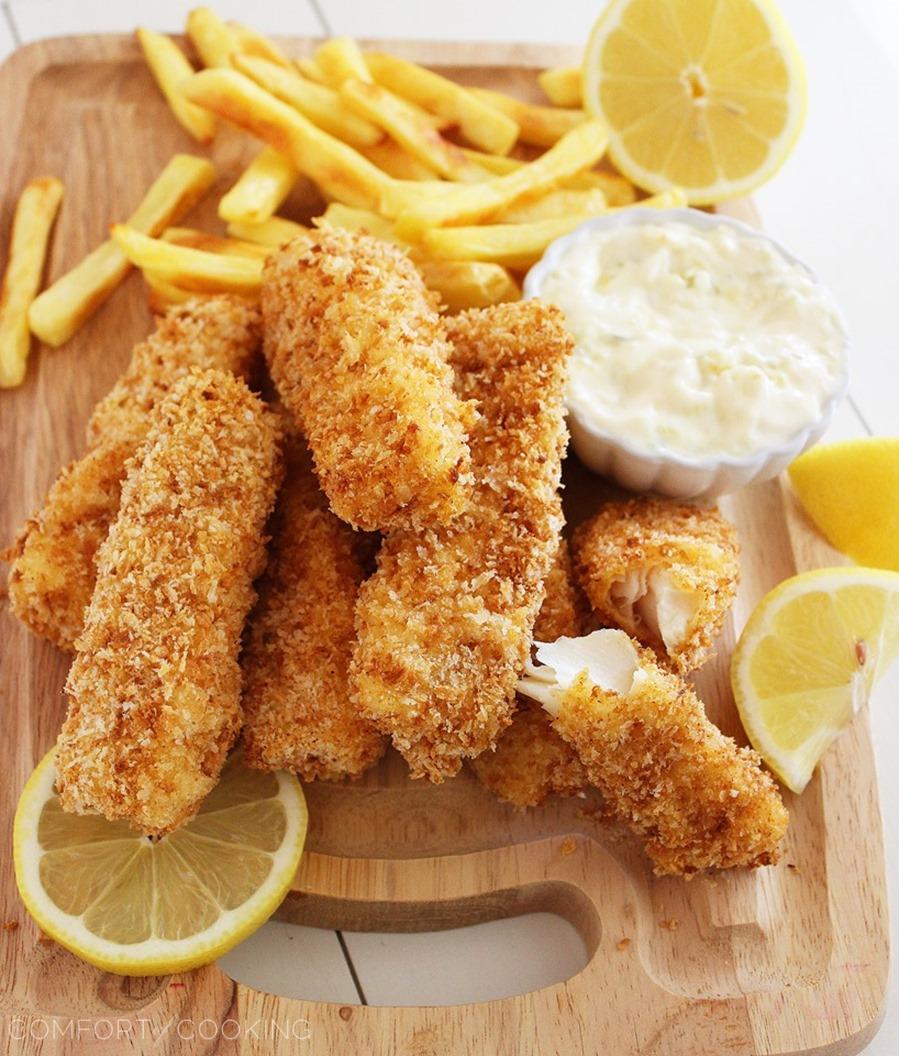 We were married less than 24 hours when we hopped off a plane in London. Our plans were laid, our bellies were ready, and our maps led the way. The mission? Finding the city's best fish and chips. We ate our way through the city for five days, sampling bits of this and that, but ducking into pubs on a daily basis for the deep-fried indulgence and a cold pint.
Tripping around London on a fish and chips taste-test has remained one of my favorite food memories! It was early autumn and we were giddy in love, adventurous in spirit, and constantly seeking our next meal.
Not much has changed!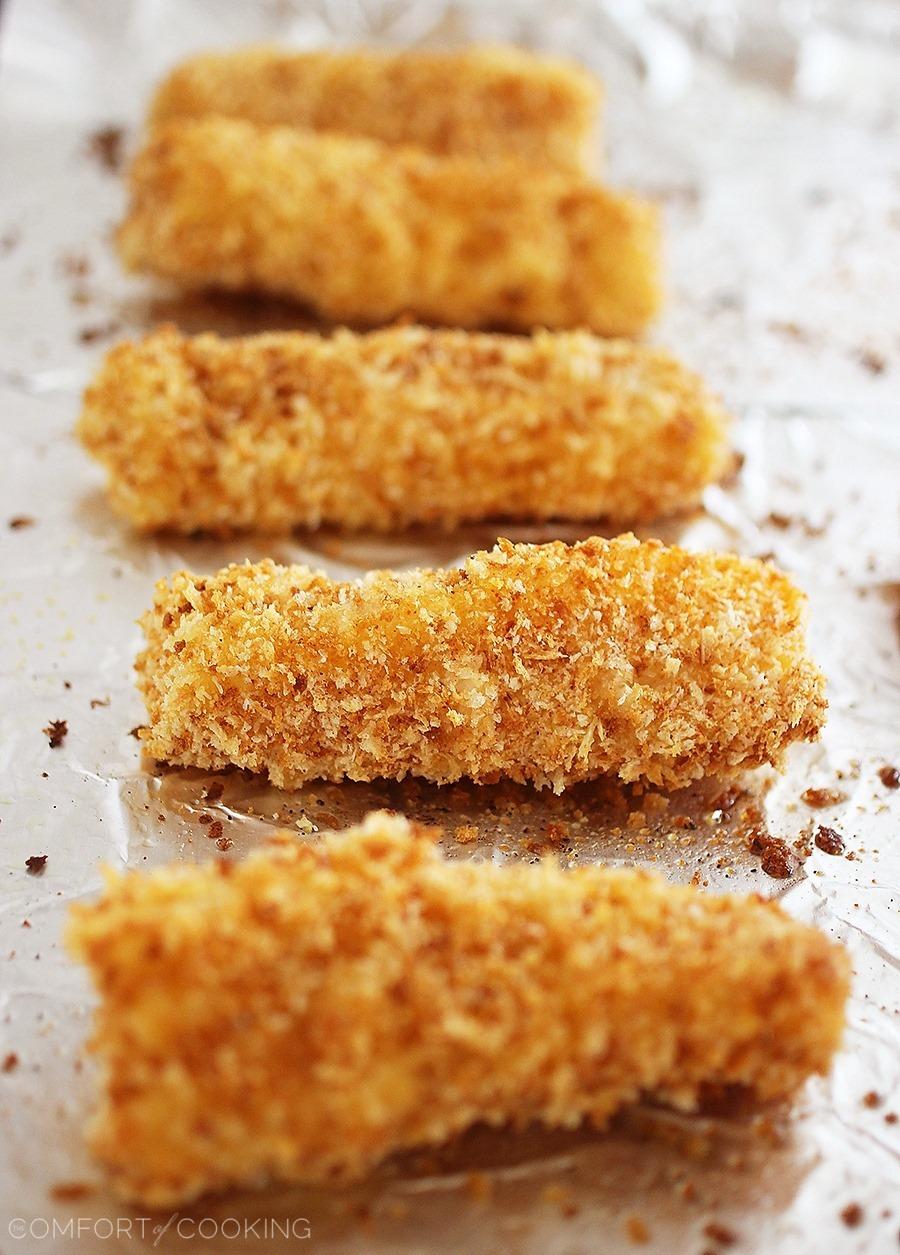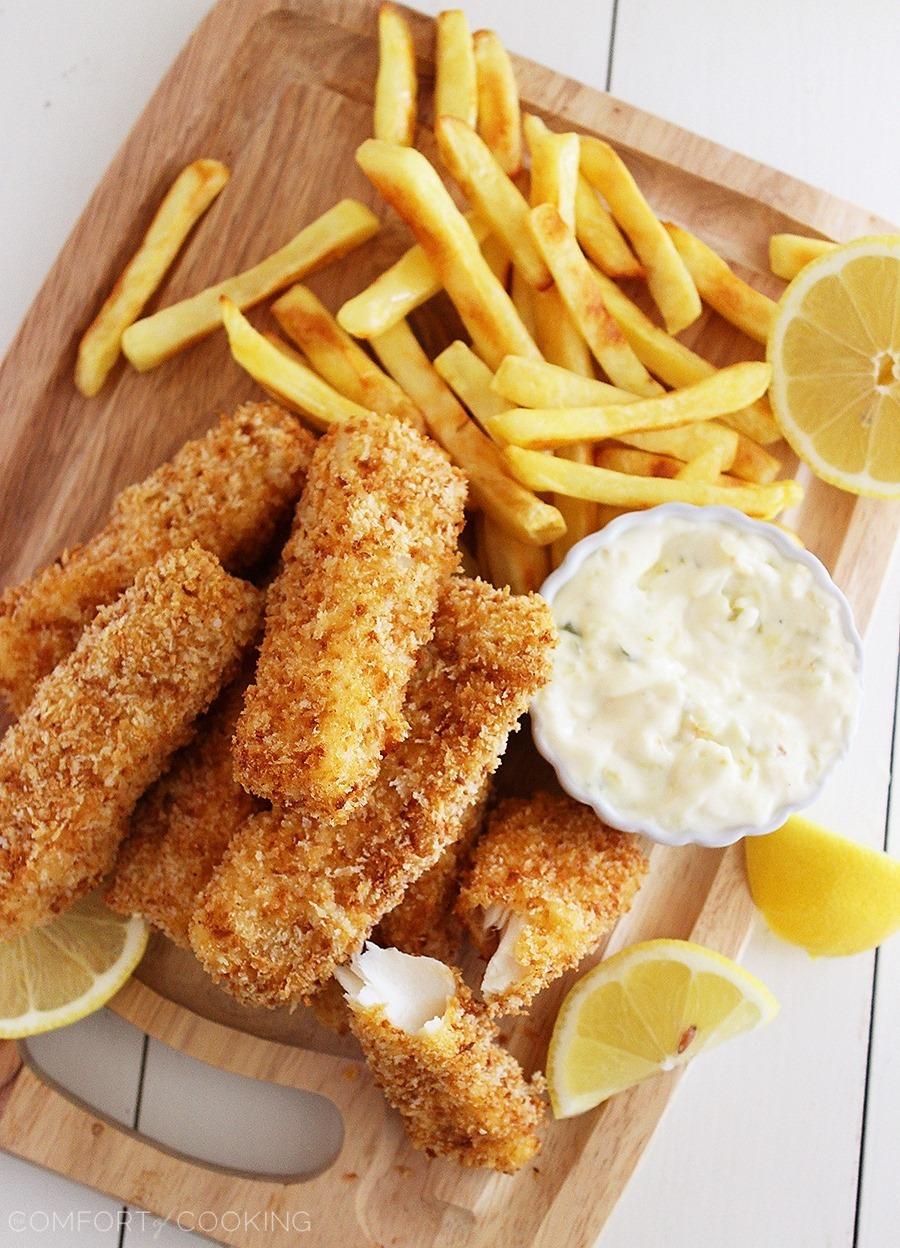 Except, of course, that I put a healthier spin on fried fish and chips now!
These super crisp, tender fish sticks take me back to London every time I cook 'em up. They're incredibly easy and yield a flaky, juicy fish that's fun to dunk into delicious homemade tartar sauce. I also know I'll love mixing these up for our little lady, when she's old enough to appreciate a good fish stick!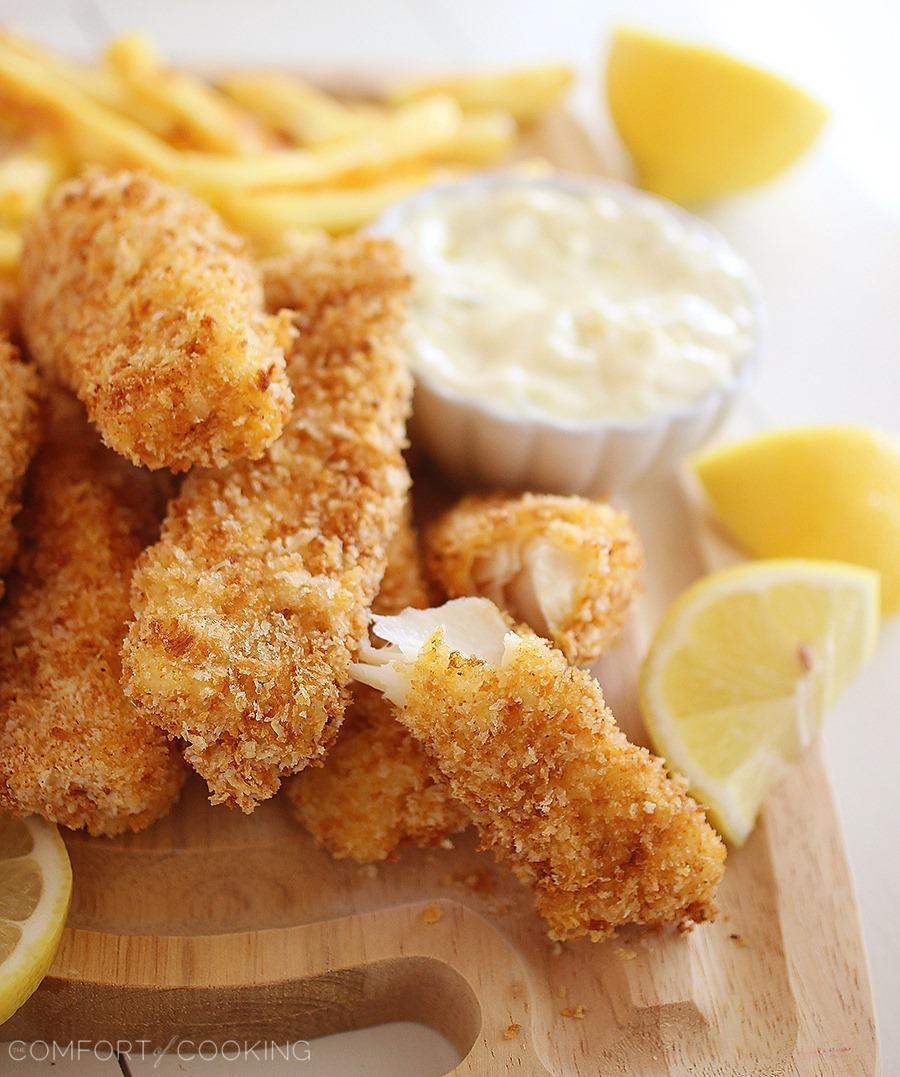 With creamy tartar sauce and a squeeze of fresh lemon, these fish sticks totally hit the spot! Just as delicious as everyone's fried favorite, you'll love that indulgent taste without all the calories. Save 'em for dessert, I'd say!
These scrumptious sticks didn't even make it off the hot pan before we'd gobbled them up with fries and beers. Well, a beer for hubby, at least! I clinked my water glass with his frosty brew, and it was just like we were back in a pub in little Londontown… but I think we found something even better at home!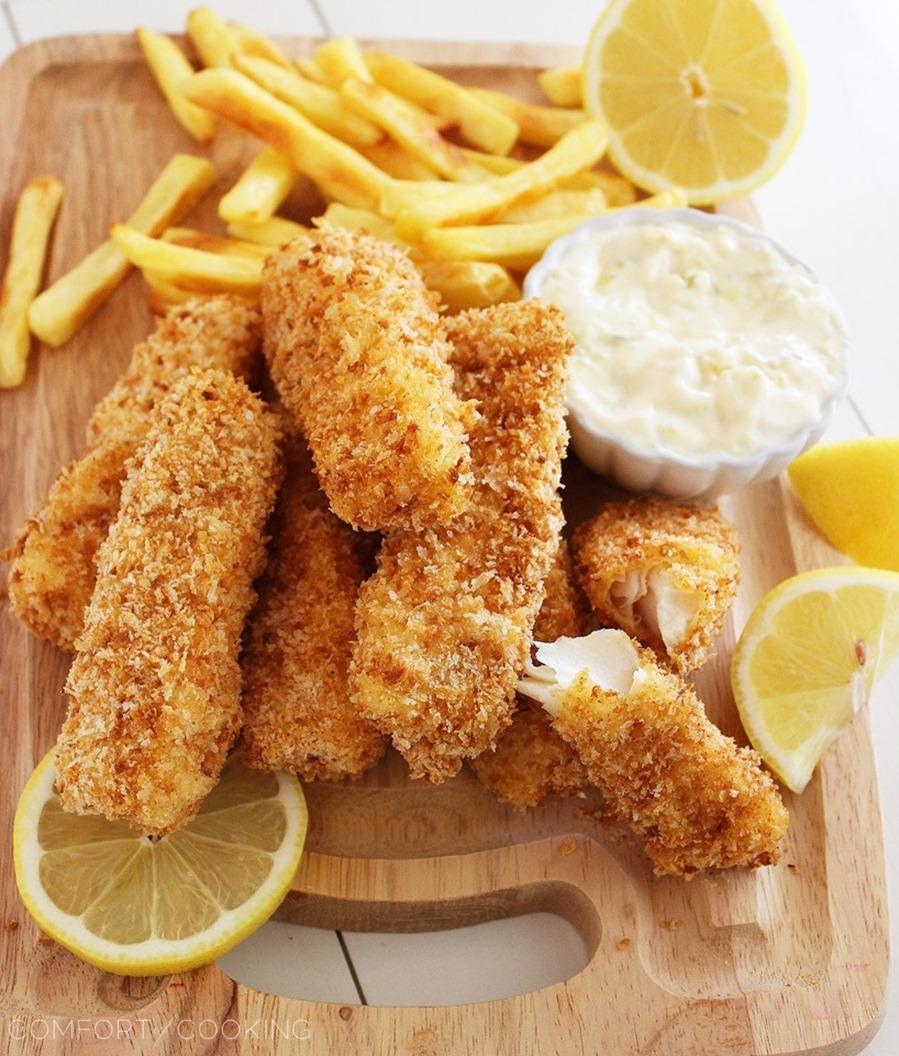 Crispy Baked Fish Sticks with Tartar Sauce
Ingredients
For Crispy Baked Fish Sticks (makes 8 fish sticks):
1 1/2 pounds boneless cod or halibut fillets, cut into strips
2 Tablespoons vegetable oil
1 1/2 cups panko crumbs, lightly toasted*
1 teaspoon kosher salt
1/4 teaspoon cayenne pepper
1/4 cup flour
2 large eggs
Lemon wedges, for serving
For Tartar Sauce (makes 1/2 cup):
1/2 cup mayonnaise
2 Tablespoons lemon juice
1 Tablespoon sweet pickle relish
1/2 Tablespoon dried minced onion
Salt and pepper, to taste
Instructions
For Crispy Baked Fish Sticks: Preheat oven to 450 degrees F. Position rack in upper third of oven. Spread oil on a large lined baking sheet.
In a shallow dish, combine toasted panko crumbs, salt and cayenne. In a separate dish, add flour. In a third separate dish, beat eggs. Coat fish in flour, dip in beaten eggs, then coat with panko crumbs. Arrange fish on the prepared pan.
Bake for 10-12 minutes, turning halfway through, until cooked through. The fish should be opaque, tender and flaky,
For Tartar Sauce: Mix together all ingredients in a small bowl. Season to taste with salt and pepper. Refrigerate for at least 1 hour before serving. Serve with fish sticks and lemon wedges.
Enjoy!