For a light 'n healthy side dish with vibrant colors and BIG flavor, roast a bunch of summer veggies with this easy method!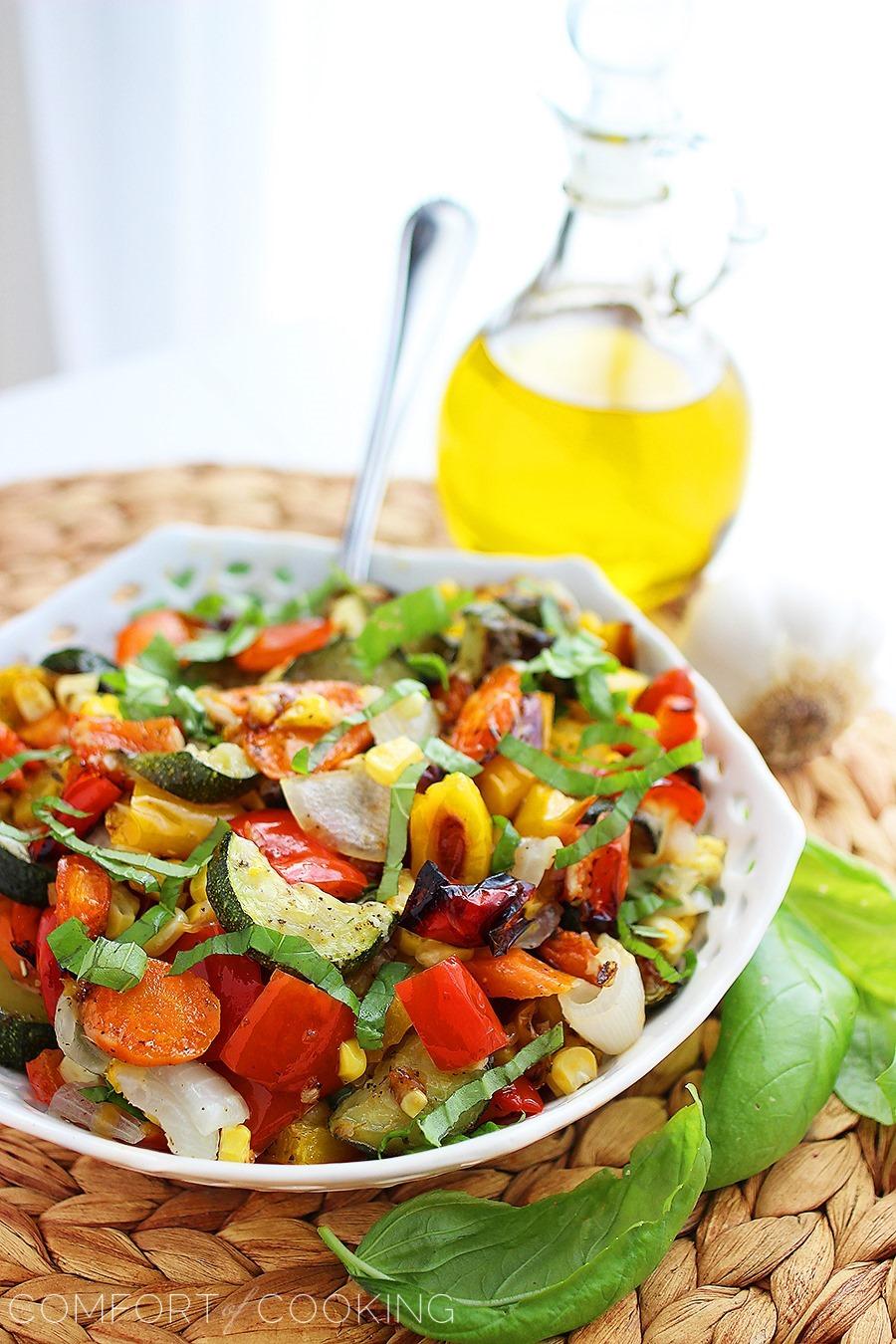 This is the kind of thing I live for in the summer: A big pile of colorful, fresh roasted summer vegetables that need hardly any seasoning or fuss! Great for serving on the side of a weeknight meal or a fancy little dinner party. For whatever, whenever, these seasonal summer veggies with olive oil and Italian seasoning are the perfect accompaniment!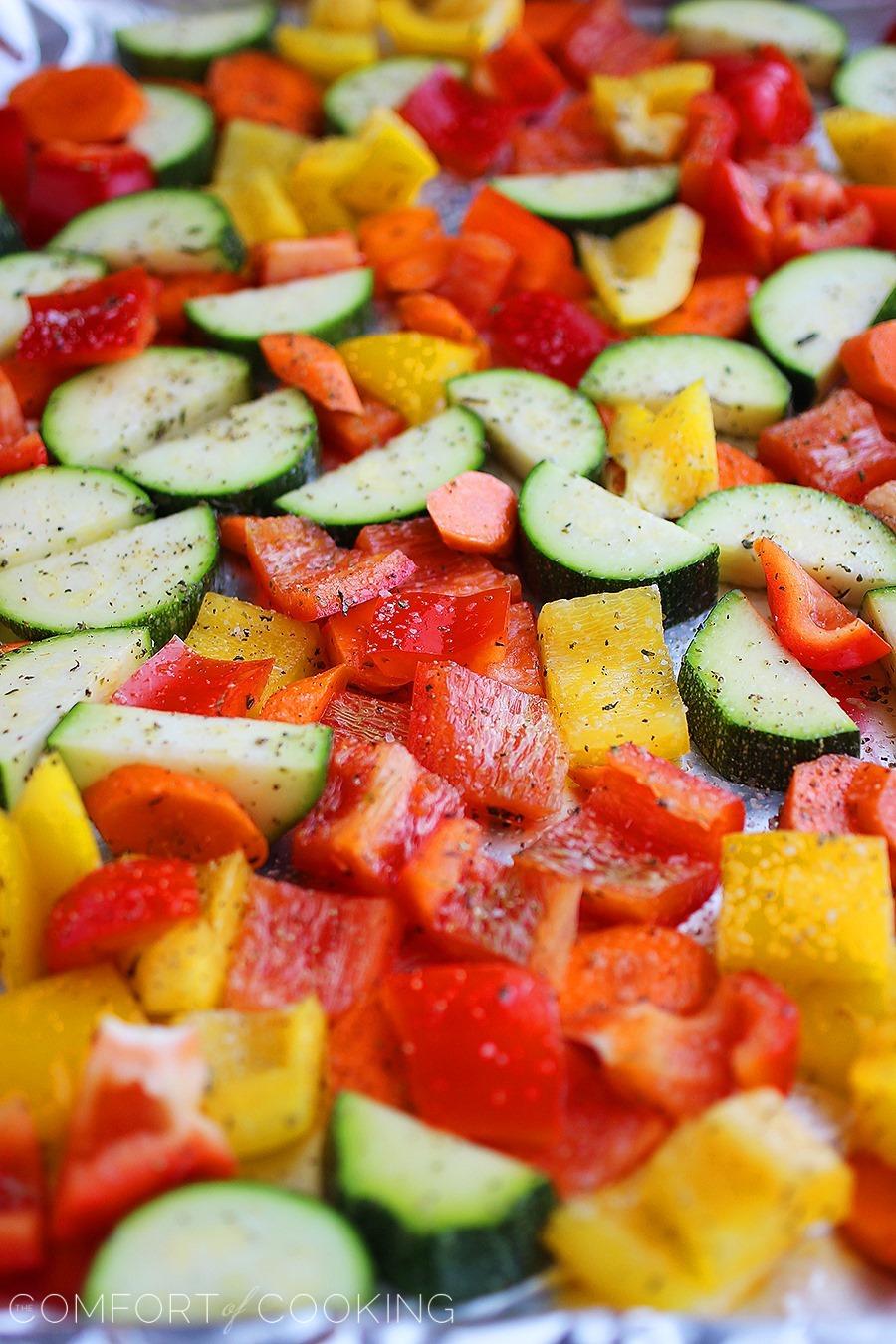 Topped with fresh basil and Sargento's four cheese Italian blend, these roasted veggies were perfectly salty, fragrant and mouthwateringly good. To make it a full meal, you can even toss in some chopped potatoes and smoked sausage, and the cooking time will be the same. Talk about an easy one-pan dinner! Fast, delicious and easy enough for Monday through Friday.
For a light and healthy side dish with vibrant colors, this simple pan of roasted veggies with HUGE flavor can't be beat! Grab the ingredients at your local farmer's market, pour a glass of wine and mix up this scrumptious side for dinner some night. You're gonna love it!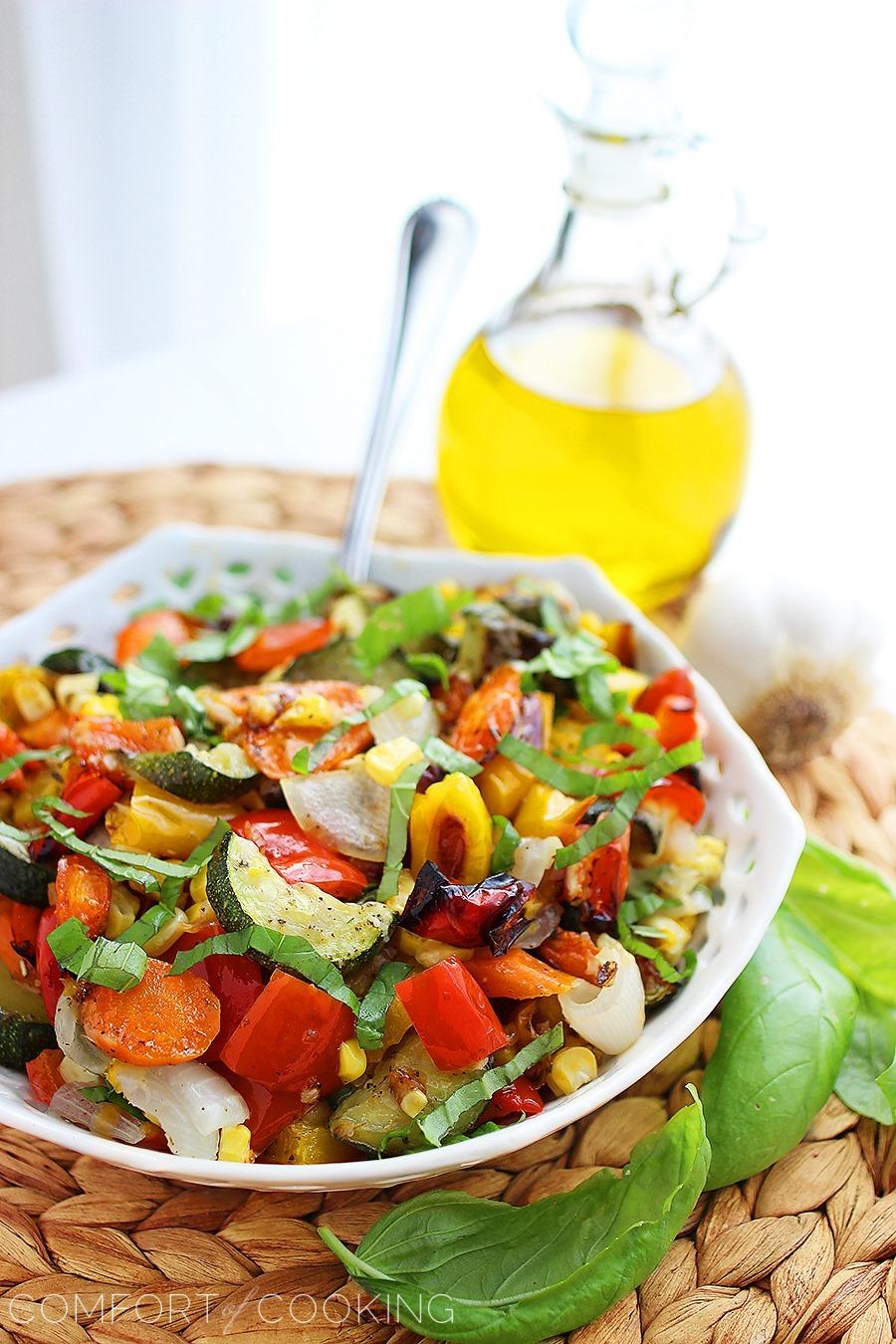 Easy Roasted Summer Vegetables
Ingredients
1 large red bell pepper, cut into 1-inch pieces
1 large yellow bell pepper, cut into 1-inch pieces
1 large zucchini, cut into 1/2-inch pieces
2 medium carrots, peeled and cut into 1/2-inch pieces
1 1/2 Tablespoon olive oil, plus more for drizzling
1 teaspoon Italian seasoning
1/2 teaspoon kosher salt
8-9 turns freshly ground black pepper
1 ear fresh corn, shucked and sliced into kernels
1/2 medium yellow or red onion, cut into 1/2-inch pieces
2 garlic cloves, minced
1/4 cup fresh basil leaves, chopped
Instructions
Preheat oven to 425 degrees F. Spray a large baking sheet with nonstick cooking spray.
Add red and yellow bell pepper, zucchini and carrot pieces to baking sheet. Drizzle with olive oil and sprinkle with Italian seasoning, salt and pepper. Toss lightly to coat. Bake for 20 minutes.
Remove baking sheet from oven and toss in fresh corn, onion and garlic. Drizzle with a little more olive oil. Bake an additional 15 minutes, or until vegetables are lightly charred and tender.
Remove dish from oven and sprinkle vegetables with cheese and chopped basil. Serve hot or cold.
Enjoy!