Happy April Fool's Day! Sorry that I don't have any wacky fool-your-friends recipes to share. But, I can guarantee that you can fool your friends, family or unsuspecting spouse into thinking that this creamy, heavenly homemade ricotta cheese was bought from the store… Except for the fact that it tastes ten MILLION times better than what you scoop out of a store bought jar! Just sayin'.
The whole process of making this ricotta cheese, thanks to The Italian Dish, was so quick and easy I did it twice. Just 15 minutes, 2 quarts of whole milk, a lemon, heavy cream and salt are all you need. Also, you'll need cheesecloth. Sur La Table and Williams-Sonoma have it, as well as my local gourmet supply store, Surfas, a.k.a. foodie heaven on earth. Seriously, you need the jaws of life to pull me out of there!
First, you use a heavy pot to boil the milk, cream and salt before adding the fresh lemon juice. Simmer and stir and get excited (you're making homemade ricotta cheese!) for 5 minutes, until you see small curdles forming in the liquid. Pour it into the cheesecloth-lined strainer, wait about 10 minutes and you'll have moist, fluffy fresh ricotta ready for your next recipe! I made these pesto lasagna roll ups with it, and they tasted out of this world.
For the ricotta recipe, click below. For recipes featuring ricotta, check out my favorites here:
Turkey Spinach Stuffed Shells
Berry Strata
Classic Italian Lasagna
Wishing you a very happy, cheesy weekend! Here's hoping you don't get fooled… too badly.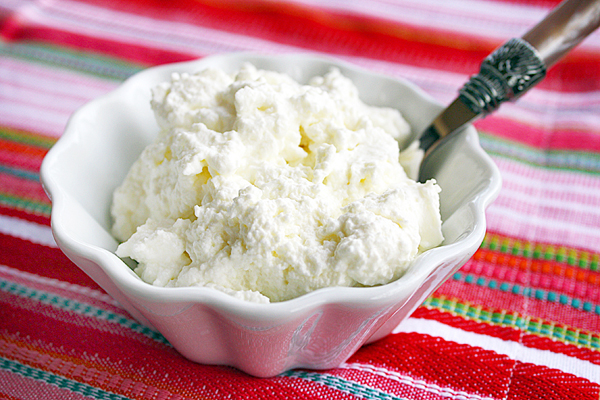 Homemade Ricotta Cheese
Ingredients
2 quarts whole milk
1 cup heavy cream
1/2 teaspoon salt
2 tablespoons fresh lemon juice, from 1 large lemon
You'll also need a small amount of cheesecloth, found at Sur La Table, Williams-Sonoma, or most gourmet food supply stores
Instructions
Line a large strainer with a layer of cheesecloth and place it over a large bowl.
Slowly bring the milk, cream and the salt to a rolling boil in a 6-quart heavy pot over moderate heat, stirring occasionally to prevent scorching. Add lemon juice. Reduce heat to low and simmer, stirring constantly, until mixture forms small curdles, about 5 minutes.
Pour into the lined strainer and let drain for 10 minutes. After discarding the liquid, chill the ricotta, covered. It will keep in the fridge for 2 days.
Enjoy!