If your last meal of the day is ever a lonely one, please know this: It doesn't have to be a boring bowl of cereal or a sad plate of reheated leftovers!
These scrumptious turkey and spinach stuffed shells were cooked in one pan, in under one hour, and enjoyed by one person – me. And, though it was a lonely dinner, it was absolutely scrumptious and just the cozy comfort food I needed while my husband was out of town.
Knowing that I wouldn't just be cooking but cleaning alone, I kept the dirty dishes to the bare minimum. After boiling the pasta shells in a large pot and setting them aside, I used the same pot to brown the ground turkey and onions together. In the meantime, I combined the spinach, parsley, crumbs, Sargento part-skim ricotta and grated hard Parmesan cheeses, eggs and garlic in a bowl. The soft shells were then filled with this mixture, popped into a baking pan and topped with tomato sauce and gooey Sargento mozzarella cheese. The aroma from the oven was so inviting, and the hearty pasta stuffed with turkey and spinach was so delicious and comforting.
With a slice of warm garlic bread, a spinach salad and my favorite show on TV, it was the coziest one-person dinner I've ever had. Next time, I'll be sure to enjoy this delicious dinner in the company of family and friends, though. I know they'd love it, too, as would you!
Craving more? Keep in touch on Facebook, Twitter, Pinterest and Instagram for new post updates and more. You can also check out my FAQ page, or contact me with any questions or inquiries!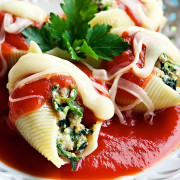 Turkey and Spinach Stuffed Shells
Directions:
Cook shells and spinach according to package directions. Drain and squeeze out excess moisture from the spinach. Meanwhile, brown ground turkey and onions in 2 tbsp. olive oil, over medium-high heat.
Preheat oven to 375°F. Grease or line a large baking dish with aluminum foil. Spread 1 cup sauce on bottom of baking dish.
Combine spinach, parsley, crumbs, ricotta cheese, eggs, garlic, and cheese in a large bowl; mix well. Add turkey and onions, and mix well. Fill shells with this mixture.
Add shells and cover with remaining sauce. Top with mozzarella cheese. Cover with foil. Bake 35-40 minutes until warmed through and bubbly.
Enjoy!