Grab a bowl full of this light, delicious popcorn with brown butter and a spicy-sweet kick!
Someone overindulged on Sunday… I'd say it was worth it, but my steak salad lunch was so outrageous that I was too sick to attend my friend's fabulous Oscar party. Total fail, seeing as there were individual tiramisus… and lovely company, of course!
And yes, people, a salad took me down. Every bite of avocado-bacon-gorgonzola-ness was pure. bliss.
I did, however, have this scrumptious sweet 'n spicy popcorn as a light snack to watch with the Oscars with. FYI, being sick and frumpy is totally not ideal for watching gorgeous glamazons glide down the red carpet… Just sayin'.
Try this tasty, low-calorie popcorn (a big bowlful is only around 80 calories) for your own little movie night. It's super easy and makes for a light, flavorful snack while watching a stack of DVDs… and we have lots of Oscar winning flicks to catch up with!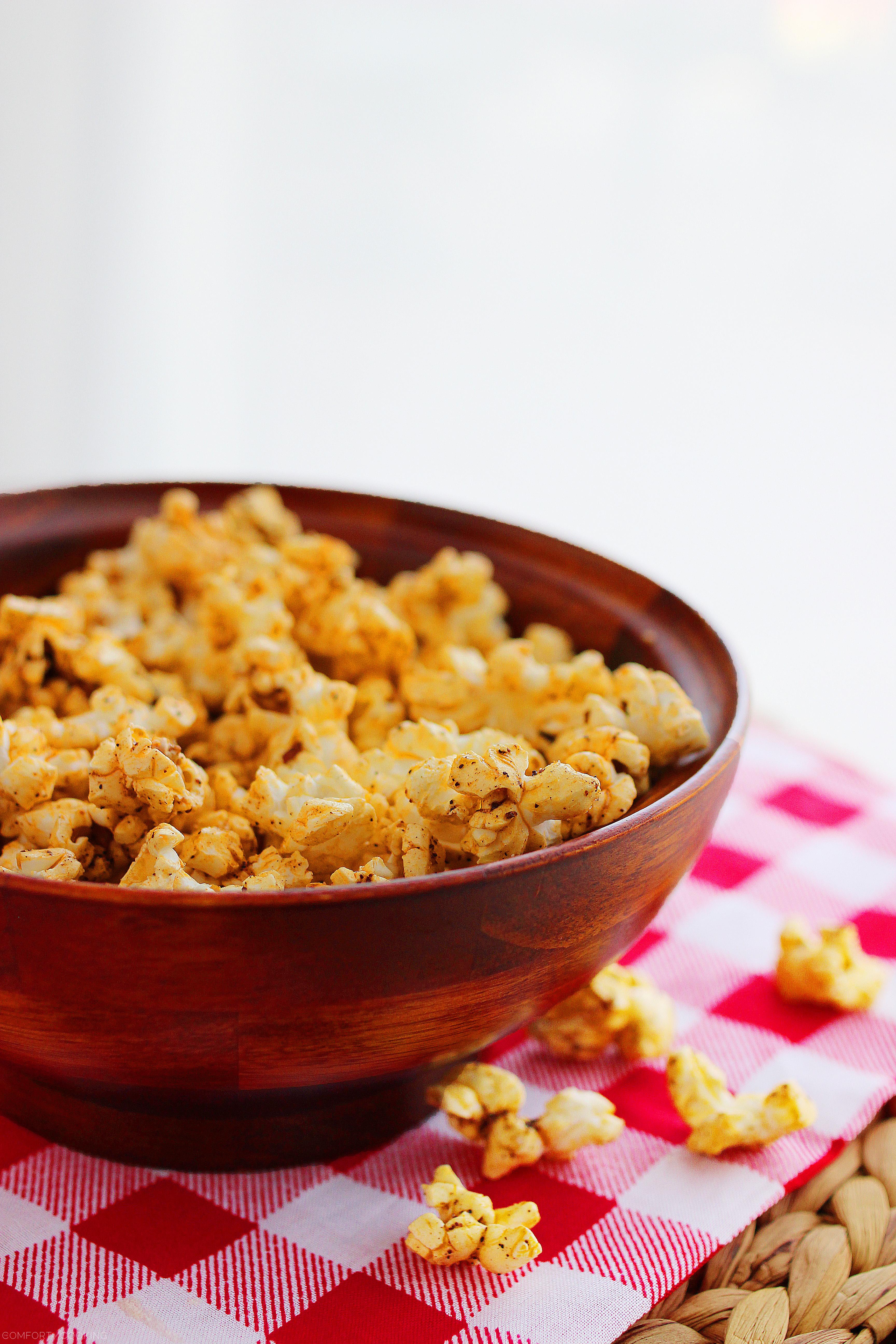 Sweet 'n Spicy Brown Butter Popcorn
Ingredients
1/2 cup popcorn kernels, + 1 paper bag
3 tablespoons butter
1/4 teaspoon salt
1/4 teaspoon light brown sugar
1/8 teaspoon cayenne pepper
Additional salt, to taste
Instructions
Add popcorn kernels to paper bag, fold over top twice, and microwave on high for 2 1/2 to 3 minutes. Stop the microwave when the popping slows to one to two pops per second. Add popcorn to a large bowl.
Melt the butter in a large heavy-bottomed pot over medium-high heat. Continue cooking until butter is no longer foaming and turns a medium brown (tilt the pan occasionally to check color). Reduce heat to medium and stir in salt, brown sugar and cayenne pepper.
Pour butter over popcorn and toss to coat. Sprinkle with additional salt, to taste.
Enjoy!