This super simple bacon-egg-cheddar frittata with potato crust makes the most mouthwatering meal anytime of day. Slide a cup of coffee and a stack of buttery toast alongside for breakfast, or a light green salad and white wine for dinner.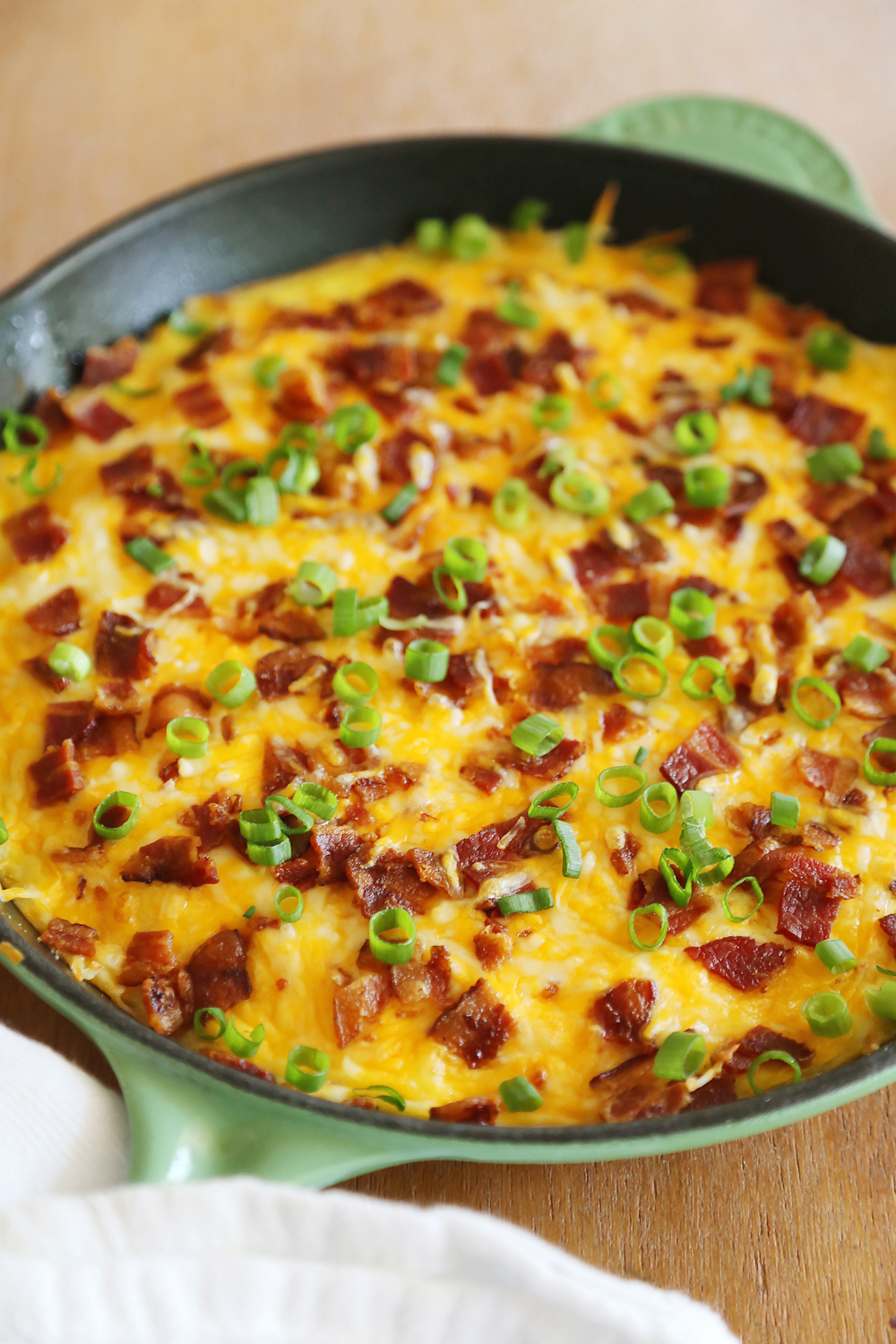 There is nothing better than a hearty, homemade dish that can take you from breakfast to lunch to dinner! I love cooking this deliciously cheesy, easy bacon potato frittata for all those meals, and more. I will even snack on a slice midday for a egg-cellent energy boost!
This frittata is chock full of fresh eggs, salty bacon, cheddar and crispy hash browns. It's like a loaded baked potato, without all the heavy carbs! This is one dish that has been a longtime big hit with overnight guests, and even my toddler daughter. We both can't get enough of it!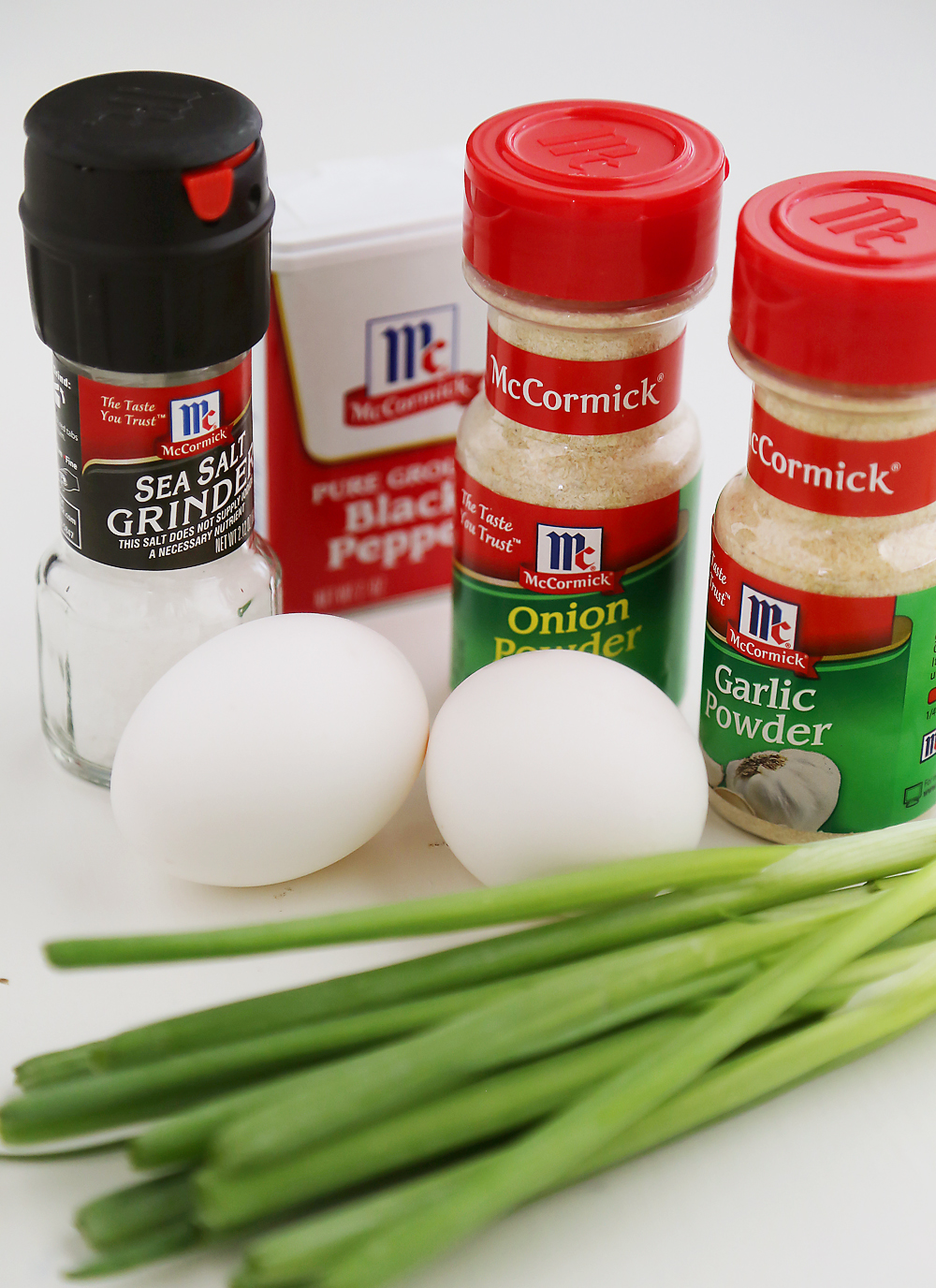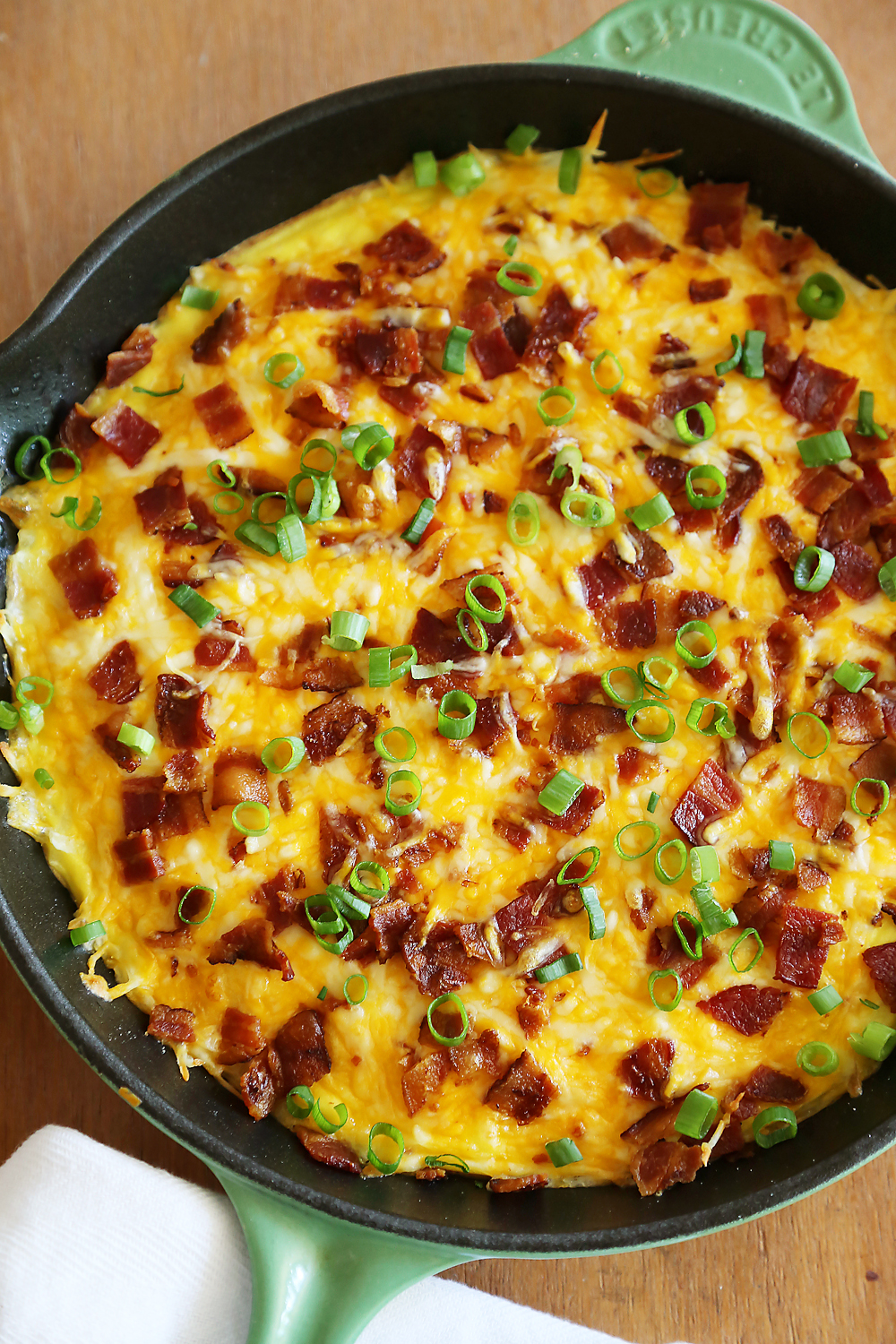 I love frittatas, since you can mix just about anything into them and you're guaranteed a delicious, protein packed meal. Chop up tomatoes, zucchini, bell peppers, or any other veggie and toss 'em in for a tasty twist. They add a nice pop of color but are so covered with ooey-gooey cheesiness that you won't even realize you're getting a serving of vegetables!
The eggs, bacon and veggies have fantastic flavor on their own. But, I like to kick it up a little with McCormick Spices. For this recipe, just sea salt, pepper, garlic powder, and onion powder are all you need. However, they add an amazing aroma and depth to an already delicious dish!
Served with a dollop of sour cream or a spoonful of salsa, this fabulous frittata makes a mouthwatering breakfast, lunch or dinner. For side ideas, try a stack of buttery hot toast or simple green salad. For breakfast, I like to serve it with a big bowl of fruit salad, too.
Cook it up for yourself (and some hungry guests) sometime and you'll see that this ridiculously delicious, easy frittata will become a staple in your recipe book!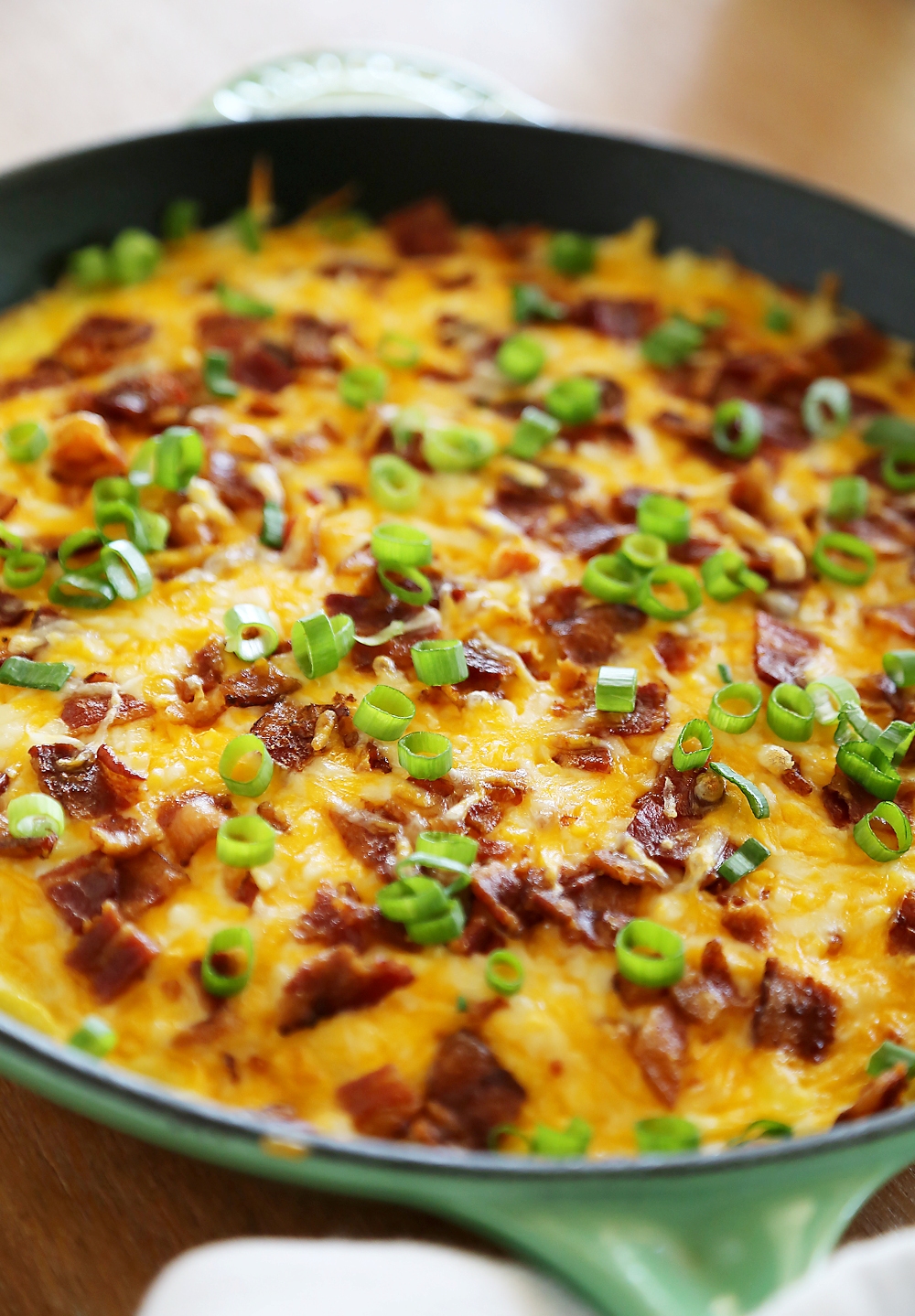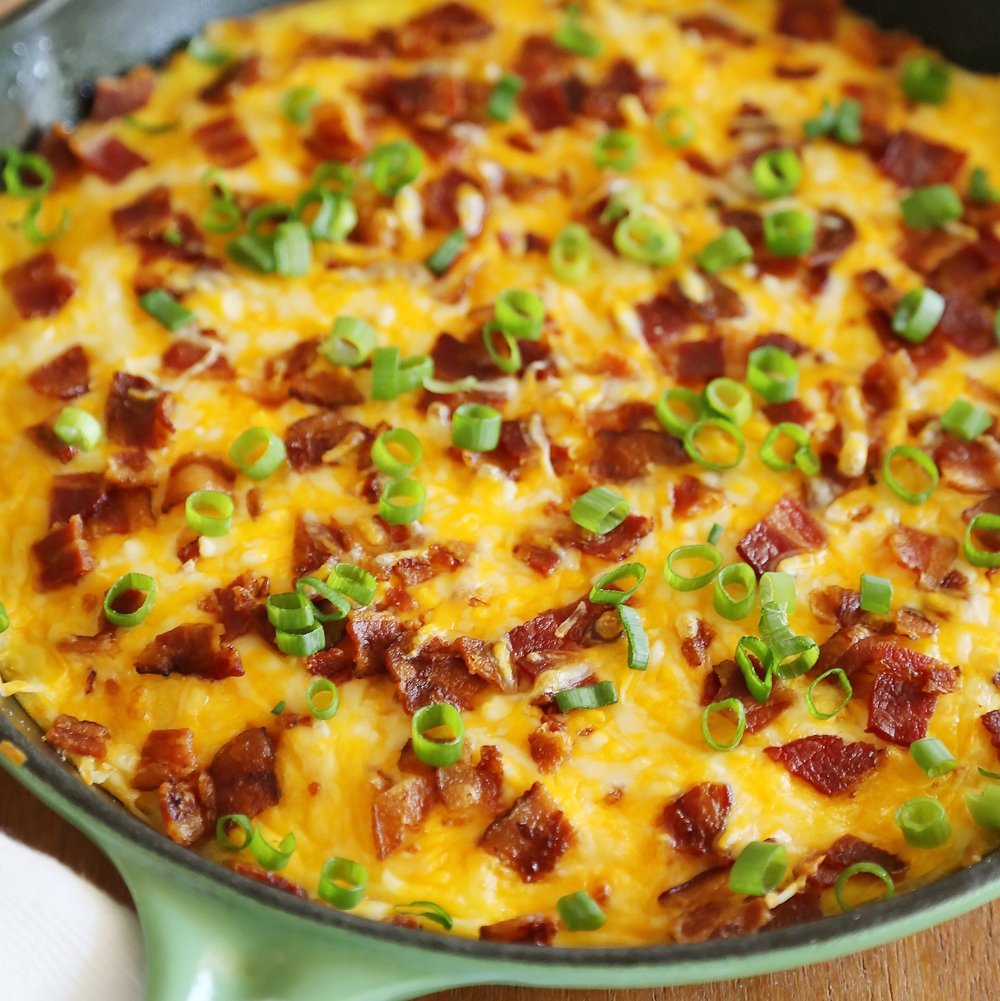 Cheesy Bacon Potato Frittata
Ingredients
4 slices bacon
2 cups (8 oz.) frozen shredded potatoes, thawed
6 large eggs
1/4 cup milk
1/2 teaspoon sea salt
1/4 teaspoon garlic powder
1/4 teaspoon onion powder
1/8 teaspoon black pepper
1-3/4 cups shredded cheddar cheese
4 green onions, chopped
For serving, optional:
Sour cream
Hot sauce
Buttered toast
Green salad
Instructions
Fry bacon in a 9-inch cast iron skillet over medium heat until crisp, 6-8 minutes. Remove bacon and set aside on a paper towel lined cutting board. If needed, scrape brown bits from pan with a metal spatula. Reserve 1 tablespoon of the drippings and coat bottom of pan. Add potatoes to skillet; cook 2 minutes, stirring occasionally. Preheat broiler.
Beat eggs in a medium bowl. Stir in milk, salt, garlic powder, onion powder, black pepper, and 1 cup of cheese. (You can also add in any small-diced vegetables you like). Add egg mixture to skillet; stir to combine. Cover; simmer until eggs are set on the bottom, 6 to 8 minutes. (Center will be wet.)
Uncover; top with reserved half of the bacon, remaining cheese, then the rest of the bacon. Transfer skillet to broiler; broil 5 to 6 inches from heat for 2 to 3 minutes or until eggs are set and cheese is melted. Garnish with chopped green onions.
Cut into 6 wedges and serve with sour cream, if desired.
Enjoy!