Gooey, fudgy chocolate brownie cookies with a surprise peanut butter center! So addictively delicious with a swipe of chocolate hazelnut frosting. Chocoholics and peanut butter lovers, this one is for you.
Sometimes, you just have a day that calls for a chocolate bomb. This was one of those days, clearly. And I loved every second of it. From the ease of mixing up these 7-ingredient treats, to the moment I pulled them out of the oven and tried to tempt my greedy fingers away from the hot pan. There truly is no better creamy-sweet combination than chocolate and peanut butter, and the marriage of mouthwatering deliciousness that they create.
These cookies also make a fun afterschool treat to bake with the kiddos. Or, become forever golden in your child's eyes by sneaking one into their school lunchbox. Then, maybe all your laundry will be mysteriously folded one day. Or, a hot homemade dinner will magically appear on your stovetop.
Hey, we can dream!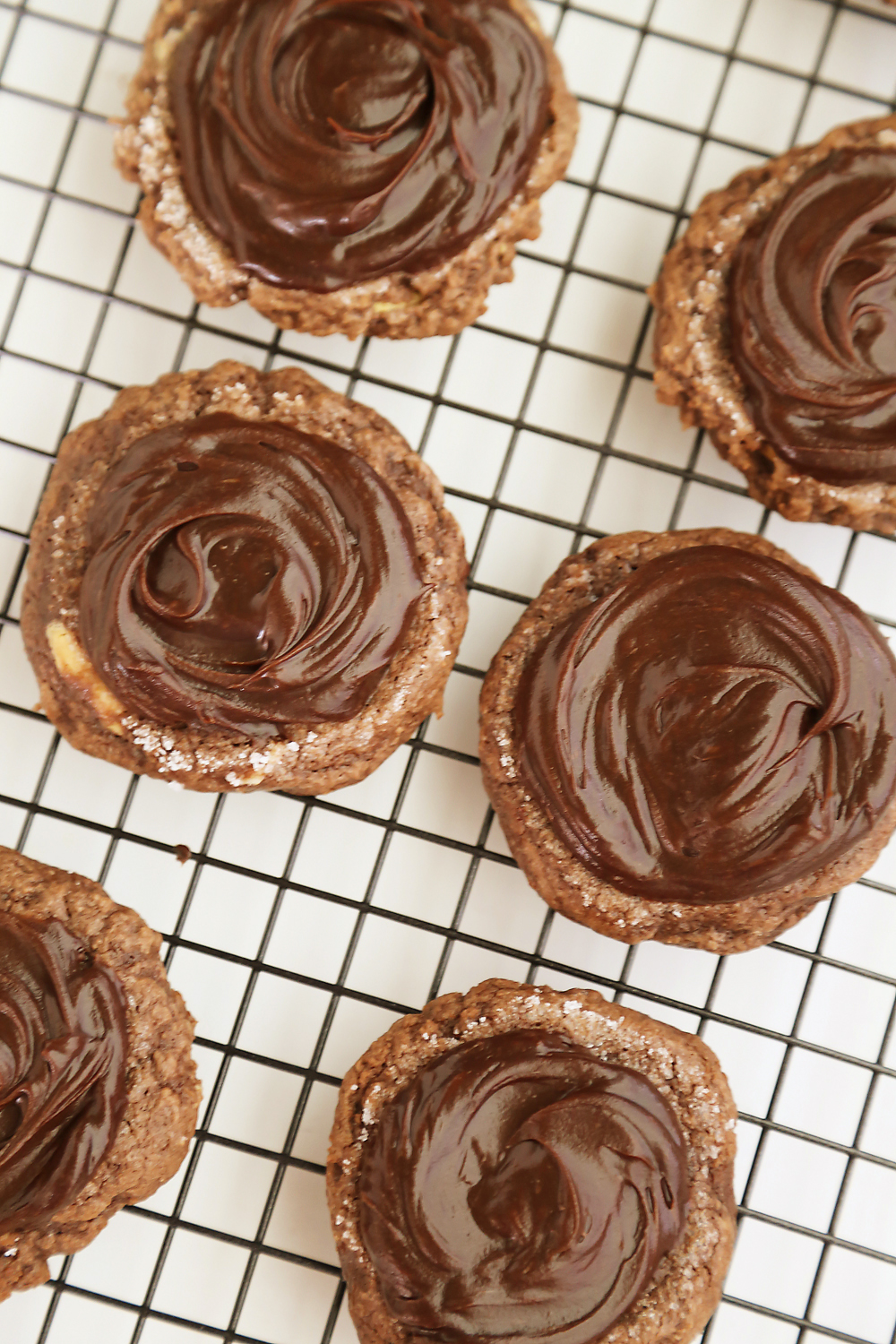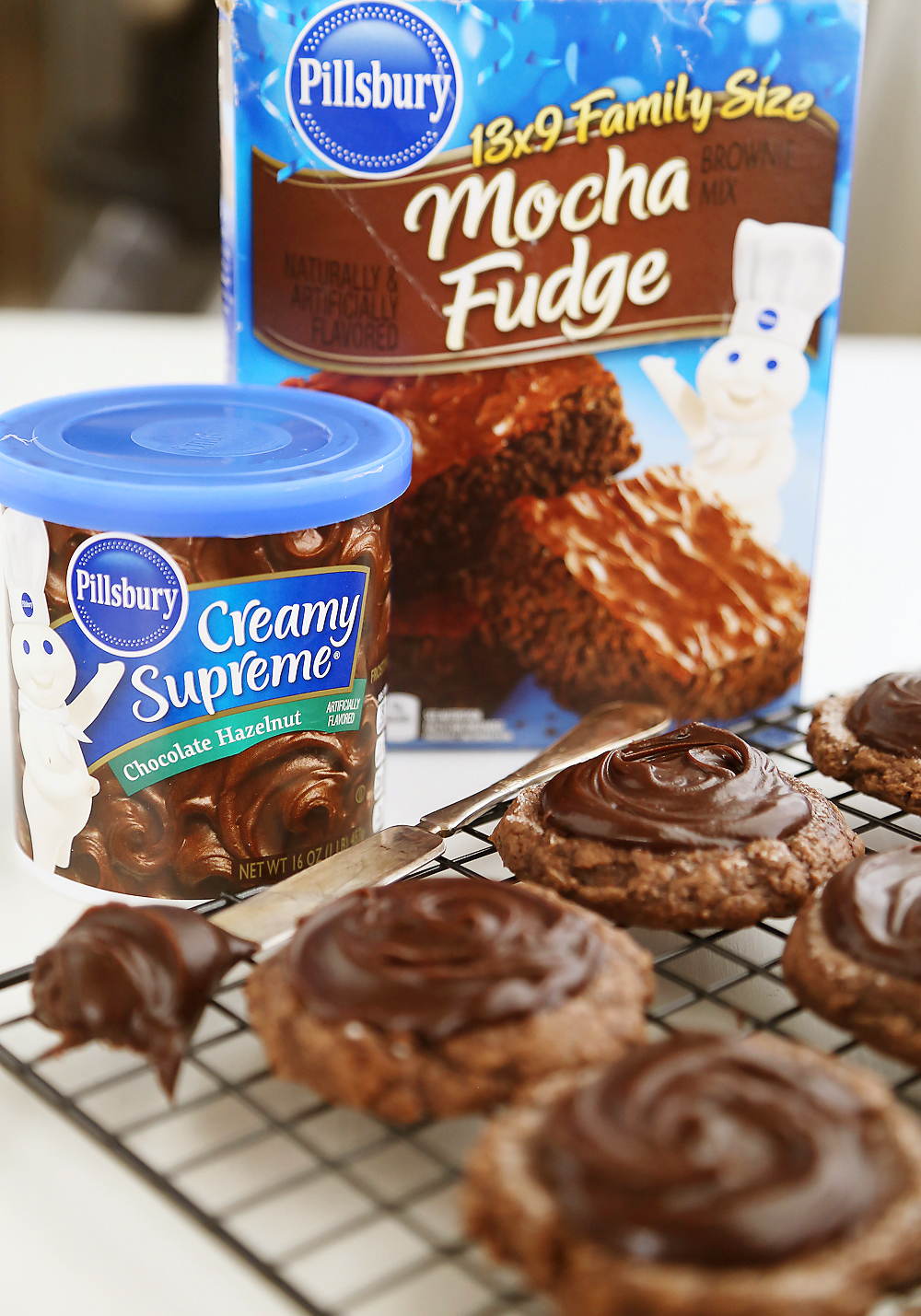 A little something sweet can have magical effect on a bad day, don't you agree?
In partnership with Pillsbury, I created these irresistibly yummy and easy cookies that you will simply LOVE. All you need are 7 ingredients, about 20 minutes, and a love of chocolate and peanut butter. A hungry helper doesn't hurt, too!
Just blend your brownie mix, eggs, cream cheese and melted butter in a bowl, using an electric mixer. I used Pillsbury Mocha Fudge Brownie Mix, which has a deliciously smooth espresso-cocoa flavor and creates fabulously fudgy brownies, too. Scoop the dough into balls, stuff each with a mixture of peanut butter and powdered sugar, and flatten with a measuring cup. Top with swirls of Chocolate Hazelnut Frosting, and enjoy!
Bake a batch this weekend. I know you will love this easy, decadent treat and guarantee every cookie will fly off the platter!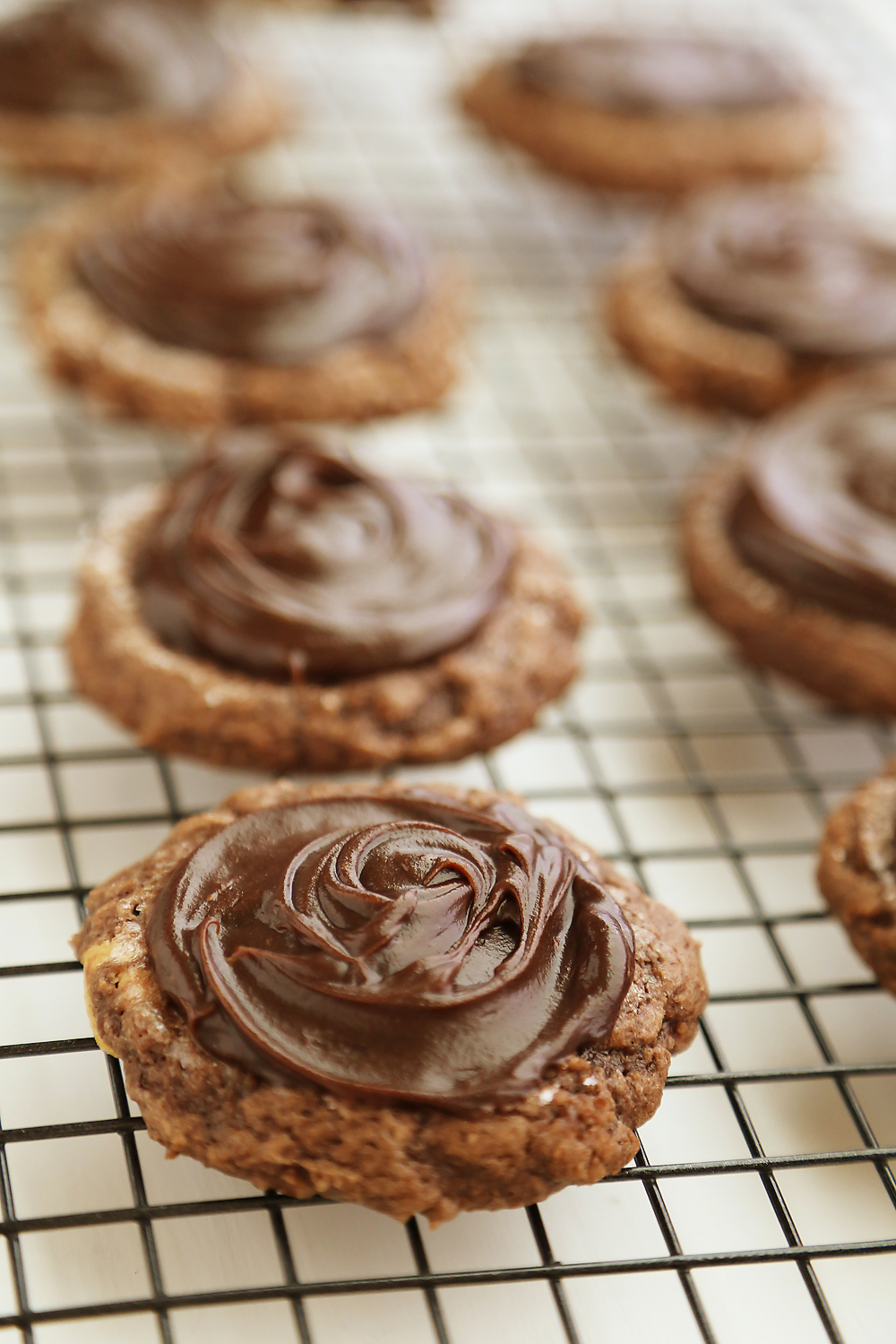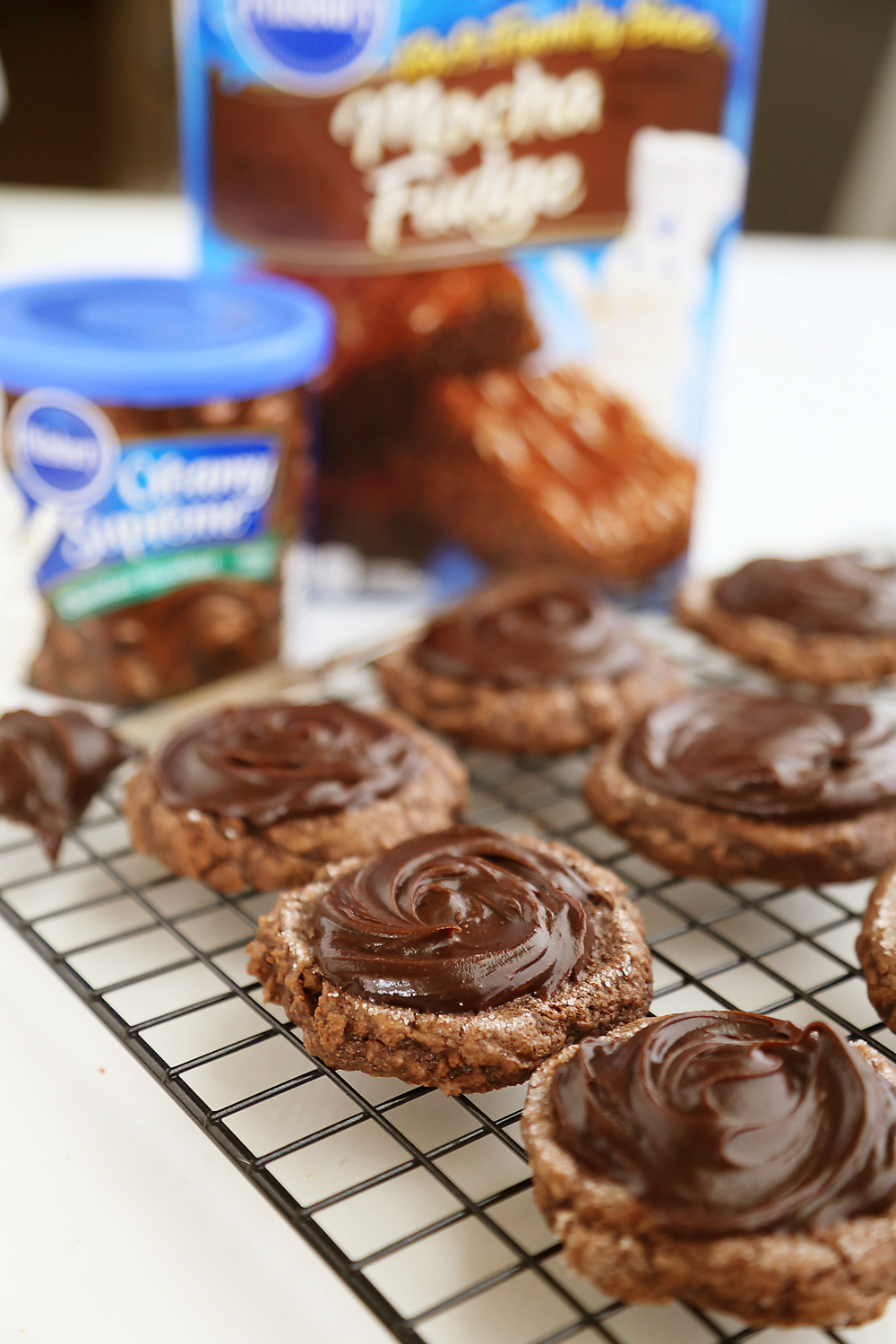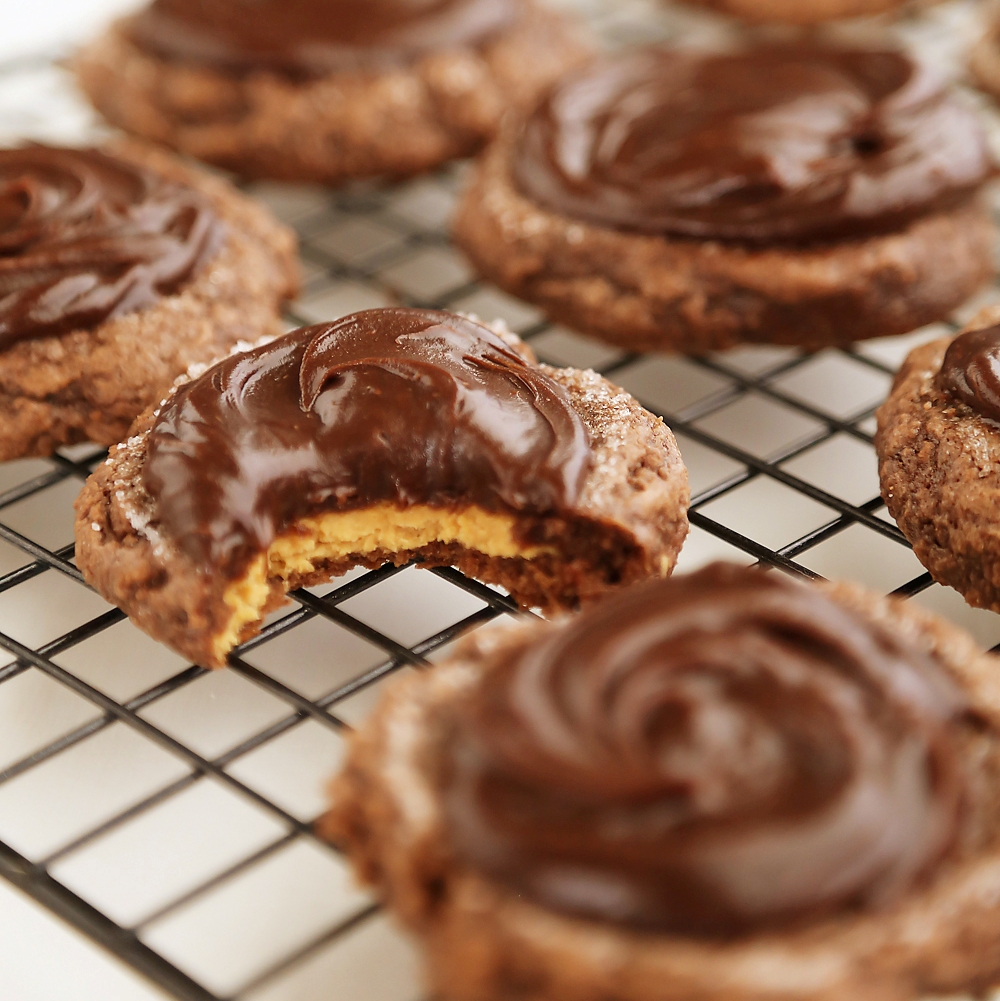 Peanut Butter Brownie Cookies
Ingredients
Instructions
Preheat oven to 350 degrees F. Line a large baking sheet with parchment paper.
In the bowl of your electric stand mixer, combine brownie mix, melted butter, cream cheese and egg. Beat until well blended (dough will be sticky).
Drop dough by rounded tablespoonfuls 2 inches apart onto prepared baking sheet.
In a medium bowl, combine powdered sugar and peanut butter. Mix with spoon until mixture forms a ball. Roll rounded teaspoonfuls of peanut butter mixture into 24 balls. Lightly press 1 peanut butter ball into center of each ball of brownie cookie dough. Form dough around peanut butter. Flatten dough balls slightly with the bottom of a measuring cup dipped in sugar.
Bake for 10 to 12 minutes, or until edges are set. Cool on cookie sheets for 10 minutes.
Remove from cookie sheets to a wire rack. Spread a thin layer of frosting over each cookie.
Enjoy!