These steamy, saucy mussels with chorizo sausage in a rich tomato-wine broth are divine. Even better when you have a hunk of crusty bread to mop up the juices!
Flouncing around in frilly skirts, nibbling on fresh fish, cheeses and olive oil-soaked bread, and admiring the amazing architecture… ahhh. These are just a few of the things I can't wait to do in Barcelona this week! Besides, of course, devouring a dish of scrumptious, saucy mussels and watching the sunset sizzle over the city.
By the time you read this, we'll be well on our way, excited yet exhausted from our long day of traveling! There's lot to look forward to, and the food will for sure be my personal highlight. But, I'm hoping to collect lots of good memories and snap plenty of pictures while we're gone.
Before our blissful time in Barcelona, though, I wanted to cook up one of my favorite Spanish dishes to celebrate – mussels and chorizo sausage in a spicy, saucy tomato broth with white wine and fresh parsley. Doesn't that just sound so mouthwatering and Mediterranean chic?
You can practically taste it just by saying it out loud!
With a loaf of fluffy French bread and a glass of wine, the flavorful mussels and spicy chorizo go down so smooth.
If you've never had mussels, I think you'll be delighted. They're not fishy or slimy, but fluffy and tender, with a slight taste of the sea. Also, try smoked turkey sausage in place of the chorizo if you like – it works just as well! Get your hands on smoked paprika, too. The flavor is much more intense and musky than regular paprika.
Enjoy your next few days, foodie friends! After two days in the hustle-bustle of the Spanish city, we're off to the South of France for a week of peace, quiet and plenty of fresh croissants…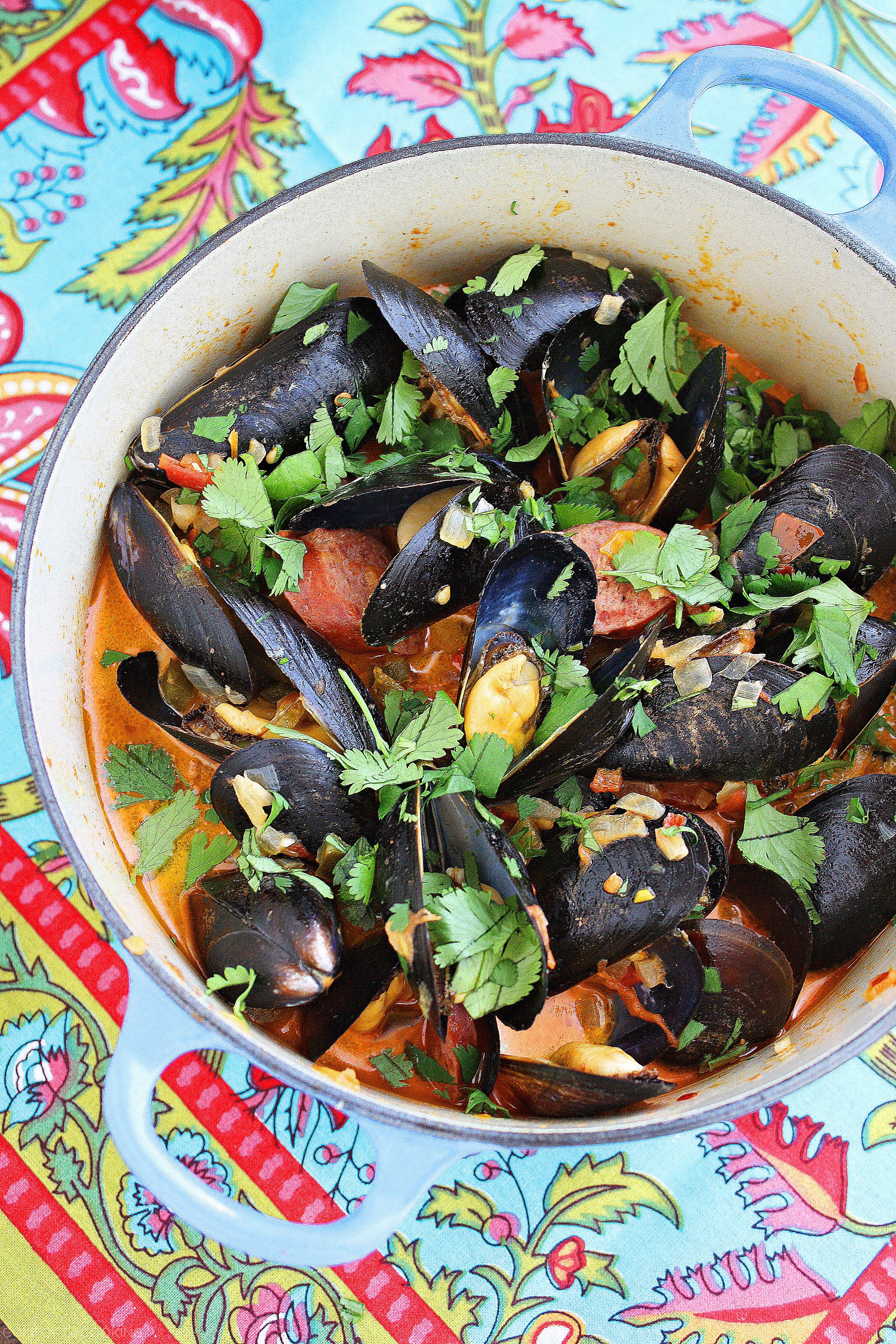 Spanish Mussels with Chorizo and Tomato-Wine Sauce
Ingredients
8 ounces chorizo sausage or turkey sausage, chopped into 1/2 inch pieces
3 tablespoons unsalted butter
1 yellow onion, finely chopped
1/2 tsp. Spanish smoked paprika
1/4 tsp. crushed red pepper flakes
1/2 teaspoon fresh ground black pepper
3 garlic cloves, minced
4 to matoes, seeded and chopped
3/4 cup white wine
1/2 cup heavy cream
2 tablespoons finely chopped fresh parsley leaves
1 lb. fresh mussels, scrubbed
French bread, for serving
Instructions
In a large sauté pan, cook the sausage until brown over medium-high heat, about 6 minutes. Remove with a slotted spoon and drain on paper towels. Scrape up any large brown bits and discard. Drain off all but 1 tablespoon of fat from the pan.
Add butter and when melted, add chopped onion, paprika, red pepper flakes and freshly ground black pepper. Cook, stirring, until onions are tender, about 4 minutes. Add the garlic and tomatoes, and cook, stirring, for 2 minutes.
Add the wine, heavy cream and parsley. Stir in sausage. Add mussels and bring to a boil. Lower heat and cover, cooking until the mussel shells have opened, about 6-8 minutes.
With a ladle, serve mussels with sausage and sauce into bowls. Discard any shells that have not opened.
Serve immediately with French bread for dipping.
Enjoy!