These chocolate chunk biscotti coated with toasty coconut and almonds make a super sweet homemade gift, or delicious Italian snack and dessert!
The difference between dry, boring biscotti and others that offer a satisfying crunch and lots of flavor are the kind of good quality ingredients you add. Going a little overboard on the garnishing never hurts, either! Who doesn't love a medley of toasty tropical coconut, chopped almonds and smooth, satisfying dark chocolate chunks?
Biscotti are a very versatile Italian cookie, and so simple to make for gifts, or just to experiment with something new and munch on them for yourself! You can add any variation of dry mix-ins into the batter that you like, and they're pretty much always bound to turn out beautiful. Not to mention deeelish when dunked into a cup of hot coffee, tea or cocoa.
Swirled in scrumptious melted chocolate (don't forget to lick the spoon!) and ravaged with your favorite tasty toppings, these biscotti make for an easy, heartfelt way to show your love for Dad this Father's Day… the homemade way!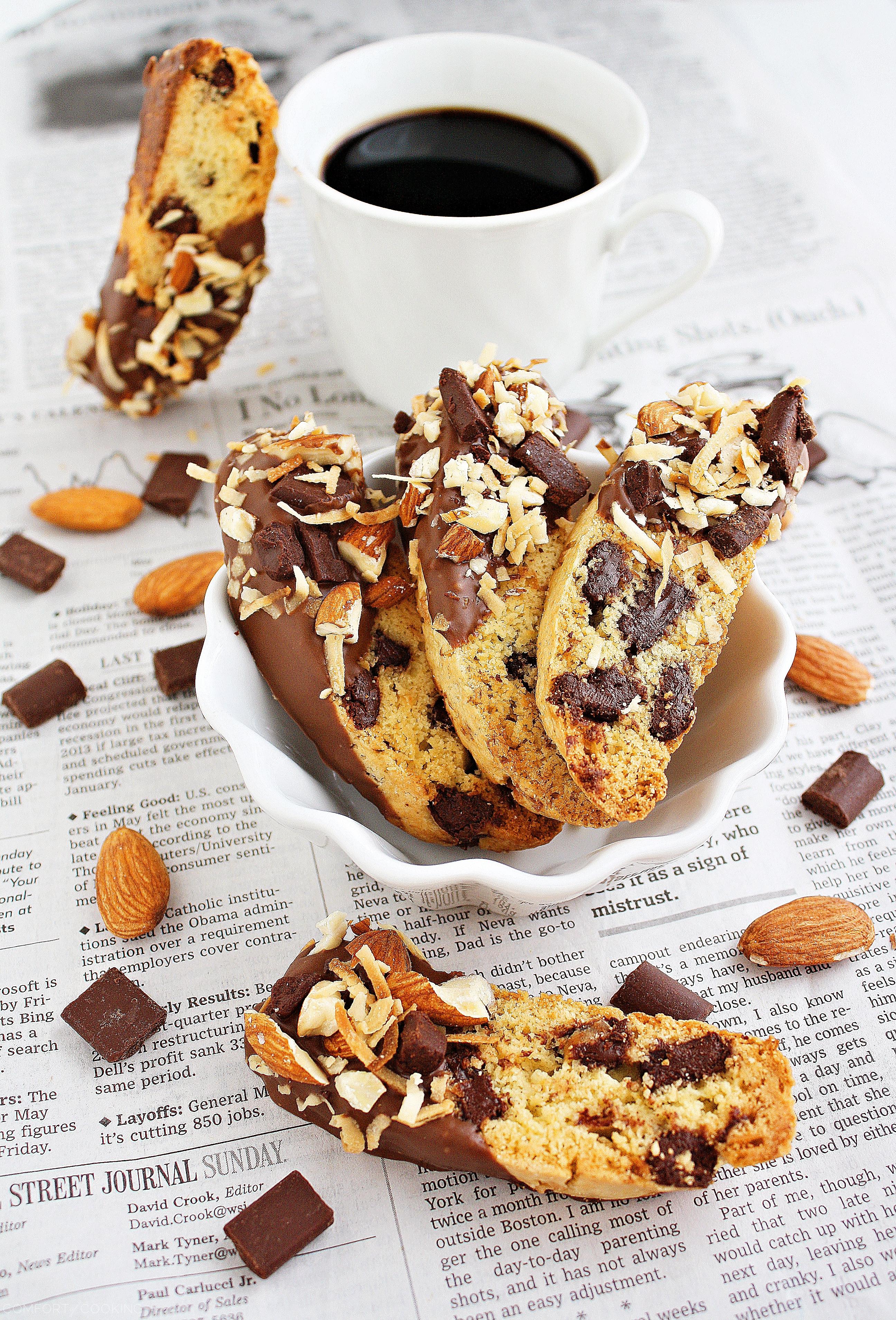 Chocolate Chunk Biscotti with Almonds and Coconut
Ingredients
2 tablespoons light olive oil
1/4 cup and 2 tablespoons white sugar
1 teaspoon vanilla extract
1/4 teaspoon almond extract
1 egg
3/4 cup and 2 tablespoons all-purpose flour
1/8 teaspoon salt
1/2 teaspoon baking powder
1/4 cup chocolate chunks
For topping:
2 cups chocolate candy melts or chopped dark chocolate
1/4 cup chocolate chunks, chopped
1/4 cup toasted shredded coconut
1/4 cup chopped almonds
Instructions
Preheat the oven to 300 degrees F.
In a large bowl, mix together oil and sugar until well blended. Mix in the vanilla and almond extracts, then beat in the egg. In a medium bowl, combine flour, salt, and baking powder; gradually stir into egg mixture. Gently stir in chocolate chunks.
Wet hands with cool water to handle the sticky dough more easily. With the dough, form a log (about 12 x 2 inches) on a parchment paper lined baking sheet.
Bake for 35 minutes, or until log is light brown. Remove from oven and set aside to cool for 10 minutes.
Cut logs diagonally into 3/4 inch-thick slices. Lay on parchment lined baking sheet. Bake approximately 10 minutes, flipping biscotti halfway through. Cool completely before dipping and adding toppings.
To add toppings:
Melt chocolate in a microwaveable bowl and stir until smooth. Dip one end of each biscotti in the chocolate, then sprinkle on chocolate chunks, coconut and almonds. Set on baking sheet and refrigerate for 30 minutes to help harden the chocolate. Serve at room temperature. Store in a re-sealable bag or container up to 5 days.
Enjoy!