Celebrate someone special with a soft, fluffy homemade yellow cake covered in vanilla frosting and sprinkles. Hands down the best cake I've ever baked and eaten. You have to bake it to believe it!
The art of creating a delicious, good lookin' cake has always intimidated me. I often end up with one and not the other – usually fluffy and delicious, but not so pretty. I've tried countless times and ended up with sunken centers, curdled frostings, and slices that even sprinkles can't save. In a word, my past layer cakes have been… pitiful.
However, in honor of our baby-to-be's upcoming birthday, I thought a little challenge was in order. After all, though nothing intimidates me more than bringing a baby into this world, cake baking isn't far behind. This month, I'm tackling both!
But first, her cake…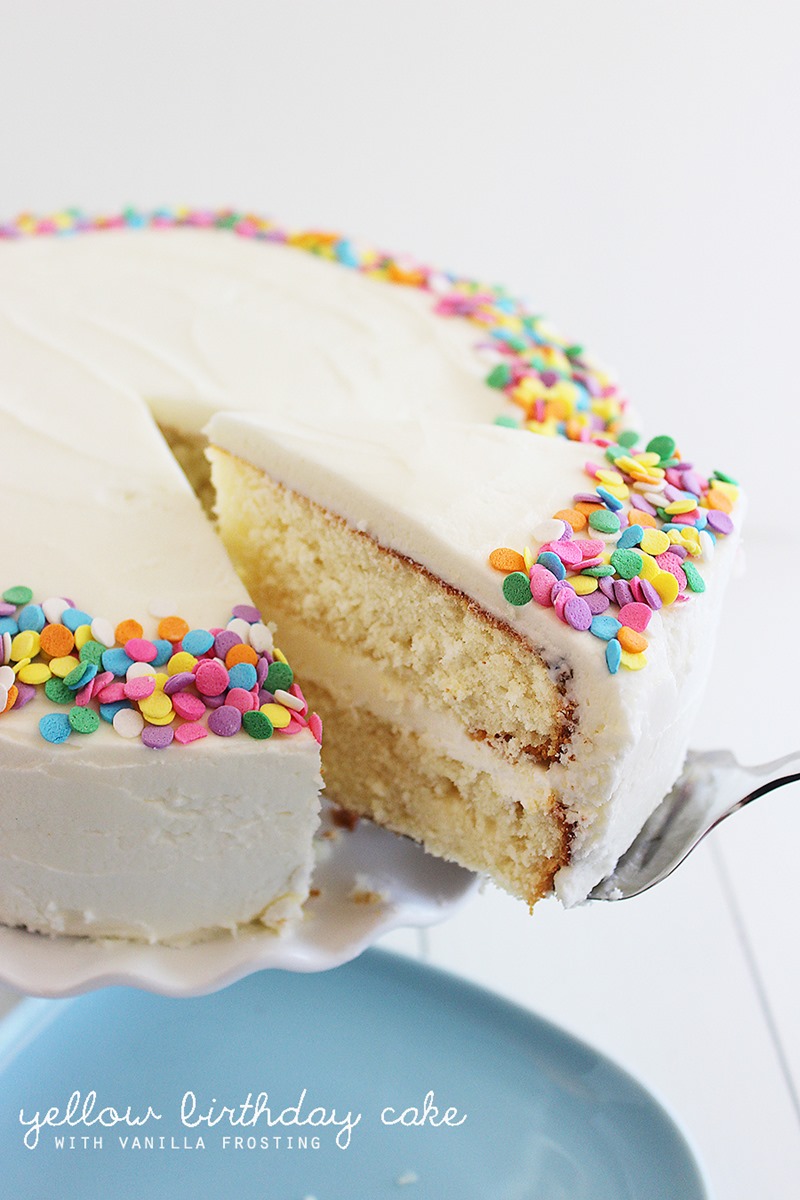 This super moist, fluffy homemade yellow cake is worthy of a celebration alone. Every slice is buttery soft and full of vanilla flavor – It wasn't just the best cake I've ever made, it was one of the best I've ever eaten. Judging by her kicks and flips after my celebratory slice, I think baby enjoyed it, too!
Along with many more of Mel's helpful tips, I found that using room temperature ingredients is very important in this recipe. It certainly made all the difference between this cake and my past cakes… plus maybe a little added patience. Definitely a necessary skill with a baby on the way!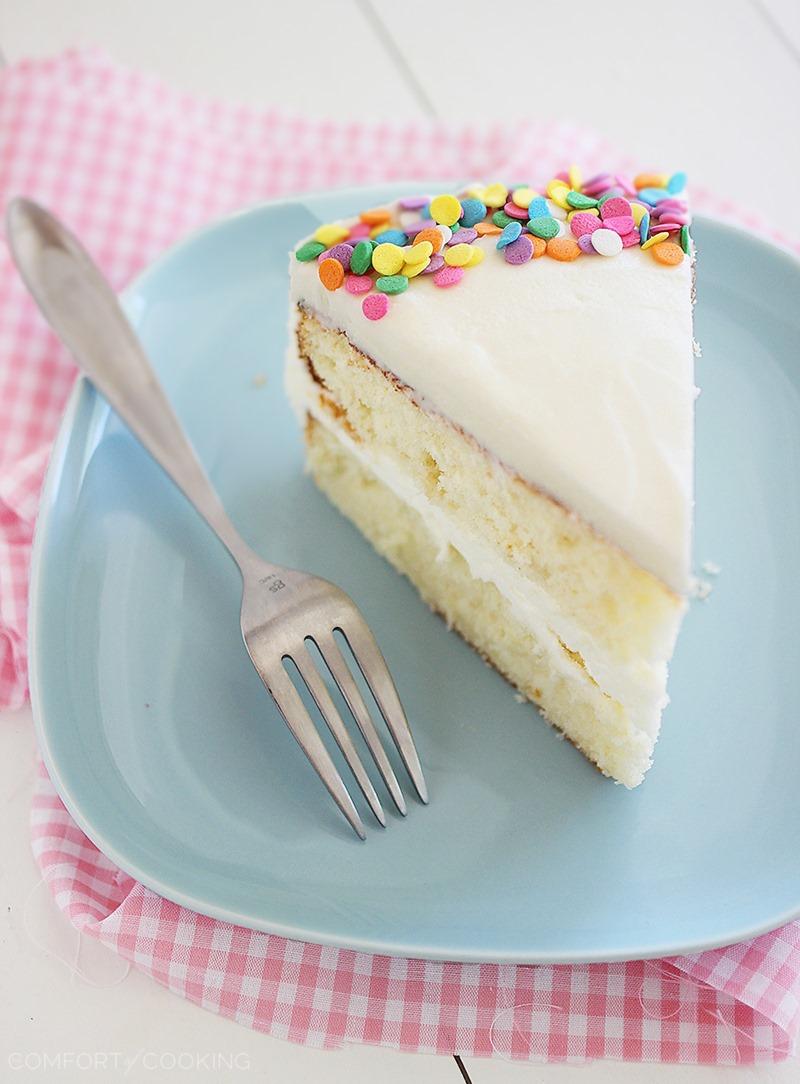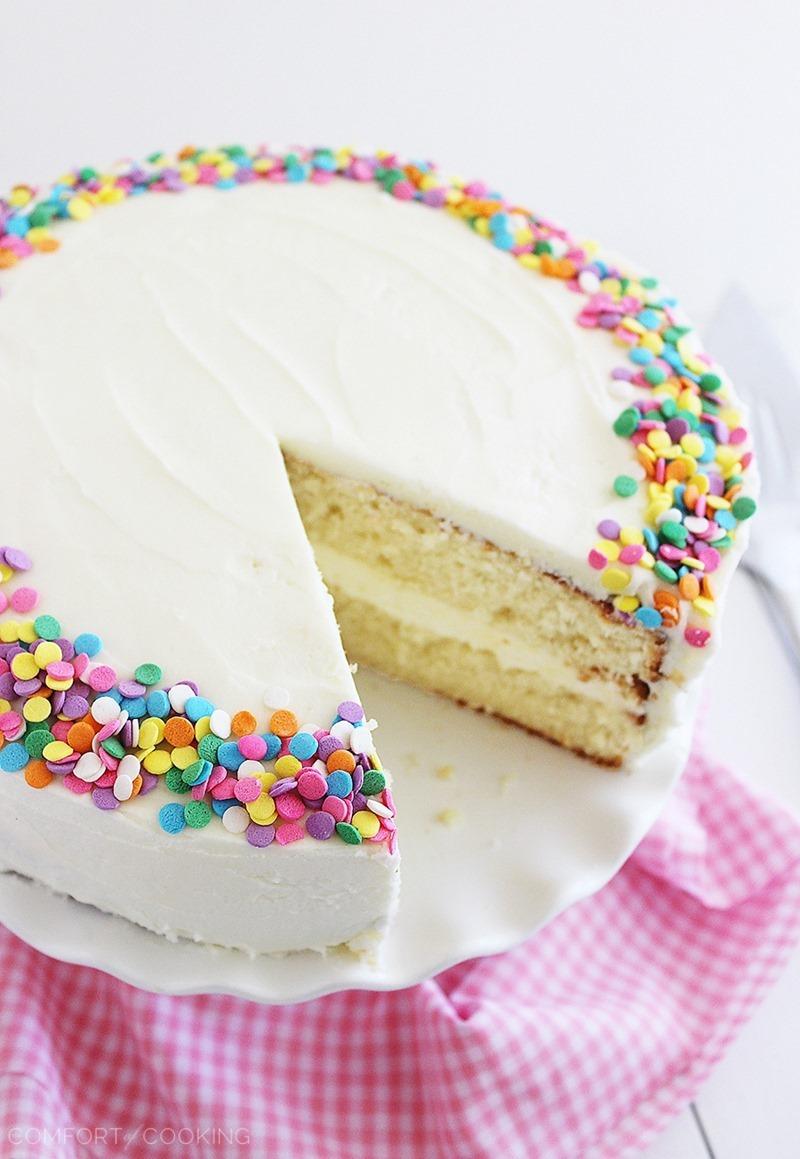 A pure white vanilla frosting and heaps of confetti sprinkles were just the finishing touch to an already fantastic cake. As I trimmed the top with a cake leveler to make it extra flat for frosting, we devoured the scraps in seconds. If you follow the recipe exactly, you will love the heavenly soft, rich yellow cake that results.
Buh-bye, boxed mix!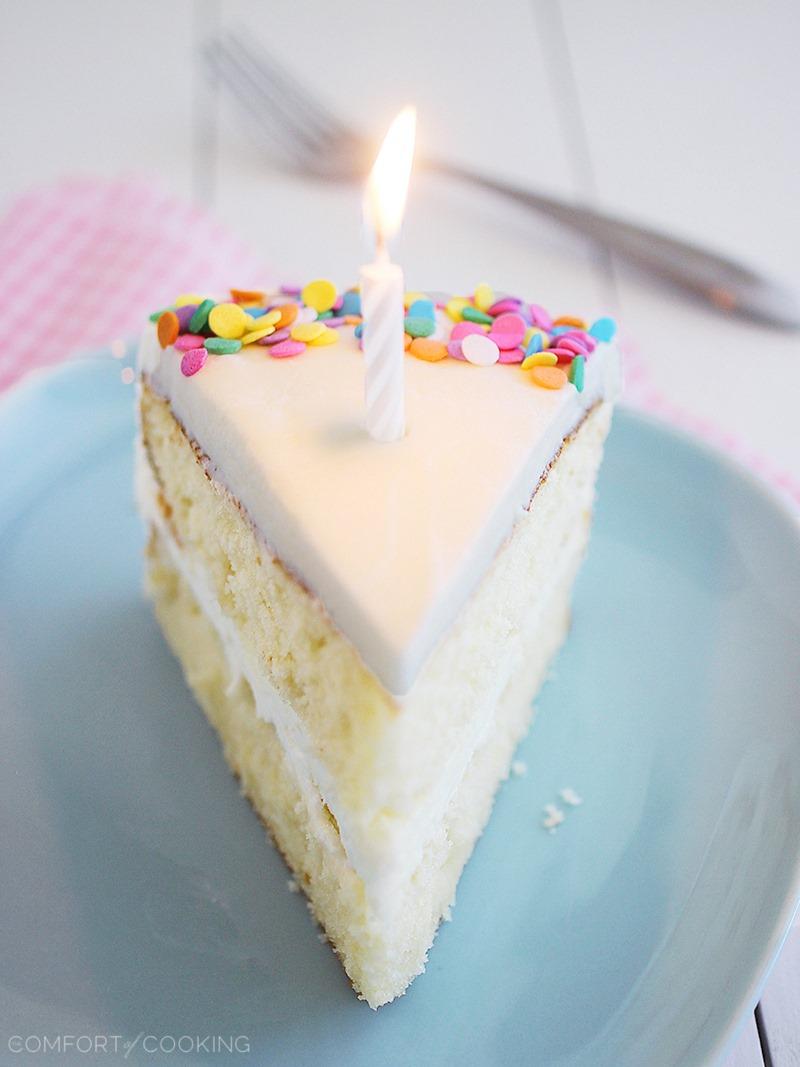 Now, make a wish…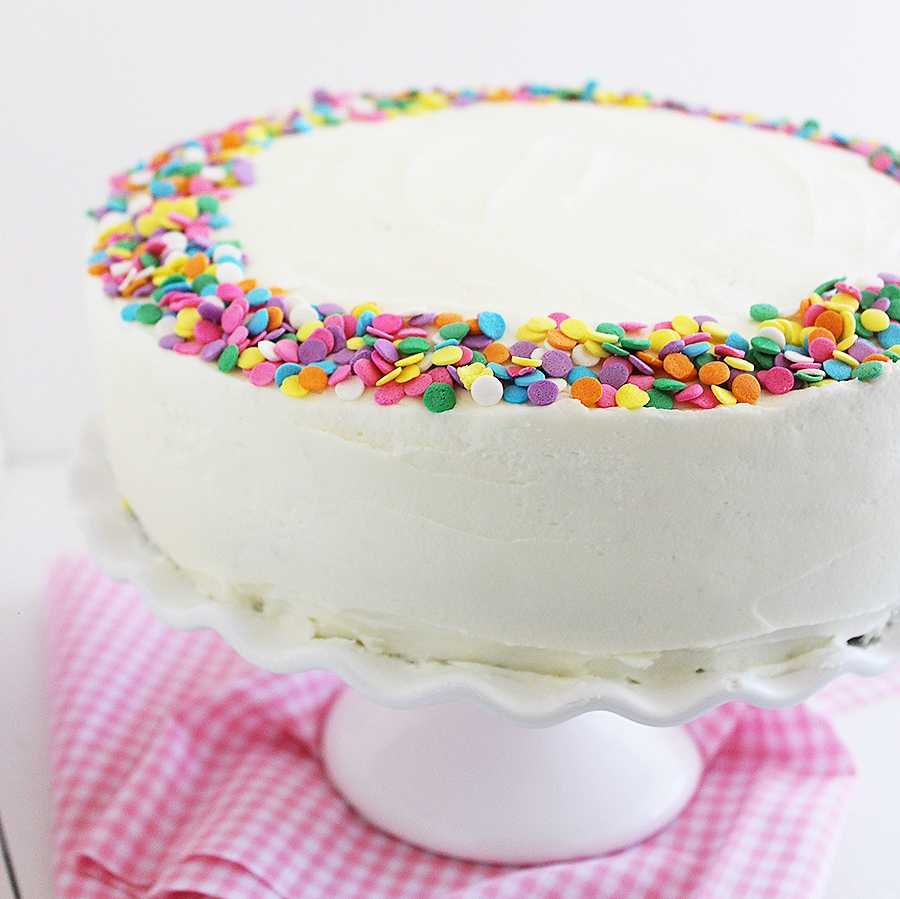 Yellow Birthday Cake with Vanilla Frosting
Yield:
1 (8- or 9-inch) layer cake
Ingredients
For the Yellow Cake:
2 1/4 cups cake flour
1 1/2 teaspoons baking powder
1/4 teaspoon baking soda
1/2 teaspoon salt
1 cup butter, softened to room temperature
1 3/4 cups granulated sugar
2 teaspoons vanilla
3 large eggs, room temperature
2 large egg yolks, room temperature
1/2 cup milk, 1% or above, room temperature
1/2 cup sour cream, light or regular, room temperature
For the Vanilla Frosting:
1 cup 2 sticks unsalted butter, softened
3-4 cups powdered sugar, sifted
2 teaspoons vanilla extract
2-3 tablespoons milk, heavy cream, or half-and-half
Instructions
For the Yellow Cake: Preheat oven to 350 degrees F. Set oven rack in the lower third of oven.
Over a large bowl, sift together cake flour, baking powder, baking soda and salt with a fine mesh strainer. Set aside.
In the large bowl of an electric stand mixer or with a handheld electric mixer, whip butter on medium speed for 1-2 minutes. Add granulated sugar and beat for 4-5 minutes on medium speed. Mix in vanilla. One at a time, add eggs and egg yolks, mixing just until combined in between additions. Scrape down the sides of the bowl as needed.
Add 1/3 of the flour mixture to the batter and mix just until combined, scraping down the sides of the bowl as needed. Whisk milk and sour cream together. Mix in 1/2 of the milk mixture. Mix in another 1/3 of flour mixture, followed by the milk mixture, and the remaining flour mixture, mixing just until combined. Stir batter to make sure all ingredients are well combined.
Grease cake pans (I use nonstick cooking spray) and line bottoms with a parchment round. Grease parchment and sides of pan again. If your pans are prone to sticking, consider flouring them as well.
Divide batter evenly between the two pans. Drop each pan from about 3 inches onto the counter to minimize air bubbles while baking.
Bake for 25-28 minutes, until lightly golden around edges and a toothpick inserted in the center comes out with moist crumbs.
Let cakes rest in the pans for 10 minutes before gently inverting them onto a cooling rack to cool completely before frosting.
For the Vanilla Frosting: In the large bowl of an electric stand mixer or with a handheld electric mixer, add butter. Beat on medium speed for 3 minutes, or until smooth and lightened in color.
Add powdered sugar, 1/2 cup at a time. After each addition, gradually turn mixer to the highest speed setting and beat for 10 seconds to lighten the frosting. Mix in vanilla.
Add milk, heavy cream or half-and-half until the frosting has reached the preferred consistency. For a firmer frosting, add more powdered sugar (1/4 cup at a time). For a softer frosting, add more milk or cream (1 Tbsp. at a time).
Frost your cake as desired. I love this video tutorial with helpful tips.
Enjoy!