Satisfy your sweet tooth with one of these easy, addicting caramel apples! Just like store bought, but so much more scrumptious. Check out lots of topping ideas below, too!
Happy Halloween, my little goblins and ghouls! I wish I had a crazy costume photo to share with you, but this year's party is still right around the corner – Saturday, in fact! After then, I'll be sure to embarrass myself (and hubby) thoroughly with a photo of my super silly, saucy and absolutely fabulous choice of costumage, hehe.
'Til then, I wanted to share with you my favorite recipe for a perfect caramel apple. Gooey, sticky caramel coating a tart apple is a classic fall combination and one of the best brisk weather treats, in my opinion. All you need are a handful of apples, caramel candies, and an assortment of your favorite toppings… I've left plenty of suggestions below!
Have a safe and spooktacular evening mixing up mischief however you may this Halloween. For some last minute treat ideas, try my Mini Caramel Apples, Spooky Spiderweb Cookies or Candy Corn Cupcakes!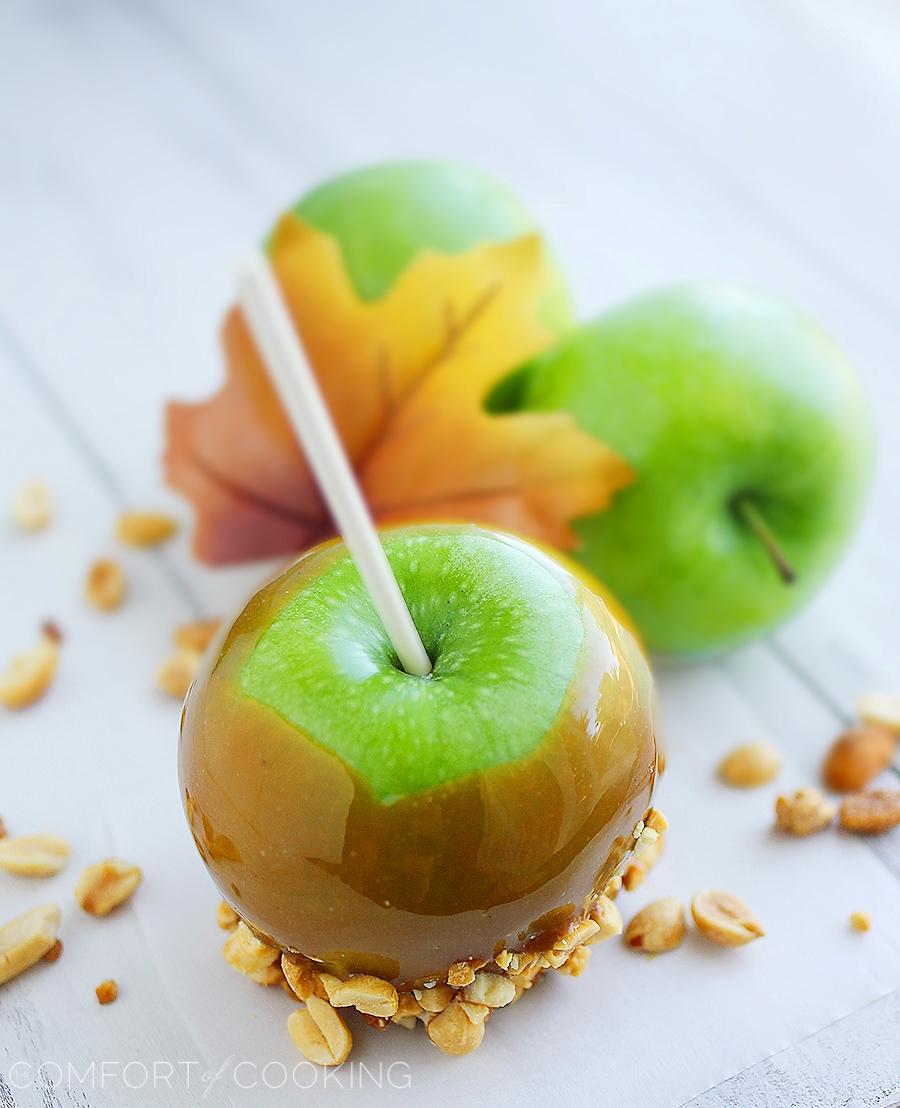 Perfect Caramel Apples
Yield:
4 to 6 caramel apples
Ingredients
6 small or 4 medium tart apples, rinsed and dried
1 tablespoon water
7 oz. (about 28) caramel candies
Nonstick cooking spray
1 teaspoon vanilla extract
Special equipment:
Candy sticks, craft sticks or plastic forks
Topping ideas:
Crushed pretzels, mini candies or chocolate chips, rainbow sprinkles, mini marshmallows, crushed graham crackers, chopped nuts, and cinnamon and sugar
Instructions
Prepare toppings in shallow cups. Line a baking sheet with wax paper and spray with cooking spray. Set aside.
In a small saucepan set over medium-low heat, add caramels and water. Melt until smooth, stirring frequently. Stir in vanilla extract. Dip apples into caramel one at a time, rotating the apples in the saucepan to help coat evenly. Let excess caramel drip off. Dip apple in toppings of your choice and place on the lined baking sheet. Refrigerate for at least 15 minutes before serving.
Enjoy!