Even though I just had a small group over for July 4th, bright and early in the morning I rushed to the store for a 10-pound watermelon. Why? Who knows. I guess I pictured us all lazing around on the back porch, feet in the grass, noshing on slices and spitting the seeds into the yard. Idyllic summer fantasty, right? Actually, it went more like this: Go outside for a few minutes, decide it's too stinking hot to do anything but sweat, and run back into the refuge of air conditioning. The end.
Needless to say, I was left with a lot of watermelon. Anyone want some recipes? That's okay, you're gonna get 'em anyway.
Granita is one of my favorite summertime treats – it's the best icy cold, light and fruity snack/dessert/whatever/whenever, and it always cools you off on a hot summer day or night.
I've made a couple variations of granita before with raspberries, pineapples and strawberries. This flavor is, by far, my favorite. You just make a simple syrup from water and sugar, whiz the watermelon in a blender or processor with a little lime juice, combine the two and freeze it all in a dish. Every thirty minutes for a couple hours, take a fork and rake through it to make tiny crystals of icy watermelon deliciousness, and you're ready to enjoy it!
Now… time to go put my new blender – and mountains of melon – to use with some frozen watermelon margaritas! Who wants?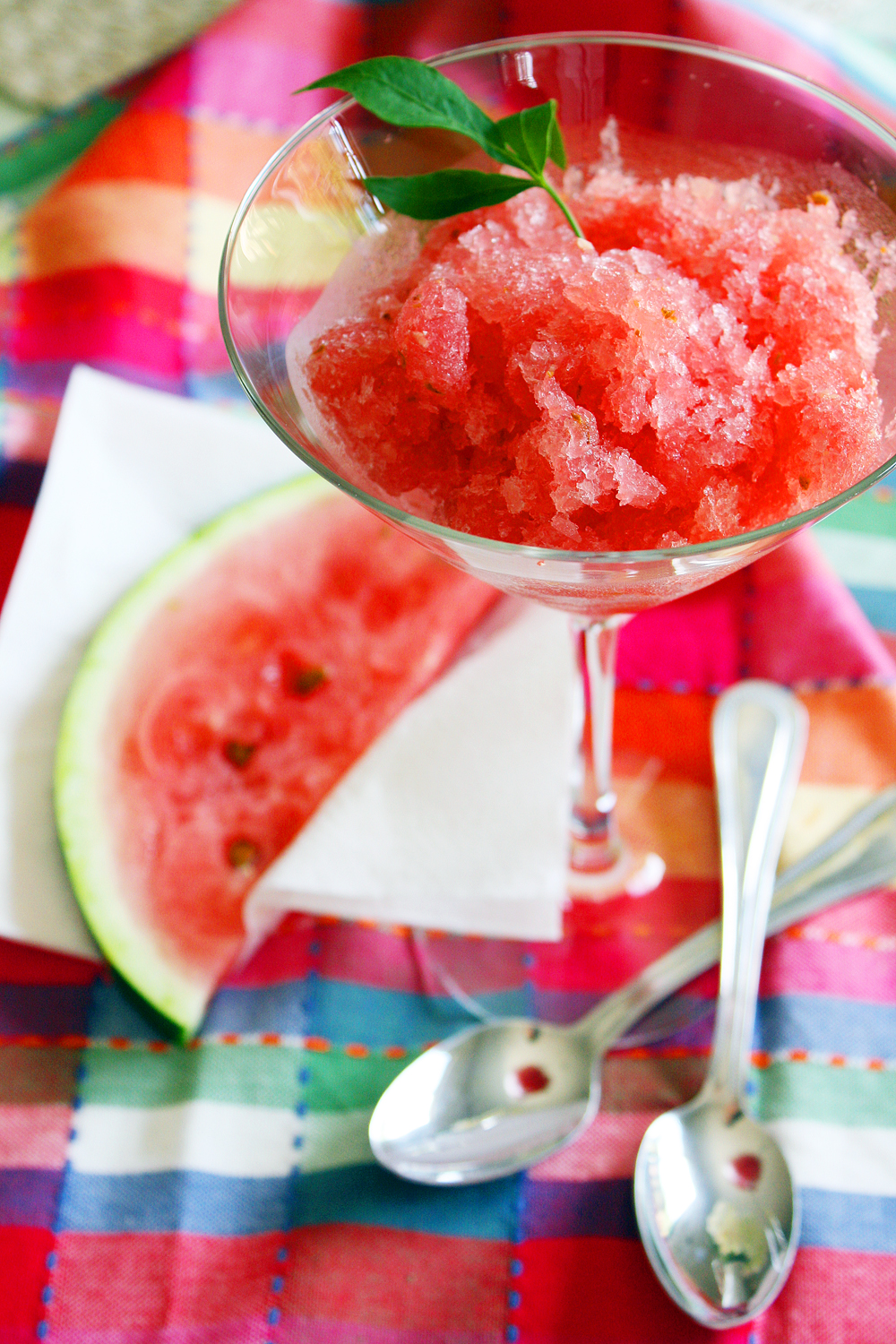 Refreshing Watermelon Granita
Ingredients
1/3 cup sugar, equivalent Splenda sugar substitute may be used
1/3 cup water
4 pounds seedless watermelon, cut into 1-inch cubes (about 5 cups)
2 Tablespoons fresh lime juice
Instructions
Make a simple syrup by heating sugar and water over high heat, stirring until all the sugar has dissolved. Let cool.
Place the watermelon and lime juice in a heavy-duty blender and process until smooth. Add simple syrup to the puree and pulse until combined.
Pour liquid into a 9 x 13-inch baking dish. Freeze, stirring and scraping with a fork every 30 minutes, until all of the liquid has frozen. This should take about 3 hours. May be stored in the freezer up to 5 days.
Stir again before serving. Serve watermelon granita in large glasses.
Enjoy!