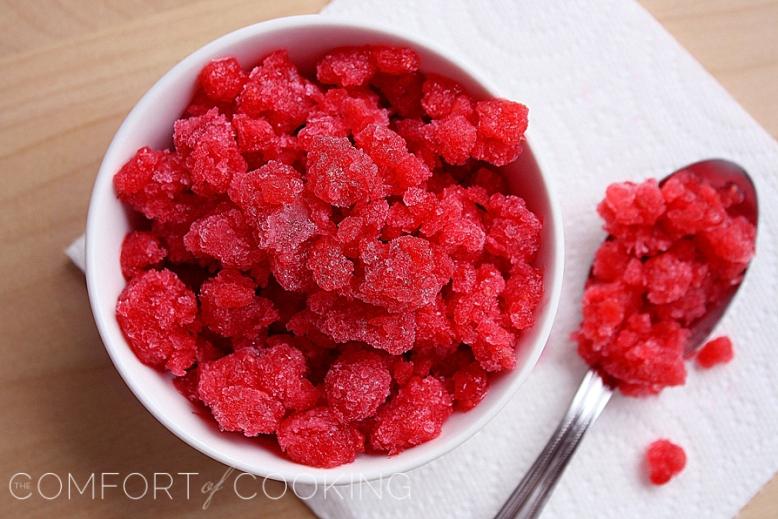 In my last granita post, I failed to mention one thing: I made it because I didn't want to feel like I completely and totally failed at making frozen treats without an ice cream maker… namely, the honey-vanilla ice cream that ended up tasting a lot more like gloppy, thick heavy cream and a lot less like sweet, fragrant honey and vanilla.
While I haven't yet gotten back on the trail in my quest for the perfect homemade ice cream sans another lumbering, noisy kitchen appliance, icy-cold fruit granita has been a pretty darn good stand-in. The last few I've made have served as a snack, dessert, and all around awesome way to cool down on a hot summer day, and best of all, granita is incredibly easy to make. Like, seriously easy.
All you need  is some fresh fruit of your choice (usually, about three cups worth), a 13 x 9 pan, a food processor or potato masher, water, sugar, and a fork. Oh, right, and a cute bowl and spoon to savor the fruity, flaky ice crystals once it's ready.
Raspberry granita has an intense, sweet-tart flavor that makes for the perfect icy treat to have in hand while watching a sunset after dinner. And, pineapple granita, with its distinct tropical flavor, was the most delicious excuse to buy a pineapple that I have yet to come across… Besides rum cocktails. Fresh pineapple makes for a pretty amazing cocktail, too.
Granita has become my favorite summer treat and we make sure to have it on hand at all times. So, if you come over, it's likely that I'll force a bowl on you, and it's likely you'll ask for seconds. But in the event that you won't be coming over, you might want to do yourself a favor, go buy some fruit and clear out some freezer space so you can make your own. You ice cream makers can keep your big, noisy machines and heavy cream – I'm sticking with all-natural fresh fruit granita!
Craving more? Keep in touch on Facebook, Twitter, Pinterest and Instagram for new post updates and more. You can also check out my FAQ page, or contact me with any questions or inquiries!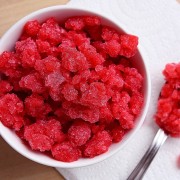 Raspberry and Pineapple Granita
Ingredients:
Raspberry Granita
1 cup water
3/4 cup plus 2 tablespoons sugar
3 cups fresh raspberries (about 16 ounces)
1 tablespoon fresh lemon juice
Fresh raspberries
Pineapple Granita
1 cup sugar
½ cup water
1 pineapple, chopped
Directions:
Raspberry Granita
Combine water and sugar in medium saucepan. Stir over medium heat until sugar dissolves. Bring to boil. Remove from heat. Chill syrup until cold.
Meanwhile, mash 3 cups raspberries in medium bowl. Stir in lemon juice. Mix in sugar syrup. Pour mixture into 13 x 9-inch nonstick metal baking pan. Freeze until icy around edges, about 45 minutes. Using fork, stir icy portions into middle of pan. Freeze until mixture is frozen, stirring edges into center every 45 minutes, about 3 hours. Using fork, scrape granita into flaky crystals. Cover tightly and freeze.
To serve, scrape granita into bowls and garnish with berries. (Can be made 1 day ahead. Keep frozen.)
Enjoy!
Pineapple Granita
Place the sugar and water in a saucepan and heat until the sugar dissolves into a clear liquid, creating simple syrup. Set aside to cool.
Cut the pineapple into chunks, discarding the skin and core. Put some pineapple and some simple syrup in a blender or food processor and puree. Repeat until you've pureed all the pineapple and syrup. Pour into a 13 x 9-inch nonstick metal baking pan and freeze partially, stirring icy outsides to the center every half hour for 3 hours.
Scoop the frozen mixture into a plastic container, or serve in individual dishes.
Enjoy!