Super buttery, chewy and irresistibly easy. Bake up this recipe of my best-ever batch of thin, deliciously dunkable chocolate chip cookies today. If you like them thicker (and even softer), check out this recipe!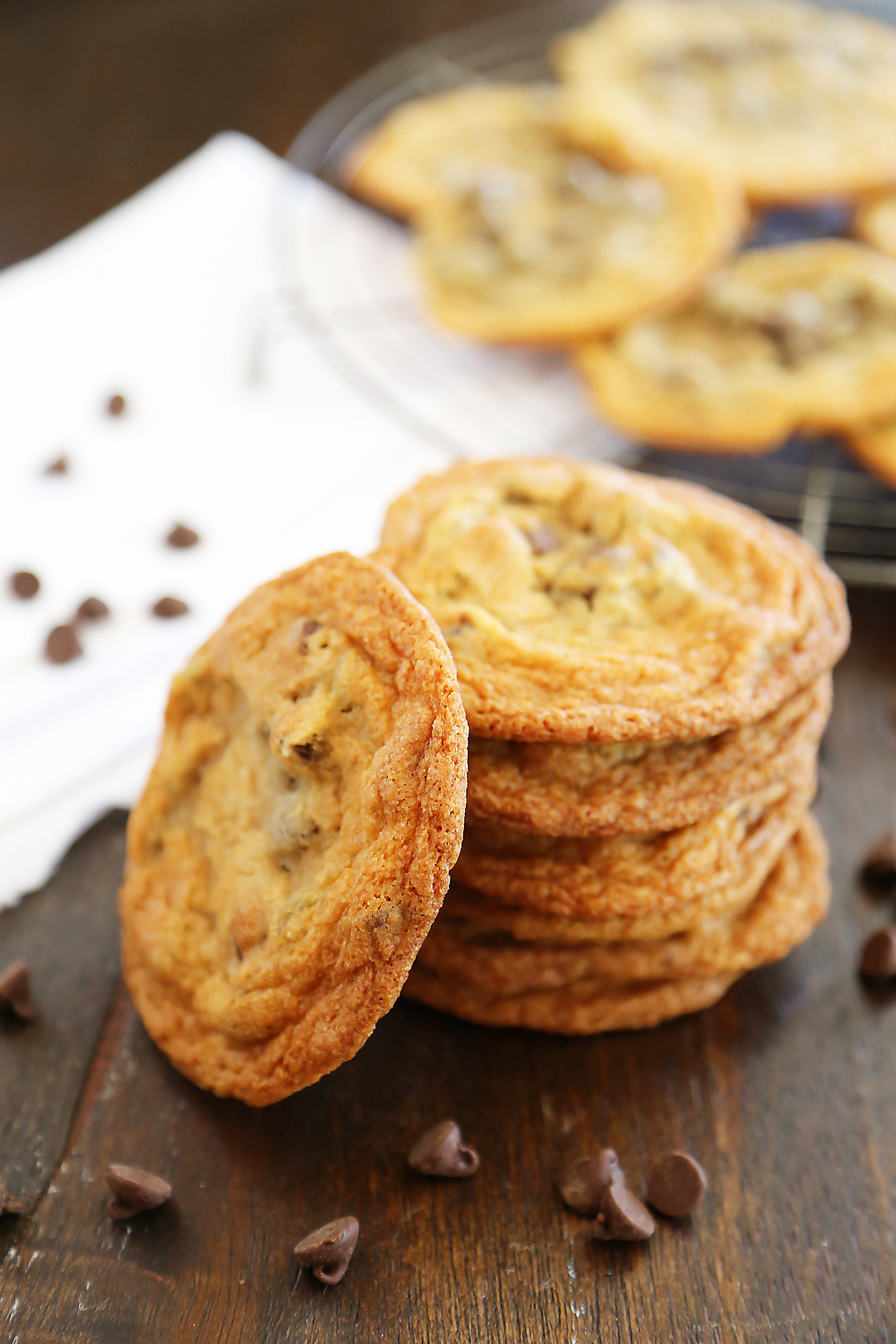 When it comes to chocolate chip cookies, I respect that everyone has their own religion. I pray at the alter of thick, soft and gooey cookies, with a glass of milk to wash one (or three) down. Or, better yet, a hot cup of coffee to dunk into.
However, I know not all worship my way.
I've been asked by readers repeatedly for a thin and buttery, bakery style cookie with crispy edges. And, even though I will probably be in a bikini for most of this coming weekend, I willingly obliged and broke out my mixing bowl and stretchy pants for some recipe testing. And tasting. And testing. And more tasting.
I gained five pounds. But, I found it! The perfect flat, chewy chocolate chip cookie.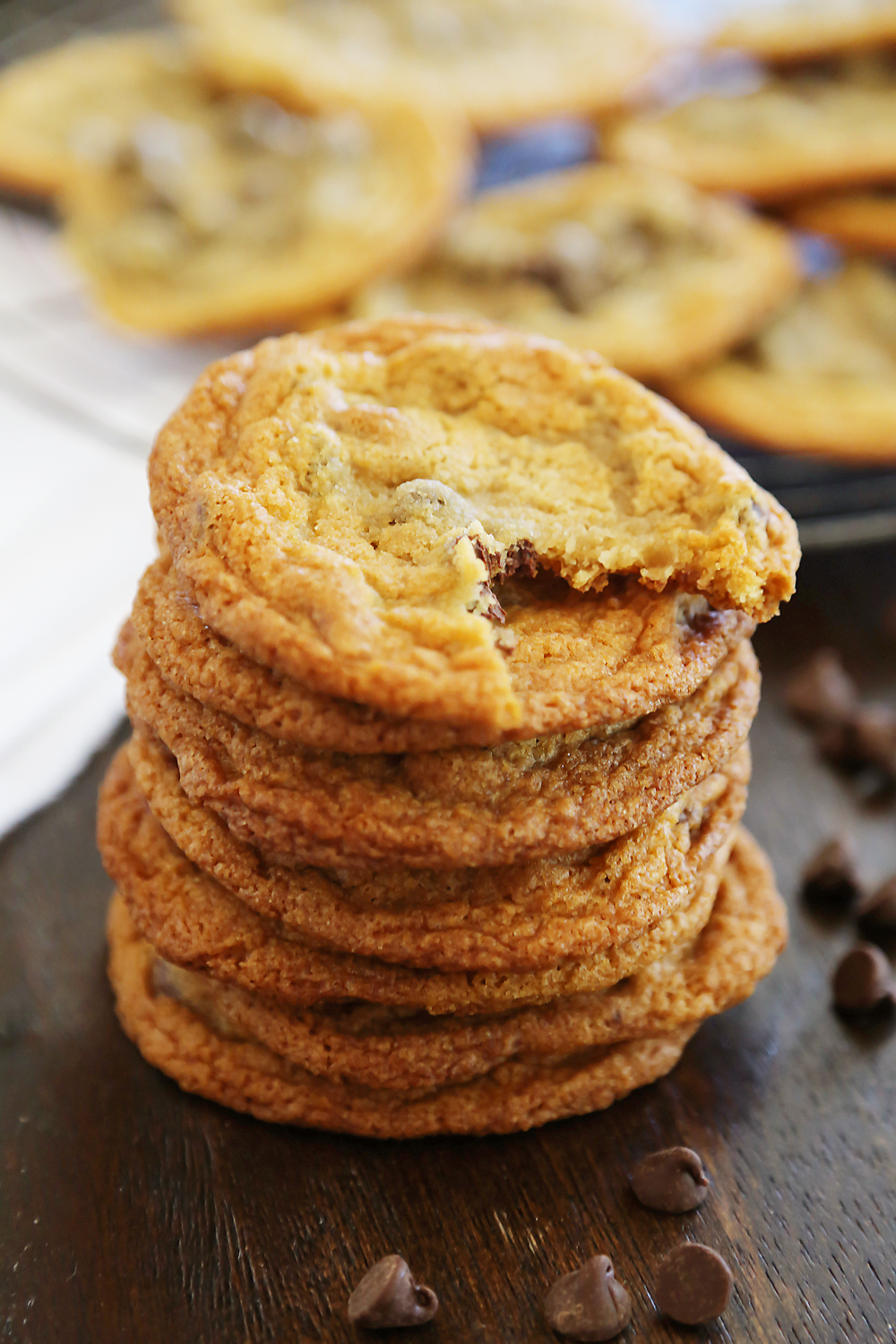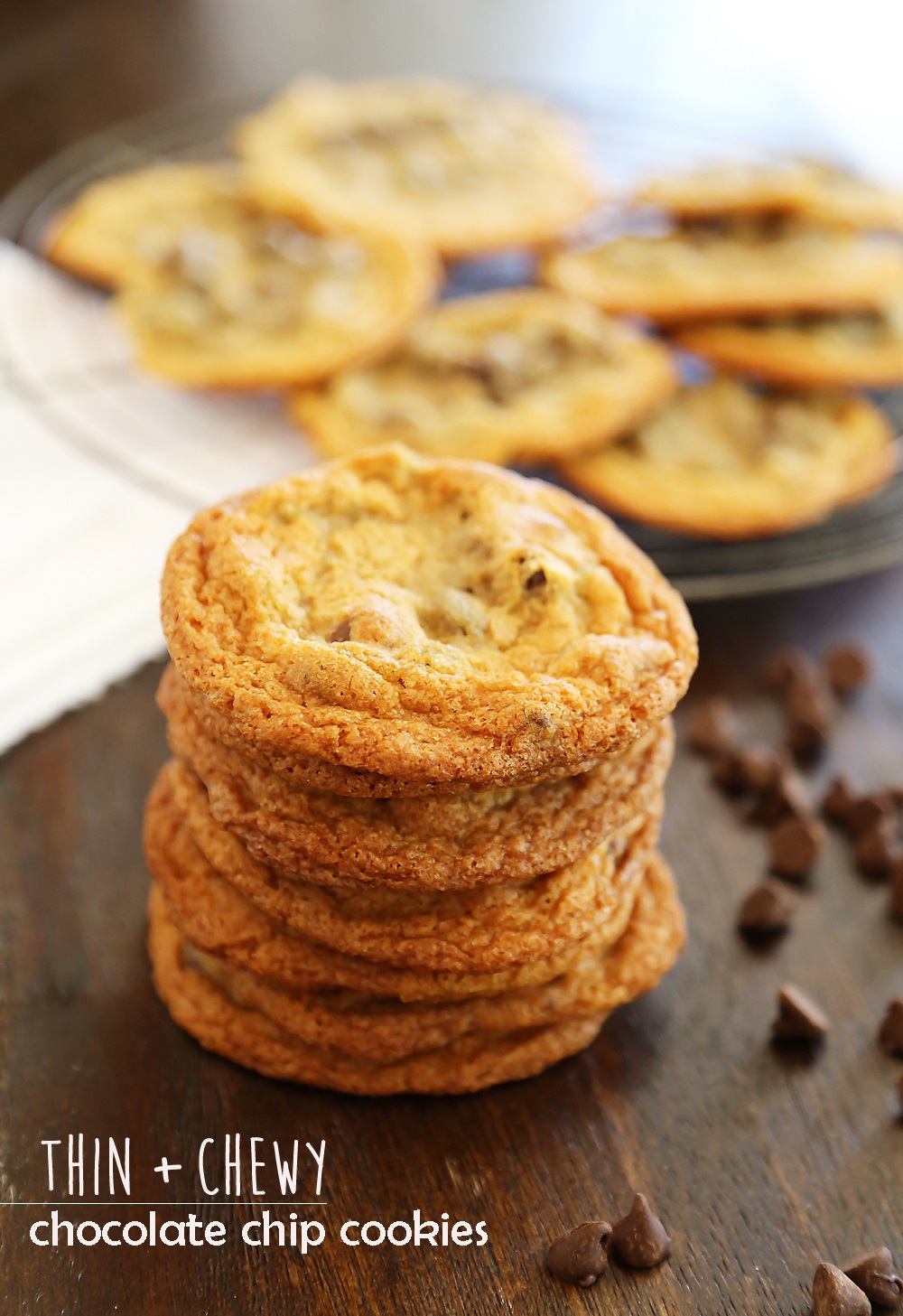 My grandma used to keep cookies that tasted JUST like these in her freezer. As a kid, I never understood why. As a cookie monster adult, it has all become clear. And now I crave them cold.
These chocolate chip cookies are unbelievably good. Buttery soft, with a slight chew and a strong vanilla aroma. The texture melts in your mouth. And suddenly, you've eaten a half dozen. I have to say, they're almost good enough to convert me from my thick-cookie-lovin' ways!
Bake a batch and share them with friends this week. Or, go grandma style and freeze a bag for when the craving strikes. They're amazing crumbled over ice cream!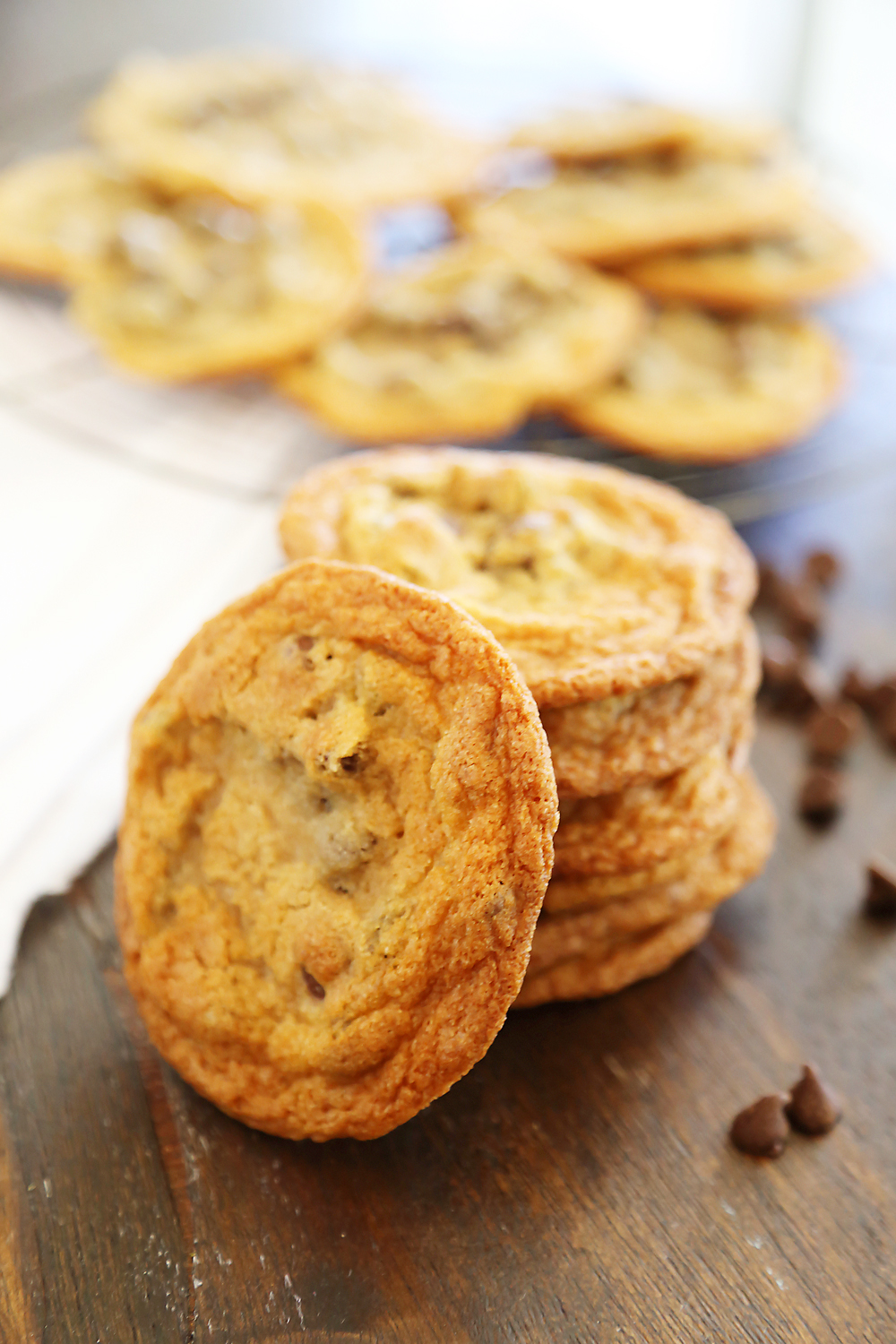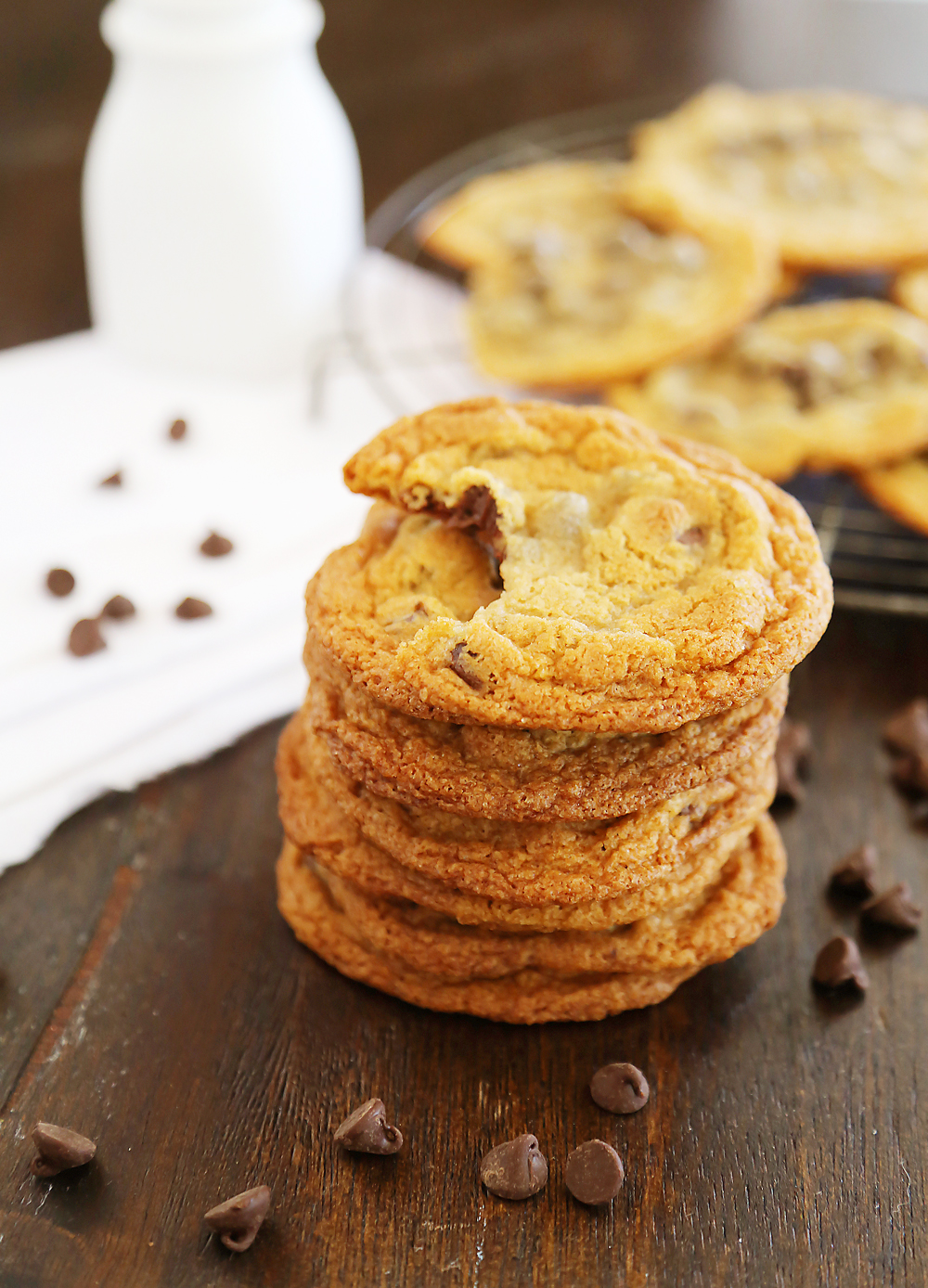 Thin and Chewy Chocolate Chip Cookies
Ingredients
2 cups all-purpose flour
1 teaspoon baking soda
1/4 teaspoon salt
1 cup [2 sticks] unsalted butter, softened
1 cup packed light brown sugar
1 cup granulated sugar
2 large eggs
1 teaspoon vanilla extract
1 cup semisweet chocolate chips
Instructions
Preheat oven to 350 degrees F. Line a large baking sheet with parchment paper; set aside.
In a medium bowl, whisk flour, baking soda and salt. Set aside.
In a separate large bowl, or the bowl of your stand mixer fitted with the paddle attachment, beat butter and sugars until light and fluffy. Add eggs and vanilla extract. Add flour mixture, mixing until completely combined. Do not over-mix. Fold in chocolate chips.
Roll dough into balls and place on baking sheet. Bake for 9-11 minutes, until edges are slightly golden brown. (The cookies will not look fully baked, but they will resume baking while cooling on baking sheet.)
Remove from oven and let cookies rest on baking sheet for 5 minutes. Transfer to a wire rack to cool completely.
Enjoy!