These soft and chewy Salted Caramel Cookie Bars are made from scratch and irresistibly good dunked in a tall glass of milk!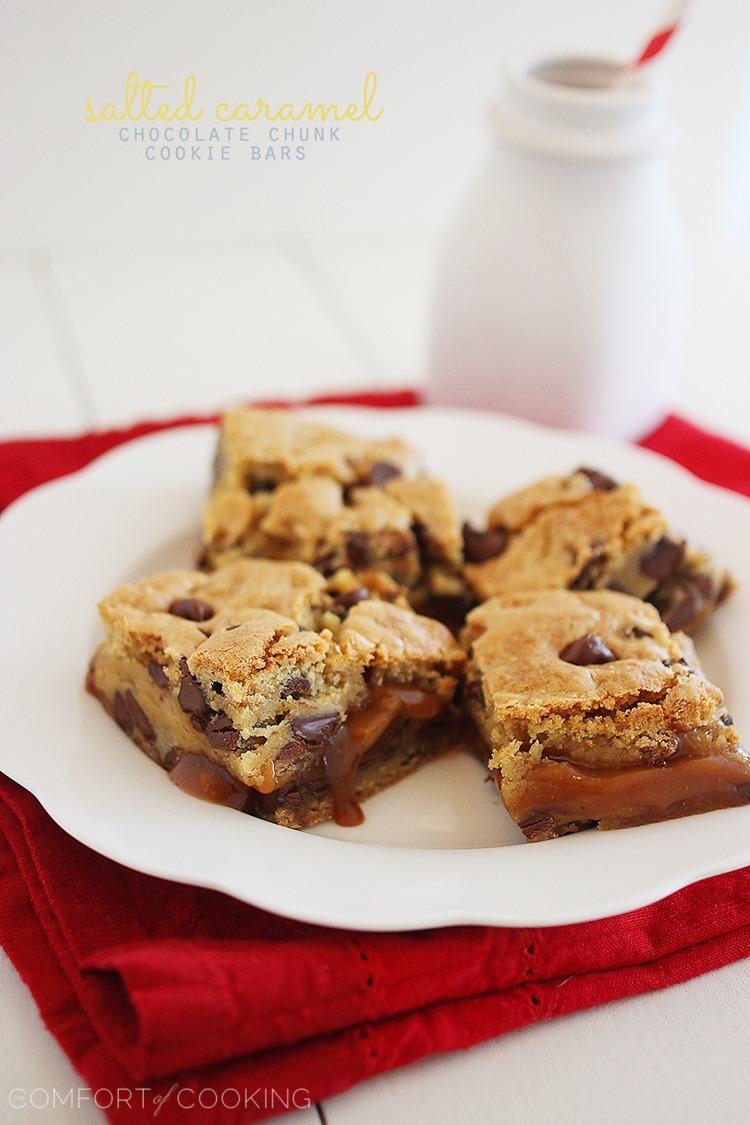 Let's kick off Monday with something a little sinful, shall we? My husband just left for 10 days and I could use a cookie.
With holiday baking and hustle-bustle in my rearview mirror, it's been a slower month for me in the kitchen and behind my laptop. You'd think that would leave more time for kicking back on the couch and getting foot rubs (I wish), but it's been busy in other ways. We've started to work on the ugly-upstairs-office-turned-nursery transition for our little Junebug, and it couldn't make me more excited for her arrival.
With hubby in San Diego and me at home, he's relieved of baby prep madness for a bit, and I get to have all the cookies… Works out for everyone!
At least that's how I'm justifying how terribly I'll miss him.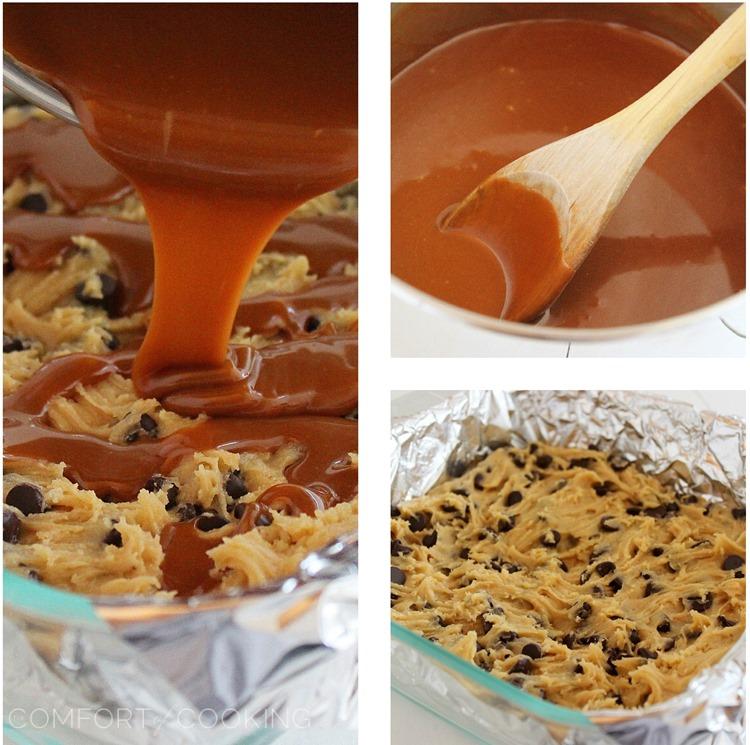 But really, I'm a big girl and it's not such a bad thing. I foresee lots of nights spent cuddled up with the hugest, softest blanket ever, my favorite chick flicks, and cereal for dinner. Rice Krispies with Splenda and cinnamon, to be exact. At least once.
It's a preggo obsession that might become a forever one.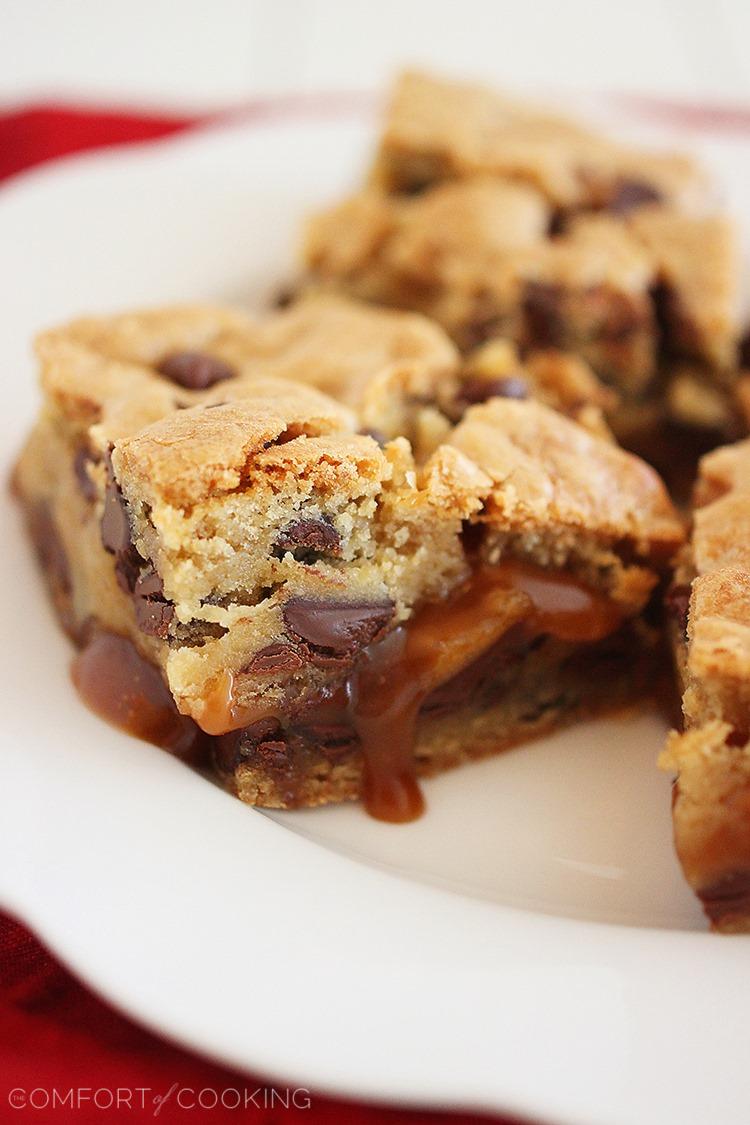 These bars, though, are already a major obsession… and a mighty naughty one! Soft and chewy chocolate chip cookie dough surrounds gooey, molten salted caramel in these incredible cookie bars. The sweet-salty taste is totally addictive, and each bite is irresistibly better than the last. Half cookie, half bar, and a whole lotta delicious dunked in a tall glass of milk. It's the best of both worlds!
You're just gonna love these. Using just basic pantry staples, you can create an easy, elegant dessert for sharing with family and friends!
Or, you know, not sharing…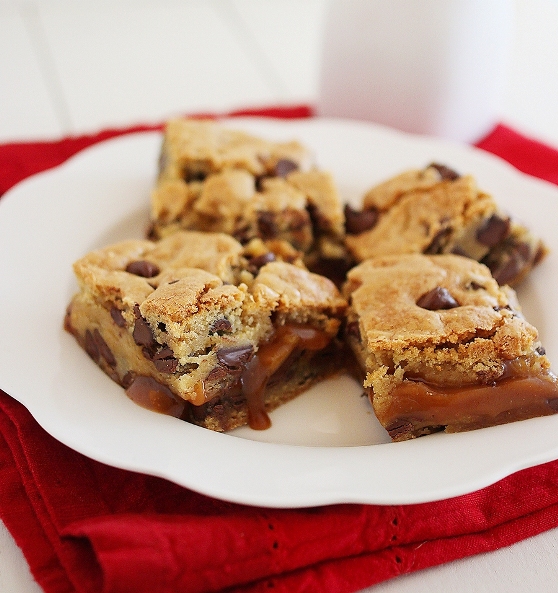 Salted Caramel Chocolate Chunk Cookie Bars
Ingredients
For Salted Caramel Sauce:
6 tablespoons 3/4 stick butter
1 cup granulated sugar
1/2 cup heavy cream
1 teaspoon vanilla extract
1/2 teaspoon coarse salt
For Chocolate Chunk Bars:
Nonstick cooking spray
2 1/4 cups flour
1/2 teaspoon baking soda
1/4 teaspoon salt
3/4 cup 1 1/2 sticks butter, melted
1 cup firmly packed brown sugar
1/2 cup granulated sugar
3 large eggs
2 teaspoons vanilla extract
1 cup semi-sweet chocolate chips
Instructions
For the Salted Caramel Sauce: In a medium saucepan set to medium heat, add butter and sugar. Cook and stir with a wire whisk, 6 to 7 minutes, or until mixture turns a deep amber color. Watch closely to avoid burning. Slowly and carefully stir in cream, vanilla and salt. Mixture will be bubbly. Whisking constantly, cook 1 to 2 minutes until sauce thickens and coats back of spoon.
For the Chocolate Chunk Bars: Preheat oven to 325 degrees F. Line a 9x9-inch baking dish with aluminum foil and coat with nonstick cooking spray.
In a medium bowl, mix flour, baking soda and salt. Set aside. In a large bowl, mix butter, brown sugar and granulated sugar until well blended. Add eggs and vanilla; mix well. Add flour mixture; mix just until moistened. Stir in chocolate chips. Spread half of cookie batter in prepared baking dish. Pour salted caramel sauce over batter, spreading almost to the edges. Spread remaining batter over caramel layer.
Bake 35 to 40 minutes, or until top is golden brown. Cool bars completely in pan set on a wire rack. Lift out bars by grabbing the foil edges and place on a cutting board. Cut into bars.
Store in an airtight container up to 5 days.
Enjoy!