Buttery soft cookies with a sweet surprise. These simple, delicious jewel-hued cookies are my new favorite for the holidays, and after one bite they'll be yours, too!
Well, they say you get a spring in your step in the second trimester, and they weren't kidding. In the last few weeks, my energy (and productivity) has been up tenfold. Every to-do list item, from work deadlines to Christmas presents, is getting wrapped up and it feels gooood. As does my bed at 9:30pm, which is when I end up falling into it after a long day!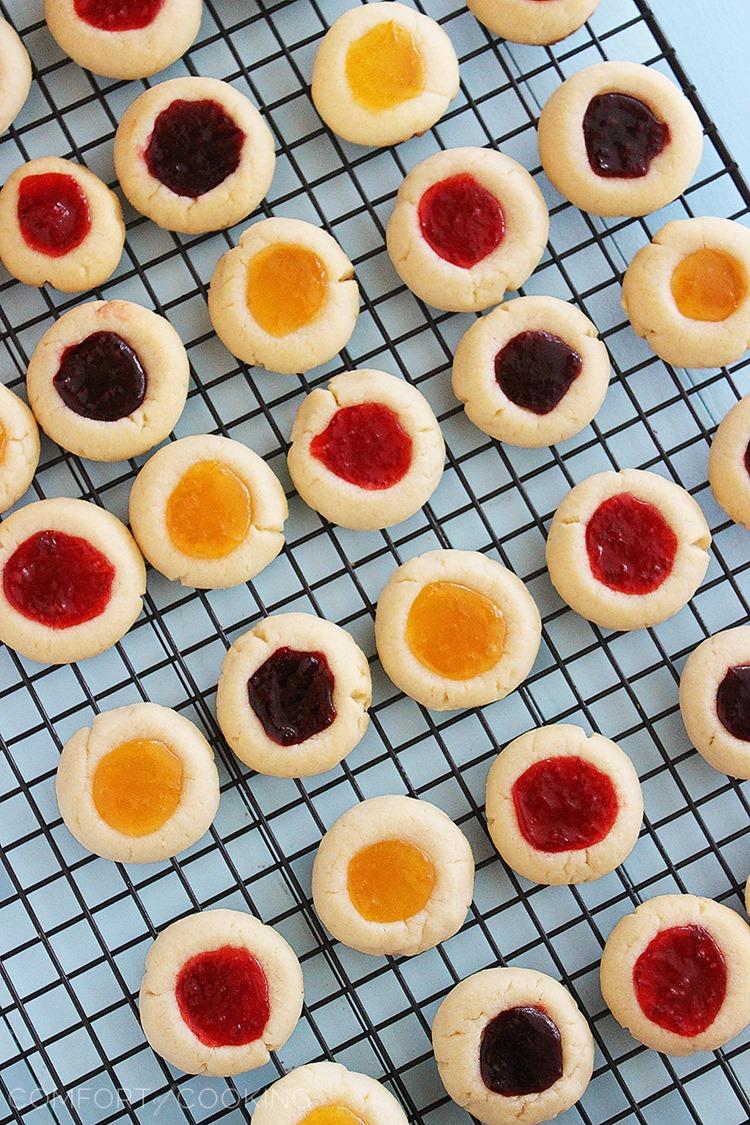 The thing about finishing one project is, you usually get a little zeal to start another one. And then another one. And before you know it you have five different batches of Christmas cookies, zero things left on your to-do list, but zilch for energy. You get into a pattern. You get it done, then you get even more done than you anticipated, then you get exhausted.
This was me for two weeks. The cookie equivalent of a cat lady.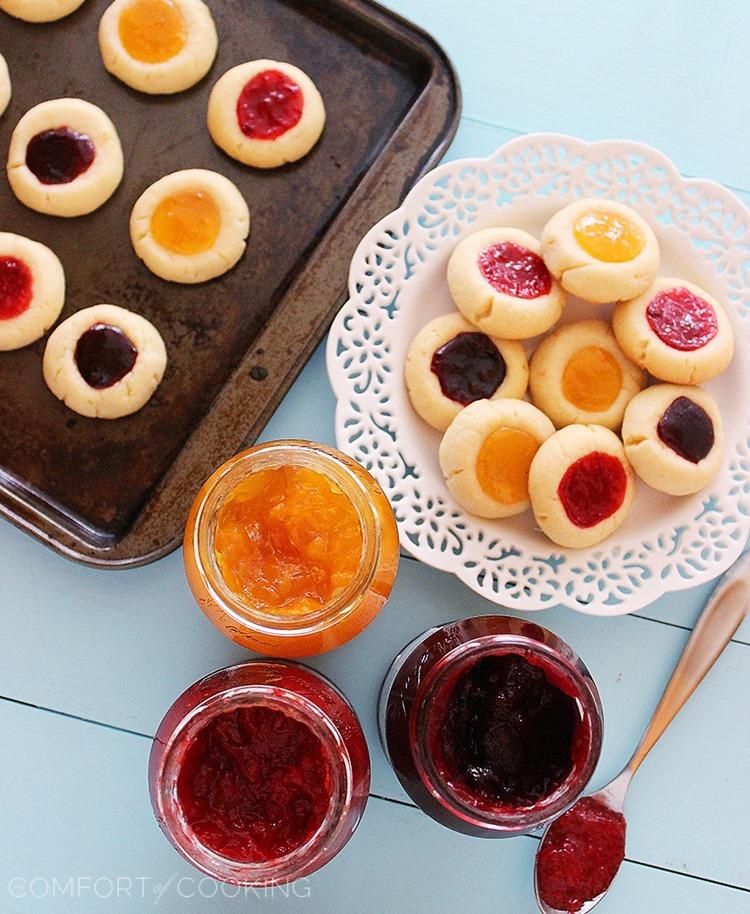 Amidst the holiday rush, I found these jam thumbprint cookies refreshingly quick and simple. Just six basic ingredients and a collection of colorful jams is all you need. Whip together butter, sugar, eggs and vanilla in one big bowl. Toss in your flour and salt, stir it all together, and form a few dozen little dough balls. Press into each with your thumb, bake for a bit, and then fill with your favorite jams. Back into the oven they go for a few more minutes, and voila!
Honestly, they produced my absolute favorite new holiday cookie. Buttery and soft, with a sweet surprise. No sprinkles, no frills, no red-and-green. Just lovely and delicious!
These were the last cookies I made, rounding out what seemed like endless batches before Christmas. Enjoying a couple cookies with a cup of tea, I was reminded to slow down a bit. And that's what I've been doing ever since. It's all done. It's all taken care of. So, now it's just time to snuggle up and enjoy the season… with more cookies. For the baby, of course.
Jam thumbprints make perfect holiday gifts and sweet treats for someone special year-round. Bake a batch with ingredients you probably already have, and share them this weekend!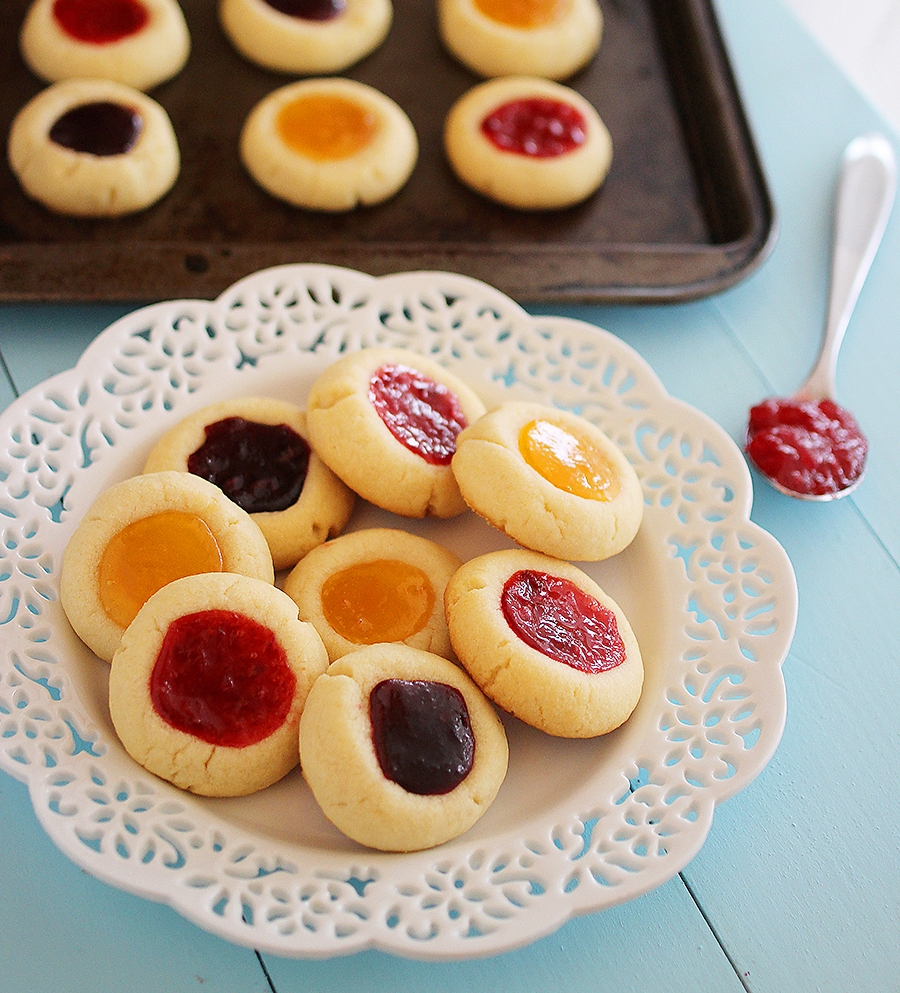 Jam Thumbprint Cookies
Ingredients
1 cup (2 sticks) unsalted butter, room temperature
2/3 cup granulated sugar
2 large egg yolks
1 teaspoon vanilla extract
2 cups all-purpose flour
1/4 teaspoon kosher salt
6 ounces (or so) assorted jam, (I used strawberry, blackberry & peach)
Instructions
Preheat oven to 375 degrees F. Line a baking sheet with parchment paper or a silicone mat.
With an electric mixer on medium-high speed, beat together butter and sugar until light and fluffy, 2-3 minutes. Beat in egg yolks and vanilla extract. Mix in flour and salt until incorporated and dough comes together in a ball.
Form dough into 1-inch balls and arrange on prepared baking sheets. Flatten balls slightly with your thumb or the back of a small spoon, leaving an indentation in the center.
Bake cookies for 8 to 10 minutes, or until bottoms are just barely golden. Remove baking sheet from oven. If indentations look shallow, further define them with the back of a spoon and then fill each with approximately 1/2 teaspoon jam.
Bake for an additional 3 to 4 minutes, or until jam melts slightly and edges of cookies are lightly golden. Jam should be sticky and soft. Transfer cookies to wire racks to cool.
Enjoy!