Only 4 ingredients! The cutest handheld mini apple pies, with a sweet apple filling and golden, flaky pie crust. So easy to make for an adorable autumnal treat! Kids and adults alike will love these toasty baked apple desserts.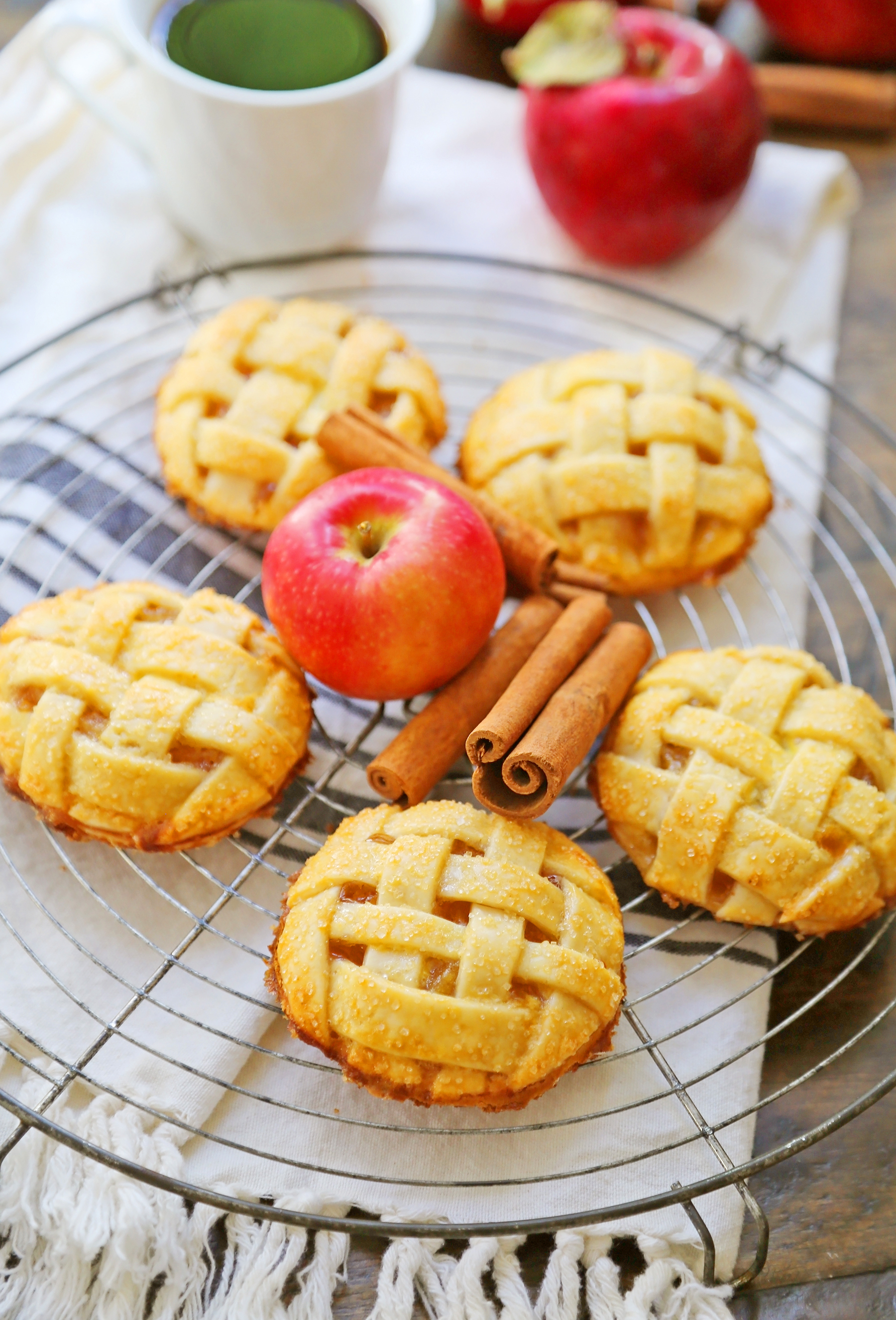 If there is one nostalgic dessert that keeps me coming back, it's a warm apple pie in autumn. The sweet, cinnamon spiced apple filling nestled in a flaky golden pie crust are just irresistible! And in these little handheld pies, easier than ever to make at home.
Using only 4 ingredients, you can have your own mini apple pies, or apple pie cookies, to enjoy in under 30 minutes!
The 5 steps are simple:
1. Roll out your pie crust. Cut circles with a round cookie cutter.
2. Scoop apple pie filling on top of each round.
3. Cover with strips of pie dough, seal with your fingers and press cutter on top.
4. Brush with egg wash. Sprinkle with coarse sugar (optional).
5. Bake 'til bubbly and golden brown (20-25 minutes), then enjoy!
These store easily in your refrigerator for a few days. They are a great make-ahead treat for parties and family snacks, desserts and anytime indulging.
Keep reading for full ingredient list + recipe, below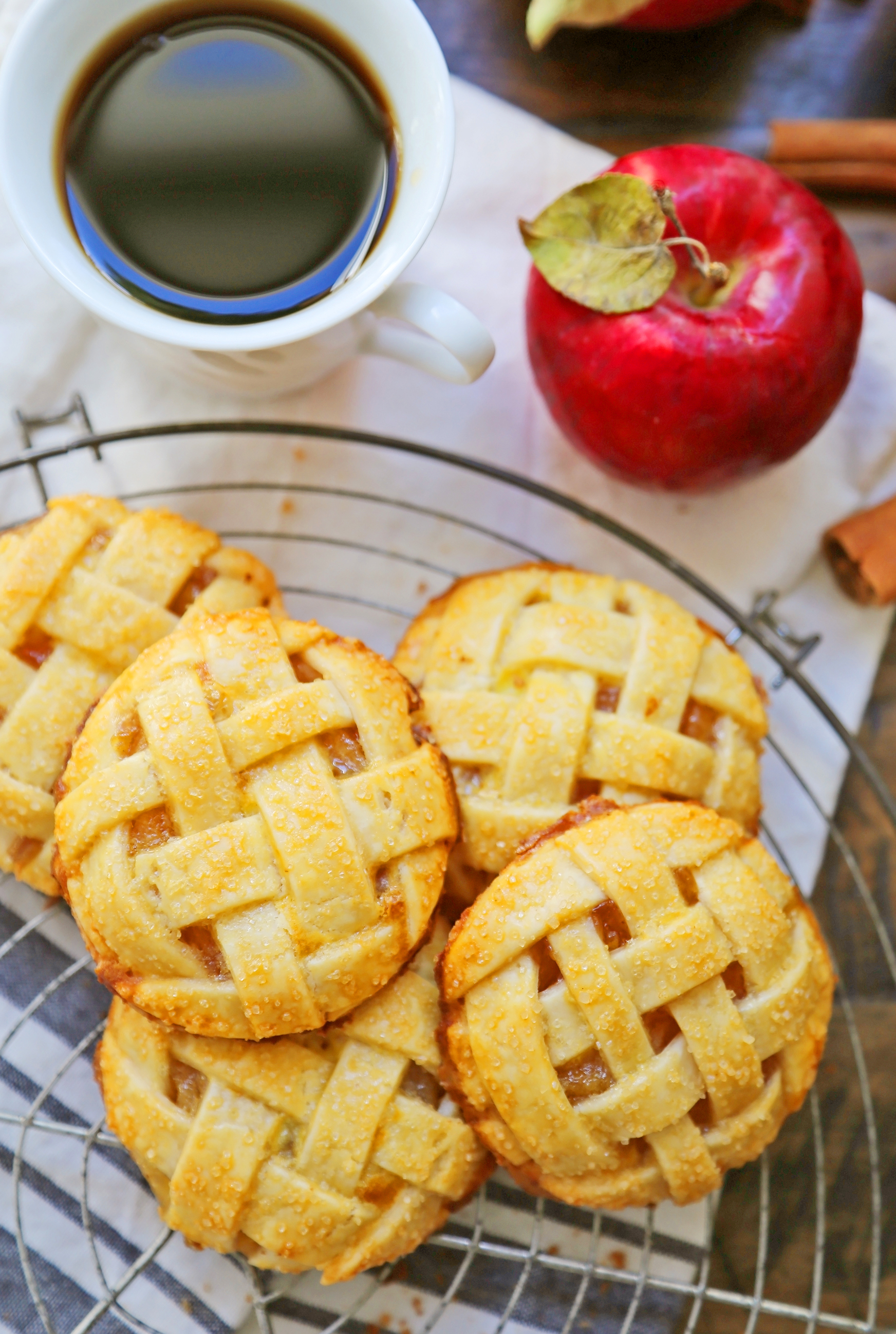 I find it so quick & easy to add store-bought pie filling to the pie crust rounds. A good-quality apple pie filling has just the right jammy texture and juicy, sweet apple bits for these handheld apple pies. If you prefer to make your apple pie filling from scratch, here is a great recipe for that!
Another shortcut is using a refrigerated pie crust. I find store-bought crust to be much smoother and easier to work with. Not to mention, very quick! However, pie crust is SO easy to make from scratch if you prefer. This is my all-time favorite pie crust. It is pretty foolproof and comes together easily to make the most flaky, buttery pies.
Want more apple dessert recipes? Try these!
• Easy Apple Turnovers
• Best Ever Apple Pie
• Apple Tarte Tatin
• Light Apple Pecan Crisp
• Spiced Apple-Caramel Crumble Bars
Enjoy baking these as a fun weekend project with the family! They make a wonderful brunch treat, afternoon snack or after dinner dessert with a scoop of vanilla ice cream.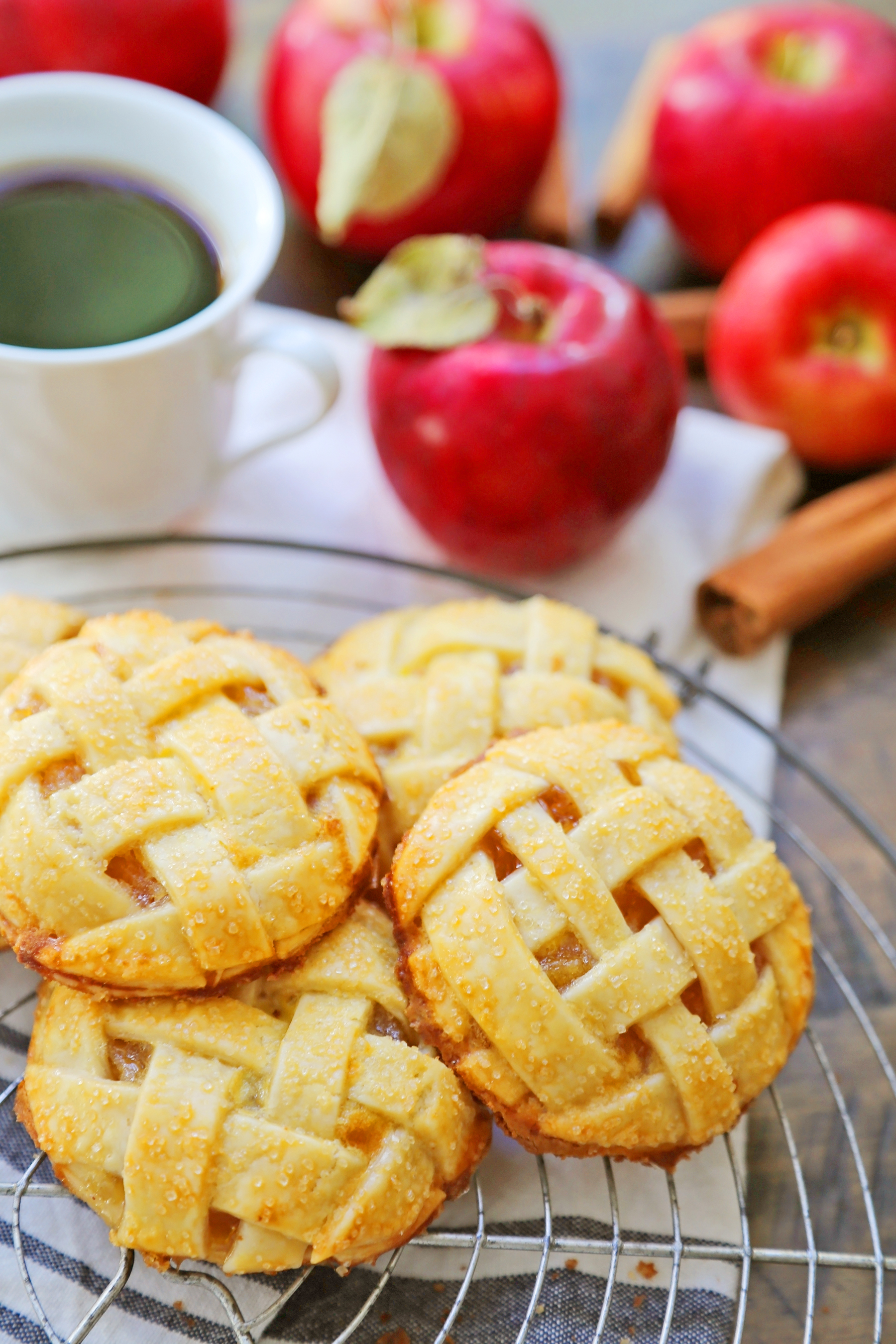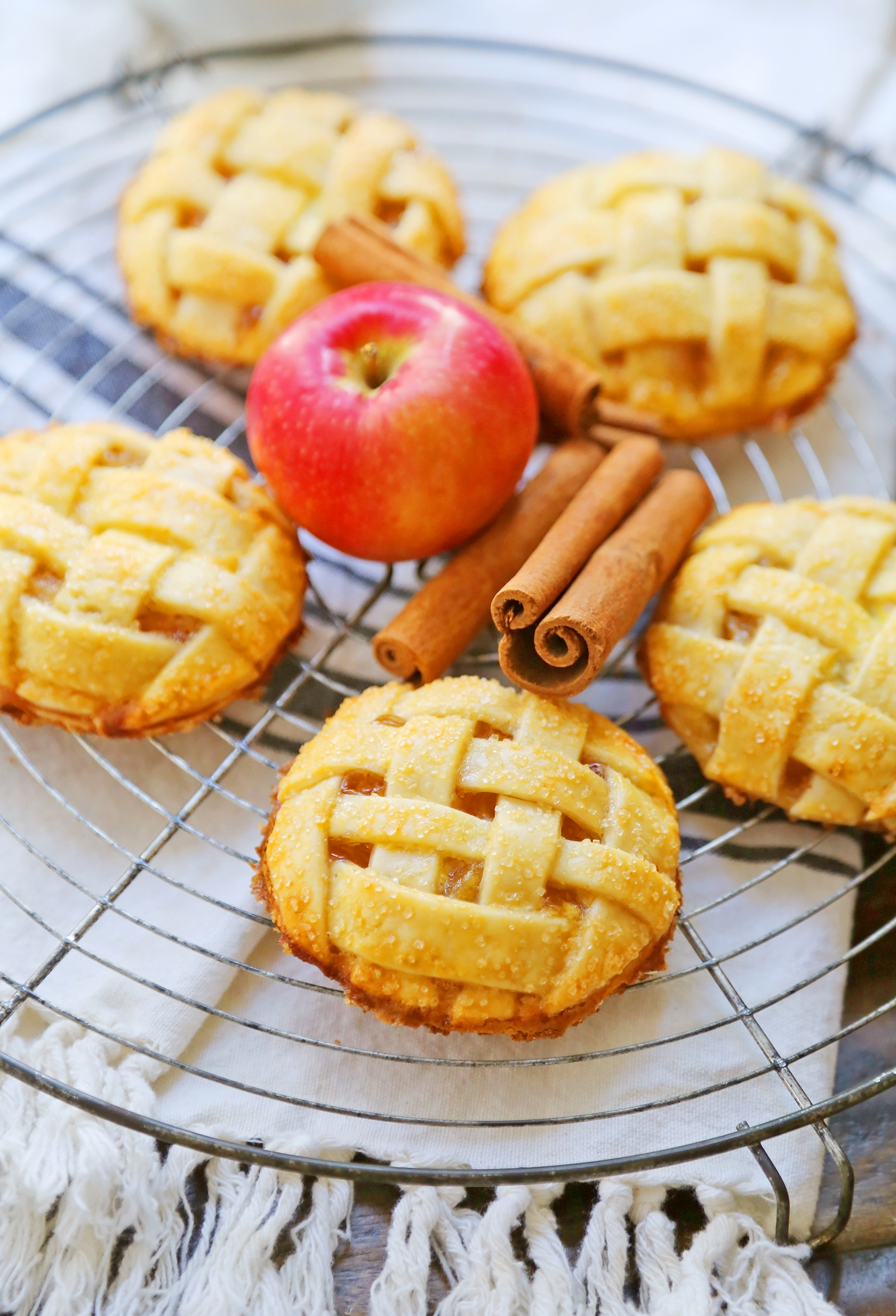 4-Ingredient Apple Pie Cookies
Ingredients
1 (20 oz.) can apple pie filling, or 1.5 cups homemade apple pie filling
2 pie crusts, store-bought or homemade
1 large egg
1 teaspoon heavy cream
For topping (optional):
Coarse sugar, for sprinkling
Instructions
Preheat oven to 350 degrees F.
Roll 1 pie dough onto a lightly floured surface. Using a 3to 4-inch round cutter, cut out pie dough circles. Re-roll any remaining dough to cut out additional circles.
Place 1 Tablespoon apple pie filling in the center of each circle.
Roll out remaining pie crust. Cut long strips. Place strips on top of pie filling to create a woven design. You can also place rounds on top of the pie filling, and skip cutting strips!
Seal edges with your fingers. Push round cutter on top, press, and remove excess dough scraps.
Combine egg and cream in a small bowl. Whisk well. Brush on top of the pie cookies.
Bake for 20-25 minutes, or until cookies are golden brown and filling is bubbly. Remove from oven. Set aside to cool on a wire rack for 10-15 minutes.
Enjoy!
Notes
Store apple pie cookies in the refrigerator for up to 4 days. Reheat in the microwave before serving.
Click here for my favorite homemade pie crust recipe
Click here for my favorite apple pie filling recipe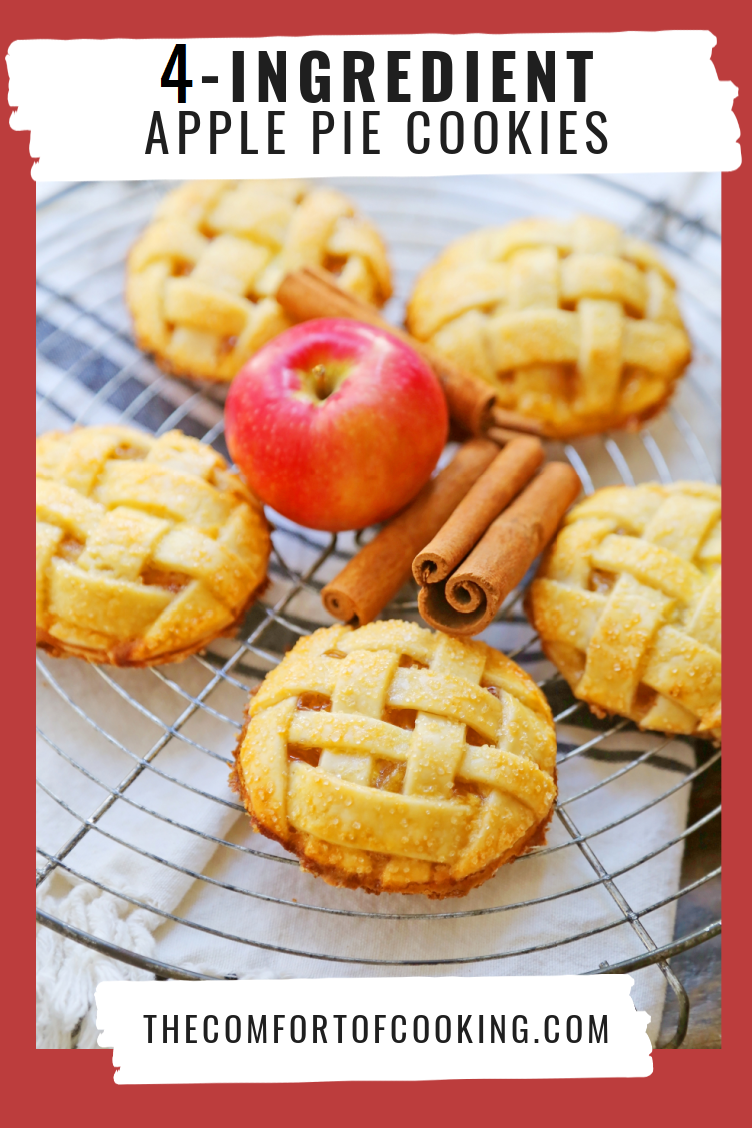 Want to receive our latest recipes straight to your email inbox? Click here to subscribe!