These soft, sweet caramel apple bars with a buttery shortbread crust are easier than pie for Thanksgiving dessert!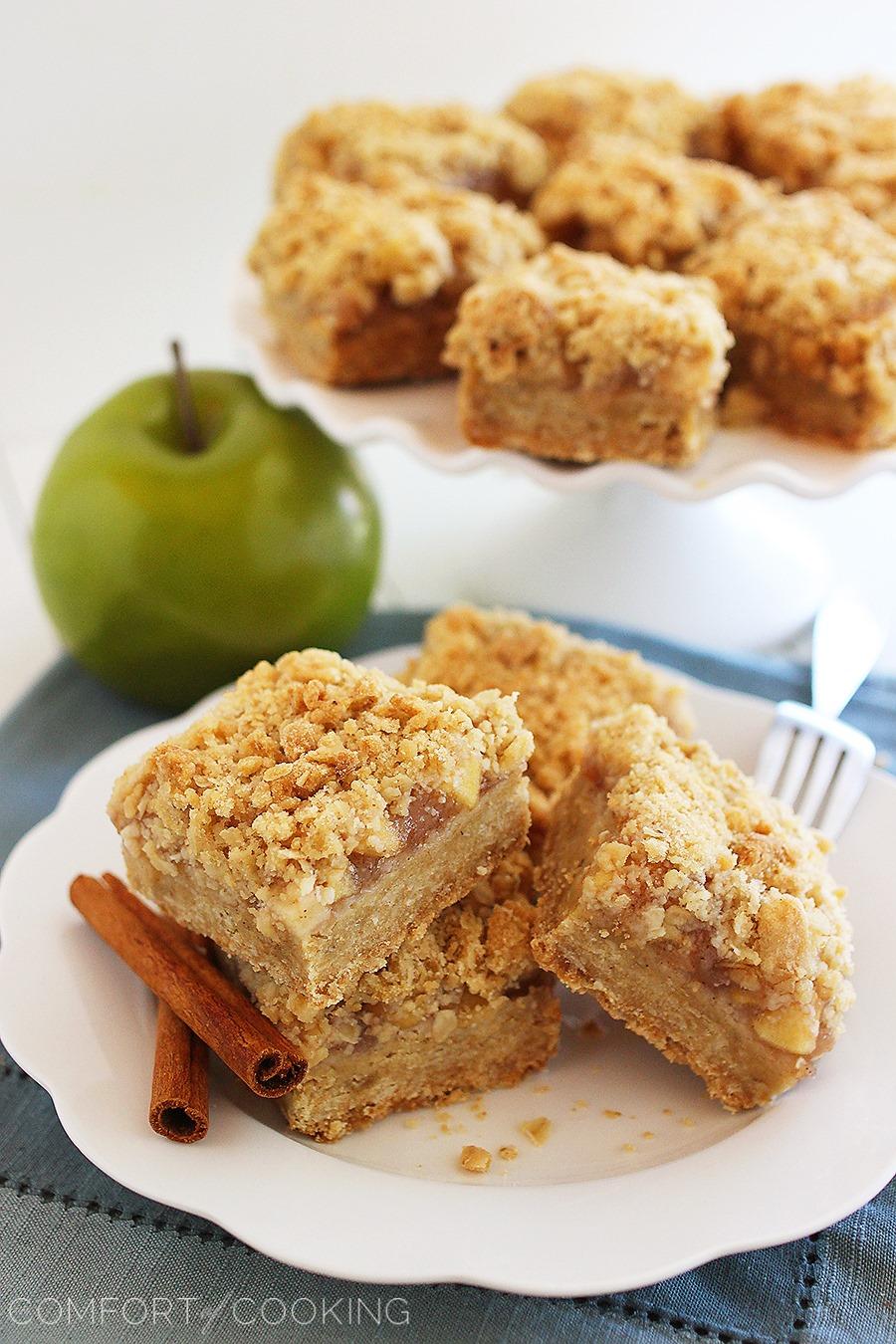 Every year for Thanksgiving, I tend to think a little non-traditionally when it comes to desserts. Probably because I already have my method down-pat for the perfect turkey, stuffing and mashed potatoes, which are reoccurring staples on our holiday table.
So, why not put an extra special, sweet spin on the last course? If you've left room, that is…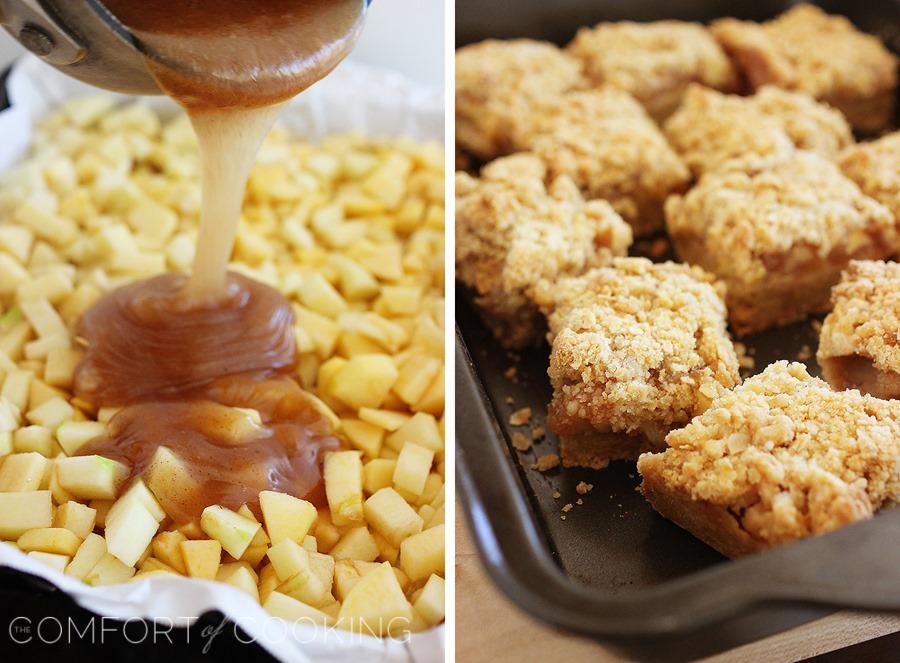 Don't get me wrong, we looove a good pie in this house. Some of my first baking memories involve pulling warm, gooey apple pies out of the oven and piling slices high with vanilla whipped cream. But, they are a lot of darn effort. That's why I play the "keep it simple" card once the main meal is taken care of, and serve up something a little lighter and more unexpected…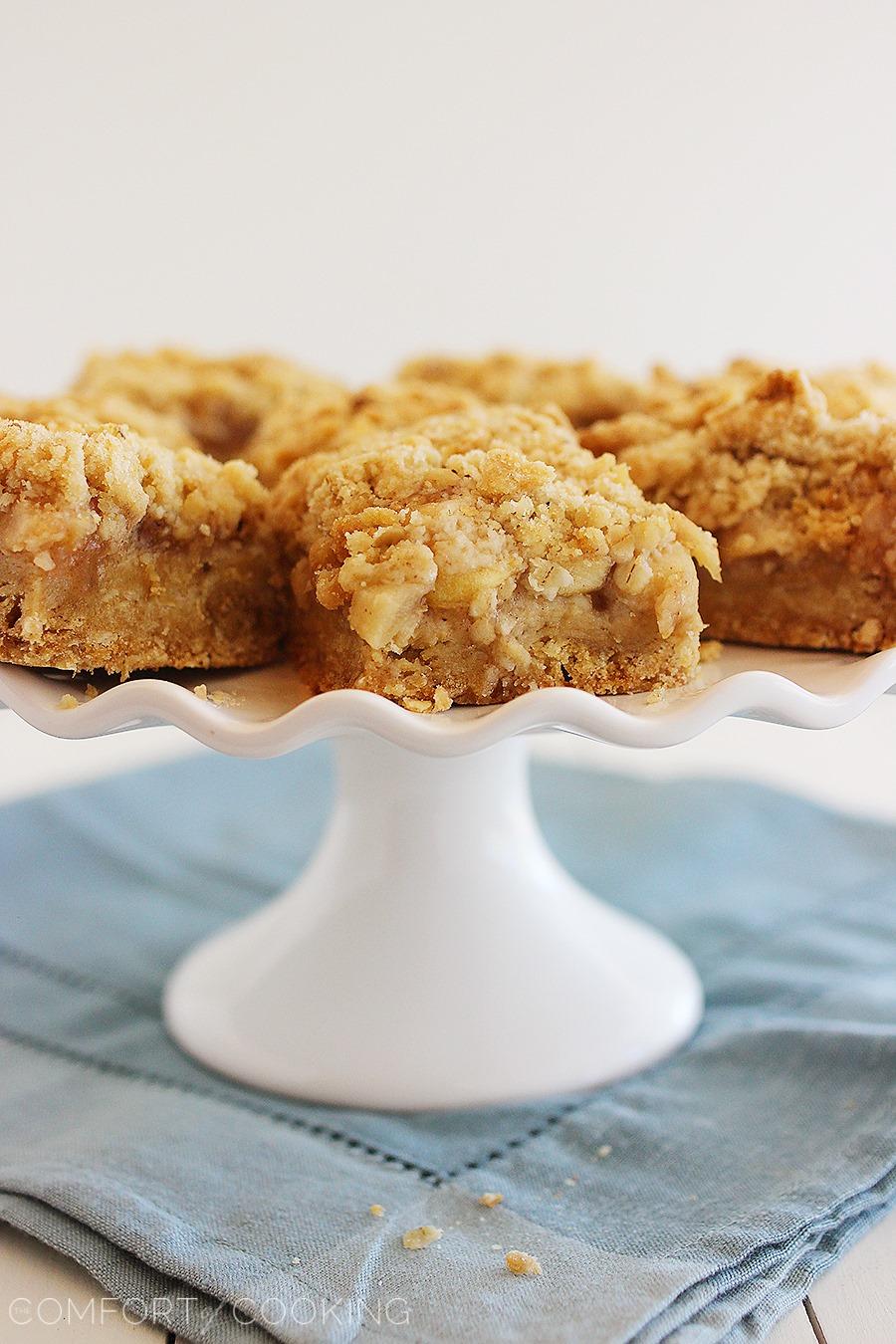 These soft, spiced apple crumble bars with an easy homemade caramel layer and crumbly, buttery oat topping are the perfect holiday dessert – and so easy to make, too! They taste just as good as a big slab of apple pie, but with half the effort and time, which we could all stand to save during Thanksgiving. With a scoop of vanilla ice cream, you'll have just about died and gone to heaven after one bite! They're THAT good.
The next time I bake a batch, I'll probably toss in a few handfuls of fresh cranberries, too. Maybe a sprinkle of freshly grated ginger or lemon zest along with 'em. With a hint of added tartness, these bars would taste even better, I think!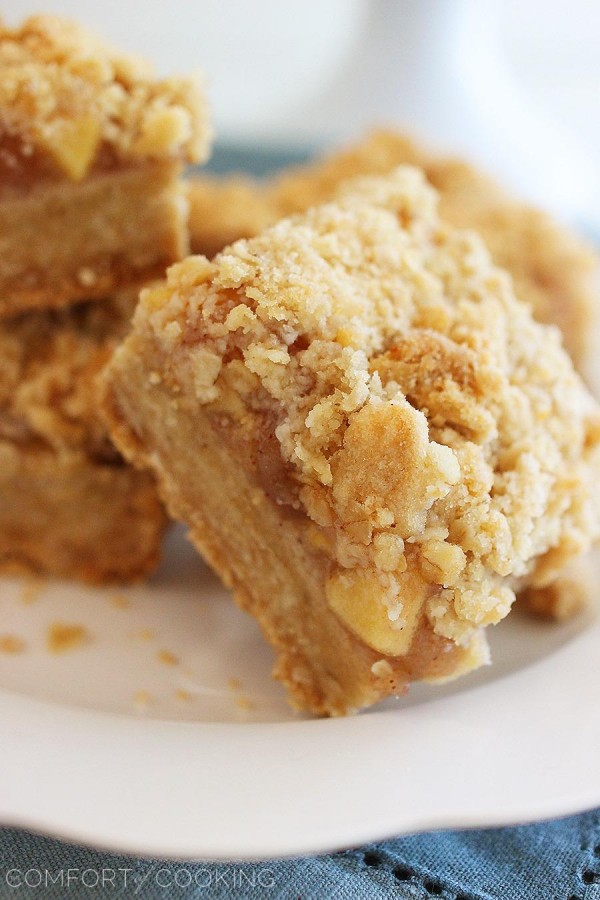 In collaboration with many other talented bloggers, including Erin from Dinners, Dishes and Desserts, I'm participating in a virtual potluck of Thanksgiving recipes to raise awareness of Feeding America… and for it, I brought these delicious bars! Feeding America is a wonderful nonprofit organization and the nation's largest hunger relief charity – put simply, their goal is to end hunger in America. Working with a network of food banks, they have a mission to feed America's hungry and get people involved in the fight to end hunger.
In partnering with Feeding America and my blogger friends, we're also bringing you a GREAT BIG giveaway! For more details, read below and enter through the widget…

One Grand-Prize Winner Will Receive:
(1) Anolon Nouvelle Copper 11-Piece Set (retail value: $400)
One Runner-Up Will Receive:
(1) Wüsthof Knives Classic 7-Piece Block Set (retail value: $300)
To Enter:
Enter through the widget below!
• • • • • • • • • • • • • • • • •
Winners will be randomly drawn and announced on Tuesday, November 26th.
Good luck!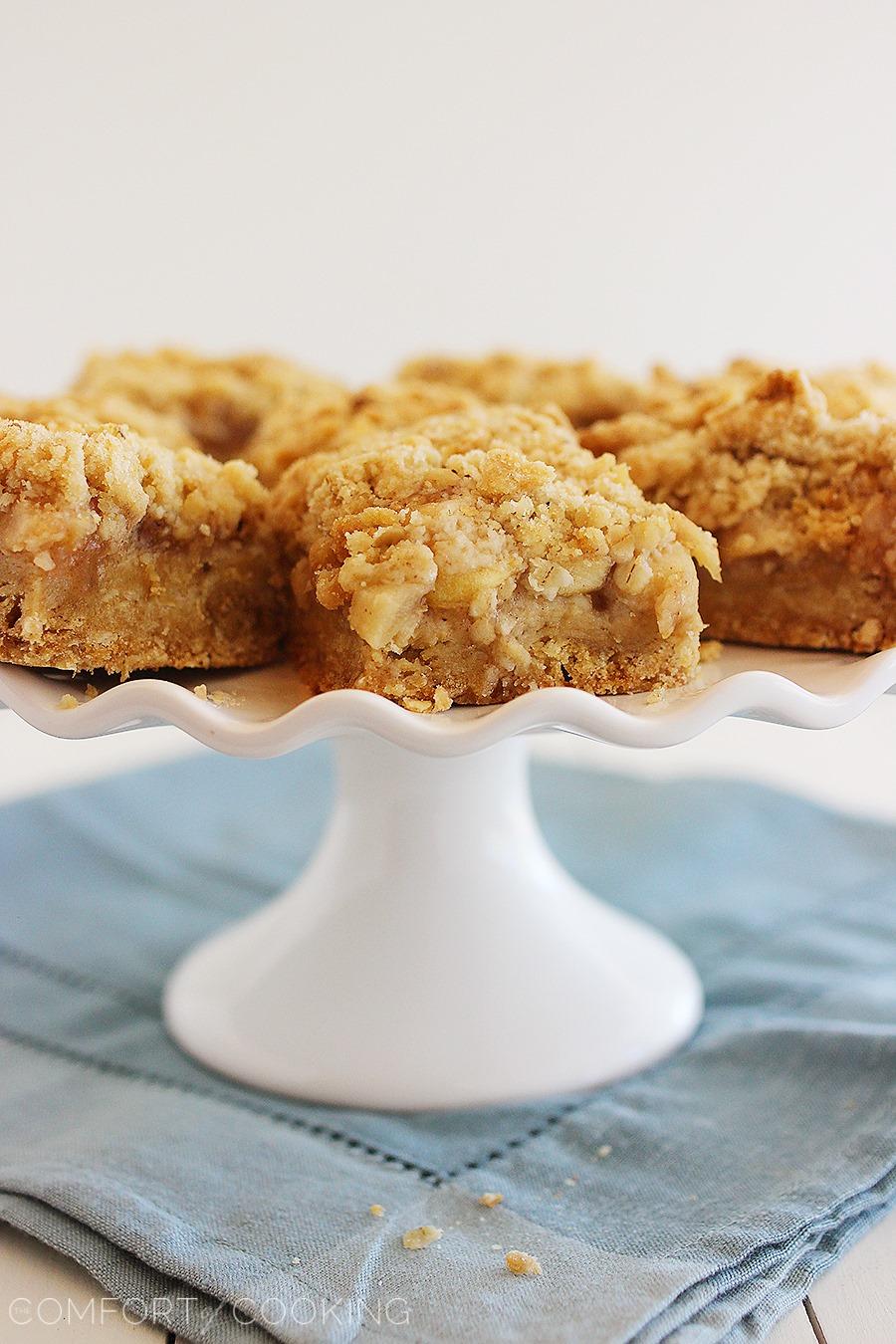 Spiced Apple-Caramel Crumble Bars
Ingredients
3 cups all-purpose flour
1 1/2 cups old-fashioned oats
1 1/2 cups packed light brown sugar
3/4 teaspoon baking soda
1/2 teaspoon salt
1 1/4 cups cold butter, divided
5 cups 4-5 medium peeled, diced apples
1 cup granulated sugar
3 tablespoons cornstarch
1 cup cold water
1 teaspoon vanilla extract
1/2 teaspoon ground cinnamon
1/8 teaspoon pinch ground nutmeg
Instructions
Preheat oven to 350 degrees F. Line a 13-in. x 9-in. baking dish with parchment paper and spray lightly with nonstick cooking spray.
In a large bowl, combine flour, oats, brown sugar, baking soda and salt. Cut in 1 cup plus 2 tablespoons butter until mixture resembles coarse crumbs. Set aside 2 cups for topping.
Press remaining crumbs into prepared baking dish. Evenly arrange apples over top.
In a small saucepan, combine sugar, cornstarch, water, vanilla, cinnamon, nutmeg and remaining 2 Tablespoons butter. Bring to a boil. Cook and stir for 2 minutes or until thick and bubbly; spread over apples. Sprinkle with reserved crumbs.
Bake for 35-45 minutes, or until top is lightly browned. Let bars cool completely before cutting.
Enjoy!