Soft layers of cinnamon-sugar biscuit dough and fresh apple slices combine to make this the most mouthwatering breakfast/dessert EVER. Try it this weekend!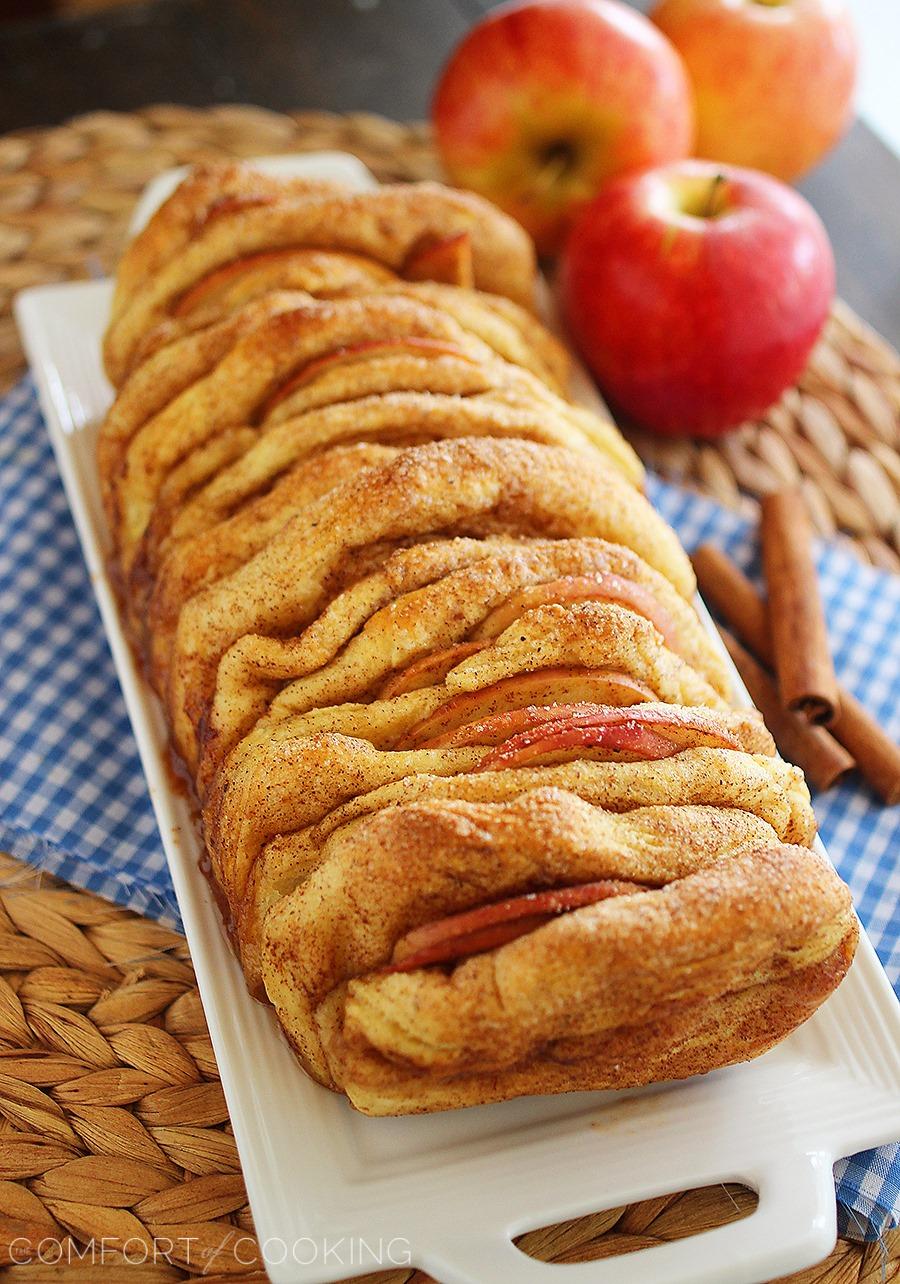 Don't you just want to curl up inside there a live for a little while? Grab a big, doughy layer and wrap yourself up snug with a cinnamon-sugar pillow. Nosh on the walls, layer by layer, for nourishment.
Ahhh, yes. If life could be so grand… and full of carbs! Delicious, delightful carbs.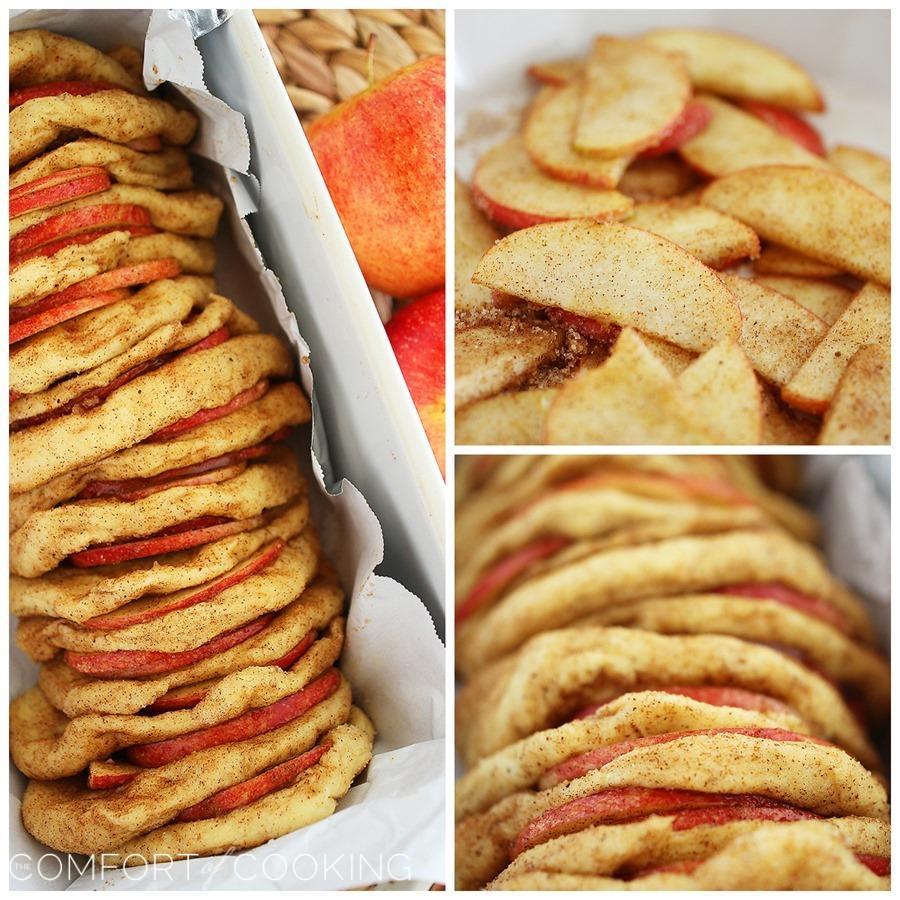 This is just about the worst thing in the world for my new low-carb life, but I think earns me a ticket to best-wife-in-the-world-dom. Before I could get my greedy paws on more than a few bites, hubby swooped the whole loaf to his office like the unreasonable loving man he is.
Oh, that wonderful, wonderful man…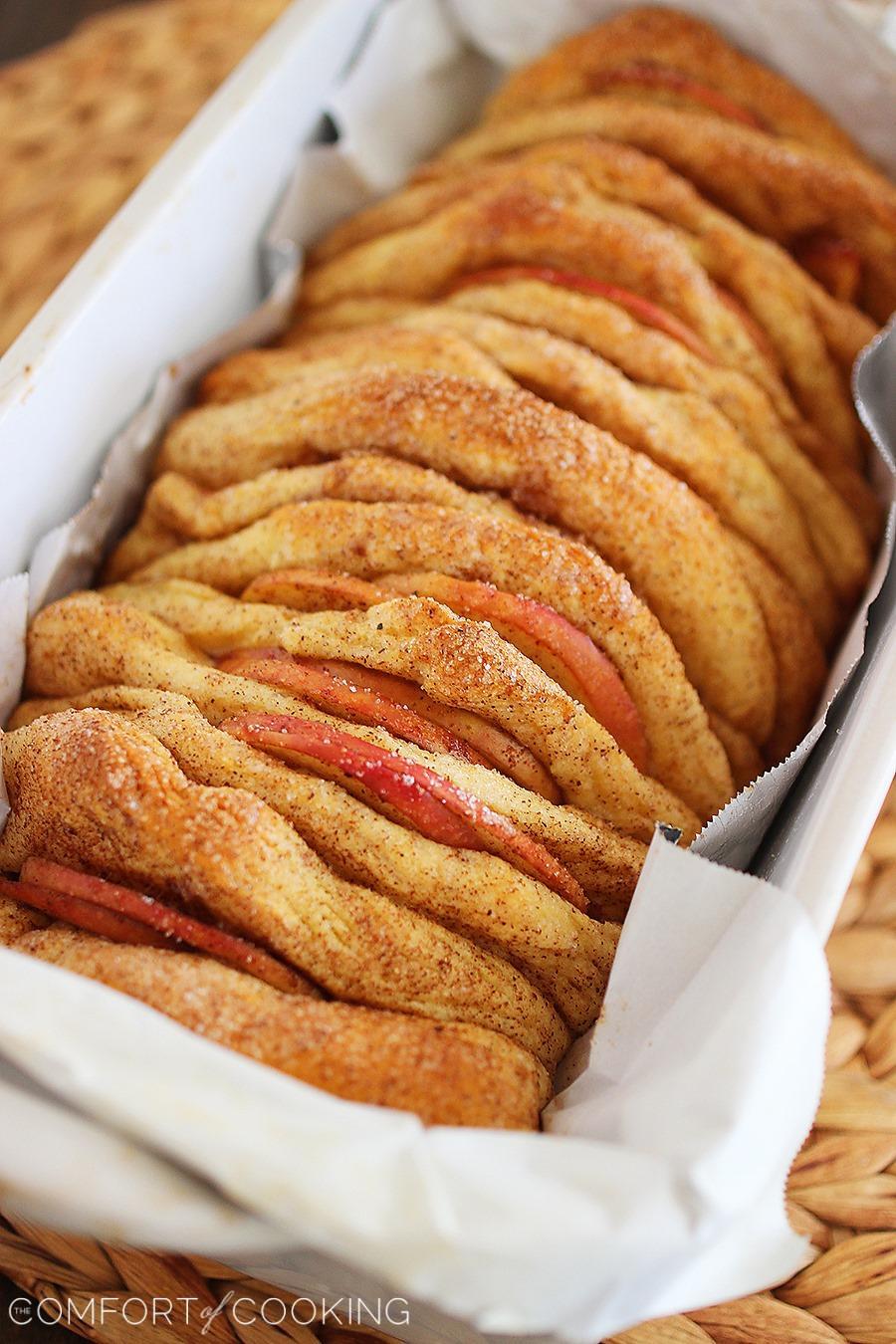 But really, can you even handle this?! I know if it was in my kitchen for any longer than the VERY brief period it was, I would have had a serious problem on my hands.
Fluffy, soft and doughy layers of Pillsbury biscuit dough coated in cinnamon-sugar and cozied up with fresh apple slices? UH, yes. Drizzled with a decadent vanilla glaze that seeps into every little crevice and makes every bite melt-in-your-mouth amazing? Might as well just be pornography!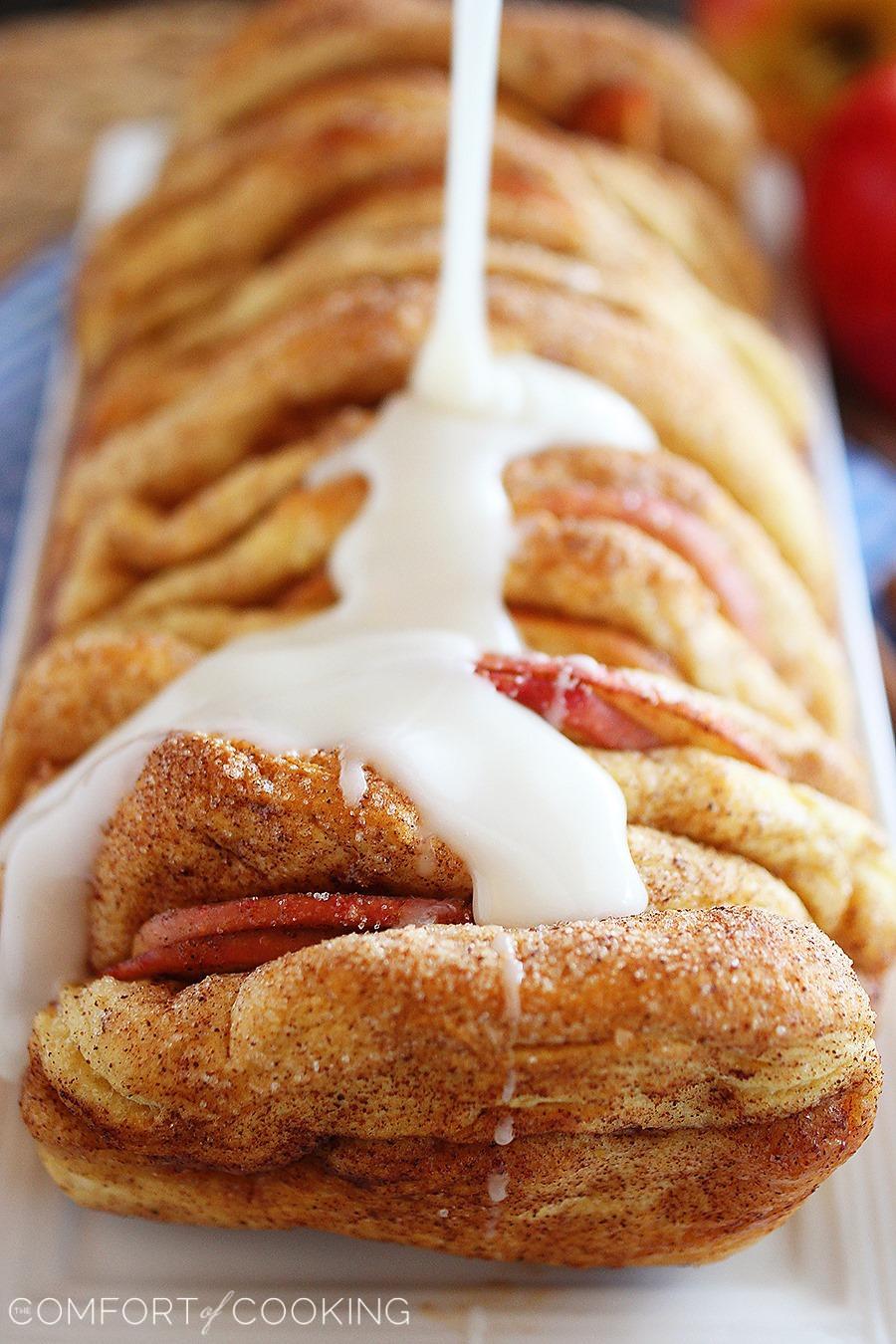 Did I really just go there… Oh dear.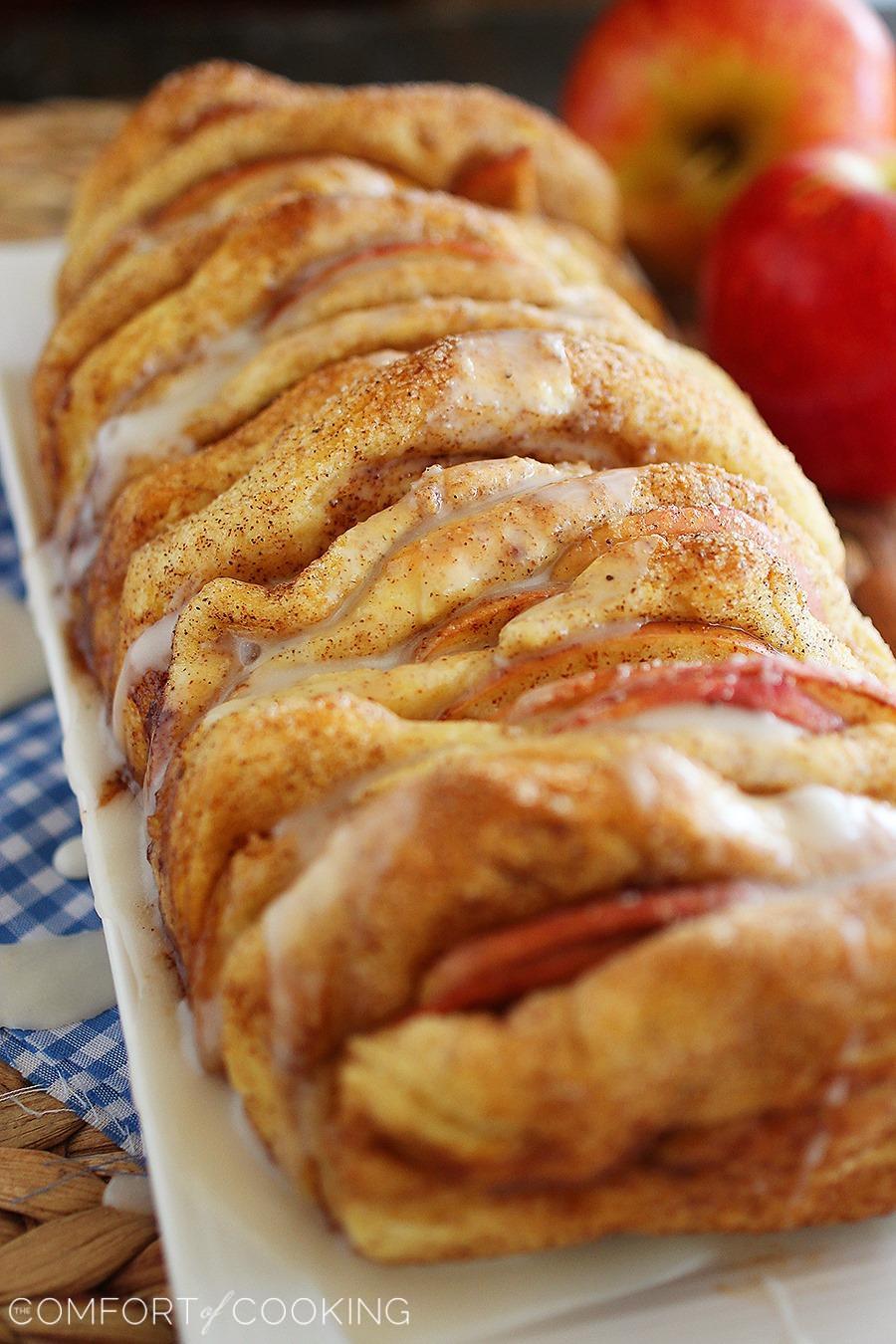 Seriously, though, this is not even an option for you. You must MAKE IT and LOVE IT and tell me that it was gone from your kitchen counter in nanoseconds, because that's just the truth. You'll see!
There's been nothing better than this incredible Apple Pie Pull Apart Bread to come out my oven lately, and that ain't no lie. It's so easy and would be a fun project to get your little baker's hands in the mix, too! I know you'll absolutely love it, and love sharing it with friends and family… if they're lucky!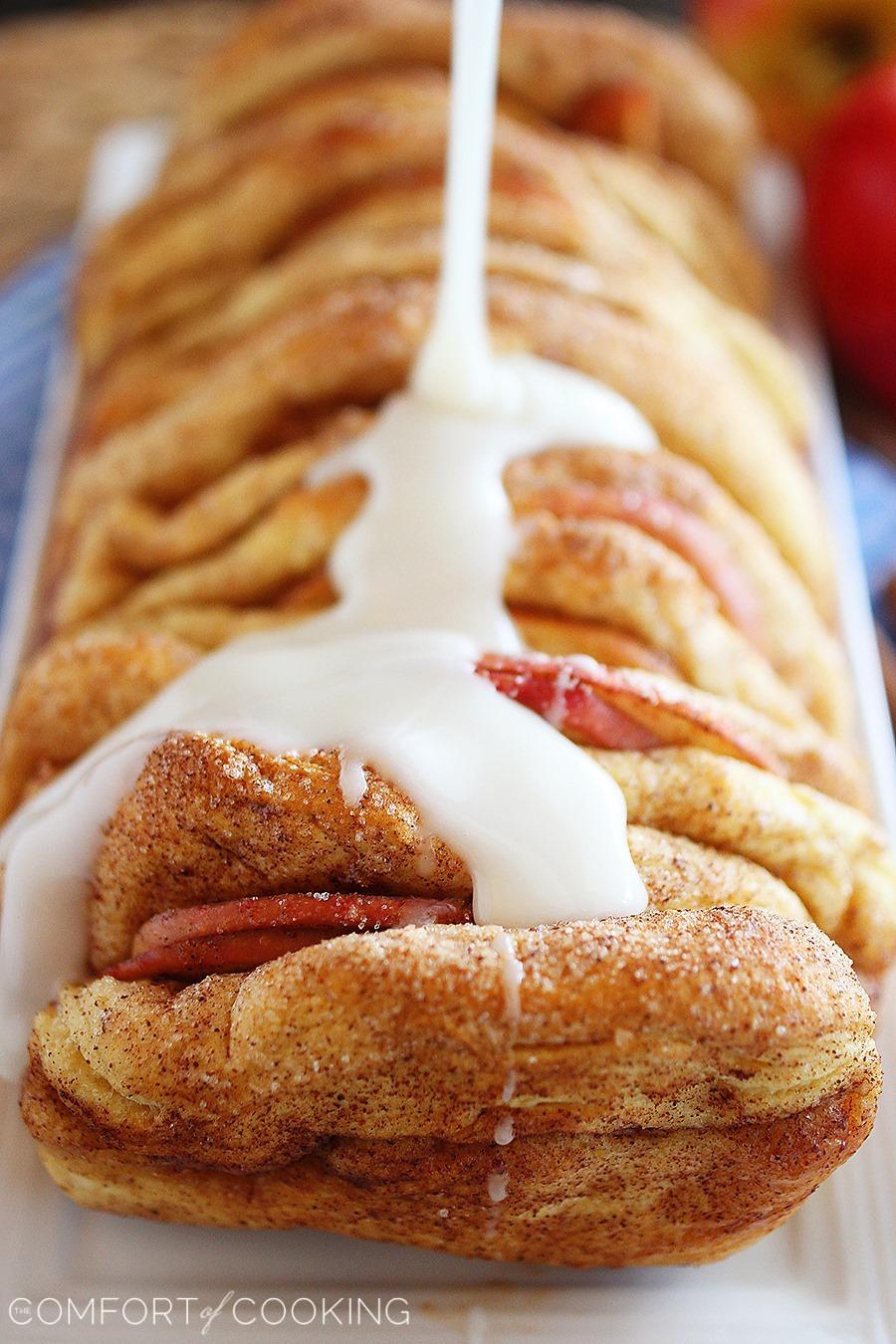 Apple Pie Pull Apart Bread with Vanilla Glaze
Yield:
1 loaf (serves 6-8)
Ingredients
For Apple Pie Pull Apart Bread:
Nonstick cooking spray
1/3 cup granulated sugar
1 teaspoon ground cinnamon
1/4 teaspoon ground nutmeg
1 16 oz. tube Pillsbury Grands Flaky Layers Biscuits
1 medium apple, cored and thinly sliced
For Vanilla Glaze:
1 cup powdered sugar
1 1/2 tablespoons milk, any kind
1/4 teaspoon vanilla extract
Instructions
For Apple Pie Pull Apart Bread:
Preheat oven to 350 degrees F.
Line a loaf pan with parchment paper and spray lightly with nonstick cooking spray. Mix sugar, cinnamon and nutmeg in a shallow dish and set aside.
Remove biscuits from tube and slice each in half, creating 16 rounds. Coat each round and each apple slice with the cinnamon-sugar mixture and layer in the loaf pan, alternating biscuit rounds with apple slices. Begin and end with the biscuit rounds.
Bake for 35-40 minutes, or until bread is fully baked throughout.
For Vanilla Glaze:
Mix all ingredients in a medium bowl and drizzle over warm bread.
Enjoy!