Late last week, I had a problem. I was flipping through every recipe book I own, my favorite recipe websites, and other blogger's pages in search of the perfect cookie to package up and send to my mom and mother-in-law for Mother's Day. The fact that the cookies had to traverse cross-country and would be tossed around in a truck for a matter of days limited me greatly, but I was determined. If I could, I would have just had the moms over for a nice frittata, muffins and a cup of tea. Thing is, we live 3000 miles apart and that's just not possible.
So, I thought. Sandwich cookies? No, too messy. Sugar cookies? No, the icing would melt, like, immediately. Macarons? No, too delicate. Not to mention, I'm not even attempting that level of precision and difficulty… yet.
Then I came up with the best and worst possible idea: peanut butter chocolate kiss cookies. These cookies have been a family favorite of mine – and probably yours – for years. There's nothing but good memories surrounding these little cuties. Plus, it wasn't a scary new recipe that had failure potential – I know these cookies like the back of my hand. So, the next day, I cranked some music, tied on my apron and got to work. That night, I realized that chocolate should have been another on my list of must-not-make's.
I had thought of a cookie that, once it arrived at its final destination, would be everything I was trying to avoid: messy, melty and delicate. As far as giving them for a gift goes, they wouldn't have made a pretty picture after being rattled around in a box for three days. But, I don't have to tell you how delicious these cookies are. It's peanut butter and chocolate, a well-loved combination by all.
Be good to your mama this Mother's Day and don't give her messy, melty, delicate cookies, but do give a gift from the heart.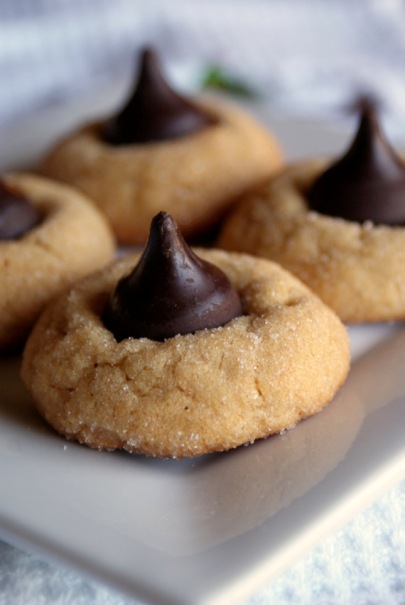 Peanut Butter Chocolate Kiss Cookies
Ingredients
3/4 cup creamy peanut butter
1/2 cup shortening
1/3 cup granulated sugar
1/3 cup packed light brown sugar
1 egg
3 tbsp milk
1 tsp vanilla extract
1 1/2 cups all purpose flour
1/2 tsp baking soda
1/2 tsp salt
Granulated sugar for rolling
Chocolate chips, any type
Instructions
Preheat the oven to 350 degrees.
Beat peanut butter and shortening until well mixed, then beat in the two sugars until light. Add the egg, milk, and vanilla and beat until fluffy. Whisk the flour, baking soda, and salt together, then add in 3 batches to the peanut butter mixture, beating well between additions.
Roll dough into 1/2 inch balls. Roll in granulated sugar and place on ungreased baking sheets. Bake 5-7 minutes and remove from oven. Immediately press a chocolate chip into the center of each cookie. Let cookies cool a minute, then transfer to a wire rack to cool completely.
The cookies will keep for several days at room temperature in an airtight container.
Enjoy!