Have I got something sweet for you today! How about a stack of chocolate chip cookies and a brand spankin' new cookbook from Tate's Bake Shop? Give the lovely loot to your Valentine, or be a cheeky little cherub and keep them all to yourself. I won't tell..
Tate's cookies you have just got to try – they're crisp and buttery, with a scrumptious flavor that's straight from grandma's kitchen. One is never enough. Matter of fact, neither is two, or three or four!
Thanks to Tate's, one lucky winner will receive three boxes of their chocolate chip cookies, and the Tate's Bake Shop "Baking for Friends" cookbook written by the owner, Kathleen King.
The cookbook is a real treat for the eyes and rich with easy, delicious recipes like apple crumb muffins, raspberry rhubarb pie, cherry chip cake (above), and strawberry whipped cream.
Below, you can find details on how to enter the giveaway and the Tate's recipe for Linzer Heart Cookies, just in time for the heart-shaped holiday!
• • • • • • • • • • • • • • • • •
One Winner Will Receive:
The Valentine's Cookie & Cookbook Combo
Includes…
3 boxes of Tate's famous chocolate chip cookies
1 cookbook: Kathleen King's Tate's Bake Shop: Baking for Friends
To Enter:
Leave a comment telling me how you're spending this Valentines Day!
For Extra Entries:
(please leave separate comments for each)
Follow The Comfort of Cooking on Facebook
Follow The Comfort of Cooking on Twitter
Mention this giveaway on Pinterest or follow me
• • • • • • • • • • • • • • • • •
You can also purchase the Valentine's combo on the Tate's Bake Shop website and save an additional 20% off any purchase using the code BLOG213 at checkout.
One winner will be randomly drawn and announced on Friday, February 8. Here's hoping you'll be a lucky one!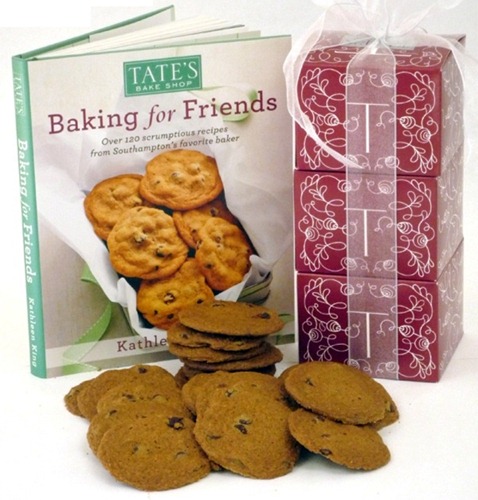 Tate's Bake Shop Linzer Heart Cookies
Yield:
20 sandwich cookies
Ingredients
2 cups unbleached all-purpose flour
1 cup cornstarch
¼ teaspoon salt
¾ pound 3 sticks salted butter, at room temperature
1 cup confectioners' sugar
1 large egg, at room temperature
1 teaspoon pure vanilla extract
2 cups toasted, skinned and very finely chopped hazelnuts*
6 ounces bittersweet chocolate, very finely chopped*
Filling and Topping
½ cup seedless raspberry jam
½ cup confectioners' sugar for sifting
Instructions
Sift the flour, cornstarch, and salt into a medium bowl. In a large bowl, beat the butter and confectioners' sugar with an electric mixer set on high speed until combined, about 1 minute. Beat in the egg and vanilla, scraping down the sides of the bowl as needed. With the mixer on low speed, mix in the flour mixture, just until combined. Mix in the hazelnuts and chocolate.
Gather up the dough and shape it into a flat disk. Wrap in plastic wrap and refrigerate until chilled, at least 2 hours. (The dough can be refrigerated for up to 1 day. Let stand at room temperature for 10 minutes to soften slightly before rolling.)
Line 2 large rimmed baking sheets with parchment paper or silicone baking mats. On a lightly floured work surface, roll out the dough to a round about ¼-inch thick. Use a 3 ½-inch heart-shaped cookie cutter to cut out the cookies as close as possible to avoid excess scraps. Arrange the hearts about 1 inch apart on the prepared baking sheets. Gather up the dough scraps and gently knead together, and cut out more cookies. If the dough becomes too soft to roll out, refrigerate until chilled. You should have 40 cookies. Refrigerate for 30 minutes to 1 hour.
Position the oven racks in the top third and center of the oven and preheat the oven to 325°F.
Use a 1-inch heart-shaped cookie cutter to cut out the centers of 20 cookies. These will be the cookie tops. (You can bake the mini hearts to nibble on later! Don't throw away or re-roll.) Bake, switching the position of the baking sheets from top to bottom and front to back halfway through baking, until the cookies begin to brown, 20 to 25 minutes. Sift some of the ½ cup of confectioners' sugar over the hot cut-out cookies Let cool completely on the baking sheets.
Spread the jam on the cookie bottoms, leaving an 1/8-inch border around the edges. Add the tops, sugared sides up, and press together gently. Just before serving, sift the remaining confectioners' sugar over the cookies.
Enjoy!