Sinfully good spiderweb sugar cookies for a delicious (and adorable) Halloween treat. Easier to make than they look, I promise!
…Not that I'm big on spiders or anything, but aren't these the cutest? These tasty Halloween inspired treats are really pretty simple – just a basic sugar cookie tinted orange, topped with black and white royal icing, and decorated with a creepy, crawly spiderweb design!
Using McCormick's pure vanilla extract, these cookies had all the flavorful goodness of a good, soft sugar cookie, with a spooky little design thanks to the McCormick black food coloring and neon colorings, too!
My best recipes for sugar cookies and royal icing are below, which you can use to make any number of festive holiday cookies.
For the details on how to create this fun design for yourself (all you need are squeeze bottles and toothpicks!), click here for the easy Bake at 350 tutorial.
Aaaand, if you're interested in winning a fabulous Halloween giveaway for all the great products shown below, well… please read on, my little goblins and ghouls!
• • • • • • • • • • • • • •
THIS GIVEAWAY IS NOW CLOSED. SEE THE WINNER HERE.
One Winner Will Receive:
Expandable Cooling Rack
Set of 3 KitchenAid Mixing Bowls
Skull and Crossbones Apron
Customized Halloween Candy Mix
Assorted McCormick Food Colorings
McCormick Pure Vanilla and Orange Extracts
To Enter:
Leave a comment telling me your favorite Halloween treat!
For Extra Entries:
(please leave separate comments for each)
Follow The Comfort of Cooking on Facebook
Follow The Comfort of Cooking on Twitter
Mention this giveaway on Pinterest or follow me
One winner will be randomly drawn and announced on Friday, October 19. Here's hoping you'll be a lucky one!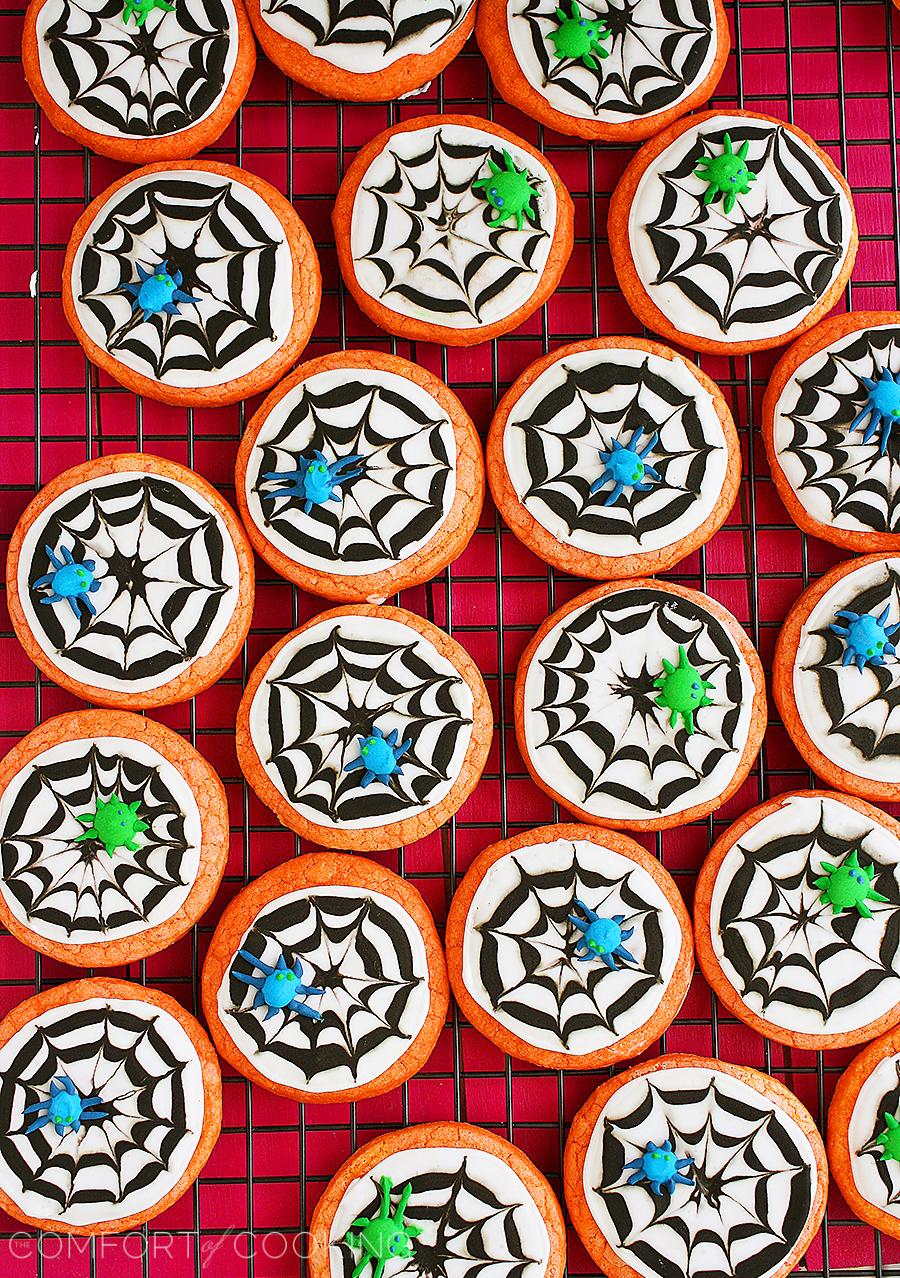 Spooky Spiderweb Cookies
Yield:
30 Cookies / Icing makes 3 cups
Ingredients
Basic Sugar Cookies
3/4 cup butter, softened
1 cup granulated sugar
2 eggs
1/2 teaspoon McCormick Pure Vanilla Extract
2-1/2 cups all-purpose flour
1 teaspoon baking powder
1/2 teaspoon salt
Royal Icing
4 cups powdered confectioner's sugar, sifted
3 Tablespoons meringue powder
6 Tablespoons water
Instructions
Basic Sugar Cookies
In a large bowl, cream together butter and sugar until smooth. Beat in eggs and vanilla. Stir in flour, baking powder and salt. Cover dough with plastic wrap and chill in refrigerator for at least one hour, or overnight.
When ready to bake, preheat oven to 400 degrees F. Line a baking sheet with parchment paper. Roll out cookie dough directly on ungreased, lined baking sheet to 1/4-inch thickness. If dough becomes sticky while rolling, lightly dust with powdered sugar. Cut into shapes with desired cookie cutter and peel away excess dough.
Bake 6 to 8 minutes in preheated oven. Cool completely.
Royal Icing
In a large bowl, mix all ingredients on low speed for 7-10 minutes, or until icing forms peaks.
Cover the bowl with a dampened towel to prevent crusting and drying.
Tint with food colorings or thin the icing with small amounts of warm water to reach the desired consistency.
Guide to Decorating:
http://bakeat350.blogspot.com/2009/10/spiderwebs-step-by-step.html