Okay, now. I'm sure you're not seeing too many peach recipes lately, and I'm well aware of why that is. Full disclosure: I moved to Texas last summer and immediately began living and breathing for ripe, in-season peaches that soften in your hand, drip down your chin and practically liquefy in your mouth. But let's end this romance novel now – It is definitely not peach season. Not in Texas, not anywhere.
For that I am sad.
I still enjoy a good peach year-round, though, even if they're a little more hard and tart this time of year. But alas, a Georgia needs her peach. These are just the facts.
So, I had some leftover peaches and decided to make a tart. A tart with lemon juice, fresh ginger and buttery homemade pie dough… and then dotted with more butter. Why? Because I have no resolutions this year and live with reckless abandon. At least in the kitchen that is. MORE BUTTER NOW!
But seriously, these tarts are my favorite thing – next to a pot of spicy chicken chili – to make in the entire world. They're so easy and divinely delish with homemade whipped cream, not to mention pretty even if you just toss the fruit in the center and don't arrange it all pretty.
Whether you make this with store bought or homemade dough, use any manner of fruit, or enjoy it in the company of family or friends, you will love it so much and savor its summery flavors even during this cold season.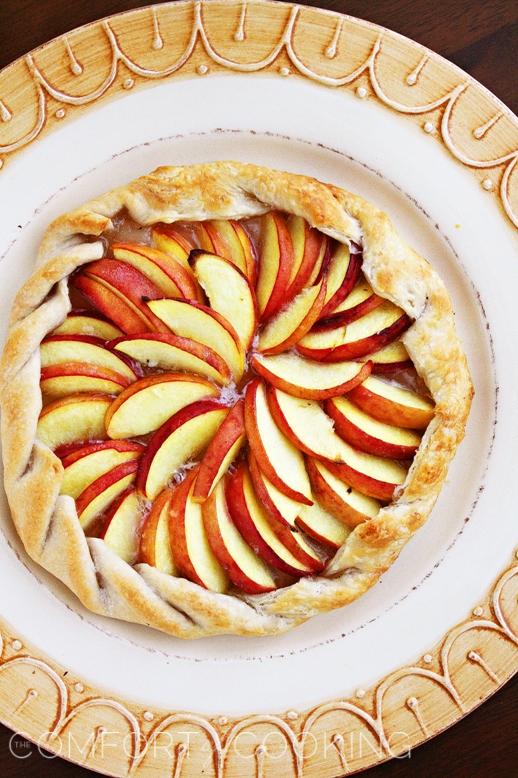 Rustic Peach and Ginger Tart
Ingredients
All-purpose flour, for dusting your work surface
1 9- inch pie dough, store bought or homemade
2 peaches, sliced 1/4-inch thick
2 teaspoons cornstarch
1 tablespoon fresh lemon juice
1/2 teaspoon grated fresh ginger
3 tablespoons plus 1 teaspoon granulated sugar
2 Tablespoons milk or heavy cream
Instructions
Heat oven to 400° F. On a lightly floured surface, roll the pie dough into one 9-inch circle. Transfer to a parchment-lined baking sheet.
In a large bowl, toss the peach slices, cornstarch, lemon juice, ginger and 3 tablespoons sugar. Pour filling onto the pie crust, leaving a 2-inch border. Fold the edges of the crust over the fruit mixture.
Brush the milk or heavy cream on the crust and sprinkle with the remaining teaspoon of sugar. Bake until the crust is golden brown and the fruit is tender, 25 to 30 minutes.
Enjoy!