Soft, cinnamon-spiced carrot cake sandwich cookies with an easy cream cheese frosting are on the menu today. These sweet spring treats are hard to resist for carrot cake lovers!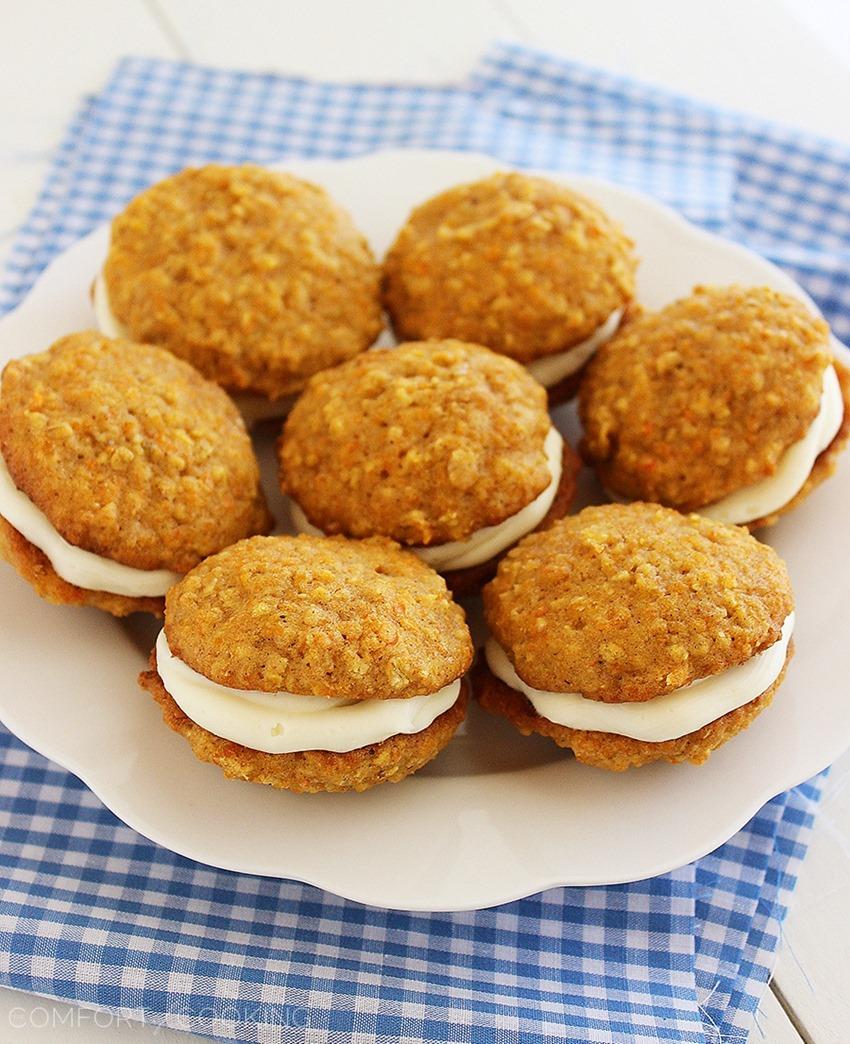 Spring has sprung in Texas, and it's evident just about everywhere you look! Bright bluebonnets dot the roadsides, windows are flinging open for a fresh breeze, and sunny smiles and sundresses are in abundance. Our warmer nights have been spent tossing the ball with the dog, clinking cold glasses of lemonade, and enjoying Austin's slow start to spring. Otherwise known as the calm before the storm… of humidity, mosquitoes and endless summer.
The only thing missing from my ultimate springtime experience ('til I baked a big batch)? These irresistibly soft, scrumptious carrot cake cookies with cream cheese frosting.
Heaven in a cookie, y'all.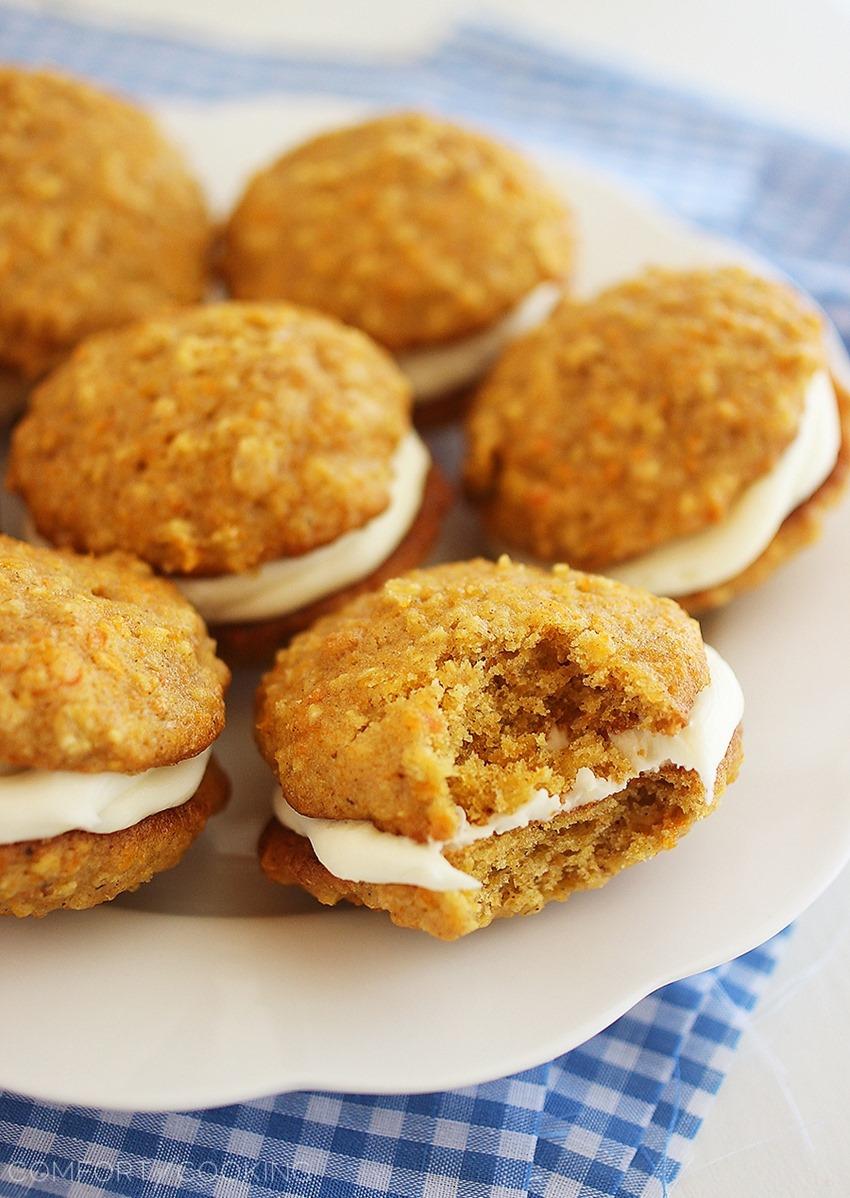 These little treats just may have given my longtime favorite Caramel-Stuffed Snickerdoodles a run for their money! Like a cross between cupcakes and cookies, each fluffy-soft, cinnamon-spiced bite is a bit of bliss. You get a little cookie, you get a little frosting, and suddenly your bad day is forgotten. Or your good day is made even better! Everybody wins. Besides whoever was expecting a cookie for themself. Because you're unlikely to want to share. Fact.
All that carrot and oatmeal make them a healthy indulgence anyway, right?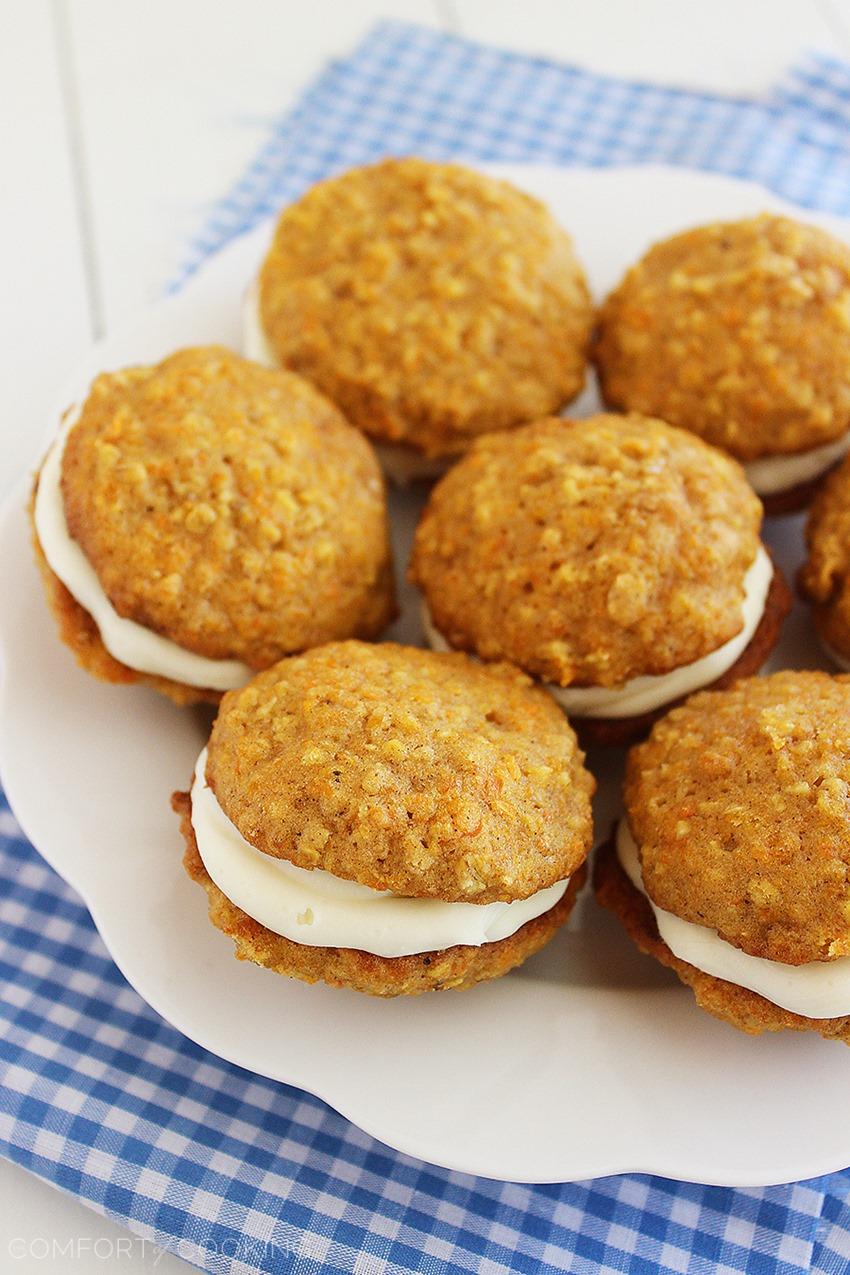 You're going to love these cookies for spring parties, Easter feasting, and any occasion that calls for something sweet and a little unique. These were a huge hit with friends (I caved and shared) and an easy, fun-to-bake twist on one of my favorite classic cakes.
More of a cake than cookies fan? Try my super moist Carrot Cake Bars instead… there are no words to describe their delicious goodness. I've converted many friends to love carrot cake with those bars!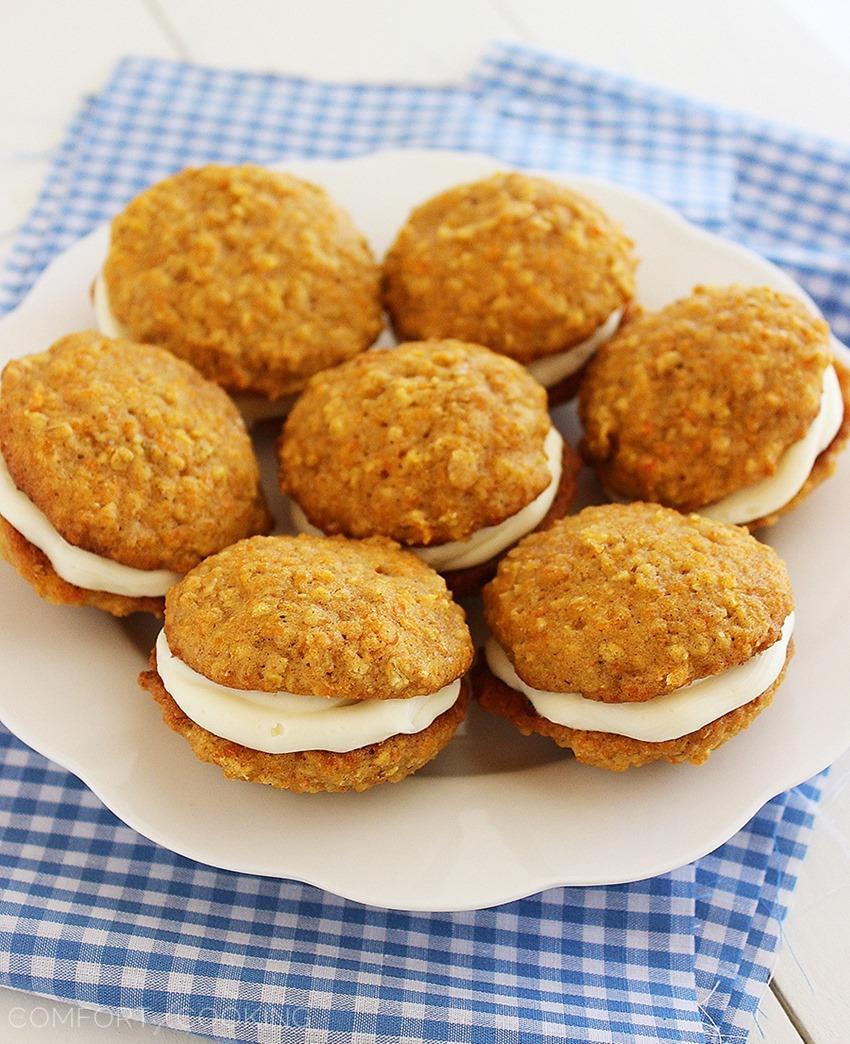 Soft Carrot Cake Sandwich Cookies
Yield:
25 cookie sandwiches
Ingredients
For Soft Carrot Cake Cookies:
1 cup packed light brown sugar
1 cup granulated sugar
1 cup (2 sticks) unsalted butter, room temperature
2 large eggs
1 teaspoon vanilla extract
2 cups all purpose flour
1 teaspoon baking soda
1 teaspoon baking powder
1/4 teaspoon salt
1 teaspoon ground cinnamon
1/2 teaspoon ground nutmeg
1/2 teaspoon ground ginger
2 cups old fashioned rolled oats
1 1/2 cups finely grated carrots
For Cream Cheese Frosting:
1 (8 oz.) package cream cheese, room temperature
1/2 cup (1 stick) unsalted butter, room temperature
1 cup confectioners' sugar
1 teaspoon pure vanilla extract
Instructions
For Soft Carrot Cake Cookies: Preheat oven to 350 degrees F. Line two large baking sheets with parchment paper; set aside.
In the bowl of an electric mixer fitted with the paddle attachment, combine sugars and butter. Beat on medium speed until light and fluffy, 3 to 4 minutes. Add eggs and vanilla. Beat until well combined.
In a large bowl, sift together flour, baking soda, baking powder, salt, cinnamon, nutmeg, and ginger. Stir into wet mixture until just blended. Mix in oats and carrots. Chill dough in refrigerator until firm, at least 1 hour.
Drop dough by rounded tablespoonfuls onto prepared baking sheets, spacing 2 inches apart. Bake for 10 to 12 minutes. Let cool completely, then frost the flat side of one cookie with Cream Cheese Frosting (recipe below). Sandwich together with another cookie.
For Cream Cheese Frosting: Beat cream cheese and butter in a large mixing bowl until smooth and well blended. Sift in confectioners' sugar. Continue beating until smooth. Add vanilla and stir to combine. Use to frost cookies, or any other baked treat.
Store cookies in an airtight container for up to 3 days in the refrigerator.
Enjoy!