This colorful, fresh and tangy tomato-cucumber salad makes a scrumptious side to grilled meats and crusty bread. You won't believe how easy it is, too!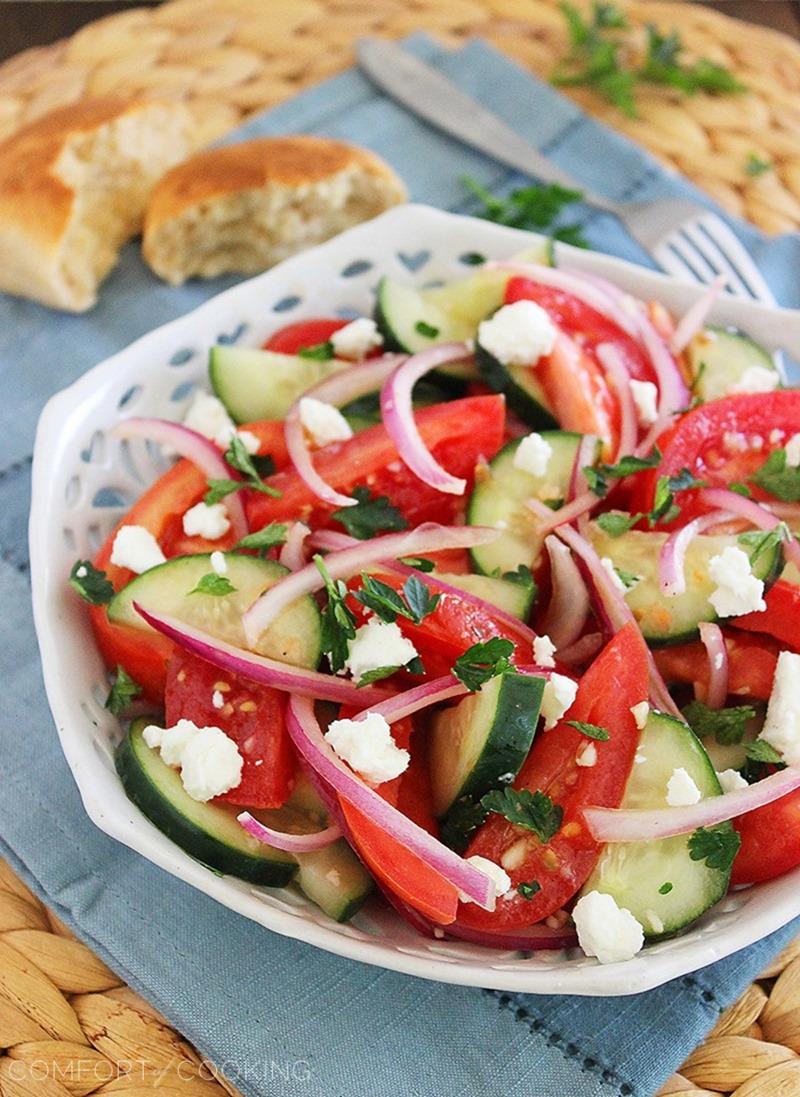 Though the term "comfort food" conjures up hearty stews, saucy spaghetti and warm apple pies to most, my idea of it ventures a little outside the box! Now, don't get me wrong. I love a good roast and heap of hot mashed potatoes. But, you know what's even more comforting? Knowing you can create something fabulous, fast and delicious from a handful of random stuff in your fridge.
That's just what I did last night!
Yea, that's right. This was one of those so-good-I-had-to-tell-you-about-it-NOW recipes. Simple as it may be, this fresh, summery salad made an incredibly scrumptious side to grilled steak and crusty bread. Sliced tomatoes, cucumber, red onion and garlic are simply dressed with a splash of olive oil and red wine vinegar. Toss a little fresh parsley and crumbled feta on top, and you've got yourself a healthy, colorful and super-simple side for weeknights and Greek nights!
Take it from hubby… he hardly came up for air, he gobbled his plate so fast! Love that boy, garlic breath and all.
If you love tomatoes (like us), you'll flip for this tangy, quick summer salad. Serve it on the side of your favorite grilled meats, or as the main event with a big baguette for mopping up extra oil and juices! The bread is the best part, after all…
Feta and parsley aren't necessary – the salad is delicious without either! But, if you're craving a little creaminess and extra freshness, go for the good stuff. You can also substitute fresh mozzarella or grated parmesan for the feta, and basil in place of parsley. Get creative with your salad!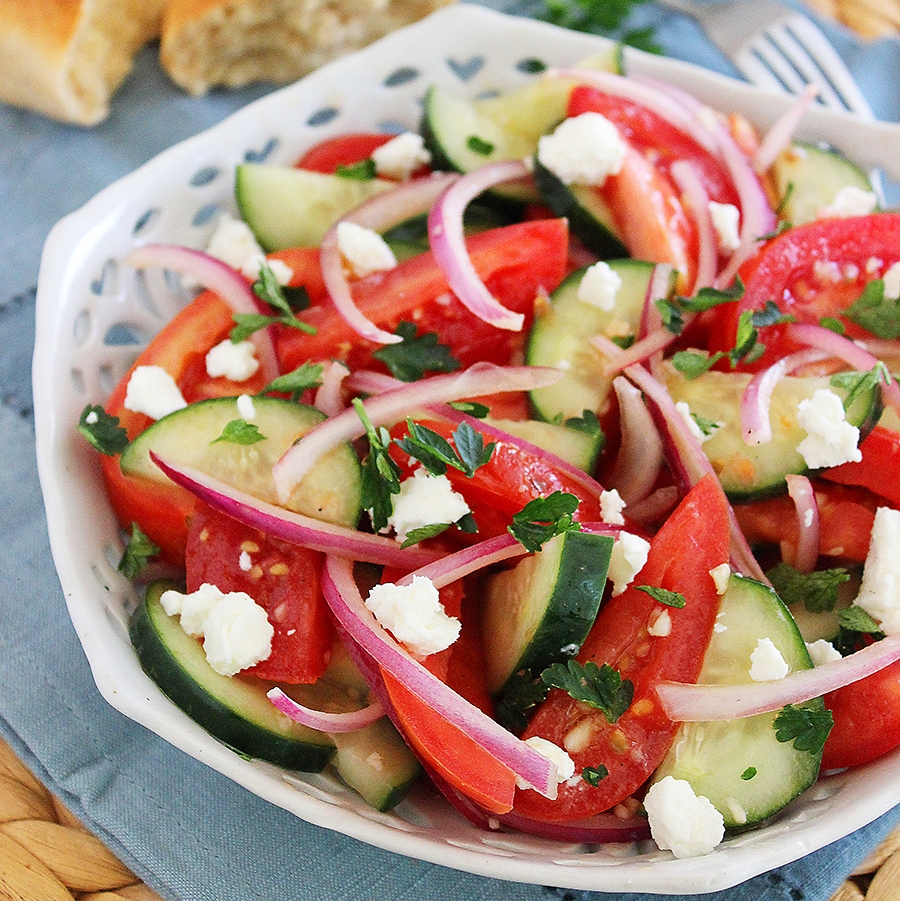 Easy Tomato, Cucumber and Red Onion Salad
Ingredients
4 medium Roma tomatoes, cut into wedges
1 medium cucumber, halved , halved lengthwise and thinly sliced
1/2 red onion, halved lengthwise and thinly sliced
2 garlic cloves, minced
2 Tablespoons good-quality olive oil
2 Tablespoons red wine vinegar
Coarse salt and black pepper
2 Tbsp. chopped fresh parsley
1/4 cup crumbled feta, for serving
Instructions
In a large bowl, combine tomatoes, cucumber, onion, garlic, olive oil, red wine vinegar, salt, pepper and parsley. Let stand at room temperature to allow flavors to marinate, at least 30 minutes and up to 4 hours. Toss with a large spoon, sprinkle with feta and serve.
Enjoy!