Smoky, tender and scrumptious sandwiches inspired by grilled chicken Caesar salad! Best of both worlds on a toasty brioche bun, smothered in creamy dressing with sliced avocado and Parmesan cheese. Fast and easy summer grill goodness in under 30 minutes!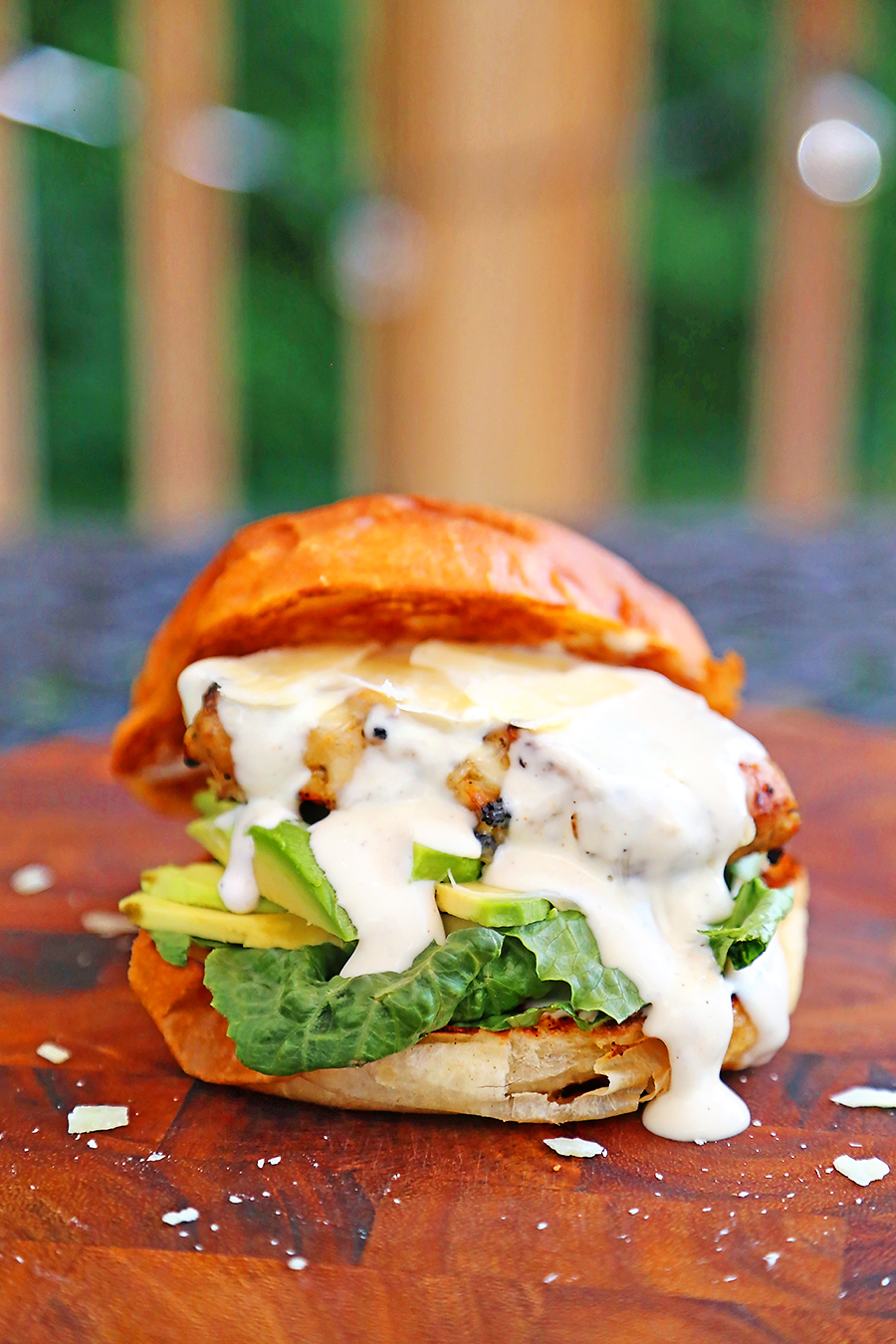 When the nights get warm and the cold rosé is flowing, I am eager as ever to fire up the grill! In the past months, we have turned out some juicy, smoky grilled steaks, chicken, veggies and shrimp skewers that have made dinnertime a bit more fun. I am always looking for something new to sizzle on those hot grates. I do love a good, classic grilled chicken sandwich, which always makes an appearance during the weekdays. However, the toppings can always use a little zesting up!
Enter: grilled chicken Caesar salad with creamy avocado and Parmesan cheese… on a sandwich!
These juicy, tender homemade sandwiches are such a family pleasing weeknight dinner. What makes 'em so finger-licking-good? Well, glad you asked!
Every grilled chicken sandwich needs some good crunch (hey, lettuce!), combined with smoky cheesy chicken (marinated at least one hour), creamy dressing and a toasty, buttery soft bun. The combination is mind blowing and mouthwatering. Hits the nail on the head every time!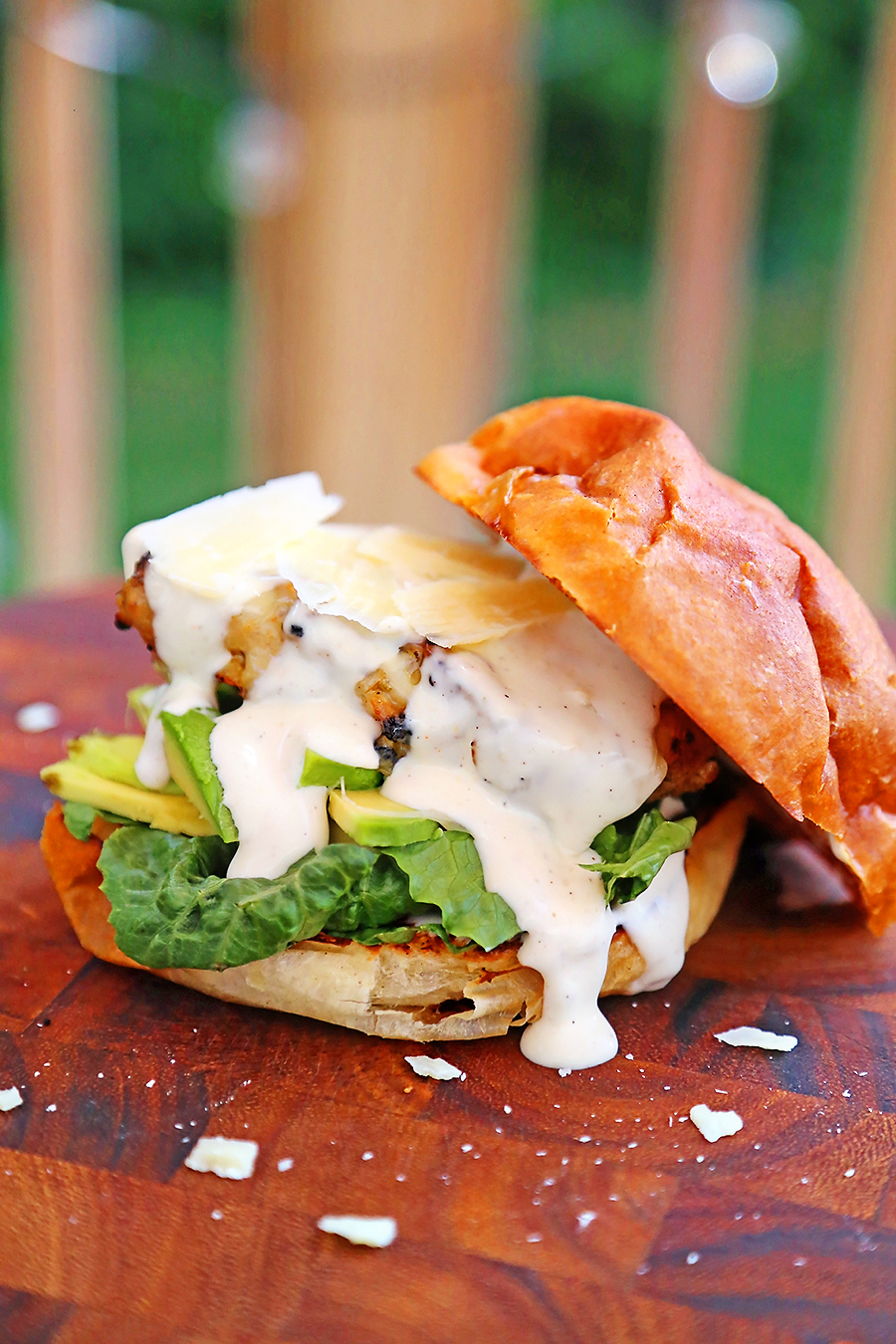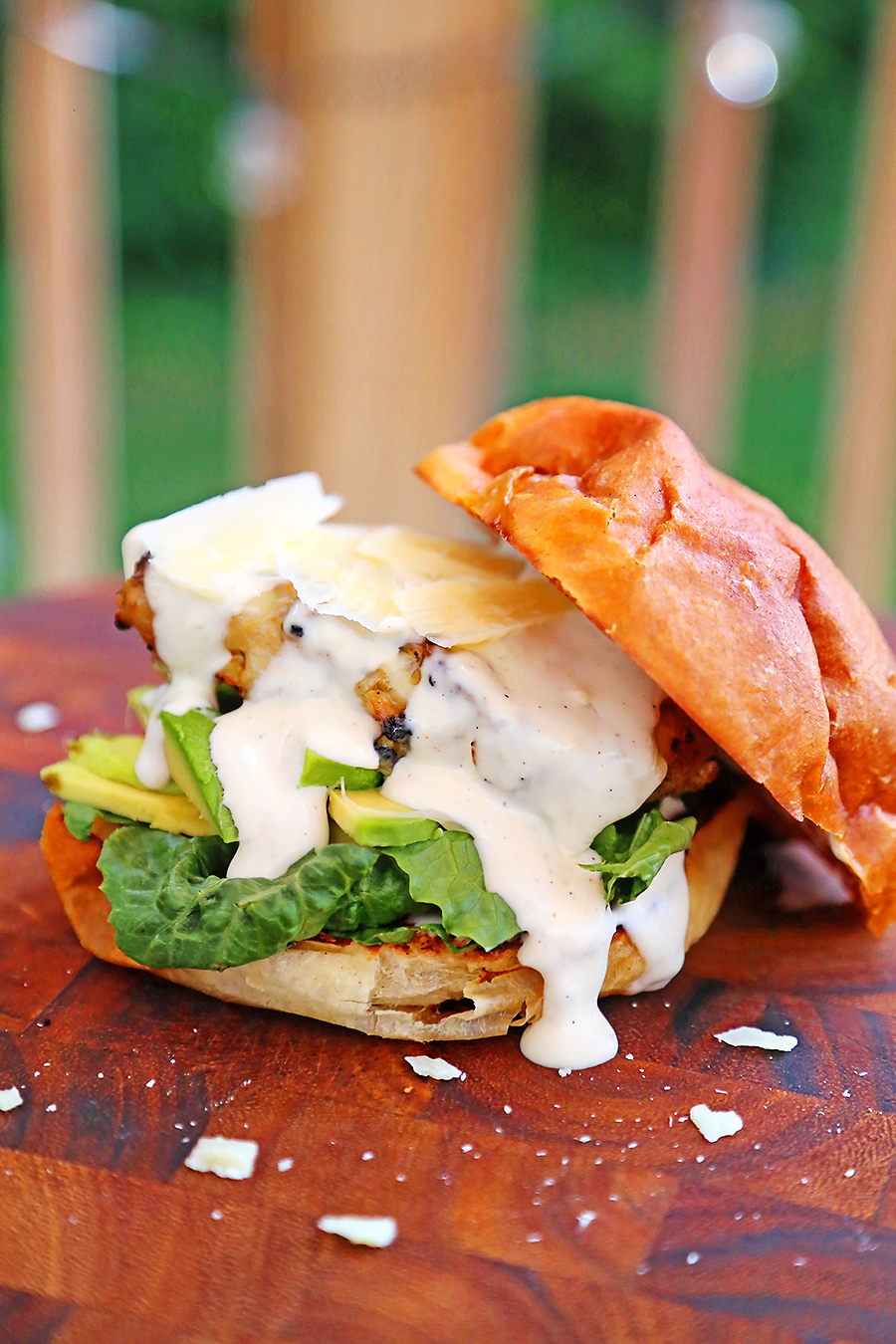 Looking for more easy summer grilling recipes? Try these!
• Chili-Lime Grilled Chicken with Cucumber-Mint Sauce
• Mexican Grilled Steak Salad with Honey Lime Dressing
• Grilled Zucchini Caprese Salad
• Grilled Caprese Chicken and Summer Squash
• Grilled Peaches with Cinnamon-Sugar Butter
If you can find brioche buns where you live, definitely grab some! They are wonderfully fluffy, sweet and buttery, especially when you toast them briefly on a hot grill. Really takes this sandwich to the next level.
If you have 25 minutes and a handful of ingredients, these sandwiches are one KILLER dinner to try. Easy enough for weeknights, impressive enough for company, and comes together in a pinch. A super fun flavor combination and satisfying supper for the whole family. Creamy, salty, juicy, and cheesy goodness from the grill… ready, set, GO!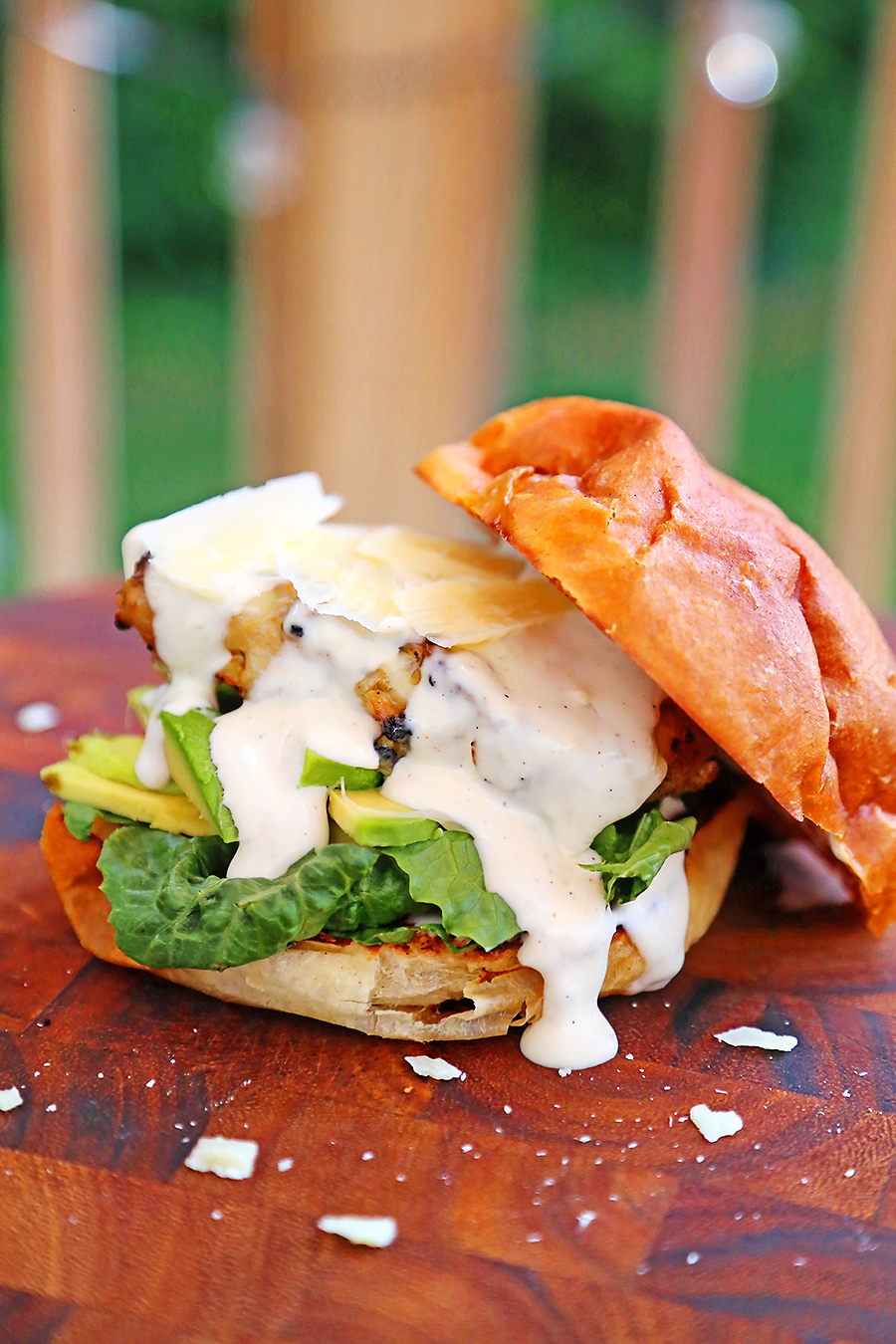 Avocado Grilled Chicken Caesar Salad Sandwich
Ingredients
For the chicken marinade:
2 chicken breasts, pounded thin
1/3 cup olive oil
1 teaspoon kosher salt
1/2 teaspoon Italian seasoning
1/2 teaspoon garlic powder
1/4 teaspoon onion powder
1/4 teaspoon ground black pepper
For the sandwiches:
1 cup creamy Caesar dressing, we love Marie's
1 head Romaine lettuce, chopped
Parmesan cheese block, sliced with potato peeler
4 hamburger buns, I used brioche buns
2 ripe avocados, sliced
Instructions
For the chicken marinade:
Slice each pounded chicken breast in half, making 2 portions each. You should have 4 total chicken cutlets. You can also use 4 boneless chicken thighs.
In a large bowl, combine chicken with olive oil, salt, Italian seasoning, garlic powder, onion powder, and black pepper. Toss well to coat chicken in seasoning. Cover bowl with plastic wrap and refrigerate until ready to cook, up to 1 day.
When ready to cook, preheat gas grill to medium-high heat. Cook chicken 4-5 minutes per side, until chicken juices run clear.
Remove chicken from grill and place on a platter.
For the sandwiches:
Toast hamburger bun halves for 1-2 minutes on the hot grill, if desired. Top buns with lettuce, avocado slices, grilled chicken, and additional Parmesan.
Pour creamy Caesar dressing over the chicken sandwiches (1/4 cup each, more or less, to taste).
Enjoy!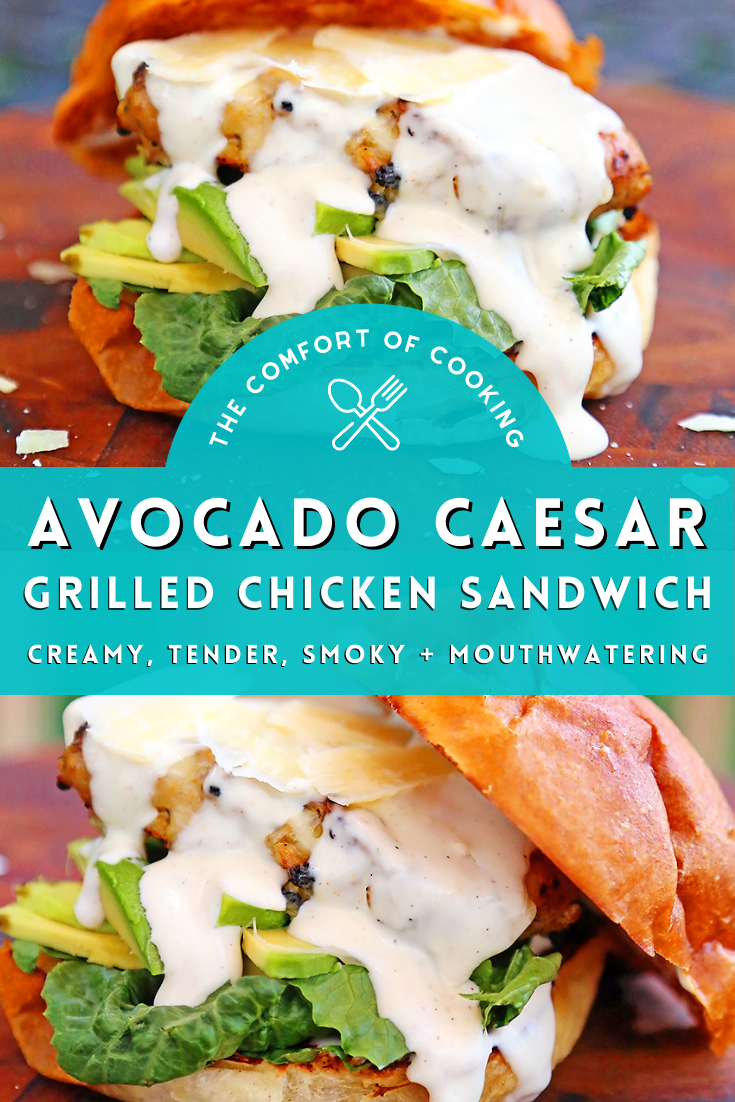 Want to receive our latest recipes straight to your email inbox? Click here to subscribe!