My husband has been away on a business trip for nine days, and while I surrendered early on to the fact that peanut butter sandwiches and cereal would be my new meals, that's not been the case at all. I've had dinner with neighbors, gone out with friends, and cooked plenty for myself. It's just that lately, there are a LOT more leftovers and no help doing dishes. Le sigh.
One thing that I've made sure to do, though, has been comfort myself with a warm homemade meal. This bowl of mashed potatoes and broccoli with asiago cheese made a super delicious side dish to some grilled chicken. The flavor of the fresh broccoli and creamy, slightly smoky asiago added another dimension to plain old mashed potatoes! To kick up the flavor even more, I added in some garlic powder, heavy cream and butter, but for a lower-calorie option you could replace the fats with 1/3 cup chicken broth.
This delicious side dish is about as versatile as it gets, and is also a great way to get kids to scarf down some veggies! Make it some weeknight and hopefully you and your family will enjoy it as much as I did.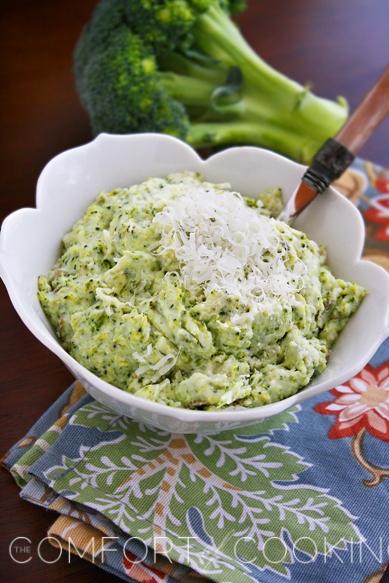 Asiago Mashed Potatoes and Broccoli
Ingredients
2 medium potatoes, peeled, if you prefer
1 cup broccoli florets, fresh or frozen
2 Tbsp. butter
1/4 cup heavy cream
1/2 tsp. salt
1/4 tsp. pepper
1/4 tsp. garlic powder
1/4 cup freshly grated asiago
Instructions
Bring slightly salted water to a boil in a medium pot.
Peel potatoes or leave skins on, and cut into 1/2-inch chunks. Chop off the broccoli stems if using fresh, and roughly chop the broccoli into small chunks. Boil potatoes and broccoli together for 20 minutes, stirring occasionally.
Drain the potatoes and broccoli into a colander or sieve, then return them to the pot and add the butter, cream, salt, pepper and garlic powder. Use an electric mixer or potato masher, blend the ingredients until smooth.
Add asiago cheese. Season to taste, and serve warm.
Enjoy!