There's simply nothing better than a silky chocolate mousse made with good quality ingredients, served with homemade whipped cream and enjoyed with someone special. And ok, I usually advocate going on the cheap for ingredients, but why not spend a little more for your sweetheart's sense of taste if you're going without gifts this year?
I bought this beautiful blue box of melt-in-your-mouth chocolates during a day visit to one of Austin's gems, Central Market. These little pieces of dark chocolate gold were on the list for my wine tasting party and I couldn't pass up going a little overboard on one element of the tasting.
Little did I know that there would be half a box left over and that it would make for one mouthwatering mousse!
Cozying up to a bowl of this dreamy, creamy mousse is definitely one of life's little pleasures, and you shouldn't miss out by not making it for Valentine's Day! It's a little bit of heaven in a bowl, I tell ya. Or a lot, depending on how crazy for chocolate you are.
Make this super simple mousse some night, whether it be tomorrow or just on a random day to celebrate life's little moments. It's easier than you can imagine and produces an out-of-this-world, silky soft dessert that you and your Valentine are sure to enjoy!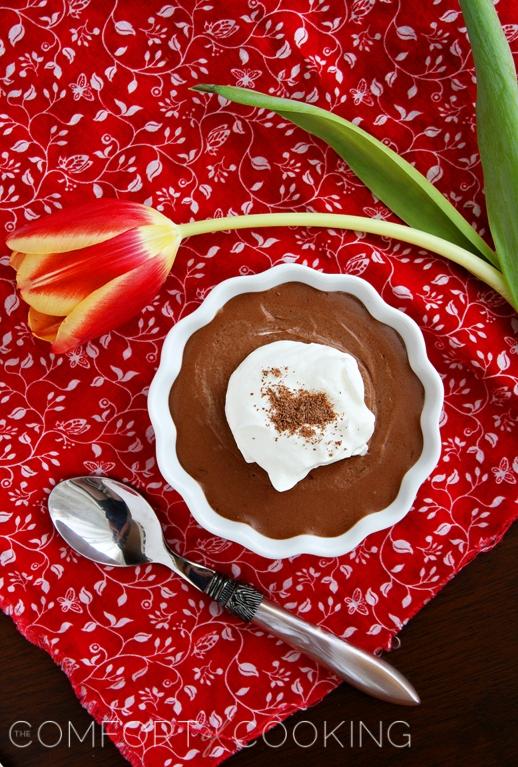 Easy Chocolate Mousse
Ingredients
4 large egg yolks
1/4 cup granulated sugar
1/8 teaspoon table salt
2 tablespoons unsweetened cocoa powder, recommended: Valrhona
2 ounces semisweet dark chocolate
3/4 cups heavy cream
Instructions
Finely chop chocolate; set aside. In a double boiler, whisk yolks, sugar, and salt until sugar has dissolved and mixture is warm to the touch, 2 to 3 minutes. Off heat, quickly whisk in chopped chocolate until melted and cocoa until smooth (mixture will be thick). Pour into a medium bowl and cool to room temperature.
In another medium bowl, whip heavy cream until soft peaks form. Whisk half of whipped cream into room-temperature chocolate mixture. Gently fold in remaining whipped cream with a rubber spatula. Divide mousse among four small serving dishes. Cover tops with plastic wrap. Chill at least 2 hours and up to 1 day.
Remove mousse from refrigerator 15 minutes before serving. Garnish with homemade whipped cream (recipe below) and shaved chocolate.
Enjoy!