This light, lemony tart with fresh berries is festive enough for your July 4th party or any summer occasion!
Should I have gone all Martha Stewart on this tart and patterned the fruit into a flag? Probably.
'Round here, we're all about no fuss, though! Cute little berry flags are fussy and meant for magazines. Totally adorbs and festive, but so much fuss. And, when you're sweating through the summer heat and just need something quick to bring to a BBQ, time to make it frilly and perfect ain't on your side.
See how pretty it can still be when you plop the fruit on top? It's my style, it's your style, and it all tastes the darn same when it's on your plate anyway…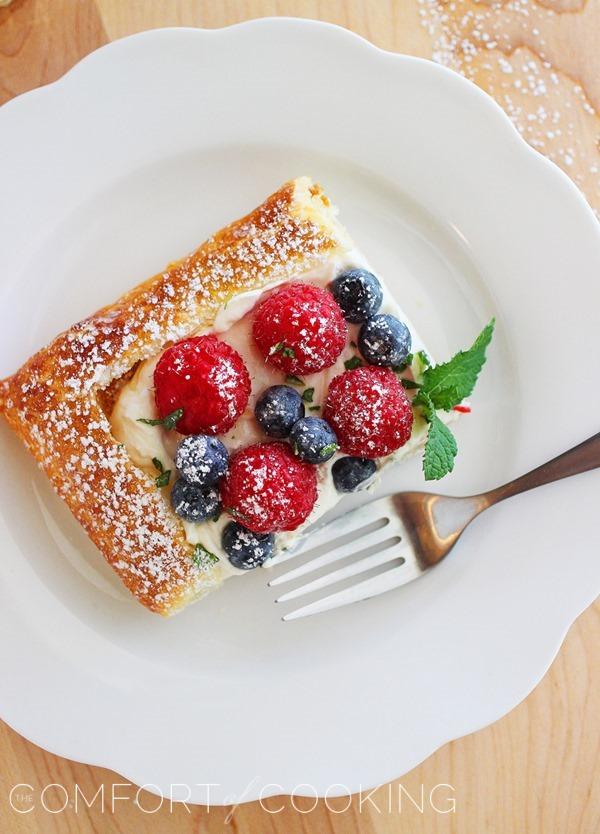 What's your favorite summer berry?
Mine has gotta be the raspberry. They have the prettiest ruby red color, are juicy as candy, and make a darlin' decorative touch to any dessert. I never used to think much of them, but my hubby got me hooked! Now I am obsessed.
Raspberries + prosecco + lemon complete my summer. Prosecco has nothing to do with this recipe. But, I think any recipe with "summer" in the title deserves a Prosecco mention. Am I right?
So, let's talk tart. I wish we could sit down to a slice (or three) together and chat about the weekend. Instead, though, I hope you'll make it for yourself and whoever's lucky enough to enjoy it with you!
Let me break it down for ya…
Making this little beauty is easy as pie. Or, actually, easier! Just roll out your puff pastry, pre-bake it and then let it cool. Mix up Cool Whip, cream cheese and lemon zest, and smooth it over the top of the golden brown pastry. Then, dot your favorite berries on top. Sprinkle with powdered sugar and a little chopped mint, if you're feelin' fancy.
Obviously, I was!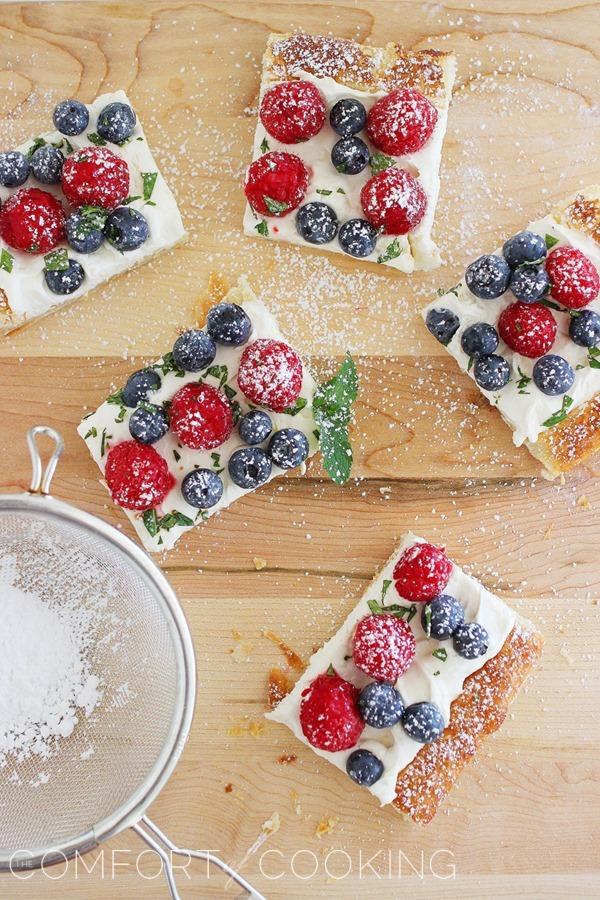 This tart is terrifically easy and colorful enough for any July 4th party. Or, just try it for any of your summer festivities! One batch makes enough for 12 hungry partygoers to grab a slice, so bake it up and watch it fly off the platter!
You'll love this scrumptious berry tart. The cream cheese layer tastes light and citrusy, and combined with the crisp pastry and sweet, tangy berries, it's a heavenly summer dessert! I hope you enjoy this recipe and let me know how it turns out if you do bake it!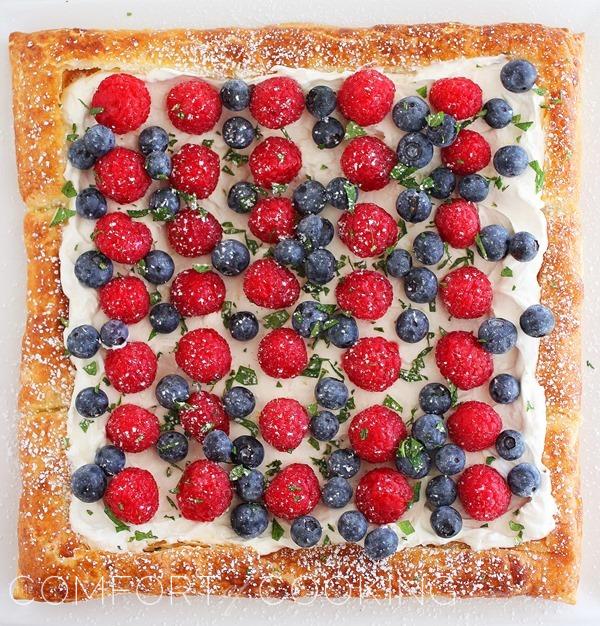 Summer Berry Tart
Yield:
12 (1-slice) servings
Ingredients
1 Tablespoon flour, for dusting
1 sheet frozen puff pastry, thawed
1 egg, beaten
1/2 tablespoon granulated sugar
4 ounces Neufchatel cheese, light cream cheese*, softened
1 8 oz. tub Cool Whip Lite*
Zest from 1 lemon
3 tablespoons powdered sugar, divided
2 cups fresh mixed berries, your favorite (blueberries, raspberries, strawberries, blackberries, etc.)
1 Tablespoon chopped fresh mint, optional
Instructions
Preheat the oven to 375 degrees. Prepare a large baking sheet with parchment paper or aluminum foil.
On a surface lightly dusted with flour, roll out puff pastry slightly and transfer to baking sheet. With a knife, gently trace a 1-inch border around the edge of the puff pastry, careful not to cut all the way through. Brush beaten egg on the outside border and sprinkle with granulated sugar. Bake for 12-14 minutes, or until golden and puffed.
Remove from oven. With your hands in oven mitts, gently flatten the center of the pastry. Cool at room temperature for about 20 minutes.
While cooling, make the cream cheese mixture. Beat cream cheese with an electric mixer until smooth. Add Cool Whip, lemon zest and 2 Tablespoons powdered sugar, beating again until fluffy and smooth. If pastry is not cooled yet, refrigerate until ready to use. Spread the mixture evenly within the border of the cooled pastry sheet.
Arrange your fruit in desired pattern on top of pastry, and sprinkle with remaining 1 Tablespoon powdered sugar. If desired, sprinkle with chopped mint. Slice into 6 squares and serve. Refrigerate leftovers up to 2 days.
Enjoy!