Red velvet cake made bite-sized! Try these decadent bites of luxurious red velvet cake for Valentine's Day, or any special occasion.
If I were a superhero, cake truffles would be my kryptonite. An awesome (and probably pretty clumsy) superhero I'd be, but these babies would take me DOWN.
These cute little red velvet cake truffles are easy to make, pretty to look at, and absolutely amazingly addictive. Using softened cream cheese, they're much less sweet than other truffles that mix in frosting. The cake is crumbly and moist, and coated with a hard white chocolate candy shell each one is a little bite of luxury!
Make them as a sweet, sentimental Valentine's Day gift for someone special, or just to try something new and fun!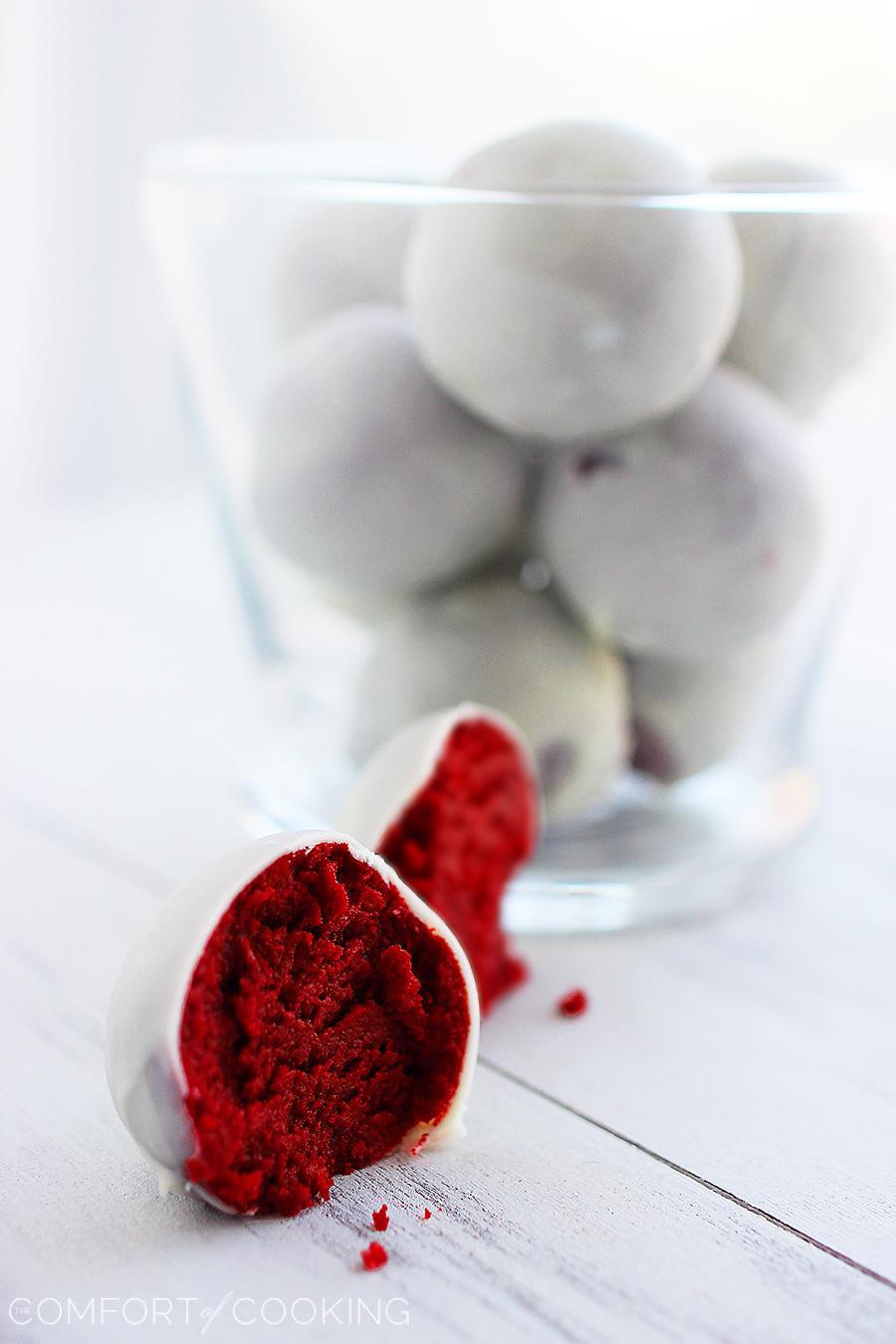 Red Velvet Cream Cheese Cake Truffles
Ingredients
1 (18.25 oz.) box red velvet cake mix*
Eggs, oil and water, as required on box
1 cup (8 oz.) cream cheese or Neufchatel cheese, softened
White candy melts or Baker's chocolate bars
Instructions
Prepare and bake cake mix in a 13 x 9 inch pan, according to package directions. Let cake cool.
Crumble cake into a large bowl, add cream cheese and stir until the mixture is well combined. (A Kitchenaid mixer fitted with the paddle attachment is useful for this). It should be moist and hold together after forming a ball of cake with your fingers. If the cake mixture remains dry, stir in more cream cheese to achieve the desired consistency.
Using a small cookie scoop, or your hands, portion small balls of cake and roll between your palms until nicely rounded. Place cake balls on a baking sheet covered with aluminum foil. Place sheet in the freezer for at least 30 minutes.
In a microwave-safe bowl, heat candy coating in the microwave until melted, stirring often to prevent overheating. If needed, add a small amount of butter or shortening to thin the candy coating to a more drippy consistency.
To coat, rest a cake ball on a fork and spoon candy coating over top. Tap handle of fork on the edge of the bowl to allow excess coating to drip off. Place the dipped truffle on the foil-lined baking sheet. Repeat with remaining cake balls.
Refrigerate truffles to set coating completely, about 20 minutes. Store in a resealable container or plastic bag in the refrigerator, up to one week.
Enjoy!