The softest ever ginger molasses cookie! Every bite is spiced, chewy and buttery, with crackled tops and melt-in-your-mouth flavor. Fancy them up with a white chocolate drizzle (optional, but oh so cute). These cookies stay soft for days, are so easy and come together quickly!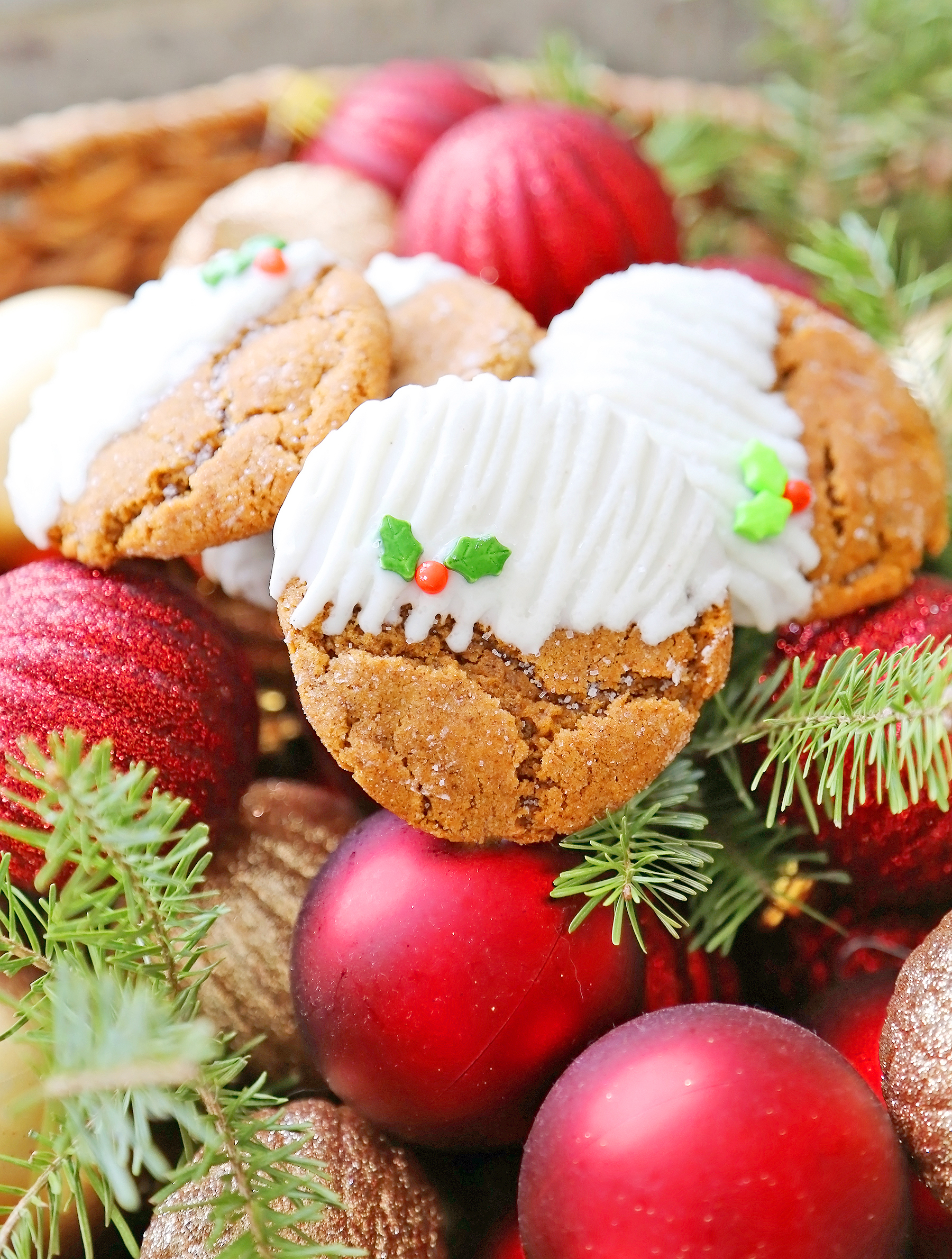 For years and years, I've been searching for that perfectly soft molasses cookie with a buttery center and crisp edges. This has been my unicorn of cookie recipes! Finally, I found the most deliciously easy, festive holiday cookie recipe with rich spices and addictive flavor. We absolutely love these cookies – kids and adults agree they are worthy of going back for seconds and thirds!
We wait all year for a plate of decadent, melt-in-your-mouth molasses cookies. These are a fun activity for fall and winter baking, and came together quickly in one bowl, in under 10 minutes. Just bake a batch for 10 minutes, and you have yourself an irresistibly good, warm spiced cookie on your plate. Perfect with a cup of hot coffee or hot cocoa, for taking the chill off these cold winter months!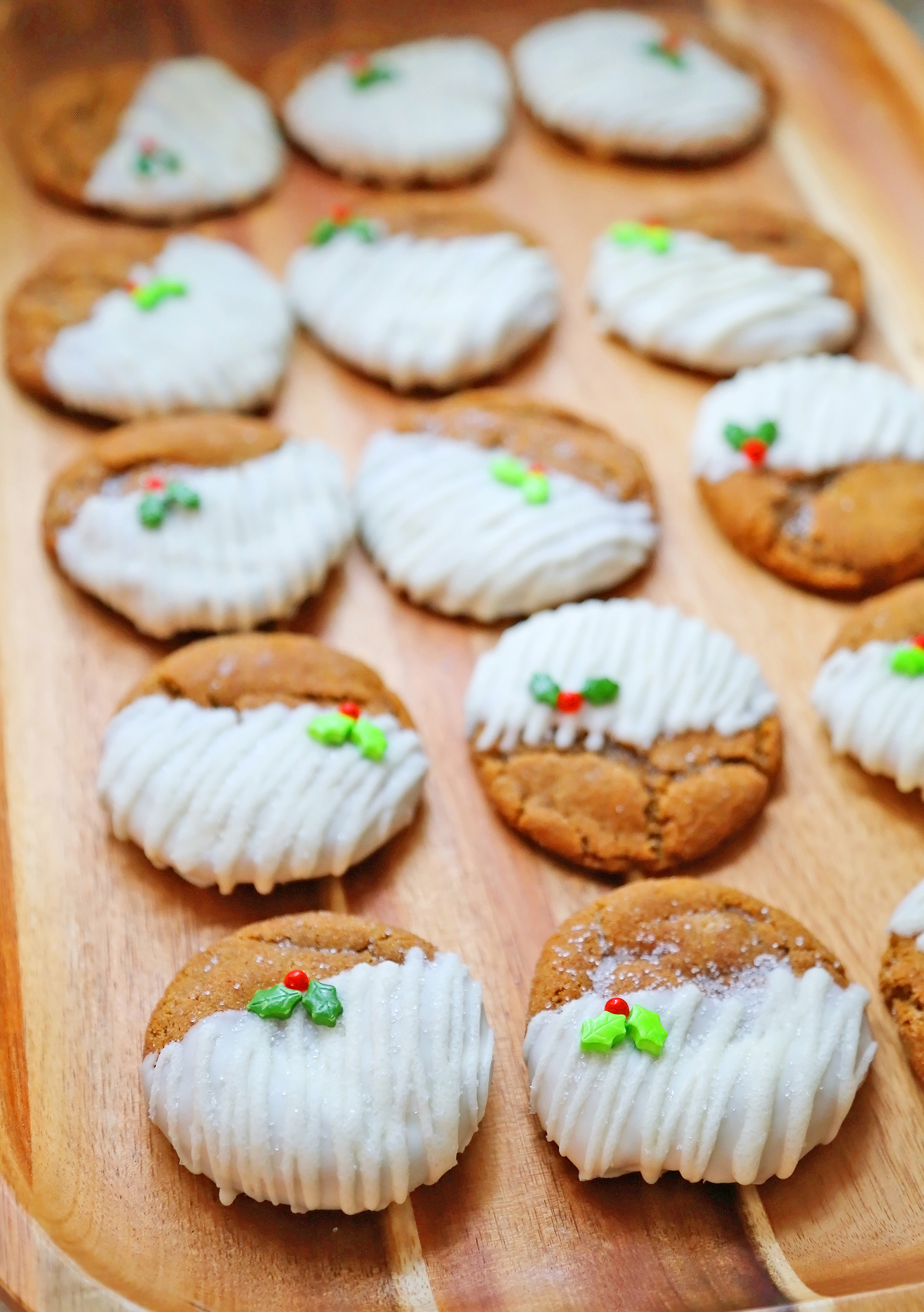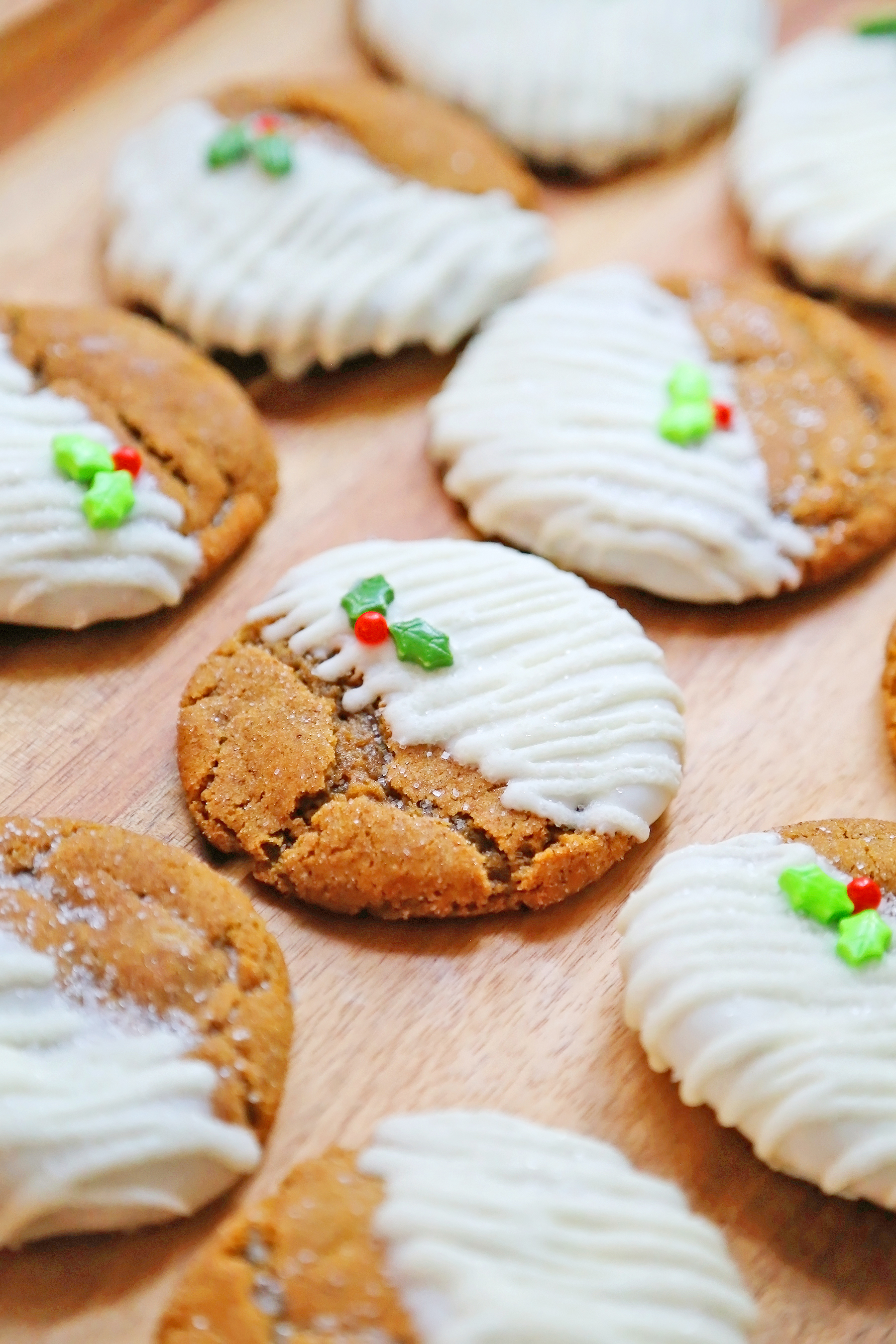 I used melted white chocolate chips for the dip and drizzle. (Tip: add a small amount vegetable oil to thin out the melted chocolate, for easy dipping). You could also use white candy melts for this step.
The holly berry candies and white sanding sugar were found for under $2 each at Michael's. These little extras are completely optional, though make for a festive holiday cookie. The cookies are also incredibly delicious on their own!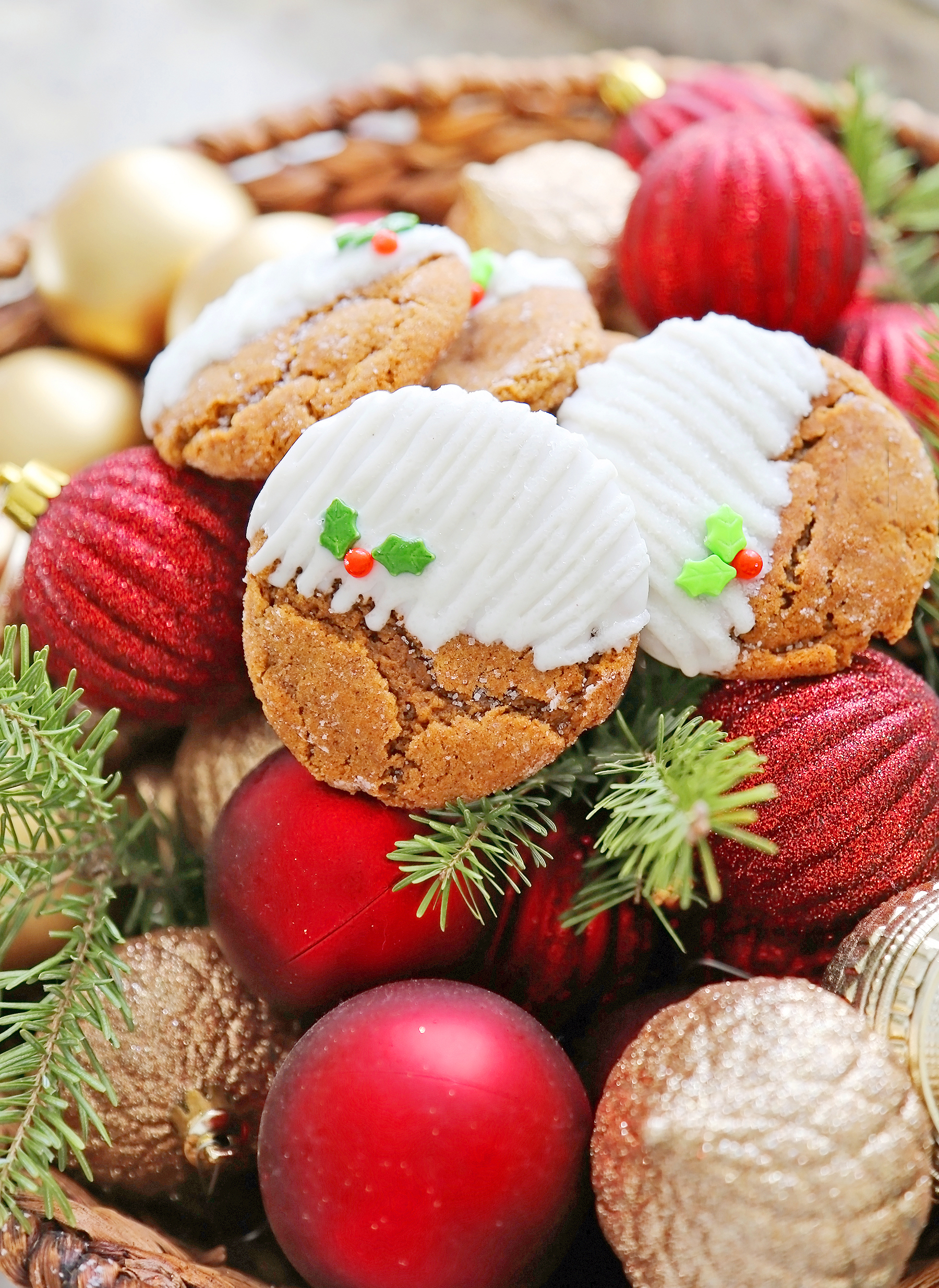 Looking for more easy cookie recipes? Try these!
• 5-Ingredient Lemon Cake Mix Cookies
• Soft & Chewy Double Chocolate Cookies
• Old Fashioned Soft and Chewy Oatmeal Cookies
• Super Soft Clementine Sugar Cookies
• Best-Ever Soft, Chewy Chocolate Chip Cookies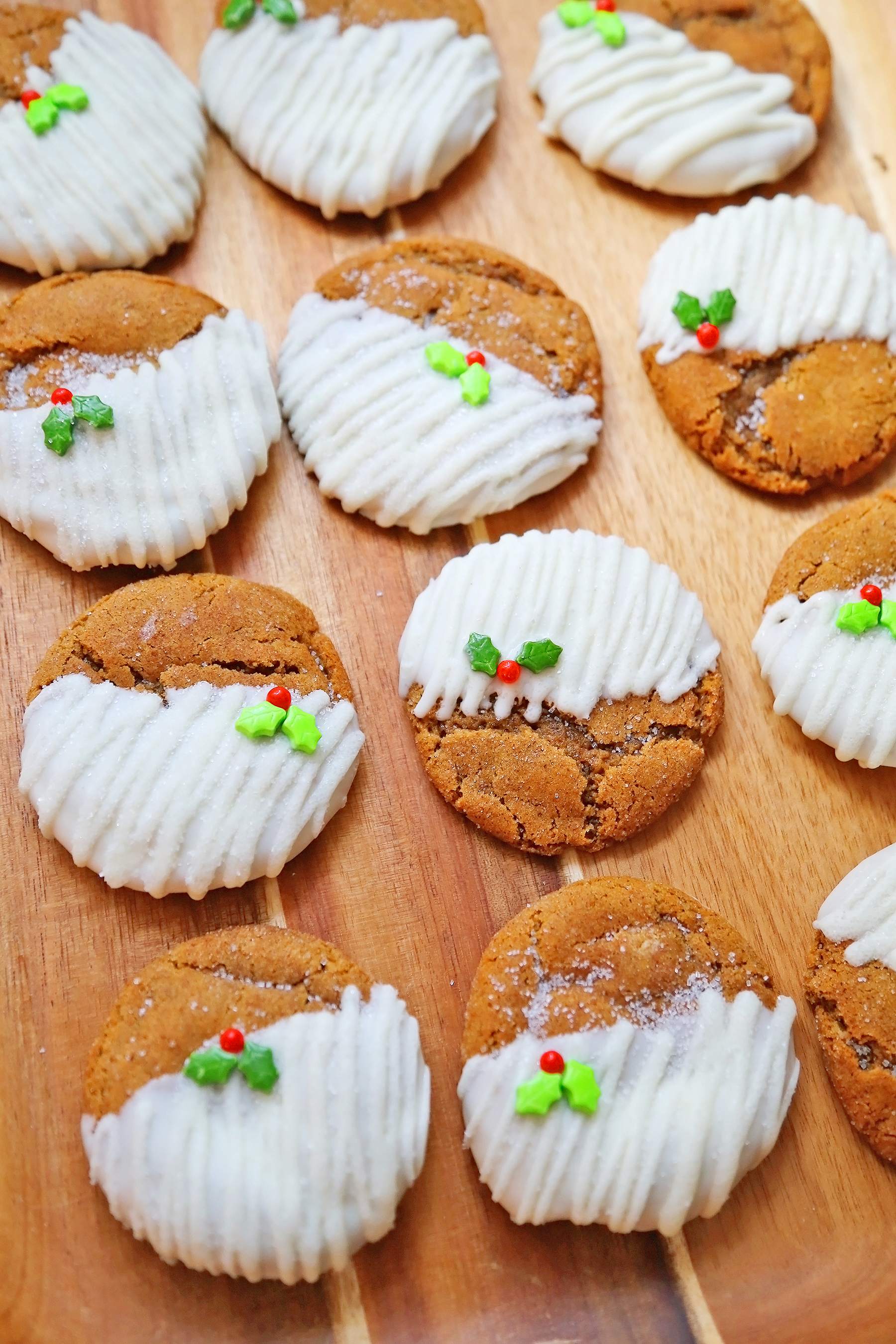 We love these cookies for holiday indulging, gifting and baking during fall and winter. They are the perfect Christmas cookie! A simple ingredient list and easy instructions keep this one fun for the whole family to get involved in.
If you're looking for a comforting, warm cookie that tastes like home, look no further. These soft ginger molasses cookies will brighten your cold, dark days and bring joy to your friends and family. Bake a batch this weekend!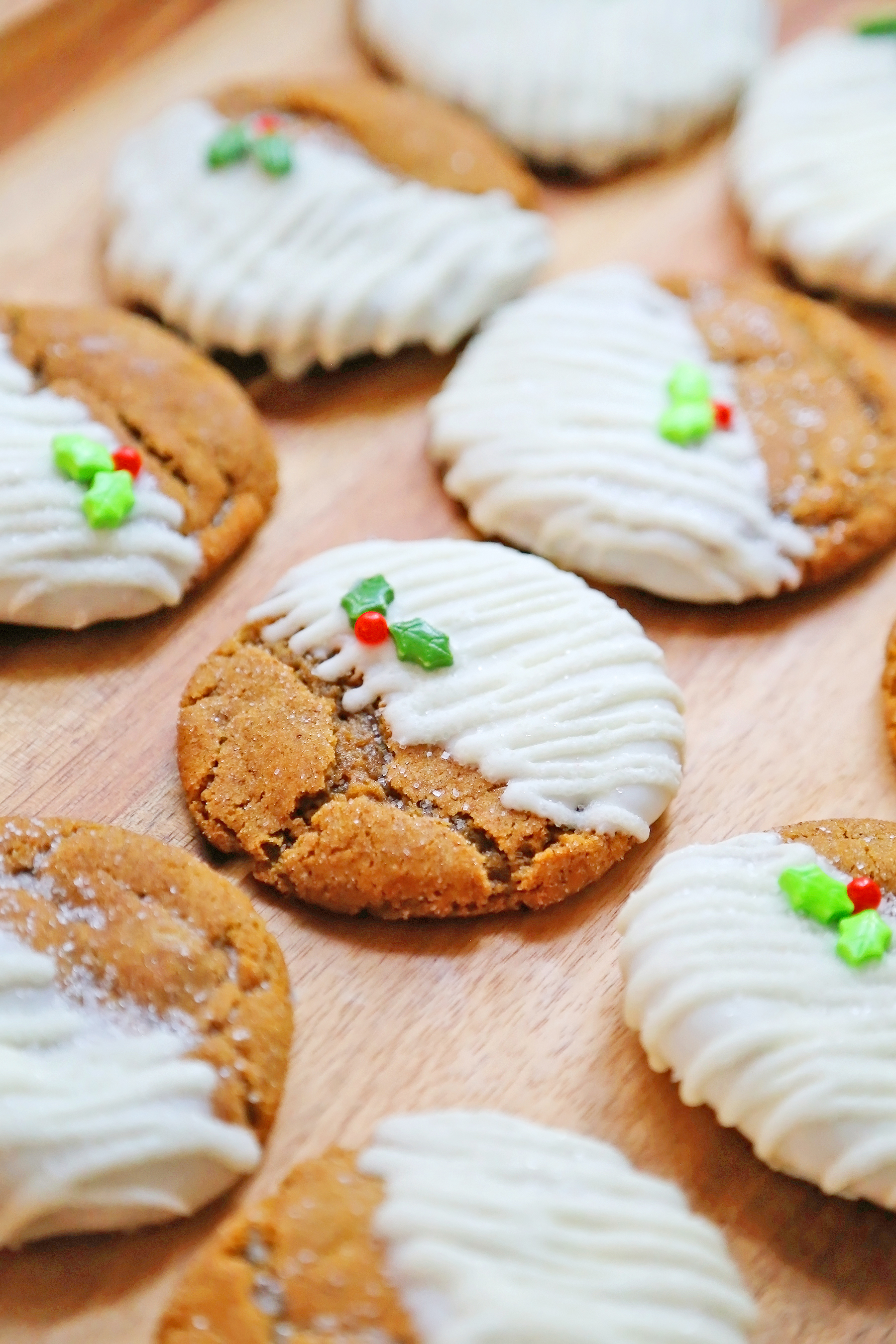 Soft Ginger Molasses Cookies
Ingredients
3/4 cup unsalted butter, (1 and 1/2 sticks), softened
1 cup packed light brown sugar
1 large egg
1/4 cup molasses
2 1/4 cups all-purpose flour
2 teaspoons baking soda
1 teaspoon ground cinnamon
1 teaspoon ground ginger
1/2 teaspoon ground cloves
1/4 teaspoon fine salt
for rolling the cookies:
optional decorative toppings:
White chocolate drizzle, I melted 1-1/2 bags of white chocolate chips with 1 teaspoon vegetable oil. Drizzled with a fine-tip squeeze bottle.
White sanding sugar, found on Amazon or Michael's craft store
Wilton holly berry sprinkles, found on Amazon or Michael's craft store
Instructions
Preheat the oven to 375 degrees F. Line a baking sheet with parchment paper and set aside.
In a large bowl, or the bowl of your stand mixer fitted with a paddle attachment, combine butter and sugar. Cream for one minute, or until fluffy. Beat in egg until smooth. Mix in molasses until combined.
Sift flour, baking soda, cinnamon, ginger, cloves and salt into the butter mixture. Mix just until combined; do not over-mix. Cover and refrigerate dough for 10-15 minutes.
Place 1/4 cup sugar into a shallow bowl. Using a cookie scoop (about 1.5 Tablespoons), roll cookie dough into balls, then roll into the sugar. Place on the baking sheet, about 2 inches apart.
Bake for 10 minutes, until set. Let cool for 5 minutes before moving to a wire cooling rack.
Cool completely before decorating. Dip half of each cookie into melted white chocolate. Place on a wire rack or lined surface. Drizzle with additional chocolate and top with sanding sugar and berry sprinkles, if desired.
Enjoy!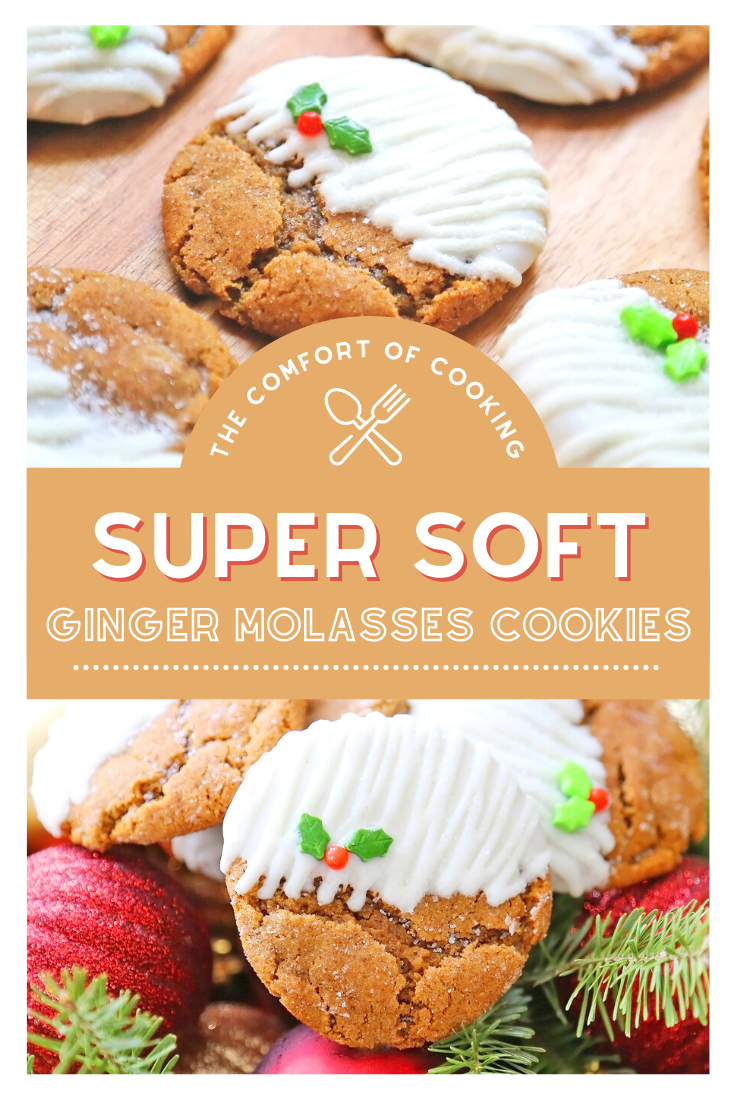 Want to receive our latest recipes straight to your email inbox? Click here to subscribe!