These super easy, soft and gooey apple pecan sticky buns are perfect for a special holiday breakfast. Get the recipe and read below to see my big announcement!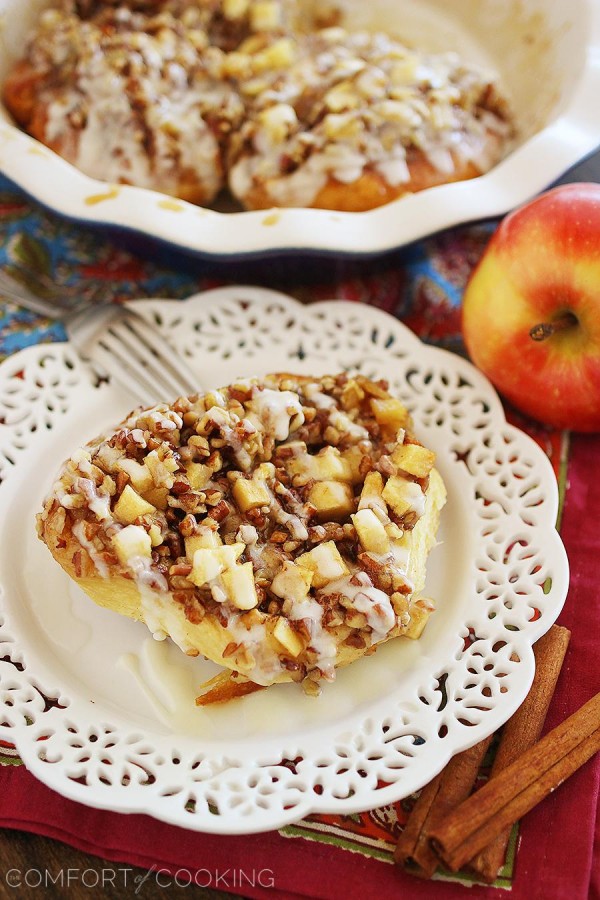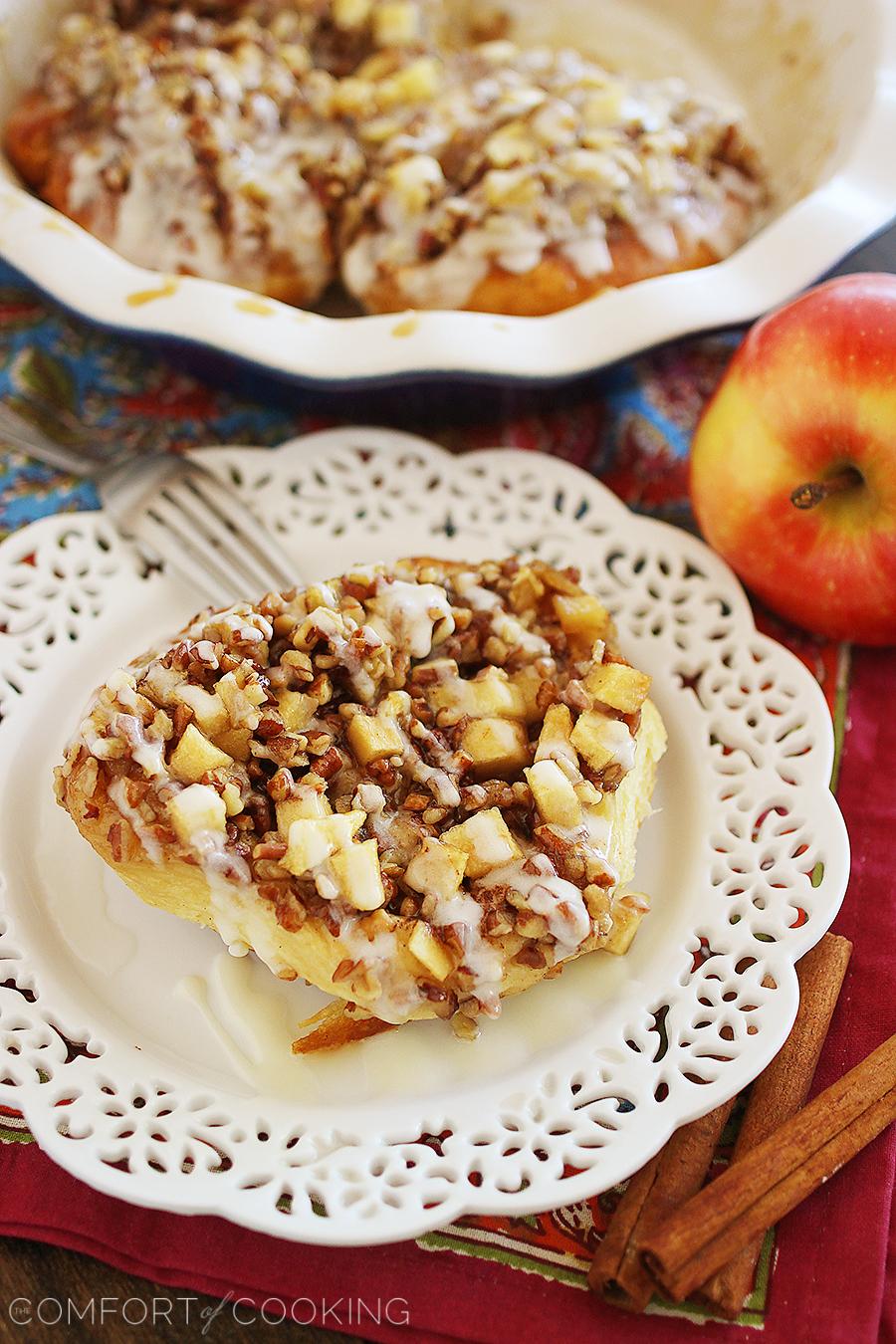 Happy Friday, friends!
Ohhh, do I have something exciting to share with you… and I'm not just talking about these mind-blowing sticky buns! We'll get to those later. But, in the meantime, I'm gonna munch on one while I tell you something special. Something I've been bursting at the seams to say for what feels like SO darn long!
Ya see, there's a reason I've been craving cheesesteaks and raspberries and string cheese and ooey-gooey cinnamon sticky buns for the past 3 months, and it's BECAUUUSE…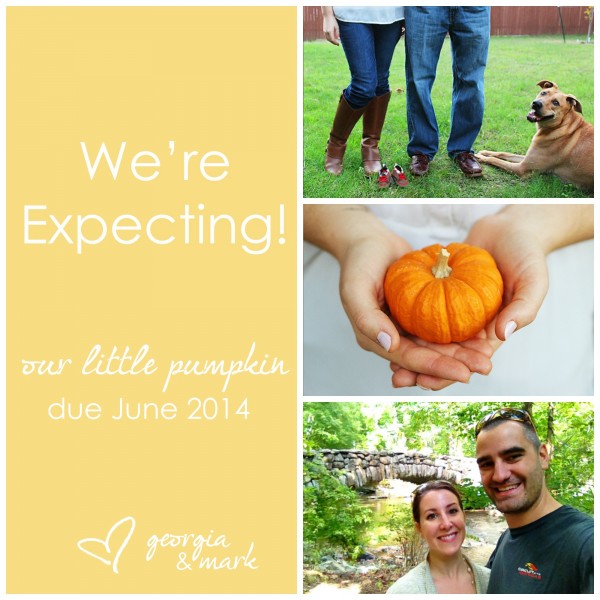 Yes indeedy, The Comfort Kitchen is baking up more than just cookies and pies lately… I've got a bun in the oven, y'all!!
Mark and I are overjoyed to be welcoming our first little pumpkin into the world this coming spring! And I'll be especially glad not to suffer through the sweltering Austin summer while pregnant, ha! But, I've been feeling terrific heading into my second trimester and will be 13 weeks along on Sunday. It's been an easy pregnancy so far, and I'm absolutely counting my blessings. They've been plentiful.
So, we're headed into the holiday season a bit more merrily than usual this year! I can definitely see myself stringing up another stocking on the mantle… and helping myself to an extra scoop of stuffing at Thanksgiving!
What? It's for THE BABY, okay?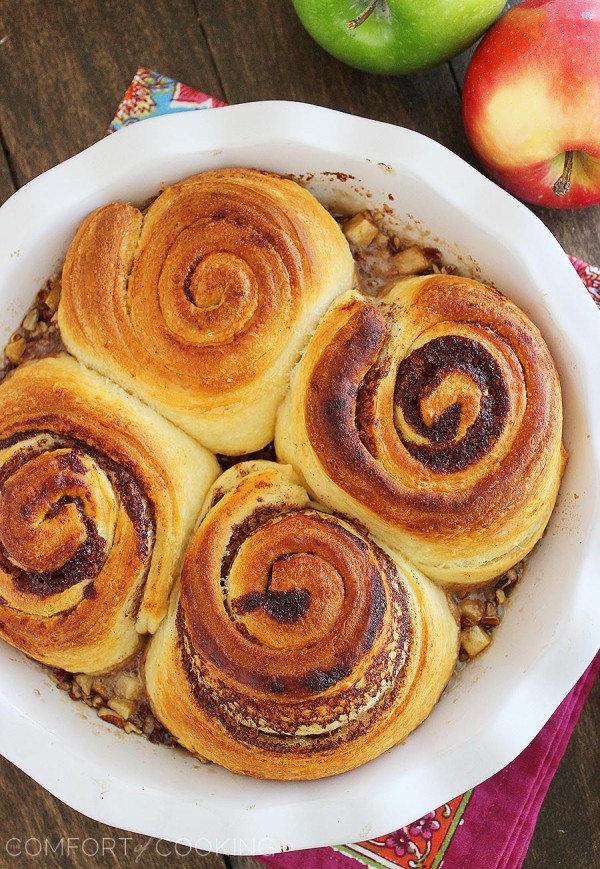 To celebrate this happy time and share the cheer, I baked up a different kind of "bun" for you today! These super easy sticky buns were made with Pillsbury cinnamon rolls, chopped pecans and apples, a bit of brown sugar, and butter. Five ingredients – that's it! Can you think of a more delicious and dangerous recipe for sticky buns? I think not.
In a word: They're outrageous. Rich and gooey, soft with a slight crunch from the pecans, melt in your mouth good, and UNREAL warm out of the oven.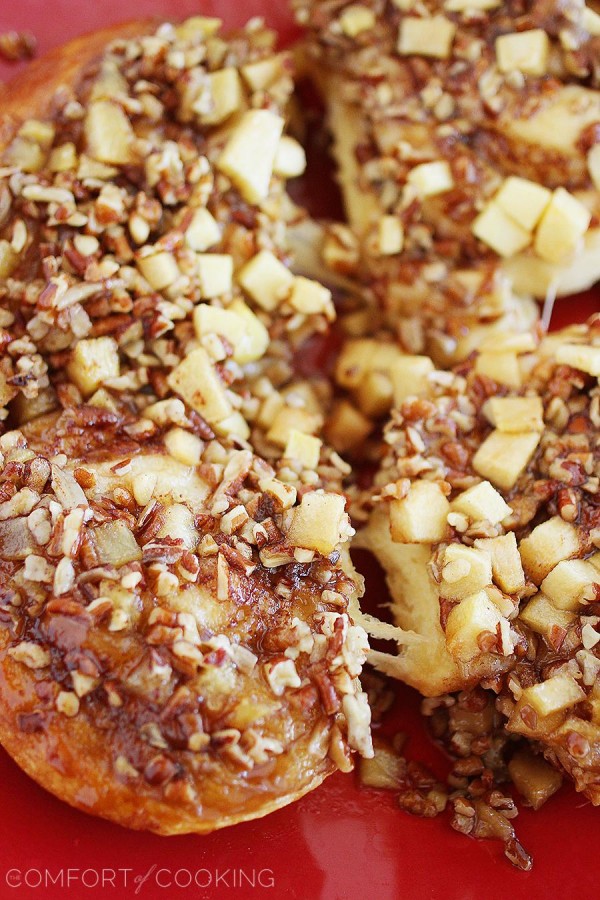 Definitely satisfied the sticky bun craving of my daydreams/night dreams/every waking moment dream. Yea, ever hear about those weird pregnancy dreams? They're no joke. And when my head hits the pillow, the star is sticky buns. Then I cry into my oatmeal for breakfast because I don't have one.
Sunday morning, that all changed!
These buns can seriously start a weekend morning off on the right foot. You won't believe how easy they are, too! Just melt butter in your pie pan or square baking dish, combine it with the brown sugar, and toss on your pecans and apples. Press your cinnamon rolls on top, bake, and presto! Just 30 minutes later, you've achieved breakfast bliss.
You guys, it tastes like a cinnamon roll that met a doughnut that married apple pie that got busy with a sticky bun.
Got your attention?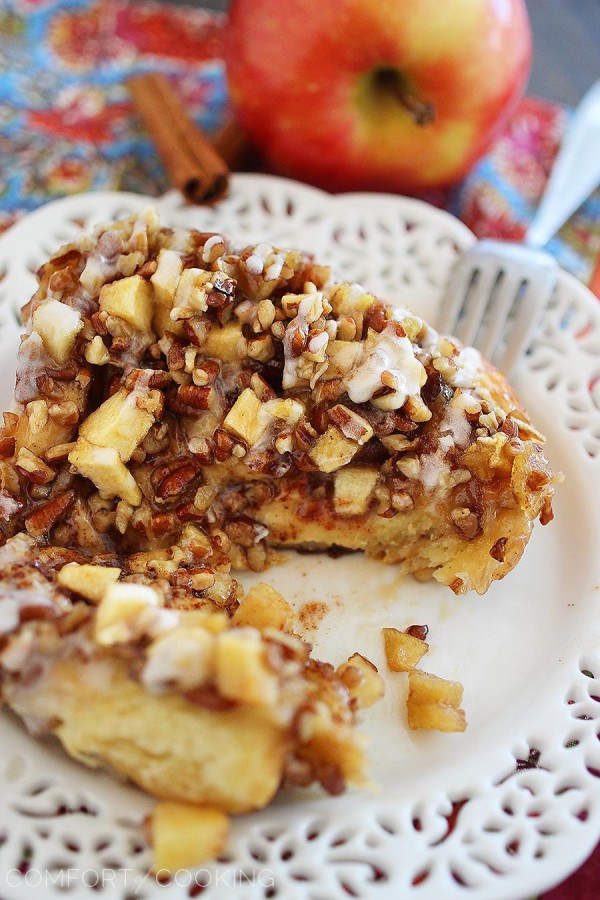 In other news… I'm headed up to Virginia today for the McCormick Mixed Conference, which will be a weekend full of fun, friends and food (the best F words!). On the agenda are lots of informative sessions, cooking demos, mingling and meeting people I've been working with but never met! Always fun to put a face to a little worker bee. My friends at McCormick are hosting a delicious demo on how to use different flavorings and colors for everyday baking and elaborate special occasion desserts. Definitely saving my appetite for that one!
I hope you have a wonderful weekend, friends! It means so much to me that you stopped by and came to see what's happening here. I'll be sure to keep you posted here and there as the pregnancy progresses, and share some funny stories along the way!
*UPDATE* We found out our little one's gender! Click here for the big reveal!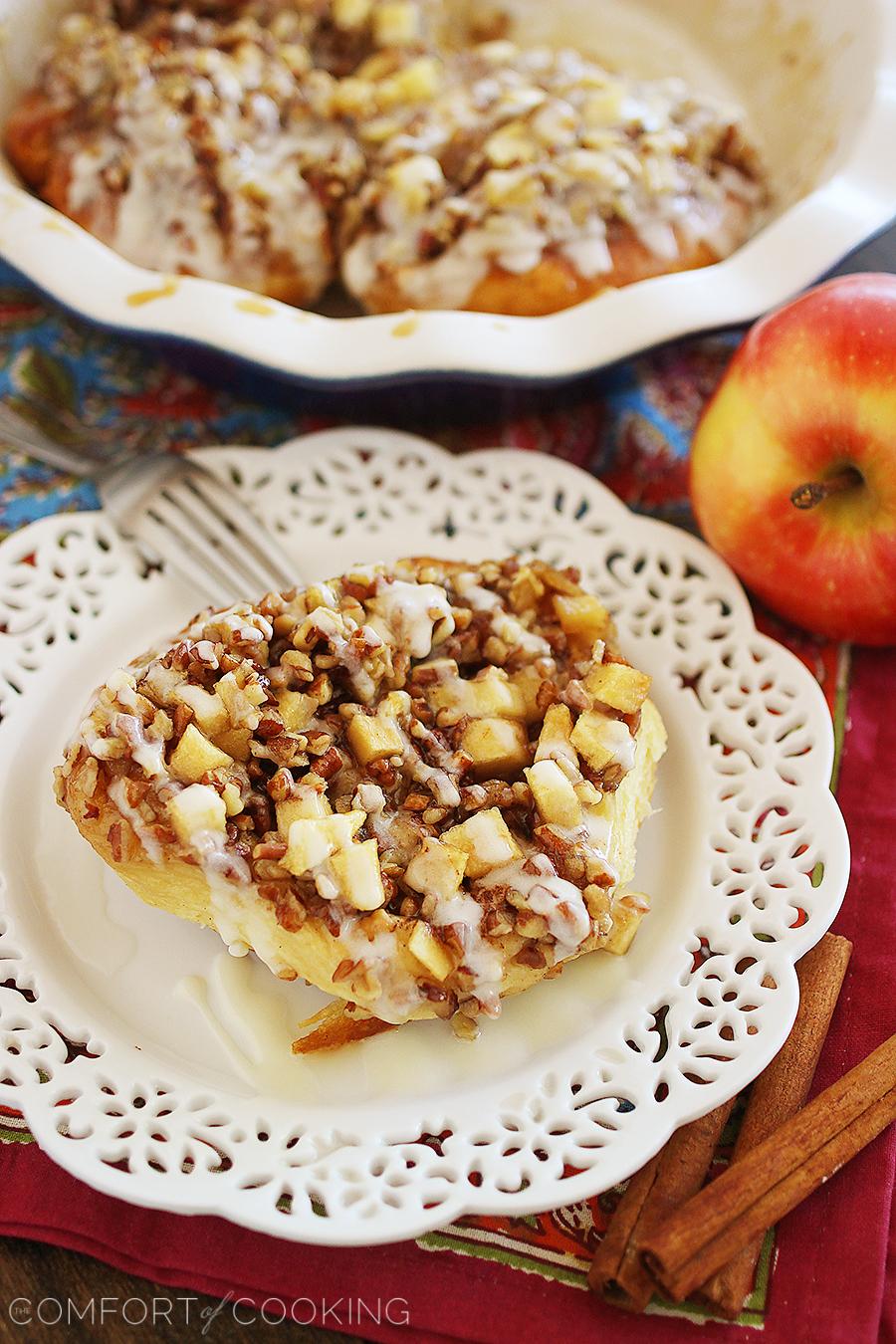 Easy Apple Pecan Sticky Buns
Ingredients
1/4 cup (1/2 stick) unsalted butter, melted
1/4 cup + 2 Tablespoons light brown sugar
1/2 cup chopped pecans
1 apple, cut into small chunks
1 17.5 oz. container Pillsbury cinnamon rolls, (4 per can)
Instructions
Preheat oven to 350 degrees F.
In the bottom of a pie dish or 9 x 9 baking pan, combine melted butter and brown sugar. Sprinkle pecan and apple pieces over butter-sugar mixture. Gently press cinnamon rolls on top.
Bake for 30 to 35 minutes, or until golden brown.
Once baked, immediately invert dish onto a serving platter. Let sit for 3 minutes before lifting dish.
Drizzle sticky buns with white icing from cinnamon roll container, if desired.
Enjoy!