Rise and shine with these homemade whole wheat English muffins… easier to make than you'd think and perfect for slathering with butter and berry jam!
Whenever my husband and I have guests stay overnight, early the next morning I'm up making coffee, scrambling eggs, and splitting soft English muffins to ready 'em for butter and berry jam. They always pad sleepily downstairs into the kitchen, wondering who this crazy lady is downstairs making all this plate-clanging, fridge-door-slamming racket. And then, they rub their eyes and insist that I just STOP going to all the effort, dammit, and sit down.
To which I always respond, "It's just what we do on weekends!"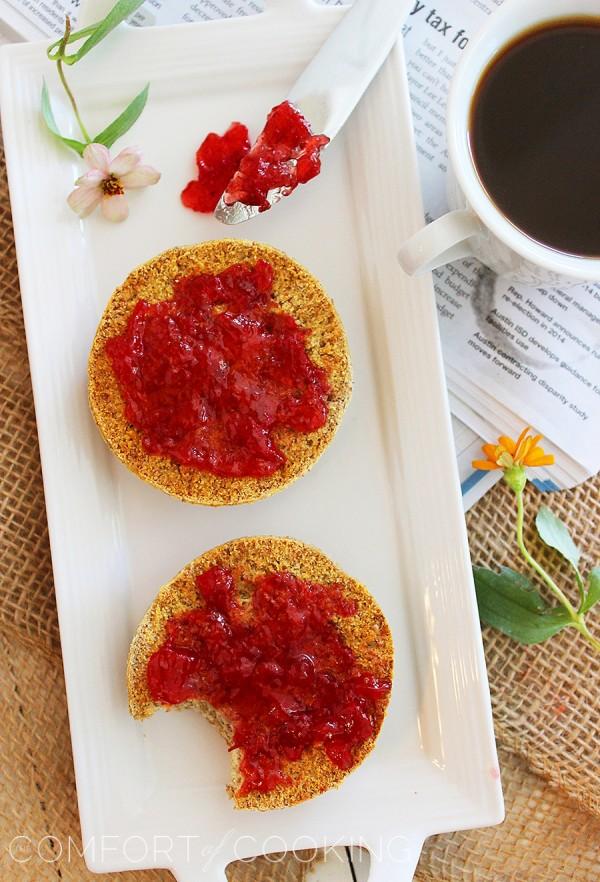 And it's true.
For as long as I can remember, we've bound out of bed (or maybe that's just me) Saturday through Sunday and made a big feast of a breakfast. When we first started this weekend tradition, it was blackened batches of pancakes, overcooked eggs and wiggly bacon (an injustice if ever there was one). But, after nine years of cooking morning meals together, we've graduated onto croque madames, baked donut holes and crisp ham and egg cups!
I still love a good English muffin slathered with butter and jam, though…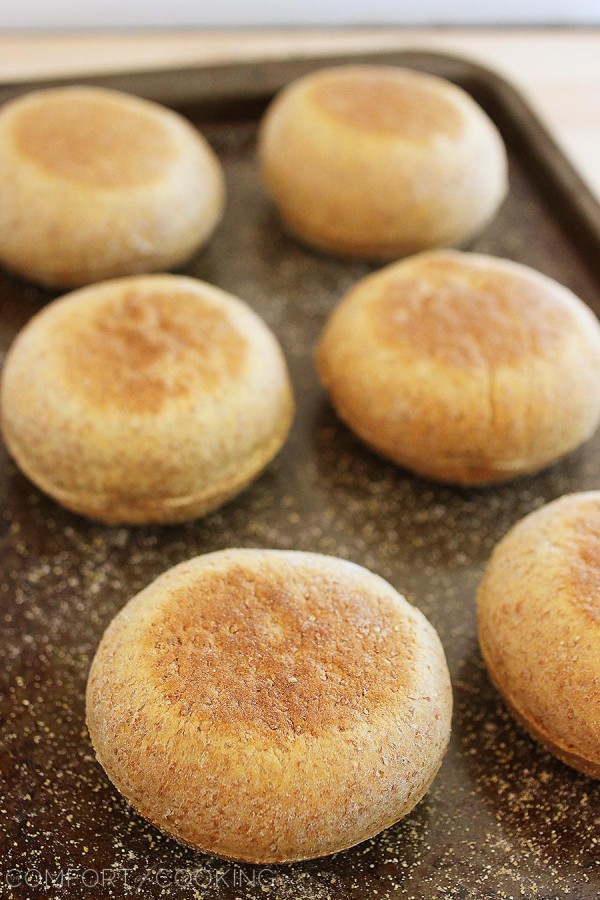 For an especially special weekend breakfast one morning, I decided to dive into this English muffin-making project the day before. Well, it was hardly a project since they were so easy – and the end result tasted like I had put forth much more effort!
Perfectly fluffy and with all those lovely little nooks and crannies for sinking strawberry jam into, these muffins made for a wonderful morning meal with fried eggs and strong coffee.
The time we take to slow down and just enjoy a lazy, leisurely breakfast together is so special to me. It doesn't need to be anything fancy, or even homemade. Heck, we've had cold pizza at 11am after especially long nights. But, when we do toss together something easy, homemade and cooked with a little heart and soul, that time spent is all the more delicious!
You're just gonna love these hearty whole wheat English muffins. They only need a half-hour rise, a handful of pantry staples, and a little thinking ahead. Pop a newspaper and a coffee alongside, and give your weekend an extra-special start with these homemade muffins!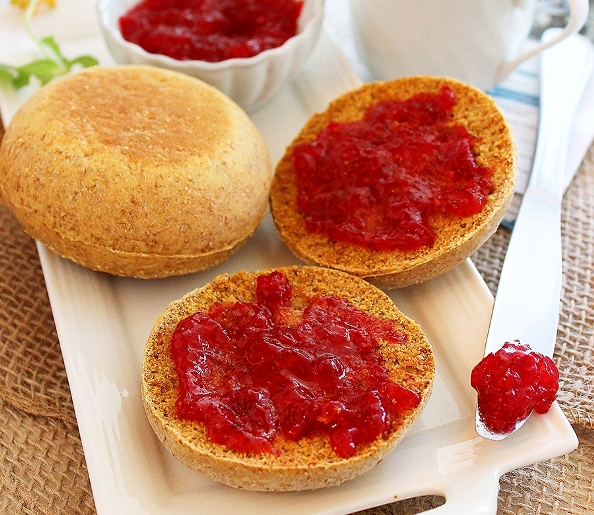 Whole Wheat English Muffins
Yield:
10 English muffins
Ingredients
1 3/4 cups whole milk
3 tablespoons unsalted butter
1 large egg
2 1/4 cups whole wheat flour
2 1/4 cups all purpose flour
1 1/4 teaspoons salt
1 tablespoon sugar
1 teaspoon baking soda
2 1/4 teaspoons 1 packet active dry yeast
Semolina flour or cornmeal, for dusting
Instructions
In a small saucepan, heat milk and butter over medium heat until butter has just melted.
In the bowl of a stand mixer fitted with the dough attachment, lightly beat egg with a fork. Add whole wheat flour, all purpose flour, salt, sugar, baking soda and yeast. Add the milk-butter mixture and mix on low until the dough comes together, about 1 minute. Mix on medium speed for an additional minute.*
Turn dough out onto a lightly floured surface and roll out to 1 inch thickness. Use a round cutter (approximately 3 3/4 inches) to cut English muffins, re-rolling the dough as needed. Place cut dough on a baking sheet dusted with semolina flour or cornmeal. Cover with a towel and allow dough to rise for 20 minutes in a warm place.*
Preheat oven to 325 degrees F. Using a nonstick skillet on medium-low heat, cook muffins for 4-5 minutes per side, until bottoms are lightly golden brown. Place muffins on a baking sheet and bake for 15 minutes.
Before serving, split and toast English muffins. Serve with butter and jam, or however you like them best.
Enjoy!