Warm, scrumptious comfort food in one big pan… perfect for weeknights and special occasions, and made easy with pre-marinated whole chickens!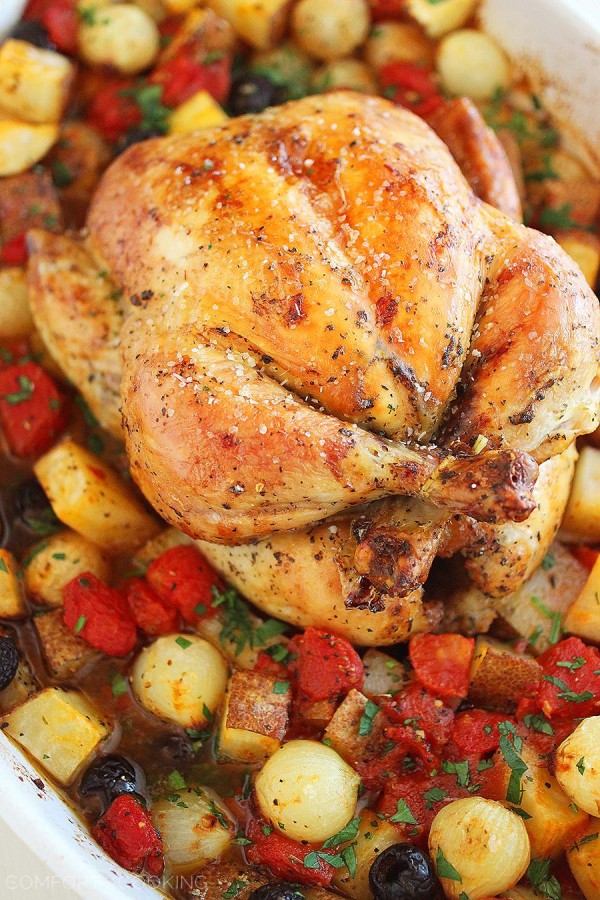 Confession: There are a few culinary feats that scare me to even think about cooking and baking. Luscious lobster Thermidor, French macarons, beef Wellington, and fluffy layer cakes top the list. A meal fit for a king, right? Yea. I'll stick with peasant food, thanks.
But, I've gotta say – the number of desserts and dishes that are scary to me has dwindled down significantly since I first began experimenting in the kitchen. My old list? Crisp roasted chicken, artisan bread, homemade pizzas, and a gorgeous, gooey apple tarte tatin. Been there, done that!
I can see how new cooks could still be intimidated by these, though. They take patience and time, even if the recipes seem easy, and a real love for the ingredients going in.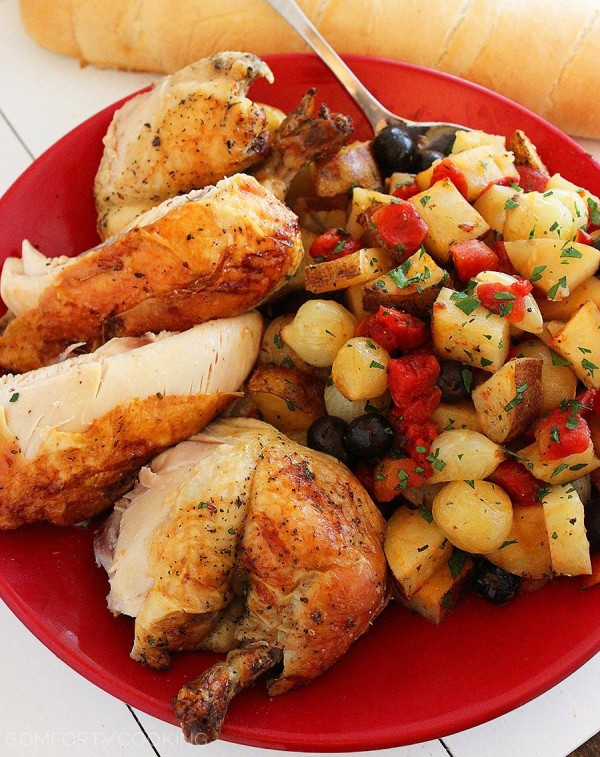 Roasted chicken has not only become a food fear I'm proud to have overcome, but a mouthwatering staple for our weeknights and dinner parties!
I've made many a roasted chicken since getting over the hump – buttered, basted, twined, trussed and stuffed with every herb, onion and citrus under the sun. Some have been incredibly simple, others have taken a little more work. This one was one of the best I've ever tasted, though – and you won't believe how easy it was!
Here's my secret…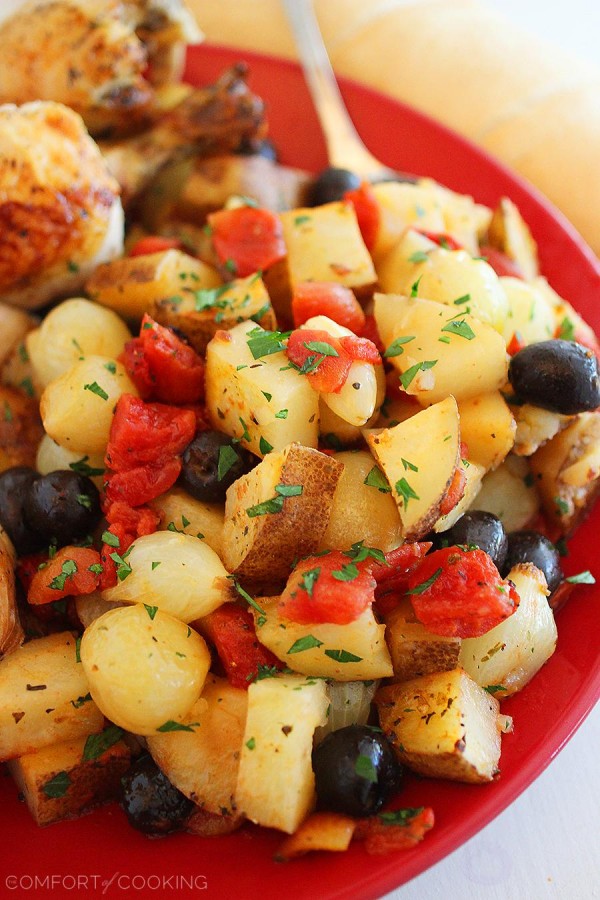 I've always been a big fan of Gold'n Plump® chickens, and when I found out they had a new line of whole chickens, pre-trussed and pre-seasoned, I jumped on it. The only thing I don't like about making roasted chicken is the rather icky prep work… grabbing those goopy innards makes me gag. Slathering on butter and seasonings is so messy! But, when you get a Gold'n Plump® Seasoned Whole Chicken, it's all done for you. No muss, no fuss.
Sign. me. up.
They make a whole range of fun flavors, but the pesto was my favorite by far. A mix of garlic, basil, and Parmesan cheese made for one of the most crispy, tender chickens I've ever cooked!
Tossed with a Mediterranean medley of potatoes, pearl onions, diced tomatoes and Italian herbs, this was one killer one-pan meal. And it was done in just an hour! You can even do the prep before work, pop the whole tray (potato mixture and all) into the fridge, and right into the oven it goes after your long day. Warm, flavorful homemade goodness without breaking your back.
Isn't that what we all strive for Monday through Friday anyway?
Get your hands on one of these incredible chickens and give this delicious dinner a whirl for yourself. It's so simple and comforting, and if you're just a tiny twosome like us (until June!), will give you leftovers for days.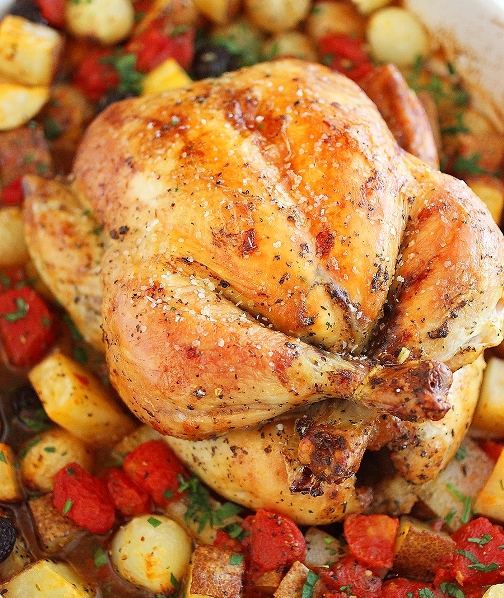 Pesto Roasted Chicken with Potatoes, Olives and Onions
Ingredients
1 14.5 oz. can diced tomatoes, drained
1 10 oz. bag pearl onions, peeled*
3 whole cloves garlic, peeled
1 large russet potato, chopped
1/2 cup whole black ripe olives
1/4 cup olive oil, divided
1 teaspoon kosher salt
1/2 teaspoon ground black pepper
1 teaspoon Italian/Greek/Mediterranean seasoning
Instructions
Preheat oven to 350 degrees F.
Remove whole chicken from all bags and place breast side up in a large casserole dish. Drizzle with 1 Tablespoon olive oil and place in preheated oven. Roast for 2 to 2 1/2 hours from frozen, or 1 to 1 1/2 hours thawed.
Meanwhile, combine diced tomatoes, pearl onions, garlic, potato, and olives in a large bowl. Toss with 2 Tbsp. olive oil, salt, pepper and Italian seasoning. Set aside.
With 1 hour remaining roasting time, remove chicken from oven and scatter vegetable mixture around chicken. Drizzle all over, including chicken, with remaining 1 Tbsp. olive oil and season with additional salt and pepper. Continue roasting for 1 hour, or until chicken is done.
To check chicken doneness, insert a meat thermometer into the thigh (not touching bone). Chicken is done when internal temperature reaches 180 degrees F and juices run clear.
Let chicken rest 10 minutes before carving. Serve with vegetable mixture.
Enjoy!