Soft, festive gingerbread man cookies with warm winter spices – made from scratch and all fancied up for the holidays! Get the recipe and whip up a batch this weekend.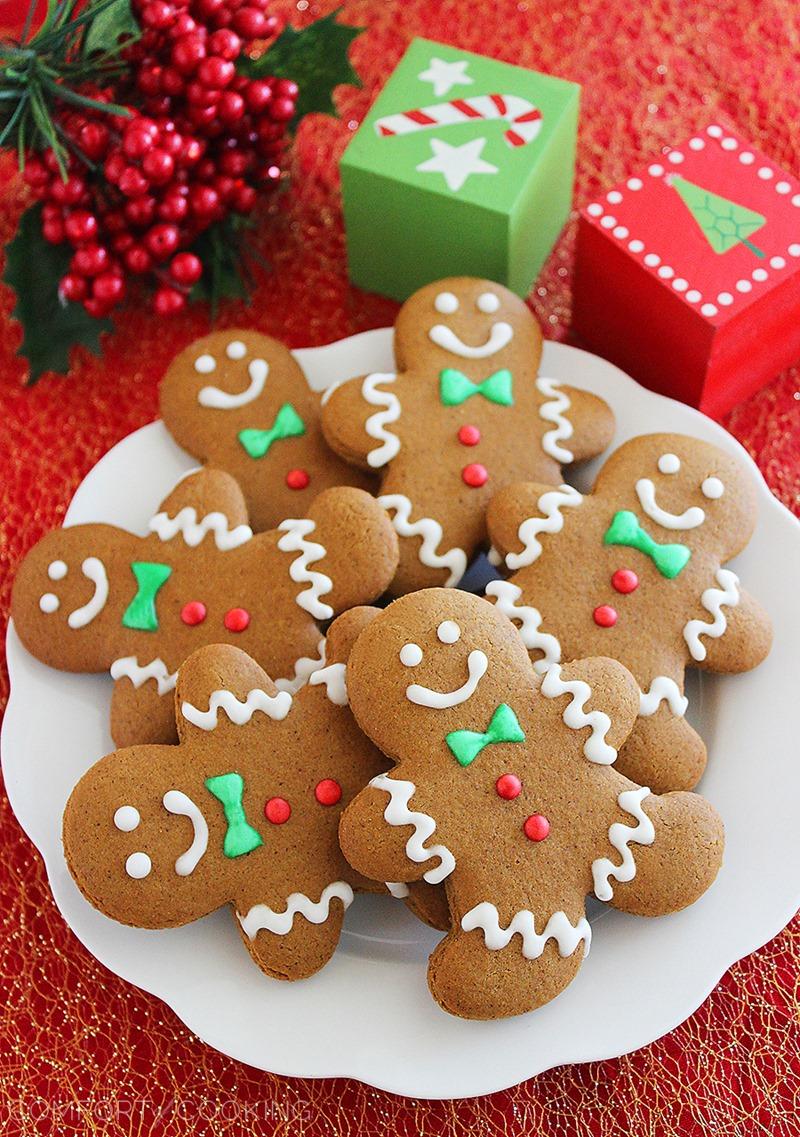 Bring in the merriment and mugs of cocoa, y'all! I am admittedly obsessed with Christmas this year.
The house is glittering and gorgeous and dripping with holiday cheer, but the amount goodies my oven is churning out is getting ridiculous. Though, I've discovered something. It's not as much about how much I love sweets as it is about keeping my body from turning into one giant icicle. A warm oven churning away keeps the house cozy, right?
… Can you tell I live with a man who refuses to budge on the thermostat?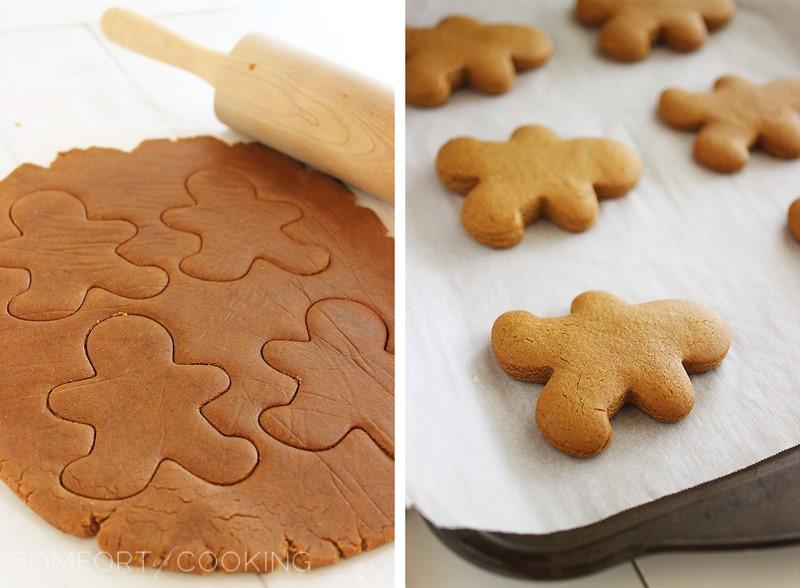 I'm not getting any complaints from him on all the cookies (and slightly higher electric bill), though. This past weekend brought heaps of buttery jam thumbprints, salted caramel sauce, peppermint marshmallows, and stacks of these scrumptious golden gingerbread men… so cute you could gnaw their little arms and legs right off!
And I did.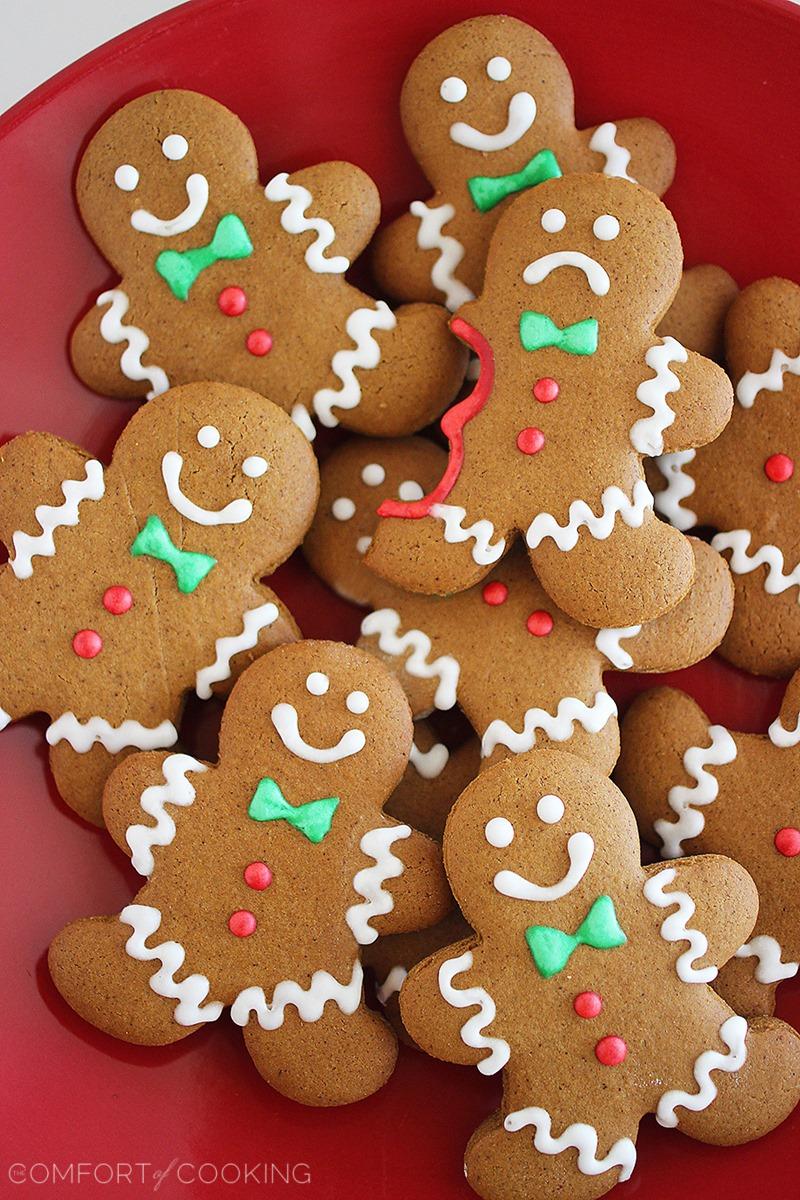 … Or maybe that was just all the other gingerbread men not playing nice. They're gonna be on Santa's naughty list for sure!
Gingerbread men have been on my must-conquer cookie list forever, and I was so happy to have such great success with this recipe. You'll love it for your Christmas cookie baking, and these make great gifts, too! The dough was easy peasy to roll, and by cutting the shapes and freezing for a few minutes before transferring to your cookie sheet, your gingerbread men don't get warped by your warm hands. Loved that tip by the recipe's rave reviewers!
A fine tipped squeeze bottle made piping on the royal icing a breeze, and so far they've stored beautifully (nice and soft) for 5 days in an airtight container. Totally my go-to holiday cookie for years to come!
In collaboration with Zappos, I put my own sweet spin on a recipe they suggested to me, to share with you! They're in my turf of Austin, TX this weekend (Dec. 14-15), touring the city with their gingerbread man. You can follow his adventures at #ZapposGingerbreadMan and be eligible to win great prizes if you do!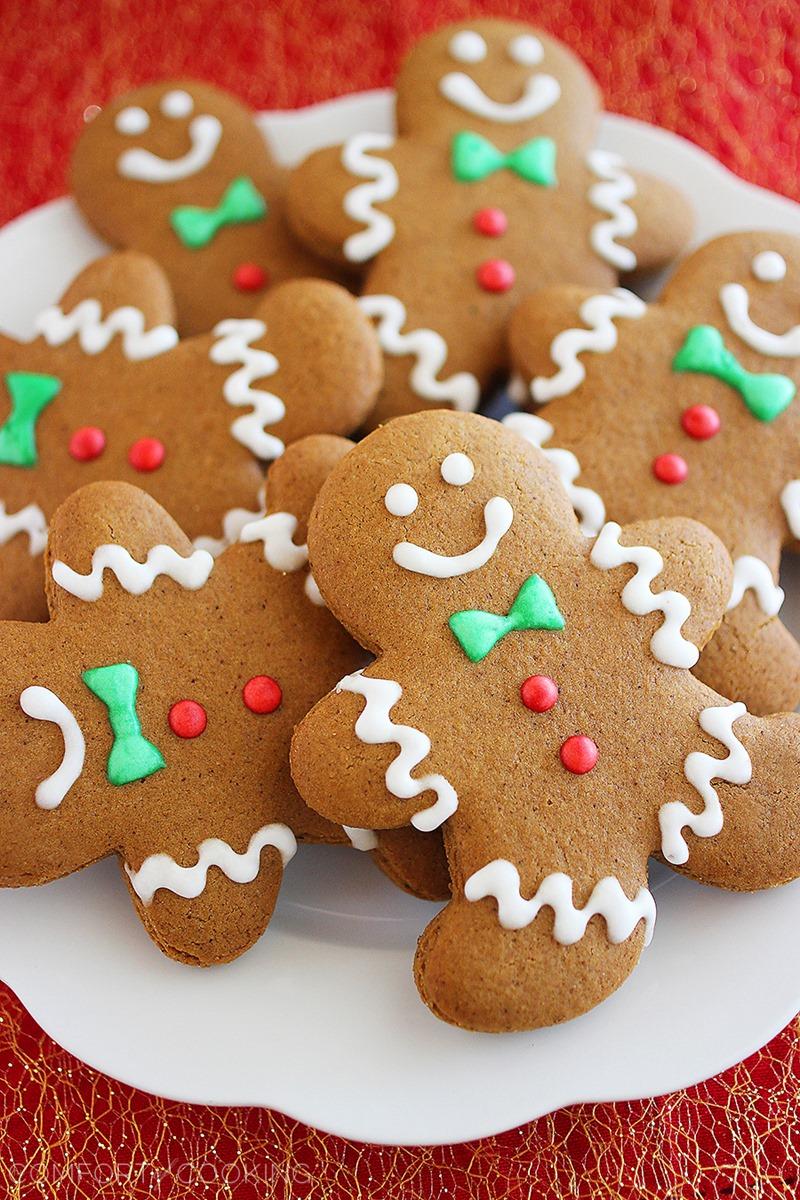 Anyway, back to the good stuff. COOKIES!
You'll love these easy, festive gingerbread men loaded with warm winter spices and cheery charm. The dough bakes up a spicy, soft cookie that creates an incredible aroma in your home. Plus, these little men are just as delicious as they are cute to look at! Whip up a batch this weekend to get in the holiday spirit, and sneak a batch over to someone on Santa's "nice" list!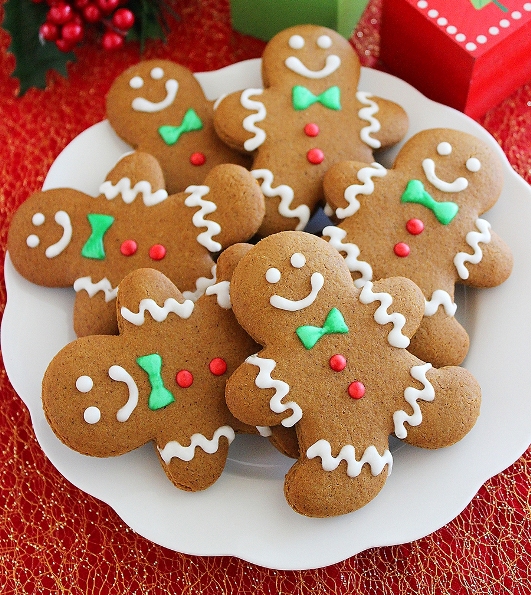 Spiced Gingerbread Man Cookies
Ingredients
3 cups all-purpose flour
1 1/2 teaspoons baking powder
3/4 teaspoon baking soda
1/4 teaspoon salt
1 Tablespoon ground ginger
1 1/2 teaspoons ground cinnamon
1/4 teaspoon ground cloves
6 tablespoons unsalted butter, softened
3/4 cup brown sugar
1 large egg
1/2 cup molasses
2 teaspoons vanilla extract
Instructions
To make the dough:
In a medium bowl whisk together flour, baking powder, baking soda, salt, ginger, cinnamon, and cloves until well blended.
In a large bowl, or the bowl of your stand mixer fitted with the paddle attachment, beat butter, brown sugar, and egg on medium speed until well blended. Add molasses and vanilla. With your mixer on low speed, gradually stir in dry ingredients until blended and smooth.
Gather dough with your hands into a ball and divide dough in half. Shape each half into a round disk and wrap each half in plastic. Refrigerate up to 4 days. Let dough come to room temperature before using.
To roll and bake:
When ready to bake, preheat oven to 375 degrees F. Line 2 large baking sheets with parchment paper.
Roll each portion of dough 1/4-inch thick between two sheets of waxed paper. Cut out shapes with cookie cutter. Remove excess dough from around the cookies (as best you can), and transfer wax paper sheet to the freezer. Freeze for 10 minutes, then remove shapes to your lined baking sheets, spacing 2 inches apart. This makes transferring the cookies while keeping their shape SO much easier!
Bake 1 sheet at a time for 7-9 minutes. Let cookies rest on baking sheet for 2 minutes before removing to a wire rack. Once cookies are completely cool, decorate as desired.
To decorate with royal icing:
Make royal icing by combining 1 Tablespoon meringue powder with 2 cups powdered sugar and 3-5 Tablespoons water in the bowl of a stand mixer. Using the paddle attachment, beat icing until smooth and matte, about 5 minutes. Add more water to thin, if necessary. Separate icing into batches and tint with food coloring. Using piping bags or squeeze bottles with fine tips, pipe icing onto cooled cookies.
Store in an airtight container up to 1 week.
Enjoy!