You'll love these FIVE ingredient little cheesecake stuffed strawberries. Only 60 calories per piece and SO easy + elegant! Perfect for spring or summer parties!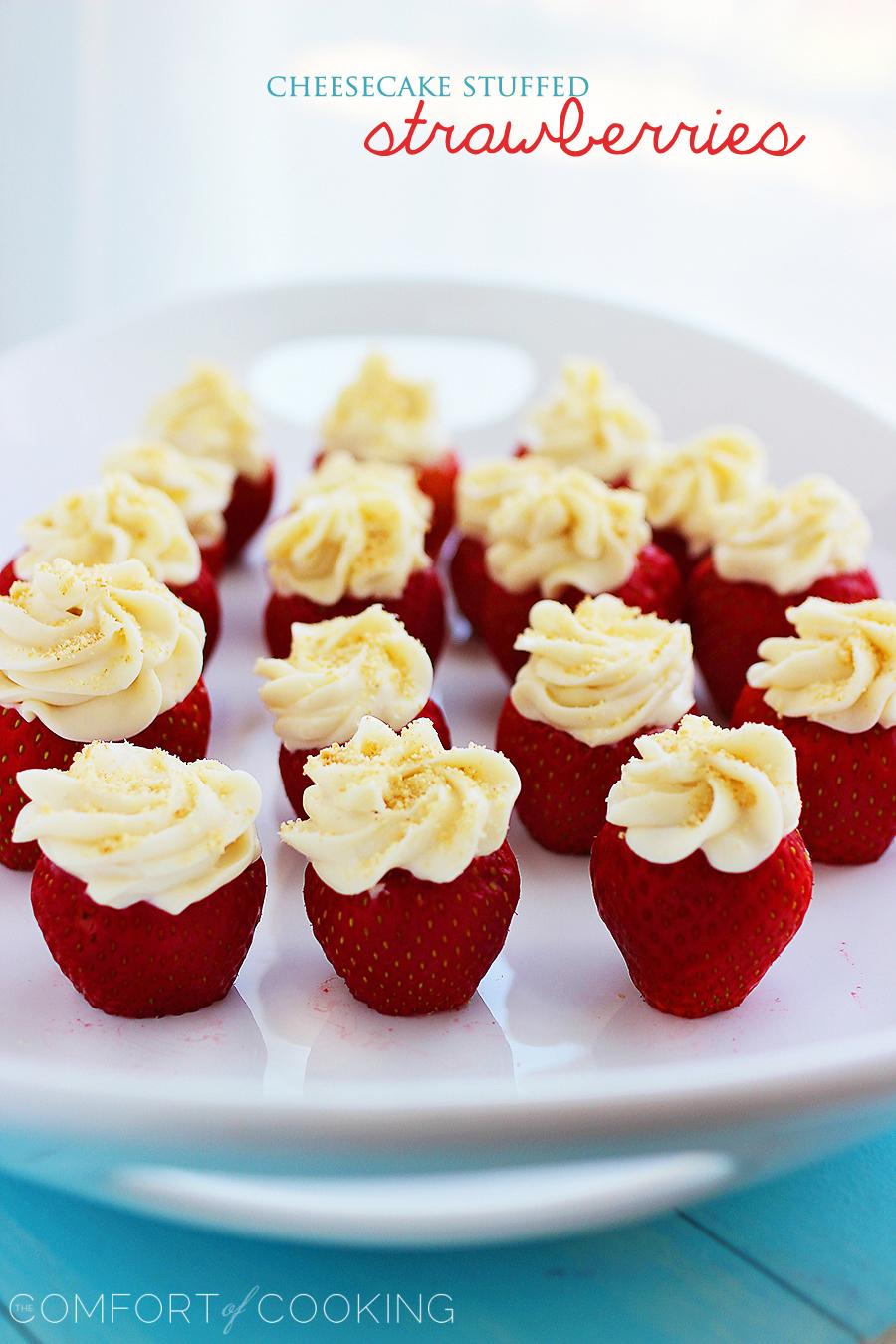 Not sure where I took a left turn, but cheesecake is my new obsession – I love it! Maybe it's just one of those things that continues to prove "tastes change." Or maybe it's because my husband hates it and I never bother making a big ol' cheesecake for one.
Where has this stuff been all my life?!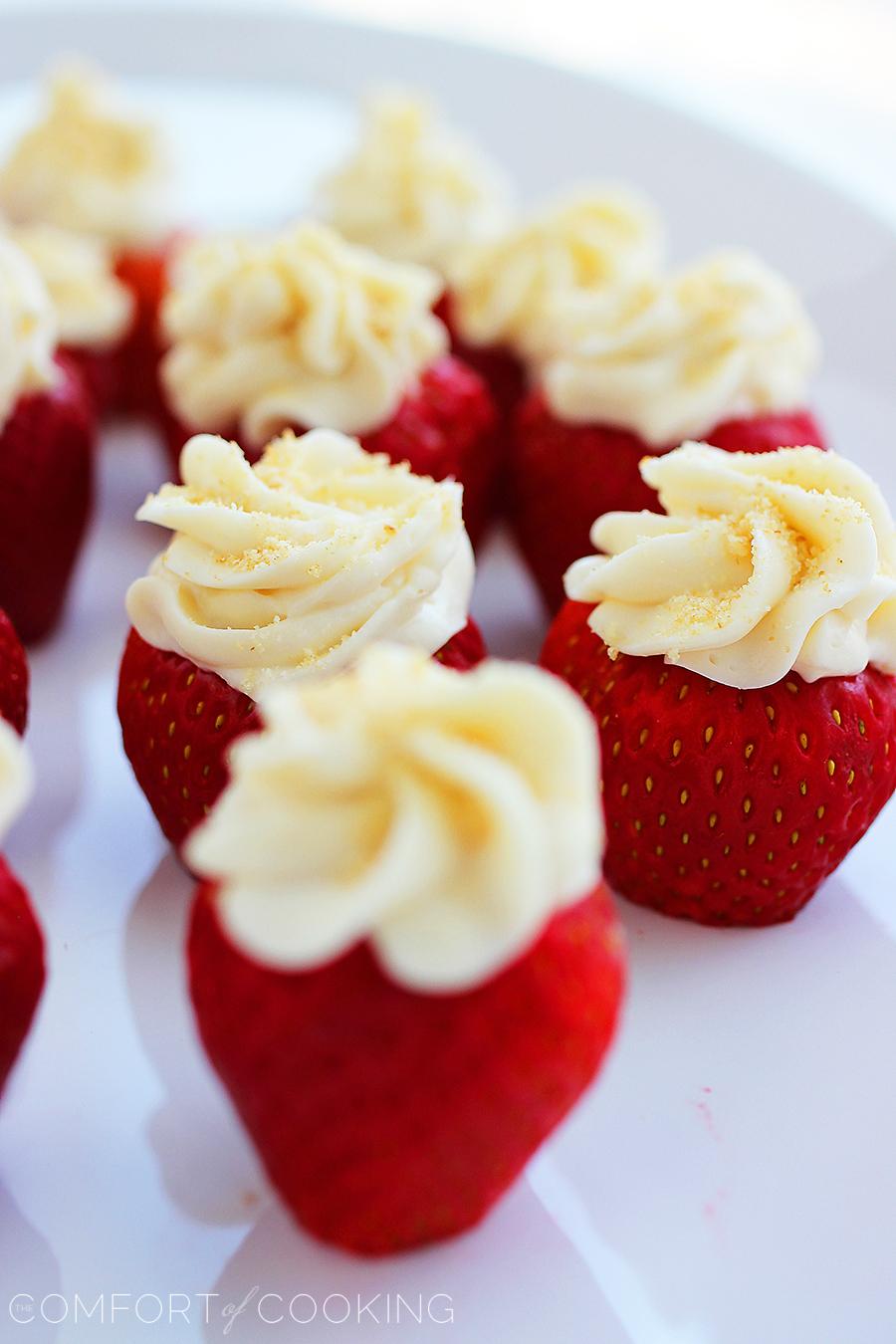 Still, these are just little bites – barely enough to fully rediscover a cheesecake love. But, trust me, if you've got a craving (and a lil' devil on your shoulder reminding you of that two-piece), these are IT. They totally satisfy at only 60 calories apiece, and will make party guests swoon…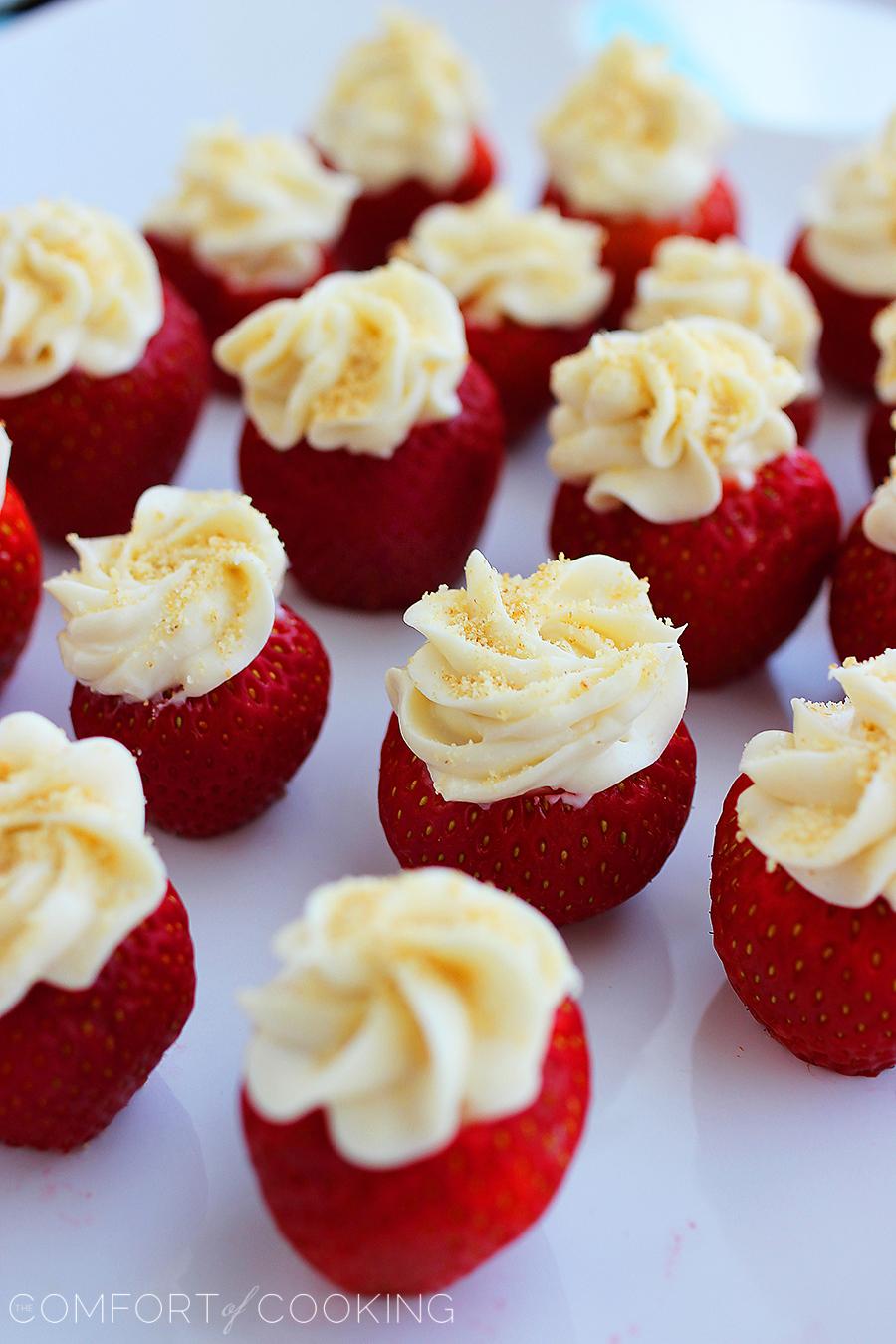 Sprinkle on some graham cracker crumbs, arrange them all pretty, and watch 'em fly off the platter!
True story: Hubby may hate cheesecake, but I actually had a problem getting these out the door and over to a girls' night. The man wouldn't keep his greedy paws off these pretty little thangs!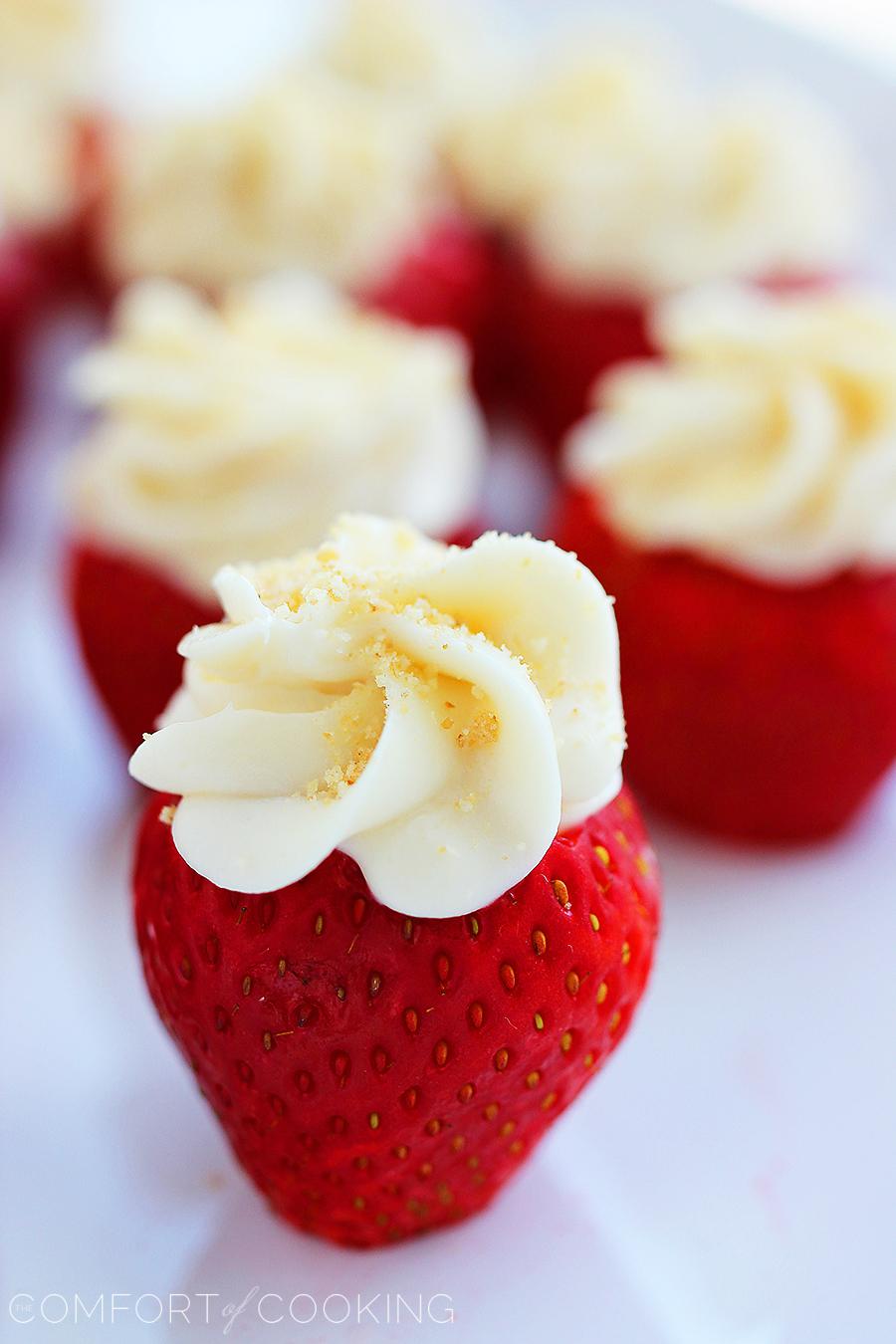 These cute, colorful bites are incredibly easy and perfect for any spring or summer party. Just mix together cream cheese, powdered sugar and vanilla extract. Hull a whole carton of strawberries, pipe in the cream cheese mixture (or just spoon it in if you're tight on time), and pop them in the fridge 'til party time!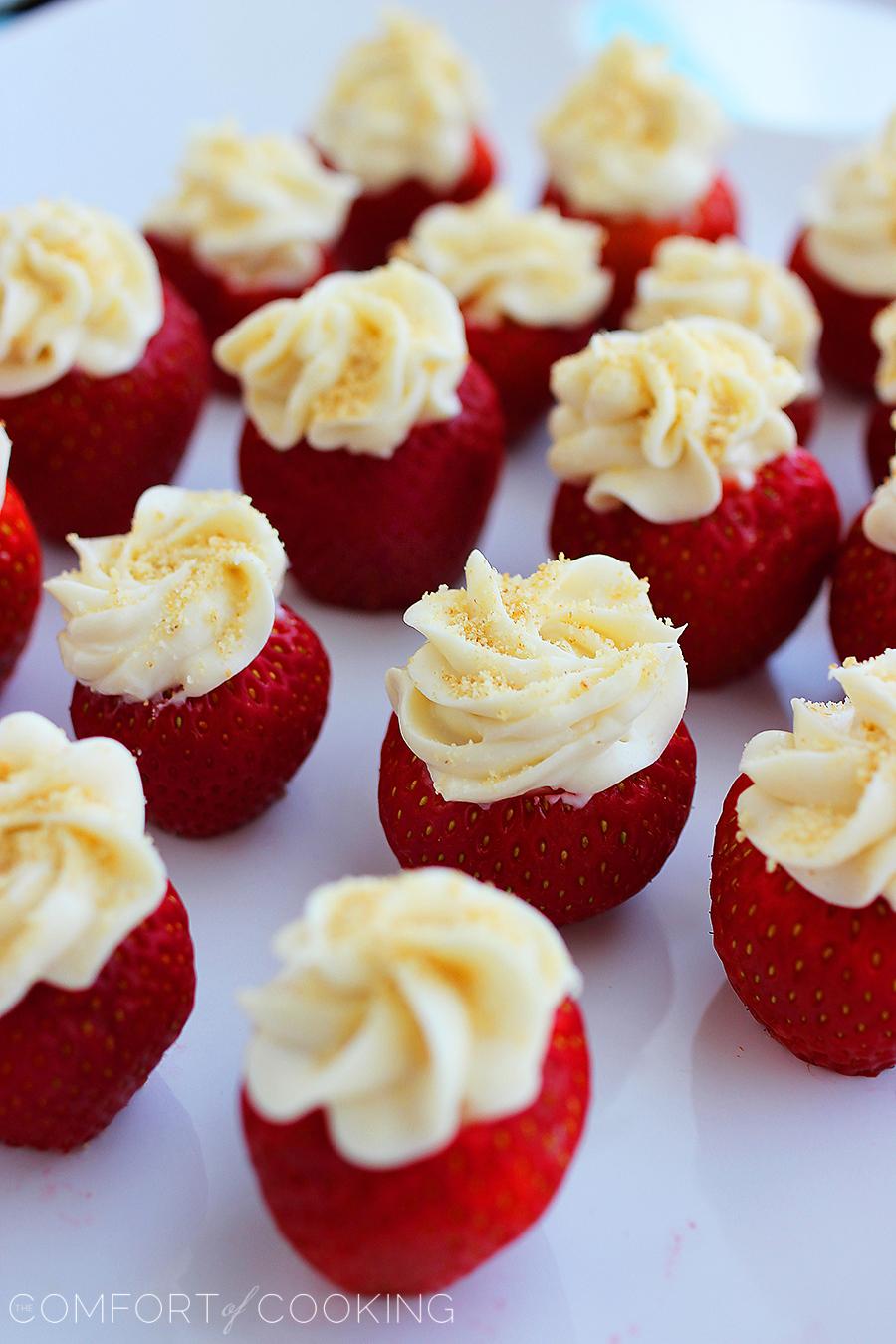 Cheesecake Stuffed Strawberries
Yield:
16 to 20 stuffed strawberries
Ingredients
1 lb. fresh strawberries, rinsed and pat dry
8 oz. cream cheese, softened
1/2 cup powdered sugar
1 teaspoon vanilla extract
Graham cracker crumbs, optional
Instructions
With a paring knife, cut off the strawberry stems. Cut around the inside of the strawberry, hollowing out slightly and creating a well for the cheesecake. (You can also do this with a small melon baller). Cut off a small portion of the pointy strawberry tip, so that each strawberry can stand. Place each on a large baking sheet.
In a medium bowl, with a standing or handheld electric mixer, beat cream cheese, sugar, and vanilla until fluffy, about 2 minutes on medium speed. Place mixture in a pastry bag and pipe into each strawberry, adding a little extra to the top. Refrigerate until thoroughly chilled.
Optionally, sprinkle graham cracker crumbs on top of each stuffed strawberry.
Enjoy!