Calling all chocolate lovers! These double chocolate delights are easy to make, with under 10 ingredients, in just 10 minutes. Super soft, chewy and melt-in-your-mouth good with a cup of coffee or milk.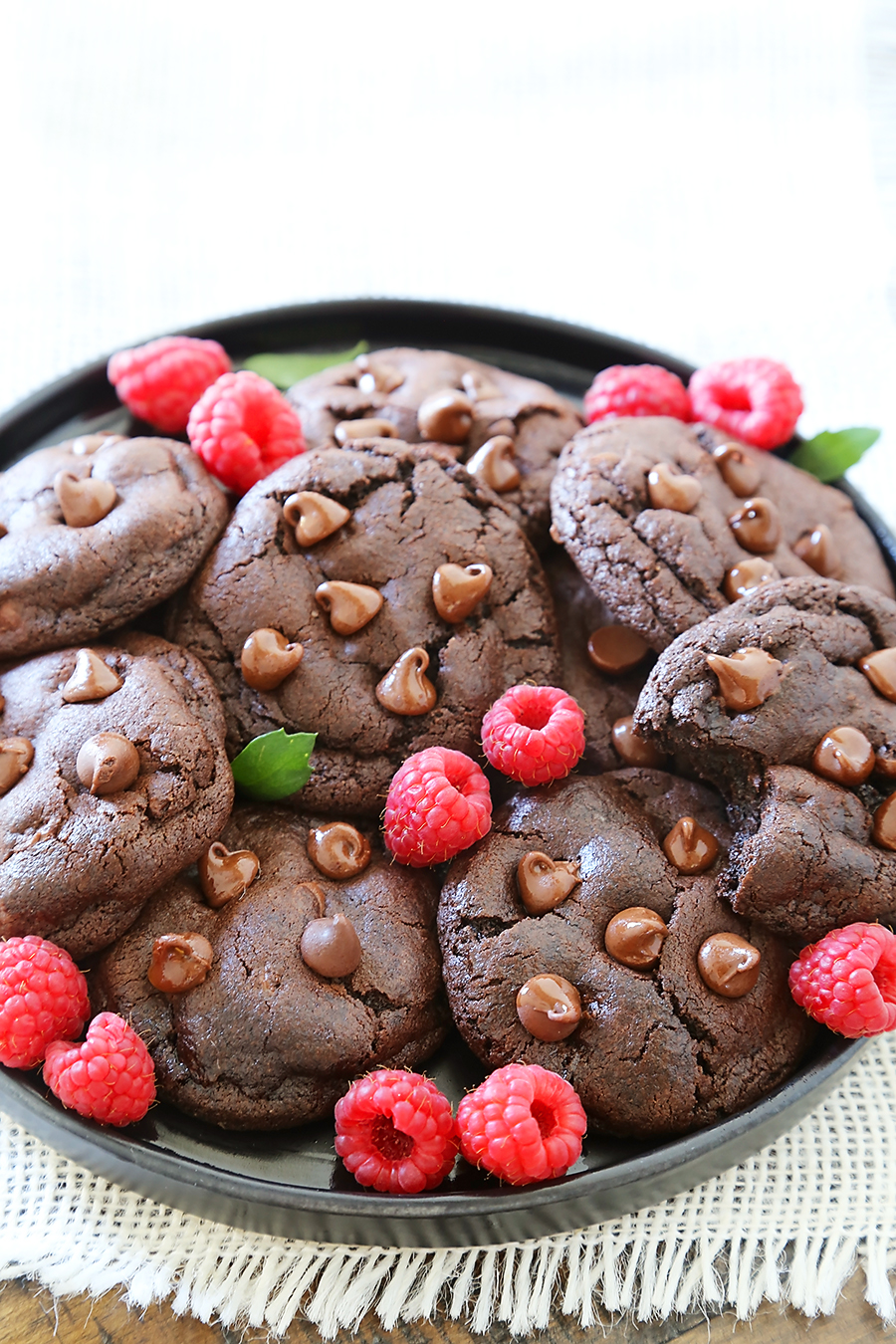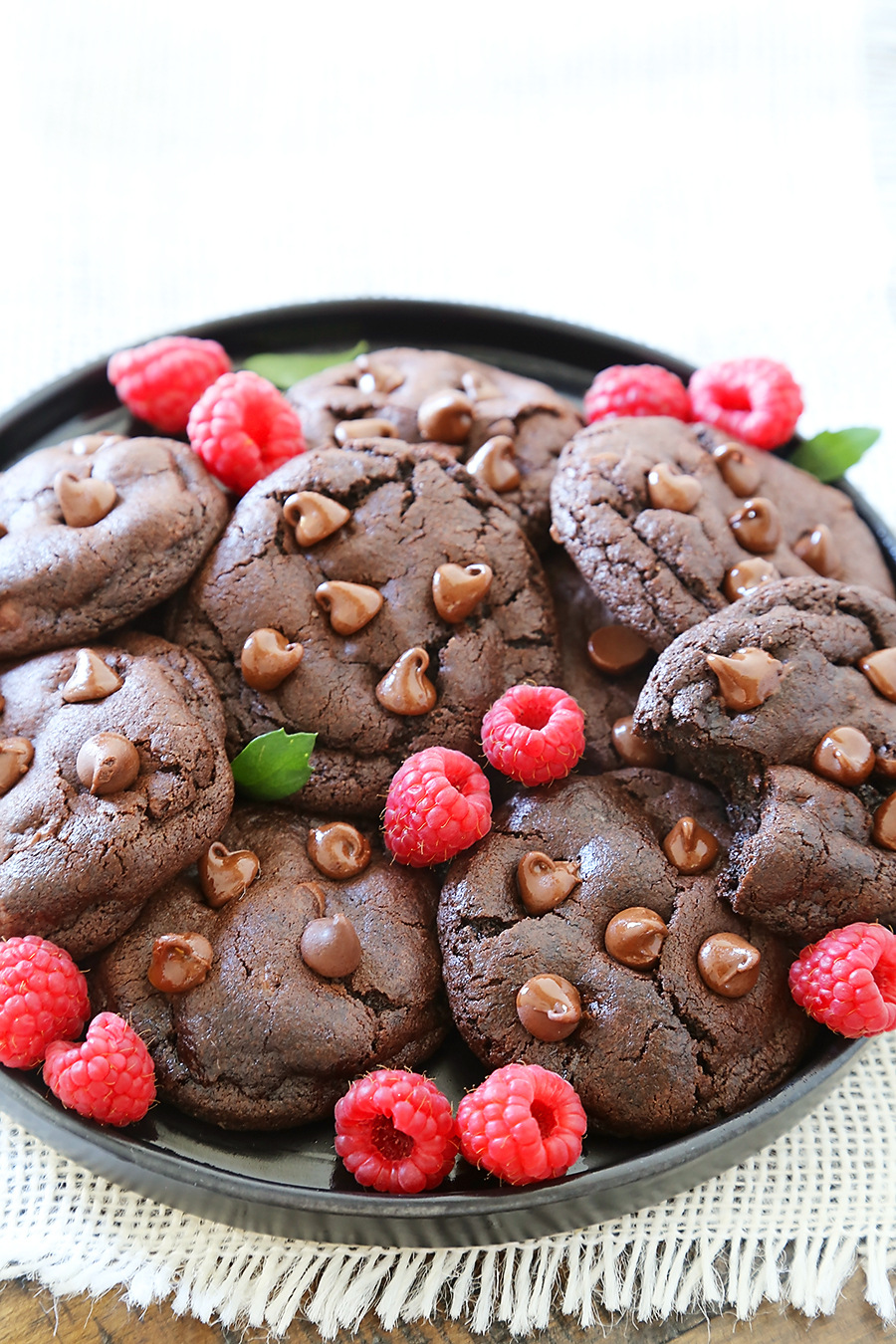 Go ahead, grab one. Maybe two or three. Curl up on the couch with your favorite Netflix show, or a good book, and just enjoy yourself. Stretch out a little, close your eyes and savor the scrumptiousness of the most perfect chocolate cookie you've ever had.
These dark chocolate delights will quickly become one of those desserts that you can't stop thinking about, long after you've polished off the platter. Like a cross between a fluffy cake, chewy brownie and a buttery-soft cookie, there is a little something for everyone tucked inside these treats. Even with all the chocolaty goodness they possess, these cookies are not cloyingly sweet, but rather creamy and buttery, with the subtle tang of dark cocoa powder. A perfect match for a cup of hot coffee or cold milk. Hot out of the oven, there is just about nothing more irresistible for chocolate lovers!
Want to bake your own batch to share with friends or family? Keep reading!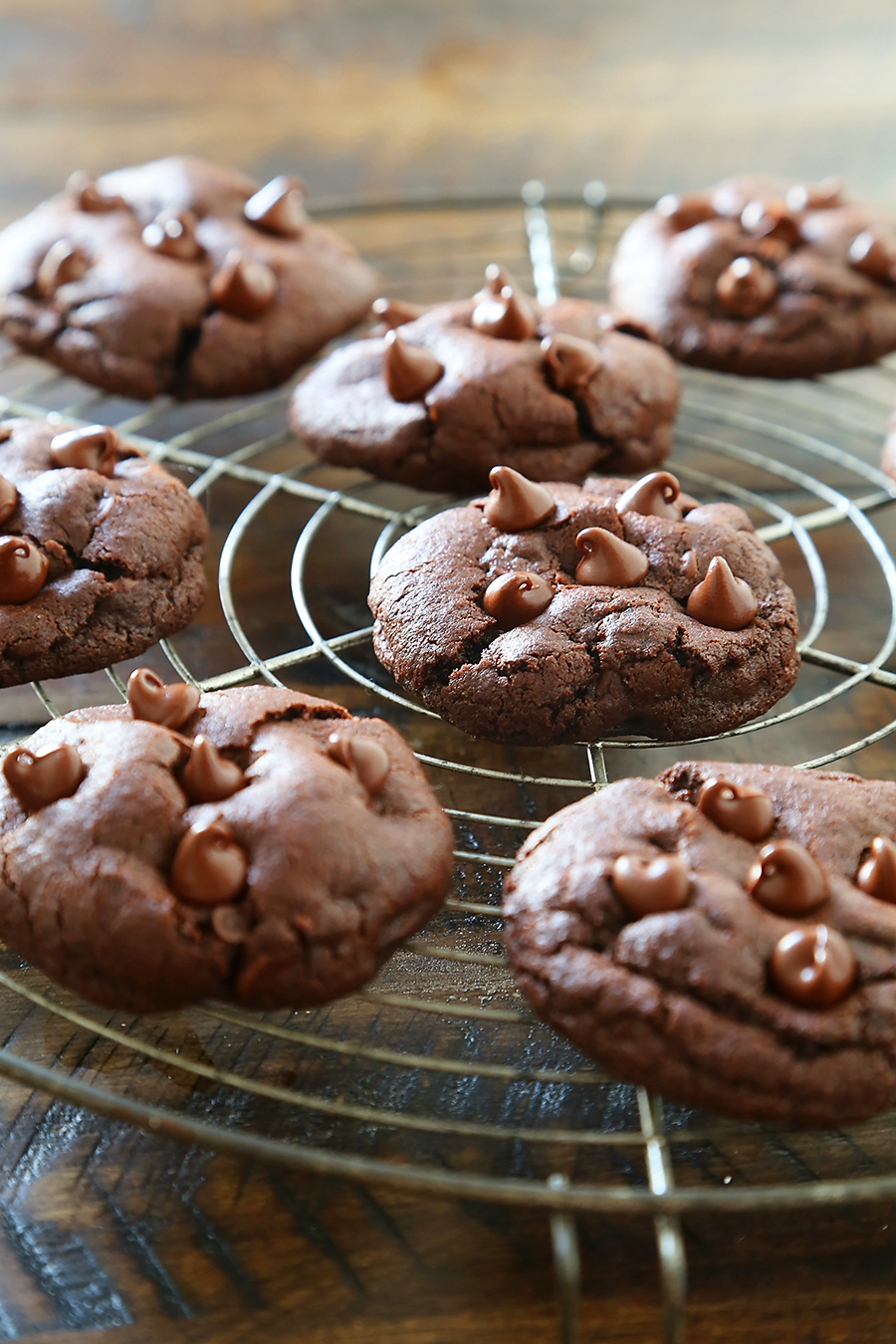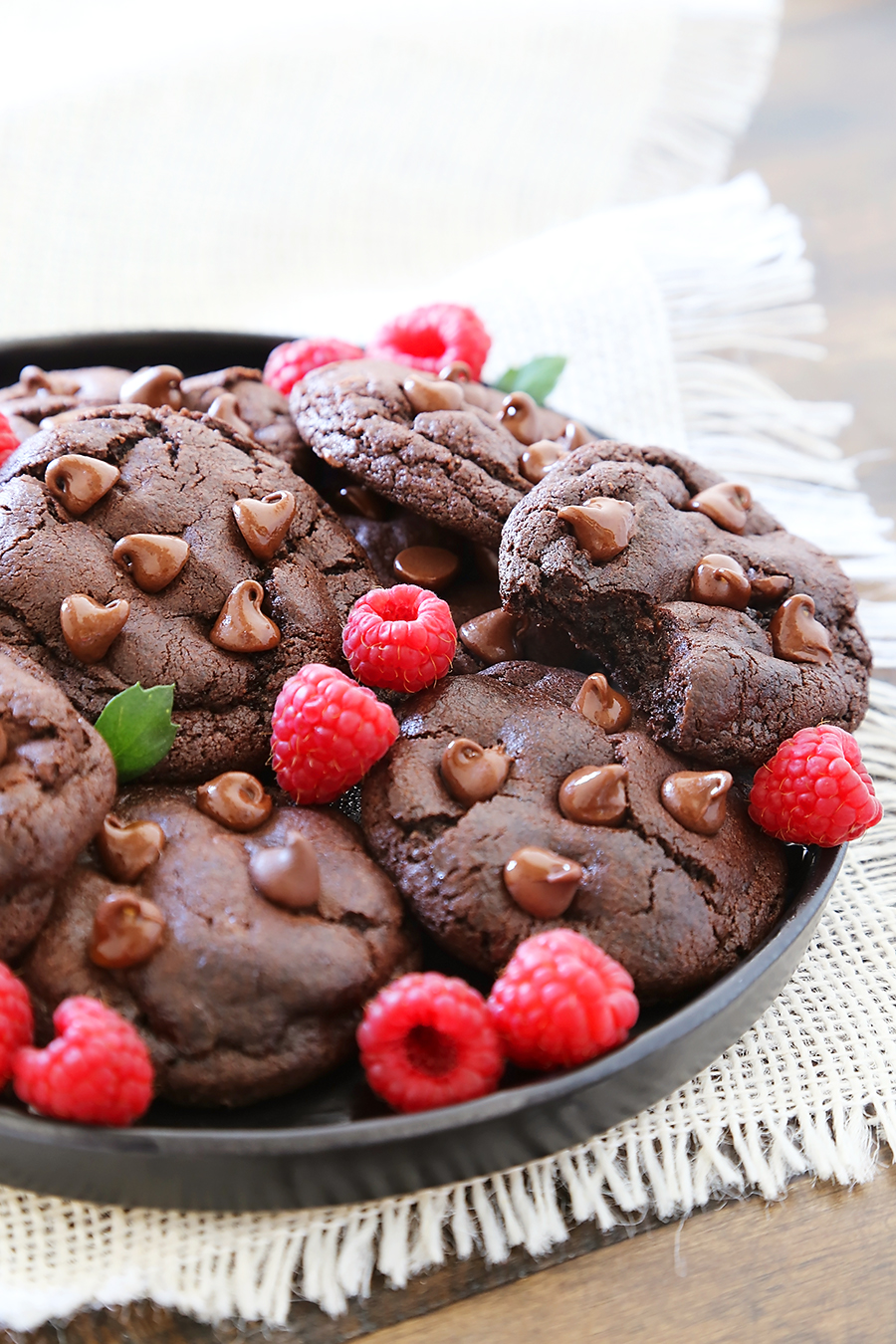 Starting as any good thing does, these cookies begin with butter.
With an electric mixer, whip it into a creamy frenzy with your sugar. Beat in the eggs until you have a smooth, dreamy mixture then pop in vanilla extract for incredible aroma. Then, simply add your dry ingredients – flour, unsweetened cocoa powder (Valrhona brand is best!), baking soda, and salt, and mix it all gently together until a thick dough forms. Stir in your chocolate chips, and voila! A ridiculously tempting chocolate cookie batter that will make you want to grab the bowl, run to your room and not emerge until the following day. Chocolate stained, mysteriously.
But, don't be bashful! As soon as you pull your perfect cookies out of the oven, you'll be glad you didn't down the dough in one sitting. You will be proud to show off these delicious treats. And whomever is lucky enough to enjoy them with you will really feel the love!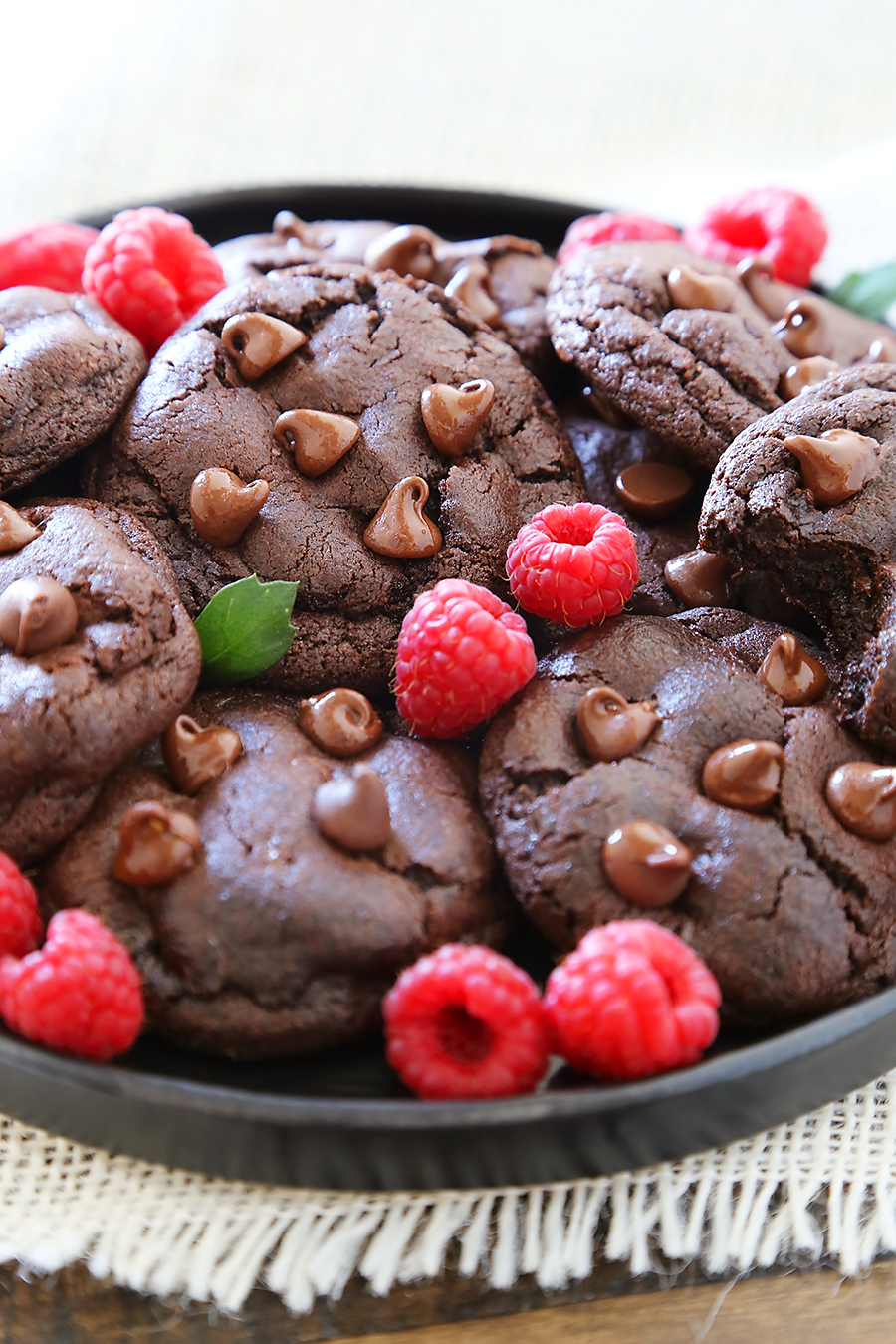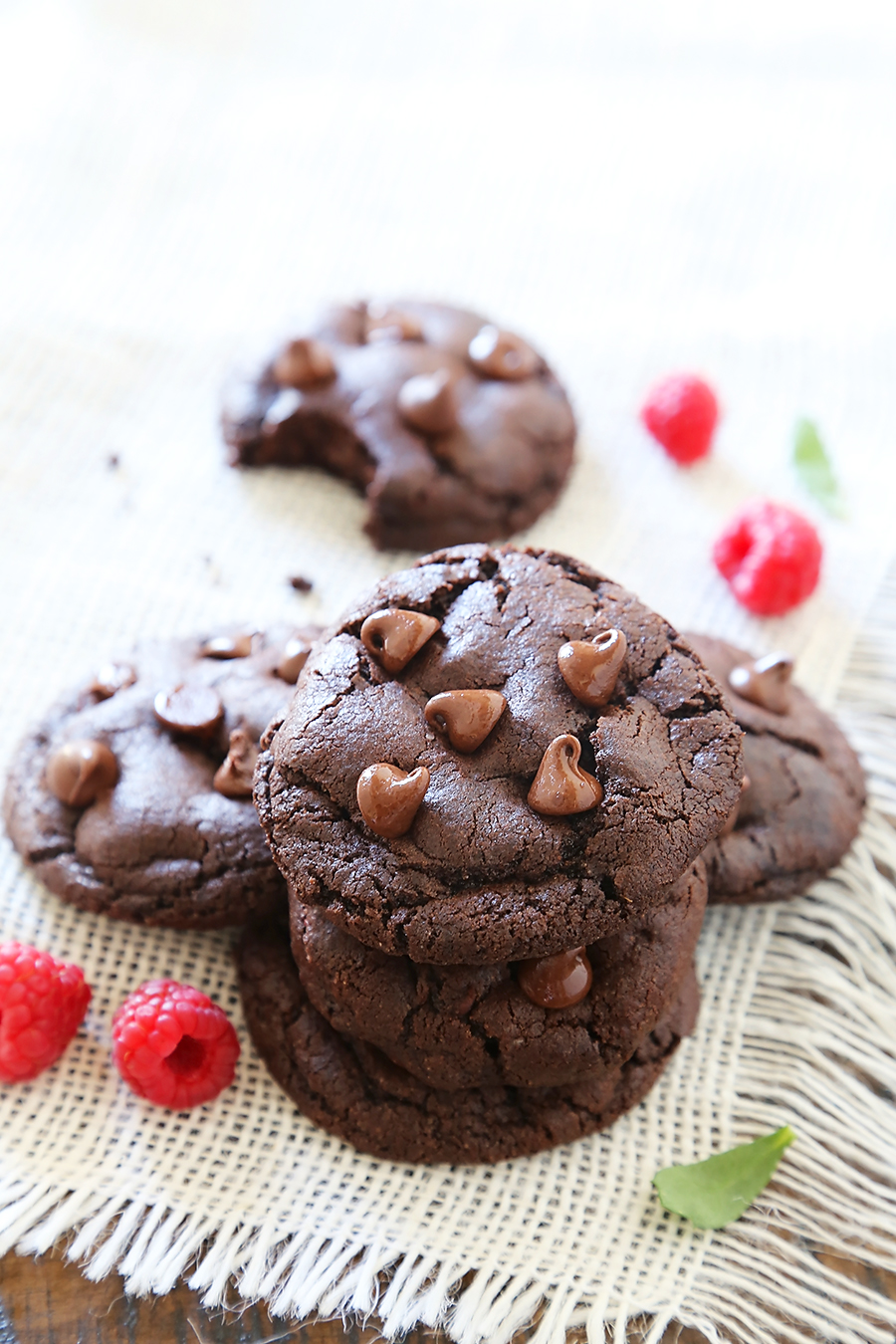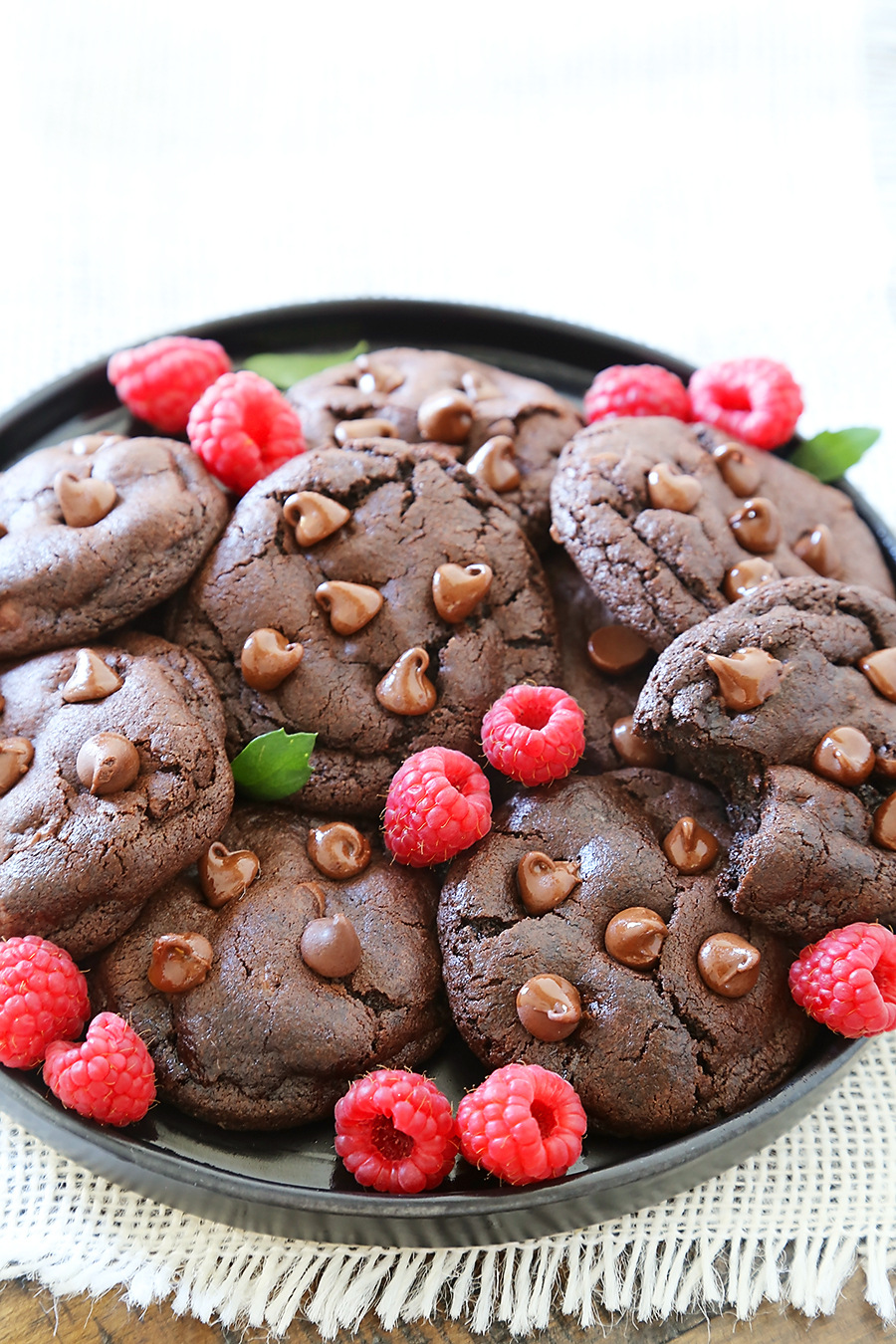 Soft & Chewy Double Chocolate Cookies
Ingredients
3/4 cups 1 cup semi-sweet chocolate chips, plus more for topping
1-1/2 sticks unsalted butter, softened
1-1/2 cup granulated sugar
2 large eggs
2 teaspoons vanilla extract
2 cups all-purpose flour
2/3 cups unsweetened cocoa powder
1 teaspoon baking soda
1/2 teaspoon kosher salt
1 cup semi-sweet chocolate chips, plus more for topping
Instructions
Preheat oven to 350 degrees F. Line a large baking sheet with parchment paper.
In the bowl of a stand mixer fitted with a paddle attachment, beat butter and sugar on medium-high speed until light and creamy, about 4 minutes. Add eggs one at a time, mixing well. Add vanilla. In a separate bowl, whisk together flour, cocoa powder, baking soda and salt. Add to the wet ingredients and mix just until combined. Stir in the chocolate chips with a wooden spoon.
Scoop by the rounded tablespoon onto the baking sheet.
Bake 8-10 minutes, until edges are crisp. Let cool on the pan for a few minutes, then transfer to a wire rack to cool completely.
Store cookies in an airtight container at room temperature for up to 5 days.
Enjoy!