This super creamy pumpkin sauce is made easily with just 6 pantry staples, in under 20 minutes! Pour over melt-in-your-mouth, soft potato gnocchi and garnish with Parmesan and fresh sage for a delicious, elegant meal that's easy enough for weeknights.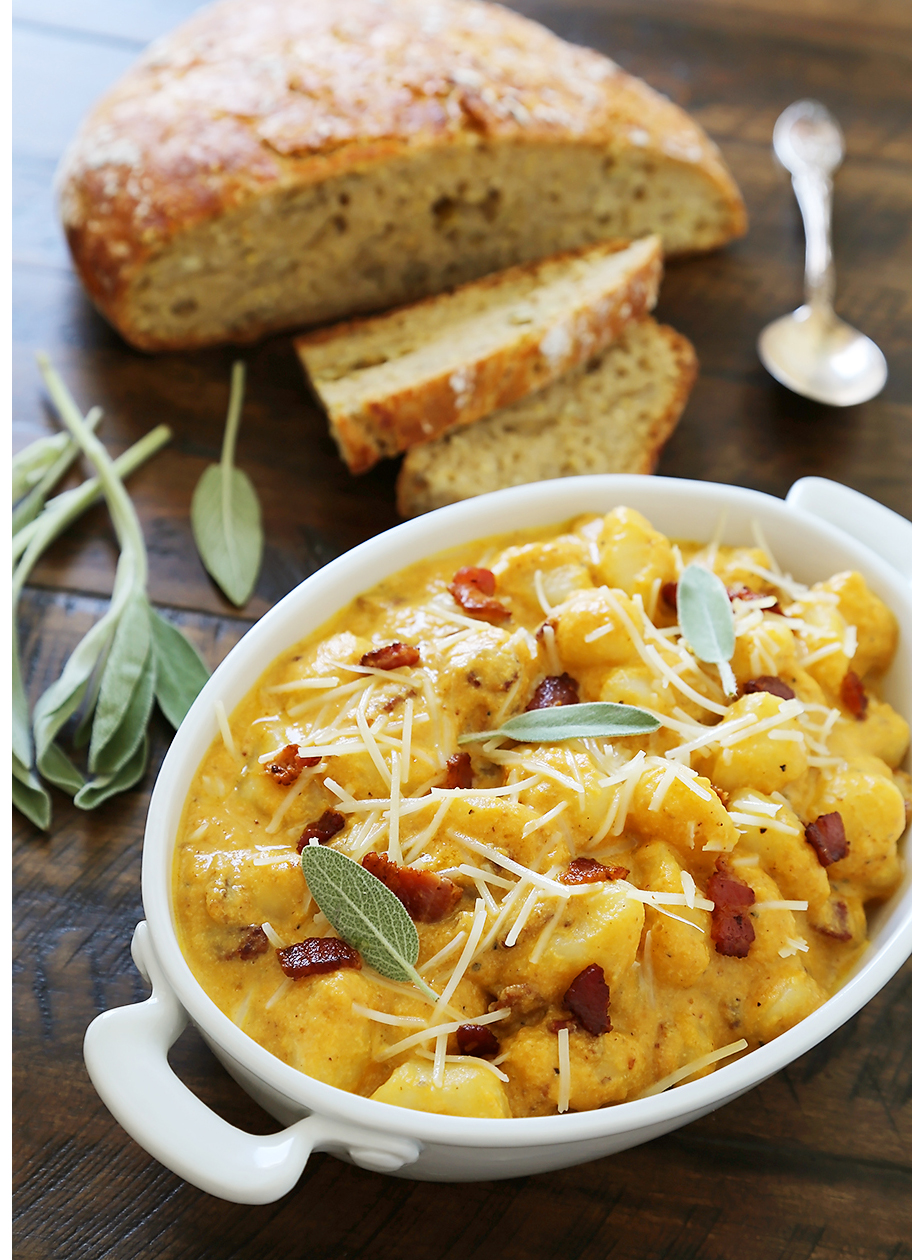 For many years, I snubbed gnocchi after having a poor experience at a Boston restaurant. Each dumpling was hard and chewy, with a sauce surrounding it and not sunken in, landing like miniature bricks in my belly with each bite. What should have been pillowy-soft, mouthwatering parcels of potato, flour and egg were… less than desirable. I was put off.
That is, until I was dining with a friend who ordered a gnocchi dish at a newly opened restaurant in Austin. It was the winter of 2011, and it turned my world upside down. Served in a smooth gorgonzola sauce with crispy bacon and shavings of Parmesan, draped over deliciously soft dumplings, it was heaven on a plate. I was in love. And convinced I needed to let a little more gnocchi love into my life.
Since then, I have enjoyed pairing potato gnocchi with various sauces – basil pesto, creamy roasted red pepper, and now, our new favorite in this house… a velvety pumpkin puree sauce with bacon, Parmesan, fried garlic and fresh sage. Irresistible on a chilly fall night, and simple enough to cook for weeknight dinners.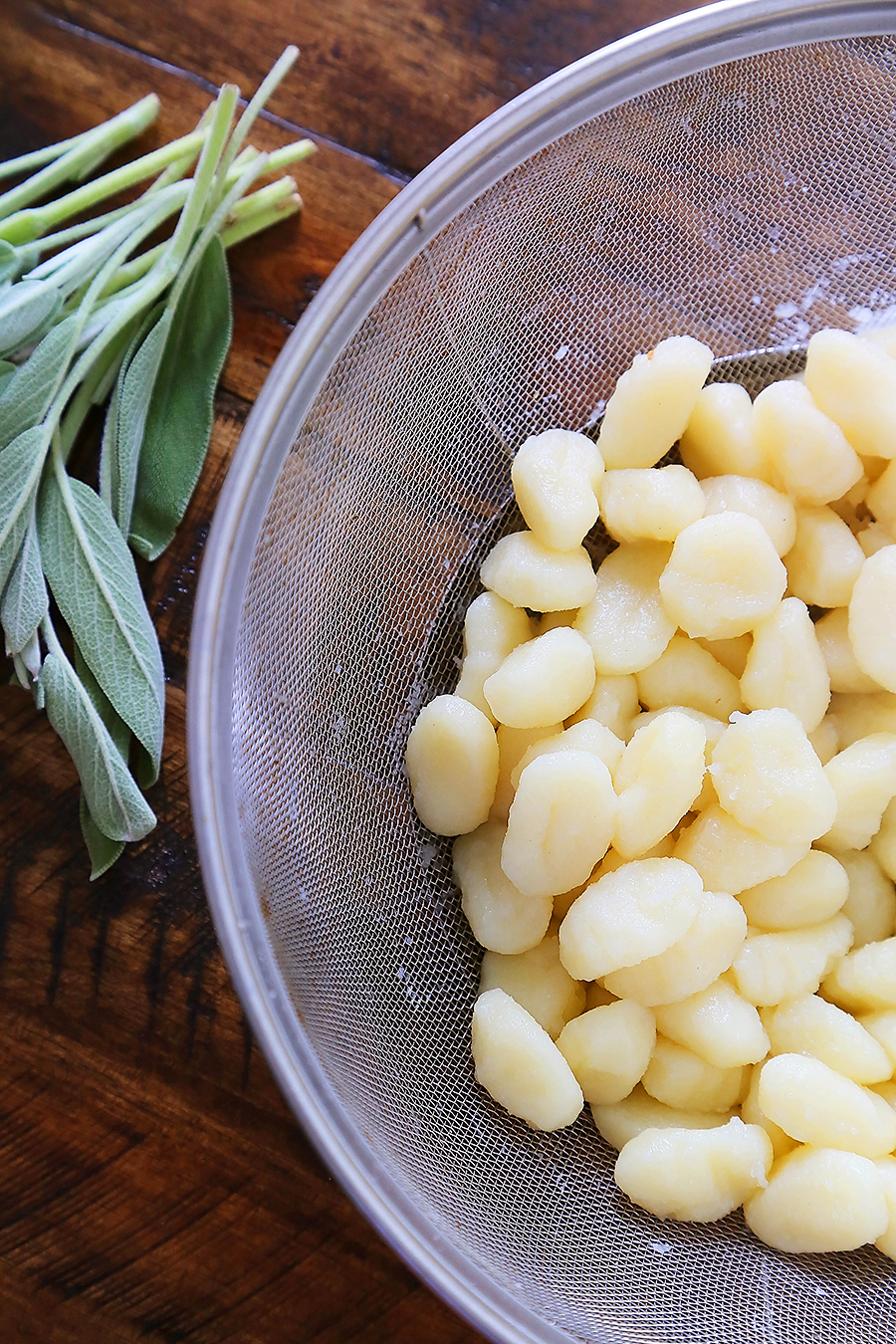 Combining the tender, cloud-like gnocchi with a smooth, rich pumpkin sauce was the perfect meal to get us in the fall spirit. Even though autumnal temperatures are still far away from us in Austin, we can still enjoy the flavors reminiscent of cooler climates.
When I'm in the kitchen, it is always a welcome challenge for me to remix traditionally heavy, rich dishes into something equally tasty but tighter on calories. For the creamy component of this sauce, I used low-fat milk instead of cream. The milk still yielded a delectably smooth sauce, with fewer calories than full-fat heavy cream or half-and-half. However, you could use either if you would like yours a little richer. I would probably do this for the holidays, or for friends and family joining us around the table. In which case, this recipe could be easily doubled or even tripled for hungry guests!
Want to cook this comforting dish yourself? It's easy!
Set a pot of water to boil your gnocchi. Then, simply sizzle a hearty handful of chopped bacon in a hot skillet, then add whole garlic cloves and sage. Fry it up until fragrant and soft, then whisk in your pumpkin puree. Just keep whisking for a few moments, until it's warmed through. Pour in about 1/2 cup of milk while you whisk (perhaps whistling while you whisk), and keep going until you have a well-blended sauce. Bring it up to a bubbling boil, then let the sauce simmer and thicken at a slightly lower heat.
While your gnocchi is boiling, just a couple minutes until each dumpling floats to the surface, stir your grated Parmesan to the sauce. Sprinkle in some salt, pepper and nutmeg, but remember to go light on the salt. The bacon and Parmesan add perfectly salty notes to this scrumptious dish, already!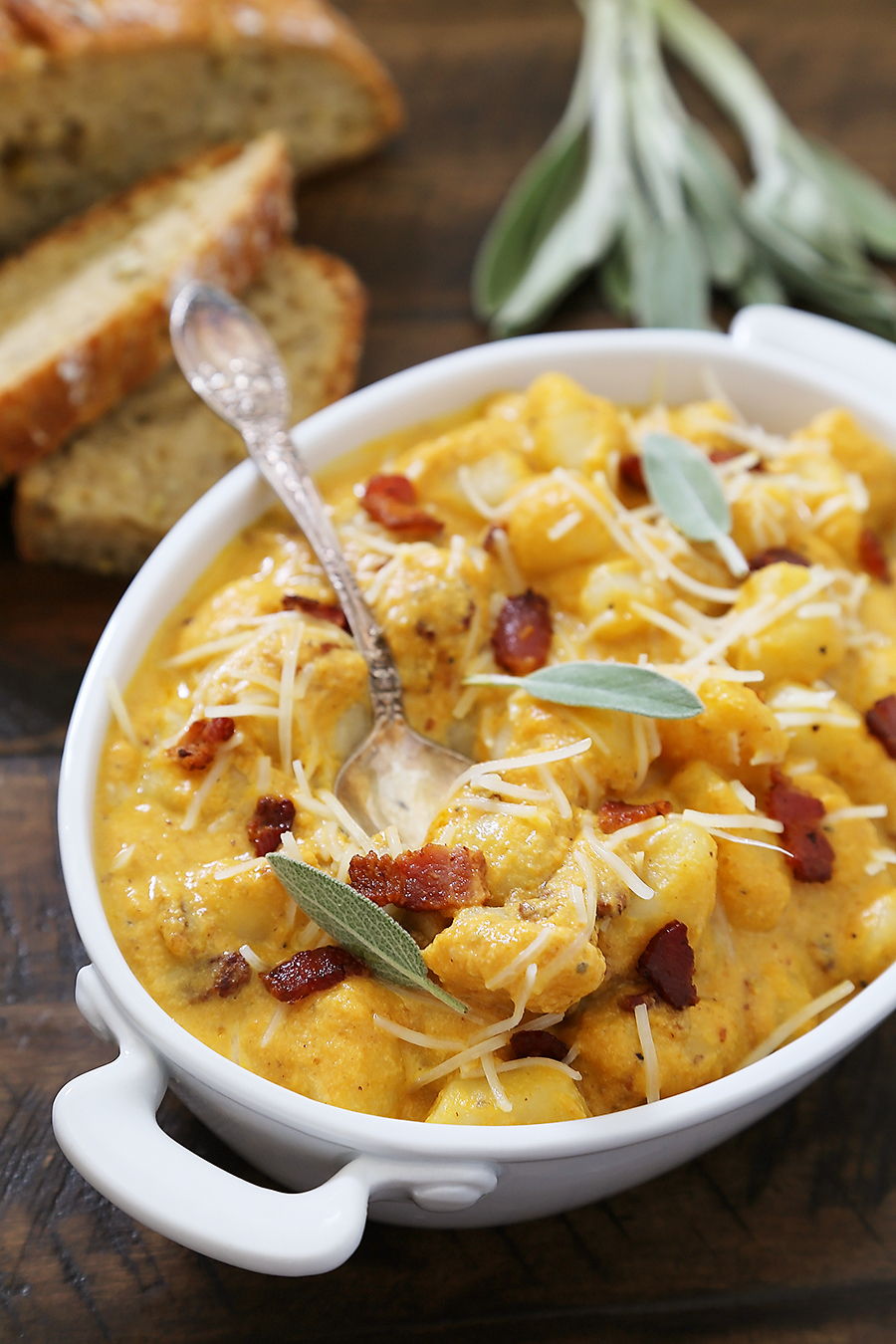 I was so excited to pair up with Oscar Mayer Bacon for this recipe, as it allowed me to share both my all-time favorite bacon and a new favorite dish with you. Whether I'm frying it on the stovetop for breakfast, sprinkling it over a salad, or wrapping it around cream cheese-stuffed jalapenos, this bacon always comes out perfectly crisp. It is full of perfectly salty, smoky-tasting goodness that compliments every meal from morning to midnight snacking. Even my little girl has always loved this bacon, so it's easy to say that Oscar Mayer is a family favorite.
Another great compliment to this dish is a leafy green salad, or my No Knead Crusty Artisan Bread. I recently experimented by adding a touch of honey, molasses and seeds to it (pumpkin, sunflower), as well as millet grain. They turned out to be awesome additions that added even more flavor and texture. Perfect for mopping up the leftover pumpkin sauce from this delicious gnocchi dish!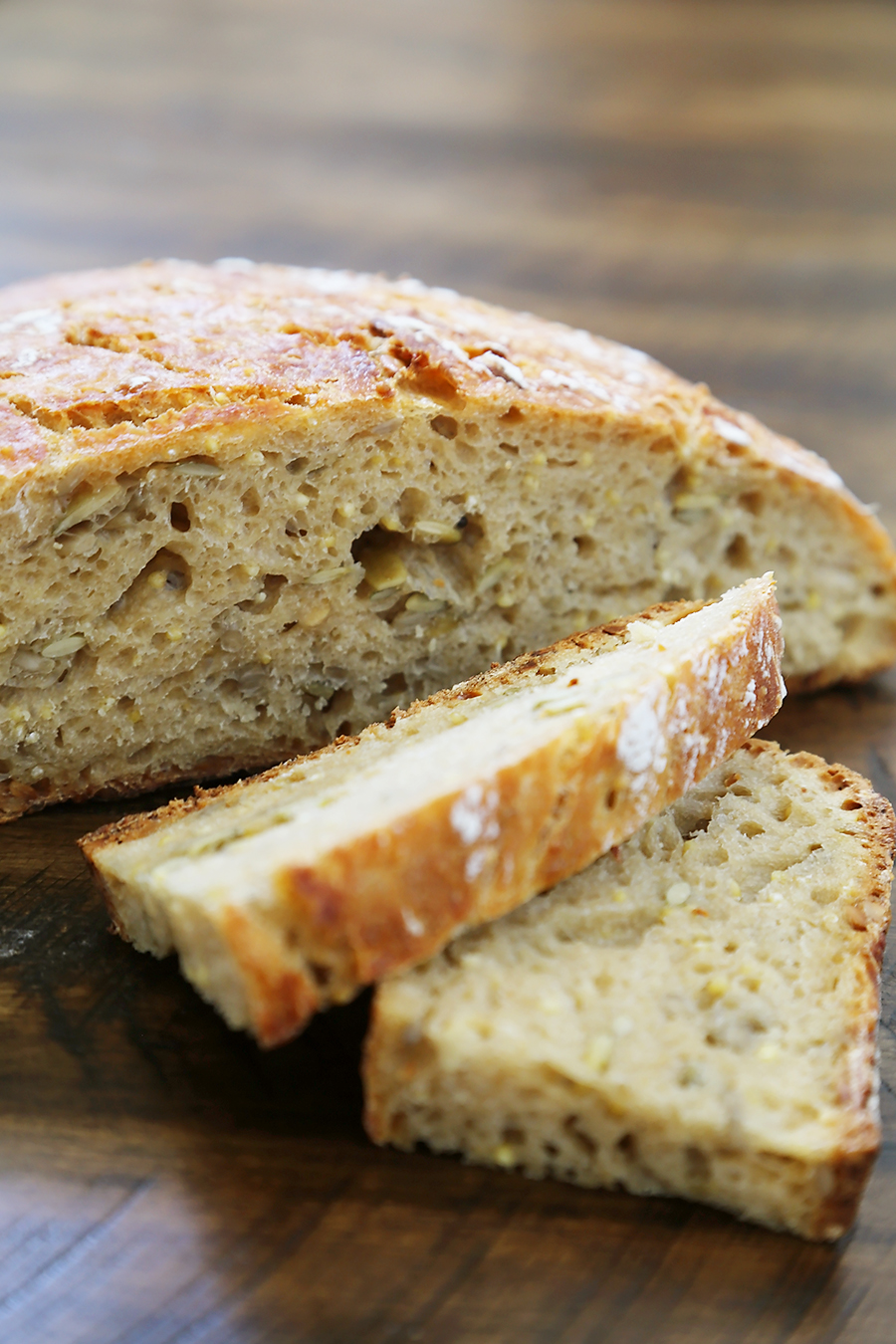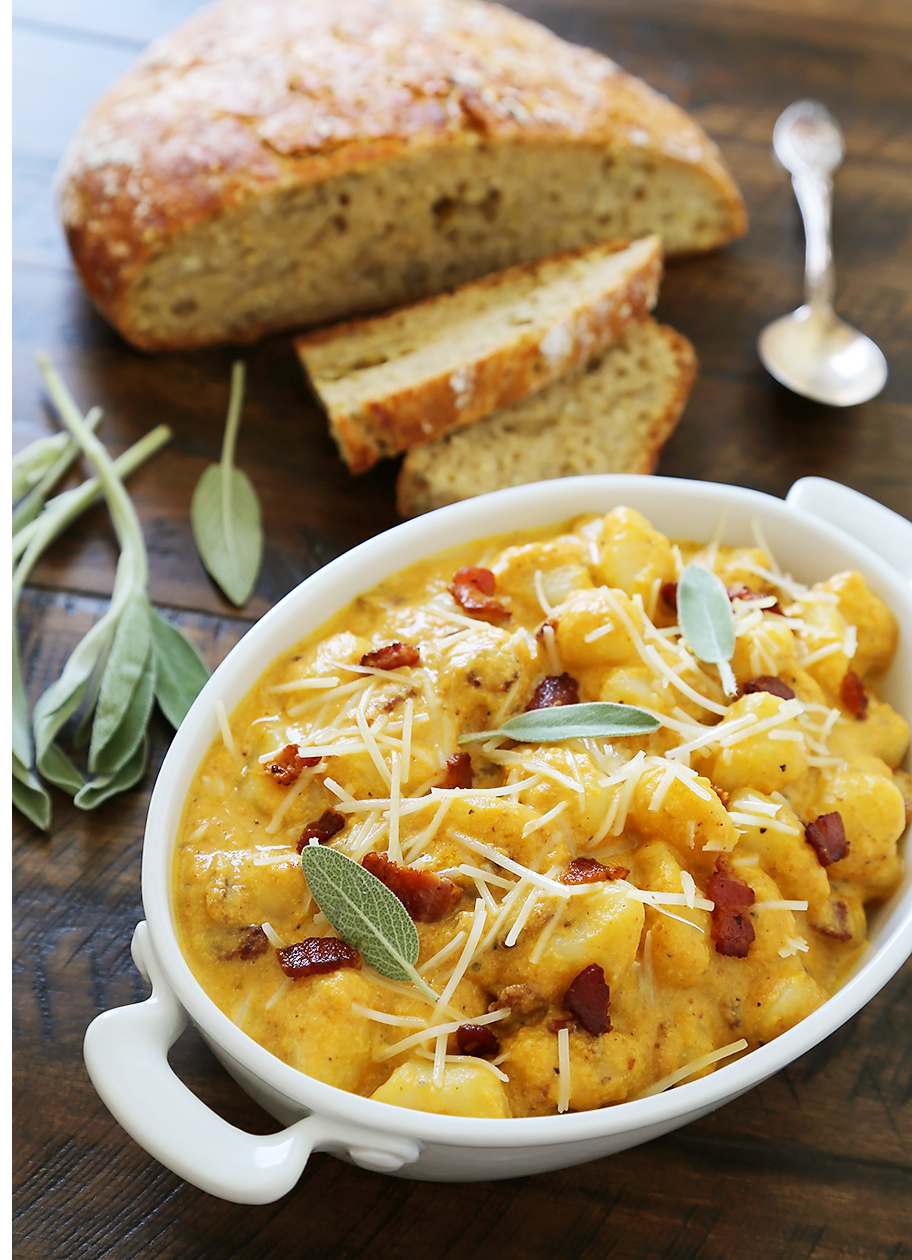 Gnocchi with Pumpkin, Bacon and Sage Sauce
Ingredients
4 slices bacon, chopped
2 fresh sage leaves
2 cloves garlic, crushed
2/3 cup pumpkin puree
1/2 cup milk (any kind, I used low-fat)
1/2 cup grated Parmesan cheese
Freshly ground black pepper, to taste
Pinch ground nutmeg
1 pkg. (16 oz.) potato gnocchi
2 Tbsp. shredded Parmesan cheese
Instructions
Bring a medium pot of water to a boil.
In a large skillet set to medium heat, add chopped bacon and fry until just crisp. Add sage and garlic. Sauté for 1 minute.
Add pumpkin puree, whisking constantly until heated through. Slowly add 1/2 cup milk while continuing to whisk pumpkin mixture. If sauce is too thick, stir in additional milk. Bring to a boil. Reduce heat to low and simmer for 5 minutes.
Once water is boiling, add gnocchi. Cook until gnocchi float to the top of the water, 2-3 minutes.
Whisk Parmesan, pepper and nutmeg into the sauce as the gnocchi boils.
Toss drained gnocchi in sauce. Serve with additional shredded Parmesan and sage leaves for garnish, if desired.
Enjoy!
Notes
For a richer sauce, substitute some of the milk for cream. This sauce is also delicious with penne, fusilli, orecchiette or any other small pasta shape.